Cold days are about comfort food, eating something warm and filling. With now being the cold winter months of the year, there's a desire for that food that will fill you up, still be light, and keep you going through out the day. This is what I found on a lunch stop in New York City at Caracas Arepa Bar. A good stop to eat when exploring Manhattan, it is located on a quaint street in the East Village neighborhood that has that unique charm of NYC. Inside is a nice and cozy atmosphere, which can appear a little tight because of the number of bodies in a limited space. But that just adds to the overall experience when eating at good restaurants in this city.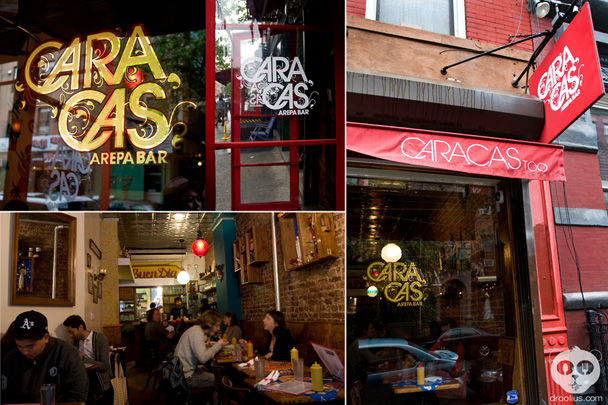 (click image to enlarge)
At Caracas Arepa Bar they offer a good deal for lunch which includes a choice of any arepa plus a salad or soup. What is an arepa you ask? An Arepa is a flat pancake-like bread made of cornmeal, which can be grilled, baked, or fried. Arepa's origins come from Venezuela and Colombia, varying by color, flavor, size, and can be filled with meat, eggs, tomatoes, salad, cheese, shrimp, fish, and much more. The Arepa itself can be a meal or a large snack depending on what it is filled with.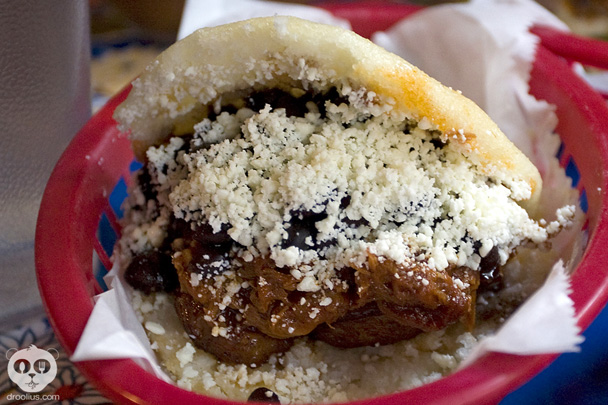 (click image to enlarge)
Caracas Arepa Bar serves a Venezuelan-style arepa and they have there signature combinations of ingredients and fillings that make this place one of a kind.
I ordered the lunch special, an arepa and started with a soup.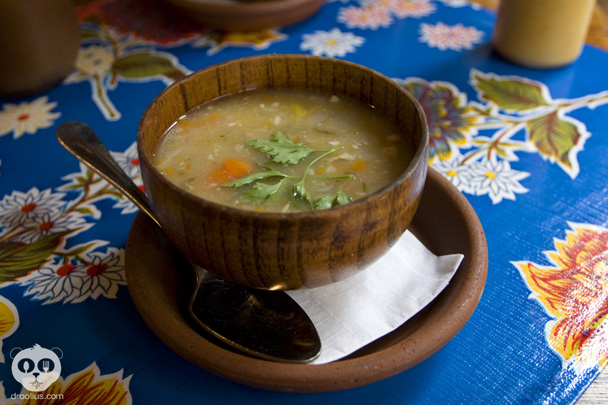 (click image to enlarge)
I don't recall the soup name, it was more of a special they offered that day. It was very light and savory, had that home made flavor that someone's grandma who had years of cooking experience would make. The broth was delicate and tasty with vegetables that make it hearty. The cilantro garnish added a hint of freshness too.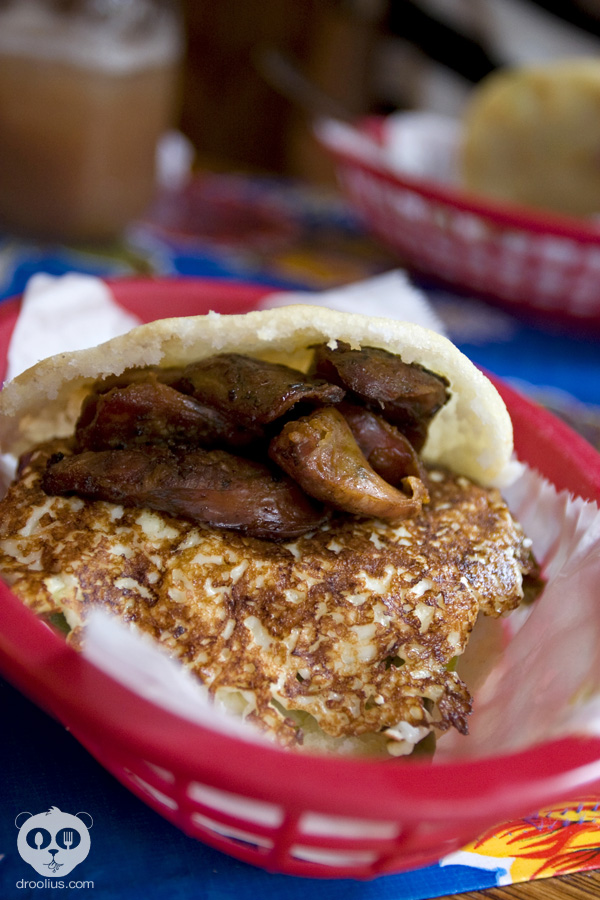 (click image to enlarge)
For my arepa I ordered the Los Muchachos – grilled chorizo, spicy white cheese w/ jalepenos and sauteed peppers. The spicy chorizo sausage was great against the fried spicy cheese. To kick up the heat even more were slices of fresh jalepenos, which made it very spicy.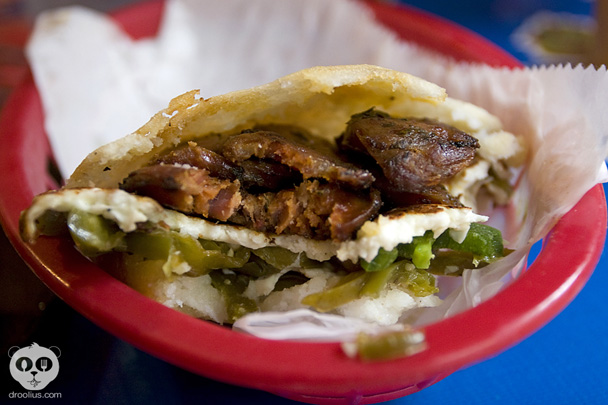 (click image to enlarge)
You can see the bite I took here with sauteed peppers and jalepenos. With all ingredients being spicy I did break a sweat, but it tasted good. I think I enjoyed the fried cheese the most.
You see all 3 arepas ordered here, my friends ordered the La Sureña and the De Pabellón (click image to enlarge)
Above left with the green topping is La Sureña – grilled chicken and chorizo, with avocado slices and spicy chimi-churri sauce. I had a little taste of all the ingredients together and the chimi-churri sauce (green topping) set off my flavor palate in a good way. I guess I just really like chimi-churri probably would have ordered this if it was with beef.
(click image to enlarge)
Here is the De Pabellón – shredded beef, black beans, white salty cheese and sweet plantains. The beef was tasty and fell apart to make it easy to eat. The cheese added a little punch of salt which complimented the black beans and beef.
Thankfully my friend took me here, the food and overall experience was great! The lunch menu was fairly priced and came with a good portion and an appetizer. It was convenient that I was staying so close, with-in walking distance, and I think this would be a monthly food visit if I lived in the area.
Something interesting I found out after I ate here was that Caracas Arepa Bar beat Bobby Flay on his own show Throwdown a few years ago where the ladies were challenged to an arepa throwdown. Kudos ladies for beating an Iron Chef! The food was definitely great and I'll be back again…
Caracas Arepa Bar
93 1/2 E 7th St
New York, NY 10009
East Village neighborhood
(212) 529-2314
www.caracasarepabar.com
Words and photos by Julius Mayo Jr.