When traveling I tend to base my daily plans on where to eat that particular day. Ramen is a meal that I always try to include on every trip, just to find that delicious bowl in each city. In NYC there are a number of places that offer this delectable bowl of goodness and I was guided to Ippudo NY, a Japanese chain restaurant that has become very popular in the NYC ramen scene. For good reason too because this ramen is really good, unique in offering the Tonkotsu style ramen, and it's authentic.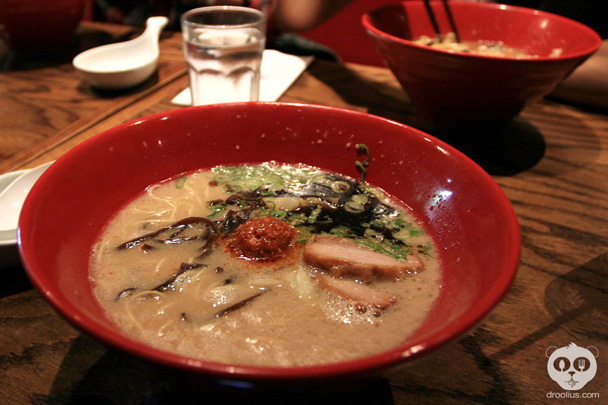 (click image to enlarge)
My friends in the city quickly discovered my appetite for trying everything and anything good in food. So naturally they offered one of the best ramen spots in town, Ippudo NY. I was told by my friend and fellow artist Aroksun that the best time to go is during lunch to avoid long lines. To be there at 11:30 am and not to be late. Really? Be there 1130am or else arriving closer to 12 noon would be a long wait? Well photographer friend and fellow food trekker this trip Carlos Fabrizio made sure I arrived on time and sure enough a small lined formed behind us as we waited for doors to open. If you do get there after 12pm or any time in the afternoon and especially at night, be prepared to wait. On any given day Ippudo is known for long lines of people waiting to get into this restaurant for its renown ramen and pork buns. It creates an addiction and after eating here I can see why. It meets the hype and travelers and locals alike are willing to wait and experience the delicious food.
We wait shortly in the front room, equipped with a full bar, to be seated. As we walked to our seats we are greeted loudly in Japanese by the entire staff, something I've only experienced in Japan and southern California. We sit down and Aroksun tells us to order "the modern and pork buns". I went along with the order and browsed the menu. Normally I order a Shio ramen but had to go with the local's recommendation here. I was definitely glad I did too! While there is a complete menu of appetizers and ramen soups, I definitely recommend getting an order of the pork Hirata Buns and Akamaru Modern Ramen.
(click image to enlarge)
Hirata Buns – Steamed buns filled with your choice of pork or chicken, served with Ippudo original spicy buns sauce
To get started, we ordered the Hirata Buns served with 2 pieces per order and specify pork, you will not be disappointed. They offer chicken also but trust me pork is the way to go. The delicate pork belly is so tender and melts in your mouth as you enjoy a savory porky flavor that is none like other.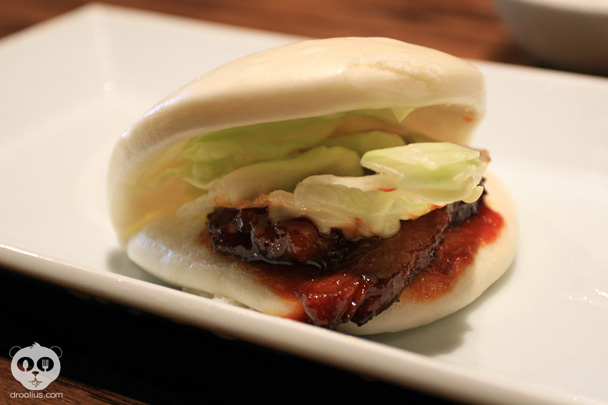 (click image to enlarge)
The buns are steamed to perfection with a light and fluffy texture. They vessel the delicious pork belly with lettuce, Ippudo spicy sauce, and mayo. A great combination of flavors in every bite. I think I could sit and order a couple rounds of these pork buns but have to save room for the ramen.
(click image to enlarge)
Akamaru Modern – 'The original tonkotsu' soup noodle with Ippudo's special sauce, pork belly chashu, cabage, kikurage, scallions, miso paste & fragrant garlic oil.
The Akamaru Modern ramen is the star of the show here. Although Ippudo offers other types of ramen, you go with the specialty here. The "modern" is a Tonkotsu ramen which has a cloudy white colored broth, served with thin style noodles, pork belly chashu, topped with spicy miso paste, māyu (blackish aromatic oil) and veggies. The noodles are perfectly cooked al dente and they have the perfect texture when you eat them from the beginning till you finish. I tend to eat ramen slowly to enjoy the noodles so to have them al dente and slightly firm at the beginning leaves them perfectly tender at the end as the noodles will soften up through out the meal.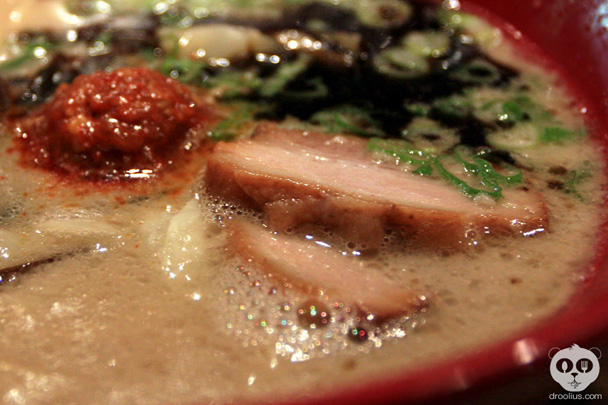 (click image to enlarge)
The pork belly chashu is a Berkshire pork that has been so tenderly cooked and just melts when eating. There's an option to order extra pieces of pork which I will definitely do next time I go to Ippudo. Akamaru Modern comes with a dollop of spicy miso paste that can be blended into the soup or eaten per bite with pork or noodles. I did a little bit of both and was a nice contrast in flavors against the fatty pork and tasteful noodles.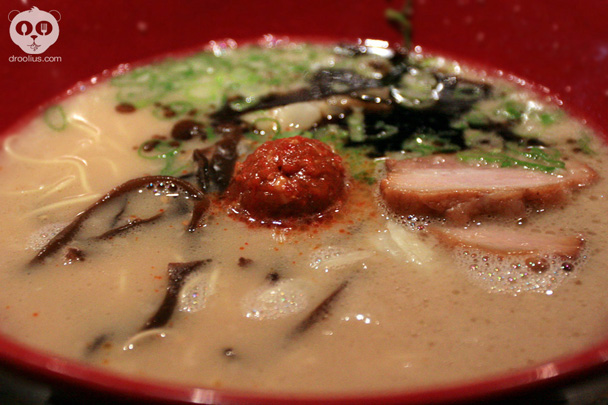 (click image to enlarge)
As I travel I usually order a Shio (salt) ramen where ever I go to taste and compare different ramen places, but here at Ippudo the Tonkotsu ramen is specially developed for this restaurant. Tonkotsu broth is native to Fukuoka in Japan and specific to the region. Tonkotsu, is a pork-based broth and has a cloudy white color from the way it is prepared. Very savory and deep in flavors, which is key to ramen broths. Ippudo's Tonkotsu broth has a depth of flavor that is often missed at non-Japanese places claiming they serve ramen soups. The Akamaru Modern has a Tonkotsu broth that is buttery and smooth that leaves a tasty film on your lips, enjoyable to the last drop. Literally! I say this because I cleaned the bowl and if this was Japan would be slurping loudly away, a sign of good food in Japanese culture.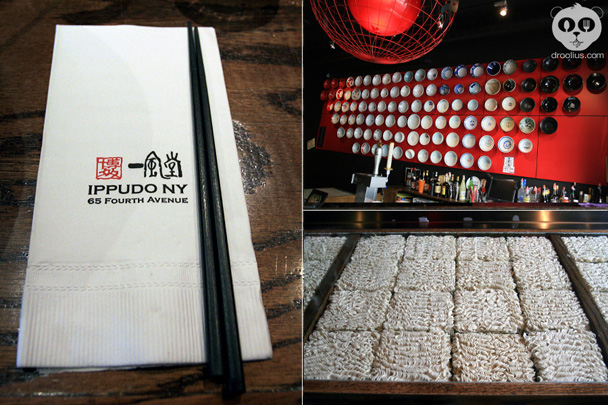 (click image to enlarge)
All I can say is that this bowl of ramen is entirely enjoyable. All the ingredients are well balanced and completely satisfying from start to finish. The pork buns are amazing and cannot be missed when eating at Ippudo. The restaurant itself has a nice decor, and can be loud inside with the crowds of people conversing and enjoying the food. It all adds to the experience and this is definitely a must stop for food in New York City.
Ippudo NY
65 4th Ave (between 9th St & 10th St)
New York, NY 10003
East Village Neighborhood
(212) 388-0088
www.ippudo.com/ny
Words and photos by Julius Mayo Jr.