Macaroni and cheese is one of the ultimate comfort foods. Both kids and adults alike can appreciate a warm bowl of mac and cheese on a cold winter day, or any time really. These days you can go to restaurants and order an adult version which have a range of meats, cheeses, vegetables, and even gourmet versions with truffles or caviar. For the everyday mac and cheese lover you can step it up a notch and grab a tasty version at Macbar in New York City. Their mac and cheese offers various cheeses and a range of savory ingredients including lobster, duck confit, braised beef, and more to compliment the warm cheesey goodness and macaroni.
(click image to enlarge)
When entering Macbar it screams coolness! A cool yellow of course but it has a clean and hip feel, kind of like an Apple store but in yellow with macaroni shapes all over. Actually most of the restaurant is shaped like macaroni and carries the theme very well. From containers, to seating and decor its "mac and yellow, mac and yellow". They also had cool t-shirts available to buy and postcards to take home.
(click image to enlarge)
The yellow macaroni shaped boxes make a good souvenir for both travelers and locals. Its the one thing I did bring home from NYC and proudly sits in my office. A very creative way to serve the medium and large portions of mac-n-cheese orders. They also have a fork and knife set that you tear apart like chopsticks. Its very playful and creates a fun experience.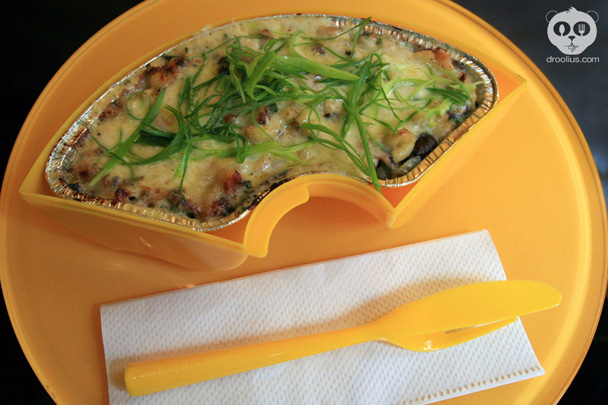 (click image to enlarge)
The macaroni and cheese dishes use quality cheeses and ingredients which are baked to order. So it may take a few minutes, but worth the wait. With the entire menu looking so good I narrowed it down to two choices and still couldn't make up my mind between Mac Shroom and Mac Quack. I boldly asked the girl taking orders if they could combine the two and she said normally people don't ask to combine two different items. She stepped back into the kitchen and to my surprise she came out and said the cook said no problem to combine the two I requested because they used the same topping. I was excited! I guess I do kind of have a sense for flavor profiles and what would go well together. Not a pro or chef tho, just a learning rookie of the food game.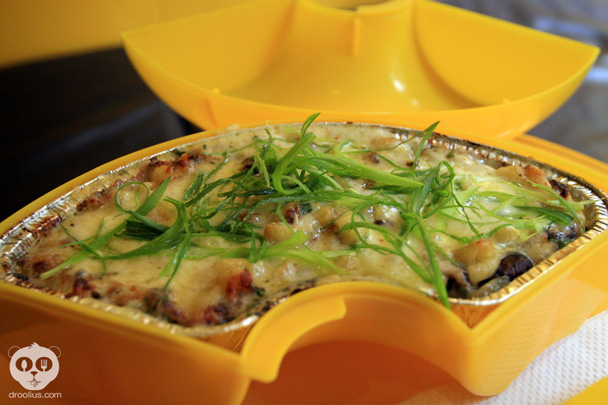 (click image to enlarge)
So after a short wait, my Mac Shroom and Mac Quack combo came out. I opened the yellow macaroni capsule and was greeted by delicious smells of cheese steaming from the container. I was amazed and quickly did the photo shoot. I tend to over shoot things, but I took photos with a quickness and still was able to dig in with some steam rolling from the baked cheesey entree.
First I tried the Mac Shroom on the right. I decided to start with this one because I thought the flavors would be a little more delicate and was looking forward to a small hit of truffle flavor.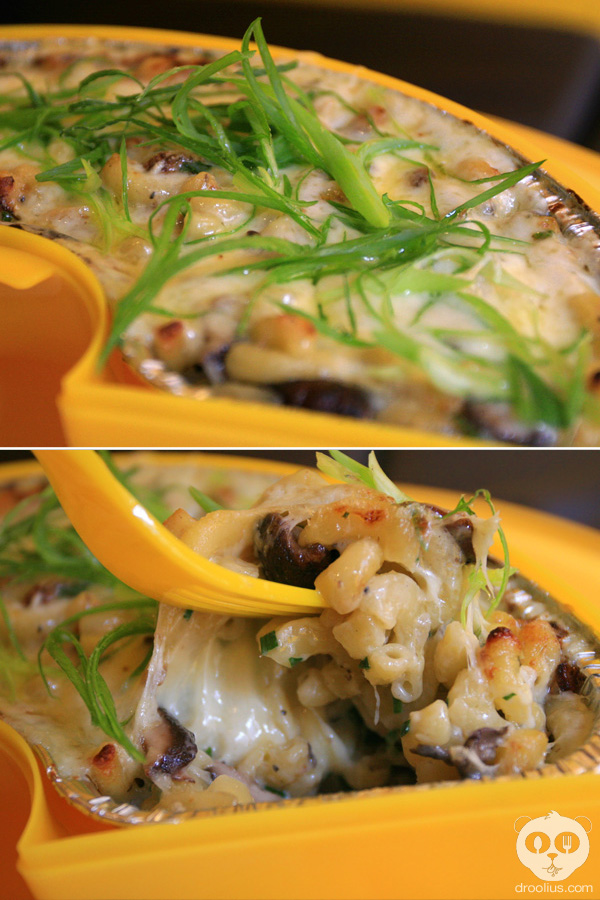 (click image to enlarge)
Mac Shroom – roasted "magic" mushrooms, fontina, mascarpone, truffled essence.
The mushrooms were cooked fairly well and not mushy but a texture of meat. The "shrooms" worked well with the combination of cheeses, however I didn't get much truffled essence. Kind of a bummer because I've had mac-n-cheese with truffle oil and there is definitely a presence of truffles if used correctly to give a savory note. Regardless it still tasted good.
Next I sampled the Mac Quack with high hopes because I like duck and to have it in this dish made it very appealing.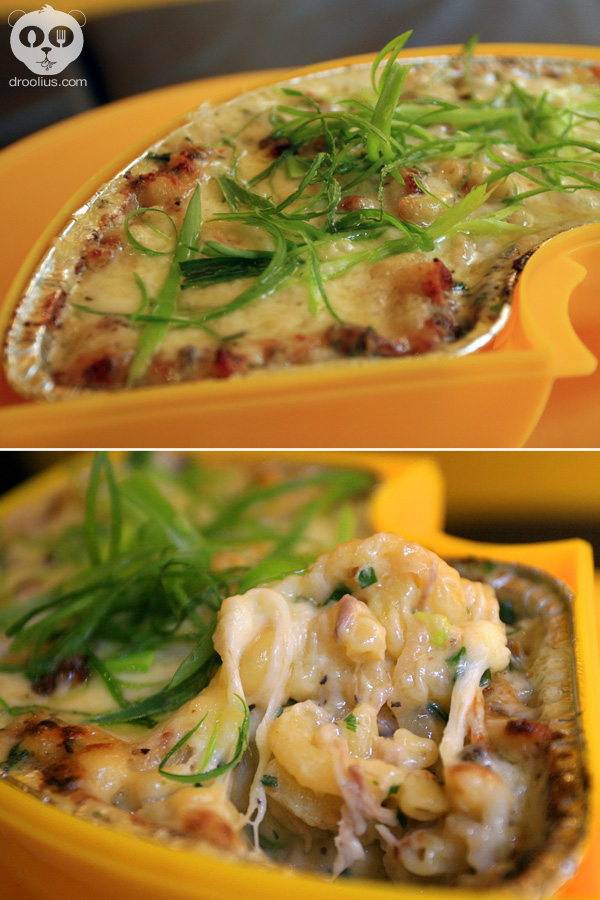 (click image to enlarge)
Mac Quack – duck confit, fontina, caramelized onion, fines herbes.
This one lived up to my expectations and altogether worked very well. The duck confit was tender and did not over power the cheese and vice versa. I enjoyed this combination and it actually was good to go back and forth eating both Mac Shroom and Mac Quack. A good savory combo indeed.
(click image to enlarge)
Another creative way to serve the Small portion Macbar style is in a box container that resembles something you would buy at an Apple store. A mac-n-cheese yellow ipod perhaps? No, just a small order of macaroni and cheese served in clever packaging.
The following is the small portion order of macaroni and cheese made by fellow photographer and good friend, Carlos Fabrizio. He shoots high fashion and has a great appetite for food and life. He was my fellow food trekker this trip and we both were able to discover good food spots like Macbar. He chose to order the Cheeseburger Mac.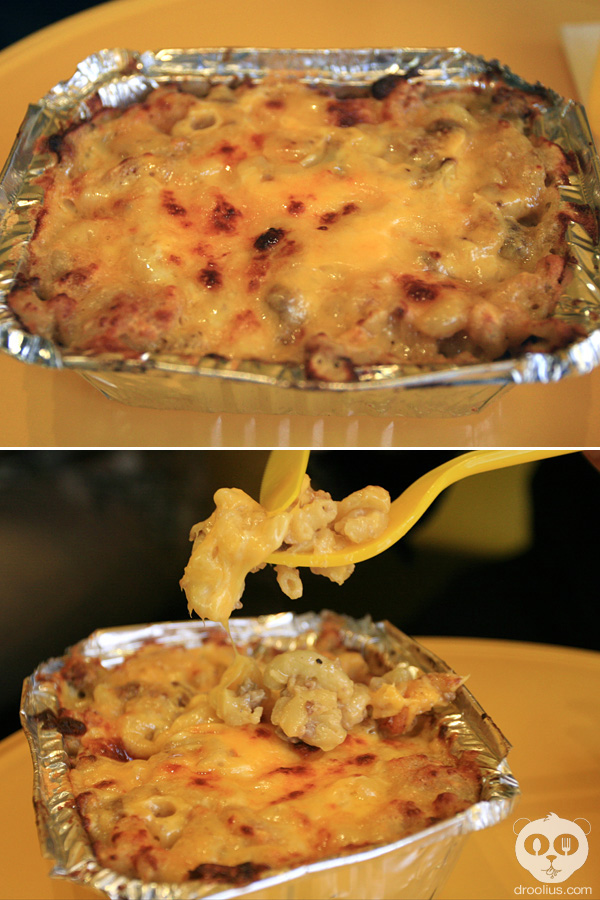 (click image to enlarge)
Cheeseburger Mac – ground angus beef, cheddar, american cheese.
Carlos enjoyed this entree and he said it was the perfect portion for him. If you want a filling meal and not overstuffed then the "small" size order is the way to go. I got a little sample and it was good, like eating a cheesey cheeseburger with noodles. Not the best description, but if you love the taste of cheese burgers then you will like this one!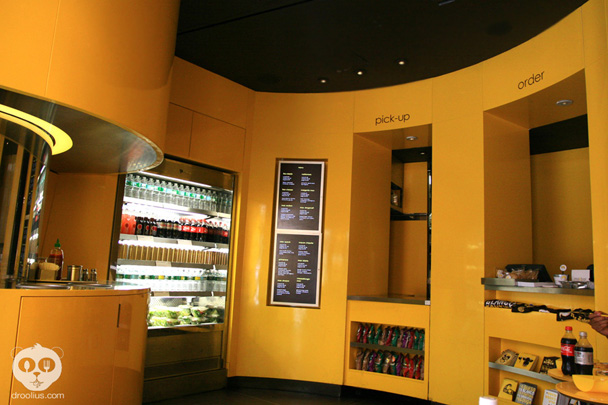 (click image to enlarge)
The overall experience at Macbar was fun and playful with tasty food. One that definitely brings the kid out in an adult. The quality macaroni was cooked to a good consistency and held up against the cheesey greatness and other ingredients without becoming mushy. Although a small place to sit down and eat, its easily a good take out spot. If you pass by and see a large crowd, don't let it deter you from getting your mac-n-cheese delight. Just have some patience and enjoy the creative spirit of Macbar, your stomach will thank you.
Macbar
54 Prince St (between Mulberry St & Lafayette St)
New York, NY 10012
Nolita Neighborhood
(212) 226-8877
www.macbar.net
Words and photos by Julius Mayo Jr.