Happy Hour deals are a great way to sample a more upscale restaurant at a bargain price. MoonFish in Orlando, FL is a seafood house that repeatedly receives top honor awards year after year, in the U.S. for its food and service, which can be a tad pricey for the typical foodie. So a great introduction to their menu is during a Happy Hour special where you can get great deals on oysters and sushi, along with a few more appetizers and drinks.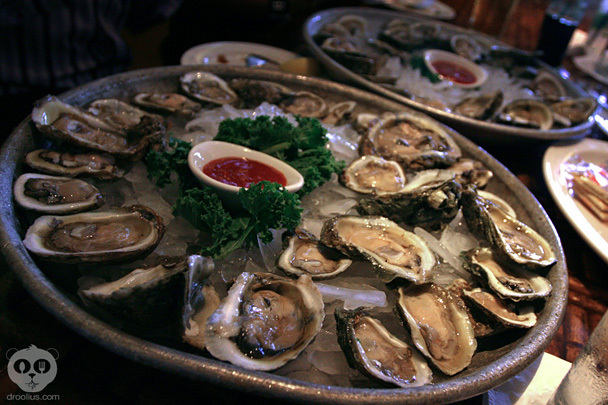 (click image to enlarge)
The Happy Hour at MoonFish is available Monday through Saturday from 4:30pm-6:30pm in the Bar and Lounge, dine-in only. They offer raw oysters for 35 cents a piece and wood grilled oysters for a slightly higher price. That is a tremendous deal only offered during their special Happy Hour because the oysters are priced at a premium during normal dining hours in the main dining room. These are very fresh and clean tasting quality oysters and I do not think you can find a better deal anywhere else. Also available during the Happy Hour is $3 Calamari, $1.25 Shrimp Cocktail, $1 Tuna Tacos (my favorite), and a sushi menu with half off in pricing. The bar features special priced wine, draft beers (I usually order the Kirin beer) and $4 fruit infused martinis. The Washington Apple Martini which has apples and Crown Royal is also a favorite of mine.
A great way to start off the early evening, the MoonFish Happy Hour is an amazing deal for quality food. A popular and trendy spot after work, you can find professionals to tourists enjoying their food and drinks at this top notch restaurant. The bar and lounge area may be crowded at times so get there right at 4:30pm or be a little patient for a bar seat or table to clear.
MoonFish
7525 W Sand Lake Rd
Orlando, FL 32819
(407) 363-7262
www.fishfusion.com
Dr. Phillips Neighborhood – Restaurant Row Orlando
Words and photos by Julius Mayo Jr.
All content and photos © Droolius.com 2011