The very first Food Pod in Orlando, FL last week on Wednesday April 6th was a successful event. It was held at the rear parking lot of Firestone Live on West Concord Street, with lots of room for people to roam around and visit all of the trucks. I walked up a little after 7pm and I did not know what to expect being a little late from the 6pm start time. What I found were people all around the large parking lot enjoying food, with a small steady line at each truck. Families were sitting down in the grass and kids were able to run around and play. It felt like I was in Central Park where people gathered to picnic at a nice sunset with a cool breeze. Was this really in Orlando? Yes it was…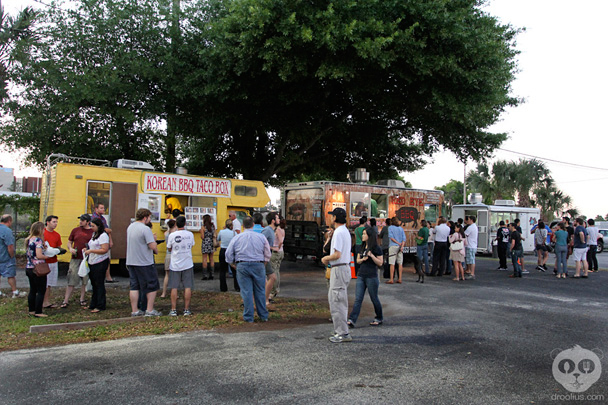 (click image to enlarge)
With less than a week notice, the six food trucks gathered together and were able to market the first Food Pod by word of mouth and via online social media. With a busy Wednesday evening in downtown Orlando, who knew what to expect. Lil Wayne and Nicki Minaj were down the street at the Amway Center live in concert. You saw tweets on Twitter from Chefs Richard Blais and Fabio Viviani in Orlando, which the food trucks did invite them out. With all of Orlando buzzing with events and celebrities, the true stars that evening were the Food Trucks that were serving food to the locals. People came out for dinner, waited in short lines, and had a great time. I overhead a family commenting how much fun they had together, much better than eating in a restaurant. That just shows the success of the food trucks here in Central Florida.
(click image to enlarge)
The Food Pod was organized by Thomas, the owner of the Treehouse Truck. He parks in front of Firestone Live on weekend evenings and spoke to the owner about the rear parking lot. He was able to gain access for himself and the other food trucks for their very first Food Pod. With the success of this first Food Pod, it is now a weekly event on Wednesdays and it will only grow from here.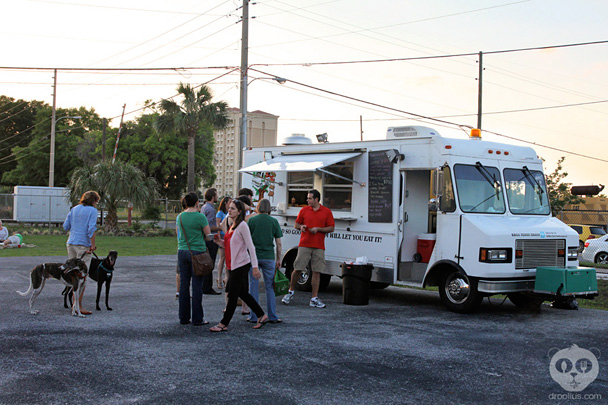 (click image to enlarge)
Tree House Truck
The weekend before the first Food Pod, I actually visited the Treehouse Truck and shared a lot of the menu with a friend. All the food tastes great and is cooked to order. The Treehouse burger is super tasty and is seasoned really well. They also serve an awesome deep fried PBJ sandwich, which was featured [HERE]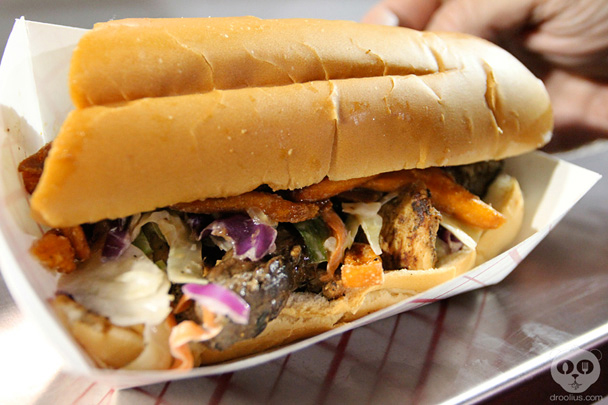 (click image to enlarge)
ChiMoo – marinated chicken and skirt steak with sweet potato fries and cole slaw
One one of the Treehouse Truck's signature items is the ChiMoo. A sandwich with marinated chicken (chi) and skirt steak (moo) with sweet potato fries and cole slaw all inside a soft hoagie roll. This sandwich was packed with flavor and very balanced. The marinated meats had good seasoning, with some sweetness from the fries, and added texture from the cole slaw. It all tied in together very well. I highly recommend this sandwich.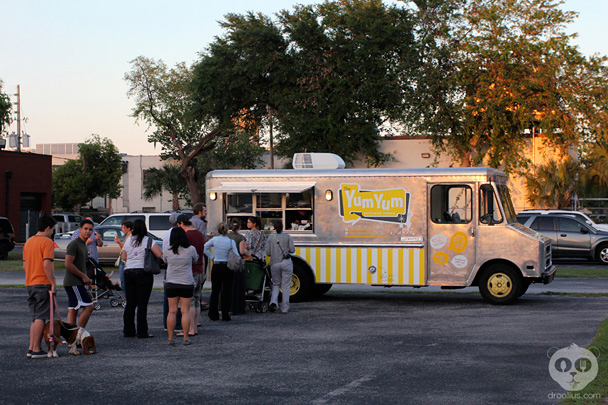 (click image to enlarge)
The Yum Yum Cupcake Truck
This truck and its cupcakes are retro in style with classic flavors. The cupcakes are soft and moist, baked just like grandma used to make them. I met two ladies who drove all the way from Celebration just to get these cupcakes after seeing a tweet about the Food Pod. Luckily they got some cupcakes before they sold out, which happens a lot at this truck.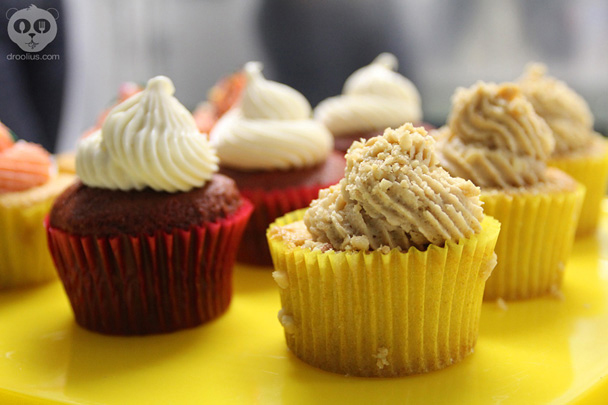 (click image to enlarge)
Red Velvet and Peanut butter cupcakes
The Red Velvet had some really good cream cheese frosting that complimented the cupcake. The new peanut butter cupcake is this month's featured flavor. It is a good tasting cupcake with peanut butter flavors all through out. The icing was great and its all topped off peanut crumbled peanuts.
(click image to enlarge)
Chocolate Mint cupcake
This one really surprised me. I'm not too much of a chocolate fan, especially with cupcakes. This however tasted so good to me. Like eating an Andes Chocolate Mint in cupcake form.
(click image to enlarge)
The Crooked Spoon
This was my first time eating at this truck and they had good stuff on the menu. They sold out of their mac n cheese and the fish tacos I heard were good that evening. I went with their burger which is another item I have heard about.
(click image to enlarge)
Crooked Spoon Burger – Angus beef, chipotle aioli, onion marmalade, swiss, spring mix, tomato
The burger was juicy and they cook it to your preference. A little spice from the chipotle aioli was good with the sweet from the onion marmalade. A good blend of flavors that were all subtle but you could taste them all.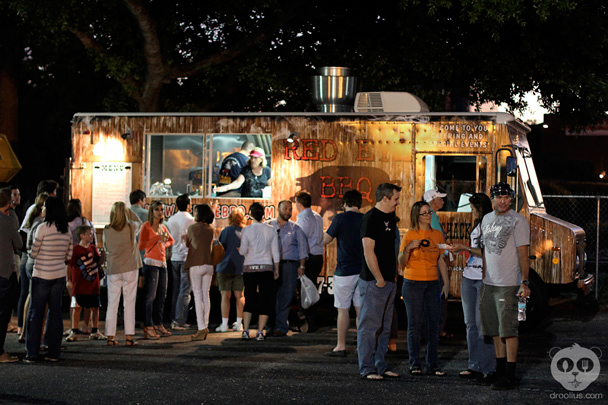 (click image to enlarge)
Red Eye BBQ
This BBQ food truck has been featured [HERE] on Droolius before. They served up their full menu of BBQ, from pulled pork and brisket sandwiches to the Big Daddy Burger (which I still need to try). They featured some new sides, a Jalapeno wrapped with bacon (forgot to take a photo) and cole slaw.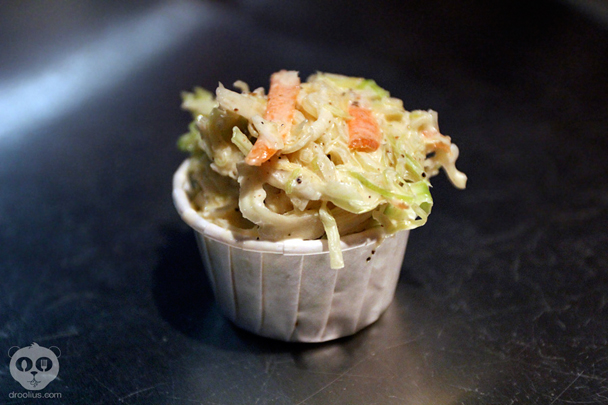 (click image to enlarge)
Cole Slaw
This is only a small sample that I tried that night. The actual side is a good portion. If you like sides with your BBQ then try this one. It has a good seasoned flavor that is not heavy with mayonnaise. Has a touch of sweetness which I enjoyed.
(click image to enlarge)
Big Wheel Truck
The food truck where they promote using local ingredients, they had a number of their gourmet offerings like always. Check out the Droolius feature [HERE]
(click image to enlarge)
Grilled Local Corn w/ Lemon Mayo and Spicy Parm
Since I was getting full, I wanted to try something lighter on the menu and ordered the grilled corn. It was really tasty with all of these flavors and textures hitting the senses. Sweet corn with the spiced parmesan and tangy lemon mayo all combined into a balanced tasting appetizer.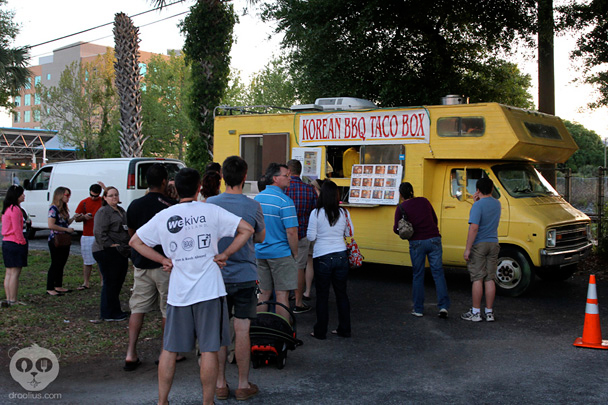 (click image to enlarge)
Korean BBQ Taco Box
They have a menu full of Korean marinated meats served in the form of a taco, sub, or with rice, all served in a box with a few sides. Full feature with photos [HERE] I like all of their menu items and I saw they offered the spicy wings as an entree now, not only a side item. So I ordered some "to go" for another meal. This was my first take home meal from a food truck.
(click image to enlarge)
Spicy Wings
They packed this to go order right, separating the wings and sauce. I heated the wings in a toaster oven, turning them a few times so the outside was crispy again. Then I placed the wings in a bowl, poured the sauce over them, and tossed them until fully coated. The result is the next photo.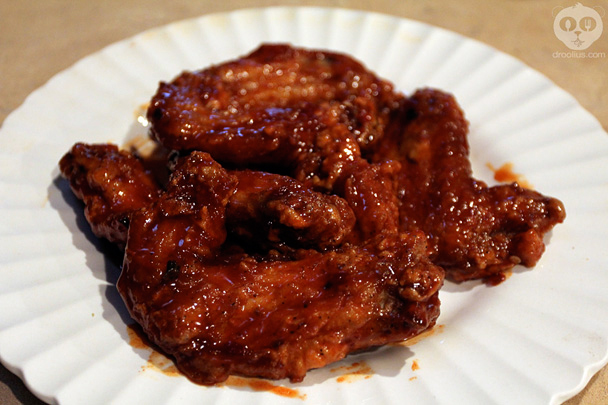 (click image to enlarge)
Spicy Wings
Normally each box meal comes with a spicy wing, so everyone gets a chance to try. Its their own recipe for sauce and seasonings on the wing itself. I think this was a great item to take home and tasted almost just like it came off the food truck. Of course its a little crunchier when its eaten right after its cooked but regardless it is good take home meal.
Whether you go to the next Food Pod to eat or take home a meal, it is a good opportunity to try some great tasting food. This new weekly event should only get better, but with the popularity of food trucks now, the lines may be a tad longer. The purpose of the Food Pod is not only to have food trucks park and serve together once a week, but it is here to share the food truck culture and promote visiting these food trucks on a daily basis at their general locations. So check out the next Food Pod tomorrow, Wednesday April 12th, at the rear parking lot of Firestone Live.
Food Pod
Starts at 6pm until 10pm (approx)
Firestone Live rear parking lot on West Concord Street
Firestone Live is located at 578 North Orange Avenue, Orlando, FL (corner of N. Orange Ave & W. Concord St. in downtown Orlando)


Words and photos by Julius Mayo Jr.
Content and photos © Droolius.com 2011


Follow the Food Trucks on Twitter
Big Wheel Truck – http://twitter.com/BigWheelTruck
The Crooked Spoon – http://twitter.com//TheCrookedSpn
Korean bbq Taco Box – http://twitter.com/koreanbbq_2011
Red Eye BBQ – http://twitter.com/Redeyebbq
Treehouse Truck – http://twitter.com/TREEHOUSETRUCK
The Yum Yum Cupcake Truck – http://twitter.com/yumyumtruck_fl