The weekly Food Pod event is drawing a nice crowd on Wednesday evenings in downtown Orlando. Six of Orlando's popular food trucks are gathering in the rear parking lot behind Firestone Live and serving up their great food. The Food Pod starts at 6pm every Wednesday and usually goes until 9 or 10 pm. It's better to get there early as menu items do sell out and you don't want to miss out on anything you are craving.
(click image to enlarge)
The weekly event has been a great collaboration between all of the food trucks and the parking lot has ample space for people to walk around and enjoy eating outdoors. Some people stand and eat, while others take a seat in the grass to eat their meals. The lines at the food trucks are not too long and every one is able to sample all the food they wish. This weekly event is bringing the community together as everyone gathers and eats together.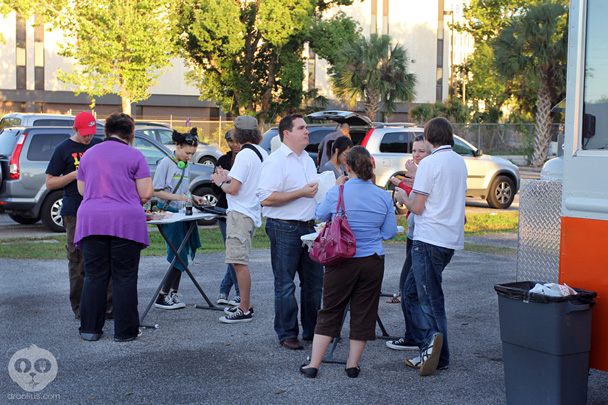 (click image to enlarge)
I had a chance to meet some people in line and seems like the Droolius blog is getting the word out there about these events. Thanks for checking out the blog everyone and nice meeting you all! See you again on Wednesday at the next food pod!
Here's some photos from last week's Food Pod on April 13, 2011…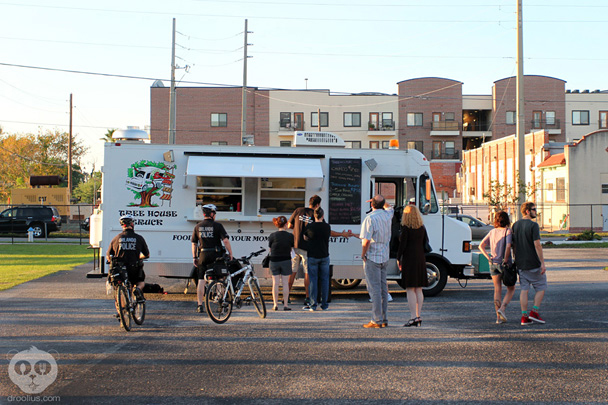 (click image to enlarge)
Tree House Truck
Try their Chi Moo sandwich or order a Treehouse burger that is seasoned with several spices with 2 thick patties that creates a high stacked burger.
(click image to enlarge)
Here is the Treehouse Deep Fried Peanut Butter and Jelly sandwich with Nutella. This was popular with the crowd that evening and the addition of Nutella probably helped. Look at that warm Nutella ooze out of the sandwich. Their classic deep fried PBJ sandwich, which was featured [HERE]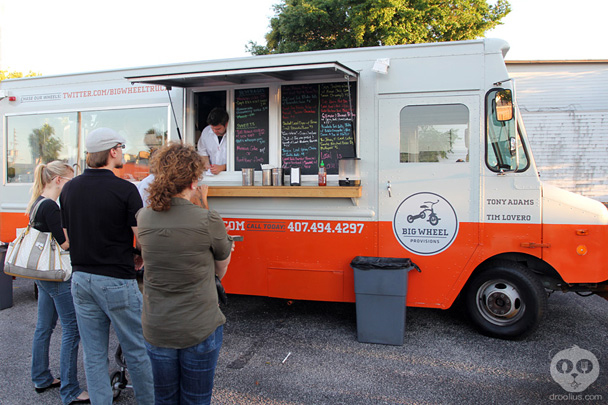 (click image to enlarge)
Big Wheel Truck
Promoting the use of local ingredients, this food truck always has a changing menu of gourmet offerings. Visit a feature from their first lunch service [HERE]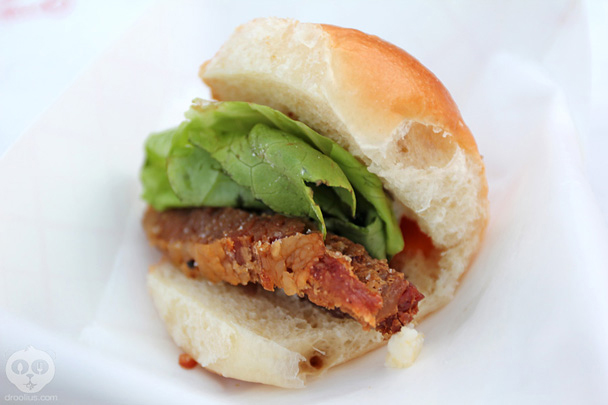 (click image to enlarge)
Kurobuta Pork Belly Sliders w/ Buffalo Vinaigrette & Bleu Cheese Crema
The crispy pork belly was very delicious with a buffalo vinaigrette that cut some of the richness from the fat and a bleu cheese crema balanced it all out. I really enjoyed this pork belly in a slider form.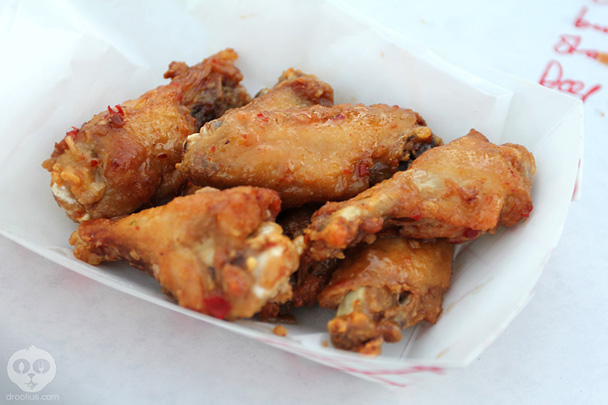 (click image to enlarge)
Crispy Chicken Wings w/ Asian Chili Lime Sauce
The wings were crispy and were covered with a light Asian Chili sauce with a hint of lime. I like the taste of crispy skin and the sauce together, compliments each other well.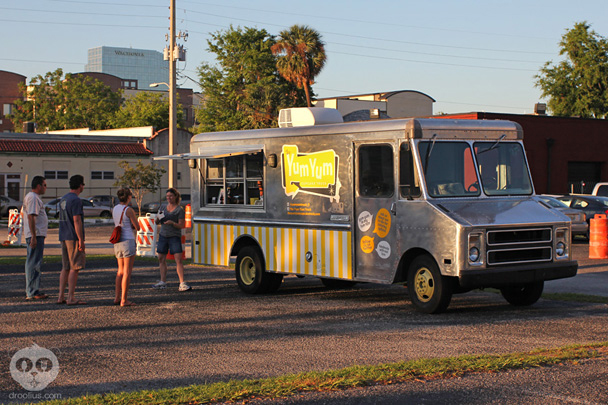 (click image to enlarge)
The Yum Yum Cupcake Truck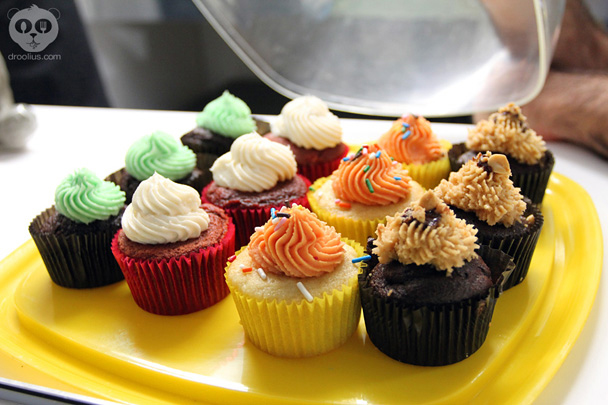 (click image to enlarge)
The Yum Yum Cupcake truck featured a few cupcake flavors and they tend to sell out each week. Make sure to visit them early so you can get your cupcake of choice.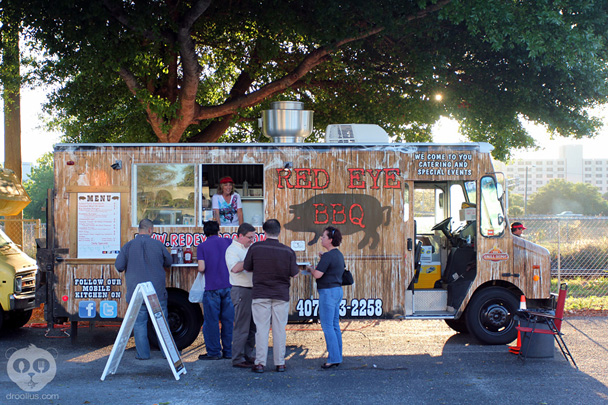 (click image to enlarge)
Red Eye BBQ
This food truck is always smoking up some great tasting BBQ and combines burgers with BBQ and mac & cheese. This food truck has been featured [HERE]
(click image to enlarge)
The Red Eye
This is one of my favorites when I go the Red Eye BBQ truck. A moist corn muffin stuffed with pulled pork with a drizzle of both honey and BBQ sauce. I don't think I could ever get tired of this, it is that good in my opinion.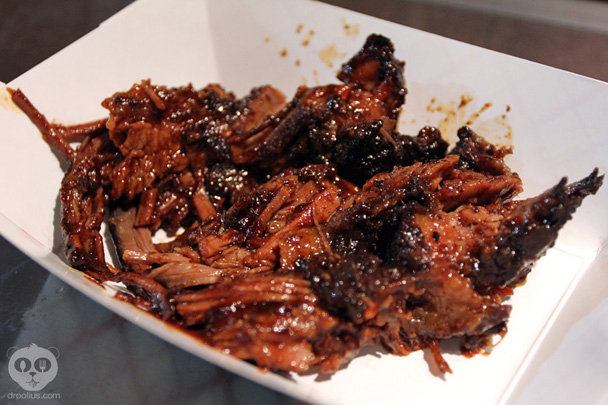 (click image to enlarge)
Brisket
Here's a plate of brisket that has been caramelized with BBQ sauce by tossing on the hot griddle. Instead of the sandwich its sometimes good to just have a portion on BBQ to eat by itself.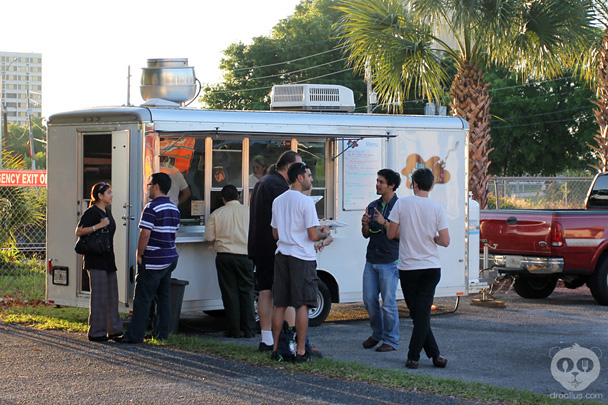 (click image to enlarge)
The Crooked Spoon
Serving burgers to sandwiches to their own version of mac & cheese, I am slowly but surely trying out their menu which has a new special each time I visit.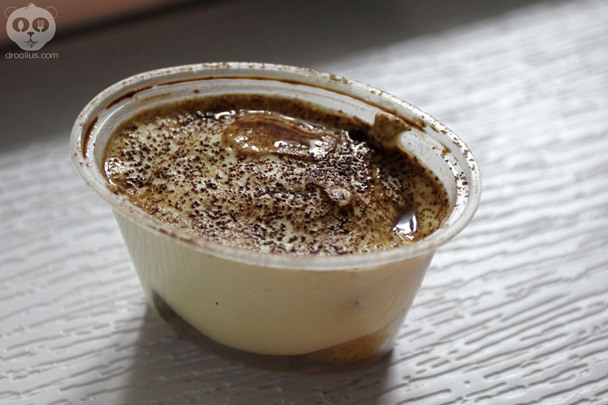 (click image to enlarge)
Tiramisu
This was a tasty dessert, not too sweet, and had the classic Tiramisu taste. The texture of the cake was just right and soaked up all of the flavors, without it becoming mushy. Nice job Crooked Spoon.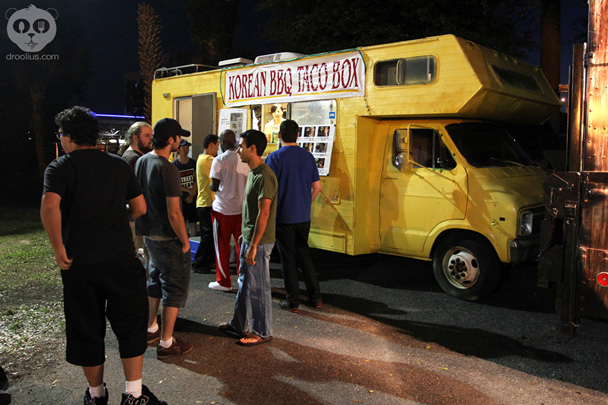 (click image to enlarge)
Korean BBQ Taco Box
This food truck has some really good marinated meats in traditional Korean spices. They can be ordered in a taco, sandwich or rice box and all come with sides. Full feature with photos [HERE]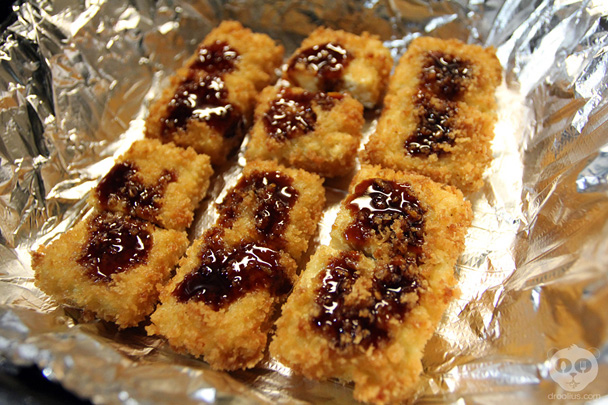 (click image to enlarge)
Fried Tofu w/ teriyaki sauce
This is a newer side dish that I have been wanting to try and finally did this evening. The breaded pieces of tofu are fried then topped with some teriyaki sauce. The tofu itself was warm in the center with some crunch on the outside. I like to eat tofu so it is no surprise I liked this side that comes in each box meal.
With the popularity of food trucks and people discovering the great tasting food, the Food Pod will only continue to grow. Orlando has welcomed the food trucks with open arms and the Food Pod is a great way to try all of the food trucks in one location. Make sure to bring some cash, as all food trucks do not take card, and bring a chair if you would like. There's plenty of space for everyone to dine al fresco and enjoy their meal with a nice sunset in downtown Orlando.
Food Pod
Starts at 6pm until 10pm (approx)
Firestone Live rear parking lot on West Concord Street
Firestone Live is located at 578 North Orange Avenue, Orlando, FL (corner of N. Orange Ave & W. Concord St. in downtown Orlando)


Words and photos by Julius Mayo Jr.
Content and photos © Droolius.com 2011


More posts on Food Pod events:
First Food Pod, A Success – Event Recap
Food Pod! Six trucks, one location – April 6th Orlando, FL

Follow the Food Trucks on Twitter
Big Wheel Truck – http://twitter.com/BigWheelTruck
The Crooked Spoon – http://twitter.com//TheCrookedSpn
Korean bbq Taco Box – http://twitter.com/koreanbbq_2011
Red Eye BBQ – http://twitter.com/Redeyebbq
Treehouse Truck – http://twitter.com/TREEHOUSETRUCK
The Yum Yum Cupcake Truck – http://twitter.com/yumyumtruck_fl