The month of May was very busy with food events in Orlando, FL. Food Truck Bazaar 2, weekly Food Pods at Firestone Live and Lake Lilly, Food Truck Heaven, AMC Dine-in Theatre opening, more food trucks launching, restaurant openings… the list goes on. I definitely was out more attending events and eating a lot. Not only did I eat, but I participated in a few events as well. I helped run a Food Blogger table at the Daily City's Food Truck Bazaar and I co-hosted Orlando's first ever Foodspotting.com Eat-up. Needless to say I spent more time going to the events than blogging, so here's the start of many event recaps to come and a few photo teasers to catch you all up to speed.
(click image to enlarge)
A group of local Food bloggers were able to collaborate on I Love Food Trucks t-shirts with our logos on the back of the shirt, that were sold at the Food Truck Bazaar.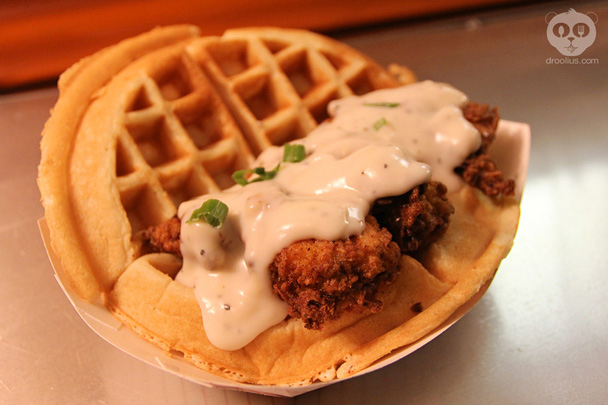 (click image to enlarge)
Chicken and Waffle sandwich with gravy – One of the new food trucks that launched in May is Melissa's Chicken & Waffles truck. They serve chicken and waffles as well as a few dessert style waffles.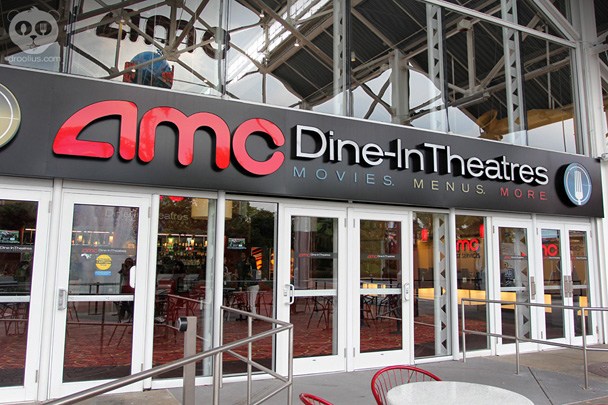 (click image to enlarge)
AMC Dine-in Theatres opened mid May at the AMC 24 at Downtown Disney. I was able to attend a media preview with a screening of Tron while eating a dinner. It was a fun experience and recap with theatre and food photos is on the way.
At the end of May I took a trip to New York City and if you keep up with the @Droolius Twitter or Droolius Facebook page, you probably saw a few mobile uploads of the food I ate and the numerous Foursquare check-ins I made. Look for up coming blog posts for NYC restaurants in the next few weeks. Many great places to eat in NYC will take over this blog for a bit since I try to eat at as many places that I can with lots of photos taken.

(click image to enlarge)
One of the stops I had to make in NYC was the 53rd and 6th Halal Cart at like 1:30am. The Halal Guys serve up some good chicken/lamb with rice, which many say is the best Halal cart in the city. I like the mix plate which has both lamb and chicken over rice, with some salad and pita. This is my second time eating here and it is very tasty, along with their signature white sauce and hot sauce.
Going into June, the events do not slow down in Orlando. June 1st was my first day back and I attended the Firestone Live Food Pod. I had the Tree House Truck's new burger "The Colombian" which is my new favorite burger at their truck.
(click image to enlarge)
Colombian Burger – Latin spiced Angus, veggies, kettle chips, salsa rosada, pineapple purée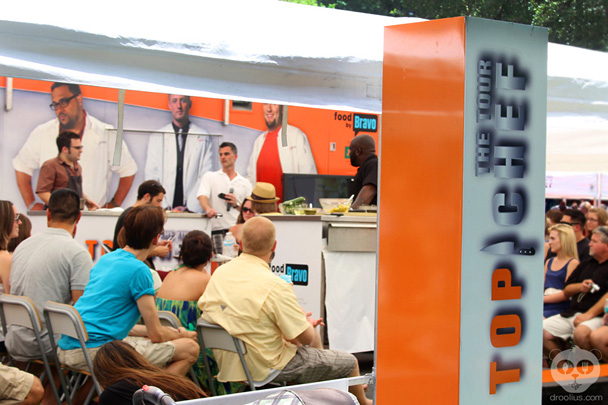 (click image to enlarge)
Then this past Sunday June 5th I attended the Top Chef Tour – Orlando stop at the Lake Eola Farmers market. The two Top Chef contestants, Chef Kenny Gilbert and Chef Eli Kirshtein, had a challenge to cook cod fish, which we got to taste and they had a panel of 3 local judges. Thanks to Amy Cao and Foodspotting for getting us seated in the tent, as I was able to take many photos which will be posted in an upcoming event recap.
So that's where I've been, attending events and eating it up. The scale definitely shows it now but it has been a great time. The many events I attended in the month of May will be posted as event recaps and the month of June will only have more to come.
Words and photos by Julius Mayo Jr.
Content and photos © Droolius.com 2011