This is the first guest blog post on the Droolius blog. Enjoy the information and photos from a visit to Spot Dessert Bar in New York City…
Spot Dessert Bar
words and photos by @iEatsByJEWELeS
Two weeks ago during a delicious trip in New York City, I texted my brother @Droolius: "I found a spot in NYC I would like to blog about…is that cool?" Of course my brother had to say YES! I mean, I inherited his eclectic palate so I know how to scope out awesome, blog-worthy spots!
And yes, the place I was raving about is naturally called "Spot DESSERT BAR", physically located at 13 Saint Marks Place, New York, NY (virtually located @ www.spotdessertbar.com )
We ended up coming to this tasty establishment after a delicious meal @ Boka Bon Chon (which the visit will be covered at another time). Our friend wanted to try out this "Spot" because she always saw a line out of the door when she would come out of the nearby David Barton Gym.
When we sat down I could not stop staring at the mouthwatering dessert bar showcase in front of us! ::drooling::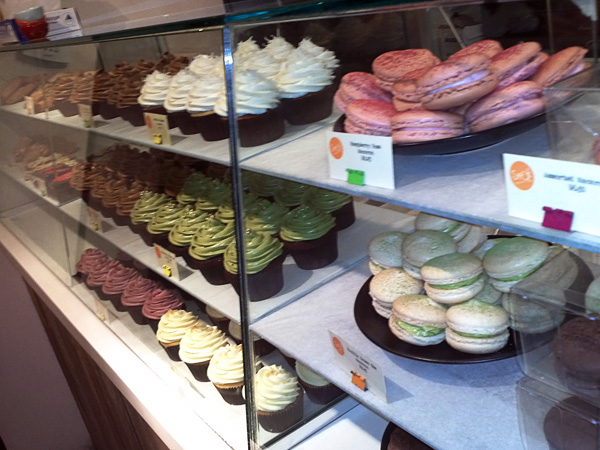 Then I glanced up and saw the "Daily Special" board above the showcase. It was like the Confectionary Gods were granting me a generous cloud that read:
Since it was our first time at Spot DESSERT BAR and our eyes are bigger than our stomachs, we ordered the following:
– Raspberry Rose , Vanilla Green Tea, & Chocolate Caramel macarons
– Vanilla Caramel Vietnamese Coffee Cupcake, Mocha Maldon Salt Caramel, & Chocolate Green Tea Fruit Jam cupcakes
– Various beverages to satisfy the Daily Special for our party of four!




(click image to enlarge)
These colorful French macarons were so delicate and just melted in your mouth (not in your hands!). It was my first time having a French macaron and I am now officially addicted to these little tantalizing things! The owner of Spot DESSERT BAR, Mark, said "Macarons will soon to be the new craze, like the cupcakes!" I totally concur!



The Mocha Maldon Salt Caramel cupcake was so dreamy and the nostalgic taste reminded me of the Salted Caramel Hot Chocolate / Mocha beverage at probably one of YOUR favorite coffeehouses. (HINT: *$)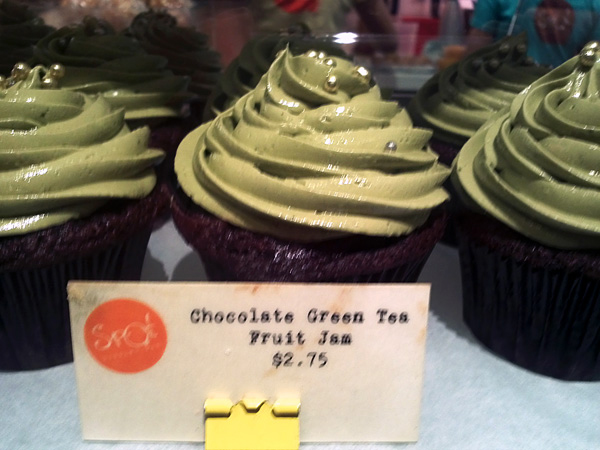 And the Chocolate Green Tea Fruit Jam cupcake was one of my favorites! Being an avid green tea drinker, I loved how the not-too-sweet, velvety frosting dissolved in my mouth. And it tasted just like the liquid, lightly sweetened, antioxidant beverage!



There must be a running theme with beverages in cupcake form here because you MUST try the Vanilla Caramel Vietnamese Coffee cupcake….Yes, that is right! The solid form of a Café Sua Da (iced Vietnamese coffee) in a cupcake confectionary form (with a caramel filling) was UNBELIEVABLE! This luscious cupcake was just full of delectableness!


Finally, the bubble tea flavor I ordered with my awesome Vanilla Caramel Vietnamese Coffee cupcake was truly something out of the ordinary: Calamansi Thai Tea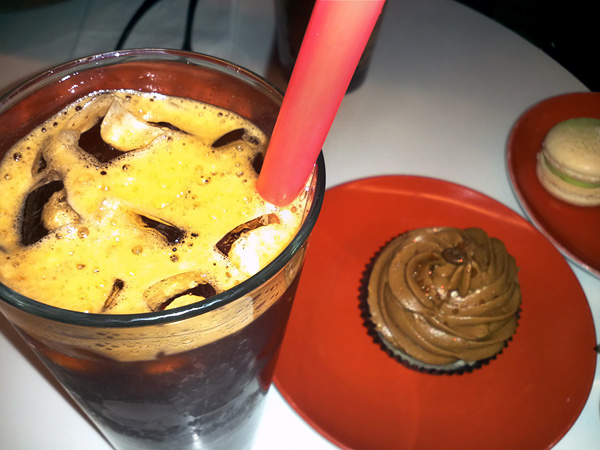 Calamansi (or also known as "calamondin") is a popular citrus fruit amongst Filipinos because the tiny orange-like fruits are widely cultivated in the Philippines and tropical areas in the United States (my parents actually have a tree in their Florida backyard!). So when I saw this exquisite bubble tea concoction that consisted of citrusy mixed with sweet, I honestly had my doubts. However with the tart calamansi and sugary thai tea extracts, the strong essences seemed to cancel each other out! The final product: a unique, surprisingly smooth-tasting bubble tea! And, the sweetened dark bubbles (or "boba balls") added texture to the drink, so no complaints here!
Just reminiscing about the deliciousness I ingested at the SPOT Dessert Bar is giving me yummy, sentimental memories! I cannot wait for my next visit to NYC, especially to see what new, fantastic beverage-concoctions-in-cupcake-form the Spot DESSERT BAR has came up with!
Like the Spot DESSERT BAR page on Facebook.com/SpotDessertBar and tell Mark you saw a blog about his "Spot" on Droolius.com
And follow me on Twitter @iEatsByJEWELeS and Foodspotting www.foodspotting.com/173477-jeweles
Happy iEats to you!


Spot Dessert Bar
13 St. Marks Pl
New York, NY 10003
www.spotdessertbar.com