Recently I was invited to take a tour with fellow food bloggers at Le Cordon Bleu College of Culinary Arts in Orlando, FL. The invitation also included a dinner at their Technique Restaurant. This was the first time this college had a group of food bloggers to tour the school at the Orlando campus. The school has always had media filming on site, but this was a new invitation extended to bloggers.
(click image to enlarge)
Fellow food bloggers and a few significant others were in attendance, @AggiesKitchen @EclecticRecipes @MegaYummo @TastyChomps @TheLittleKitchn and myself all took a tour of the college and had a meal following it, prepared by students.
(click image to enlarge)
We were greeted by the staff and started off with some champagne. Not a bad way to start…
(click image to enlarge)
We started the tour of Le Cordon Bleu College from the Technique restaurant, walking through hallways filled with awards and accolades. This school has a fun and competitive nature to its students and staff. One notable accomplishment is holding the Guinness World Record for the largest Crème Brulee set in February 2005. Quite impressive and only one of the many awards the school has received, including winning the award "College of the Year."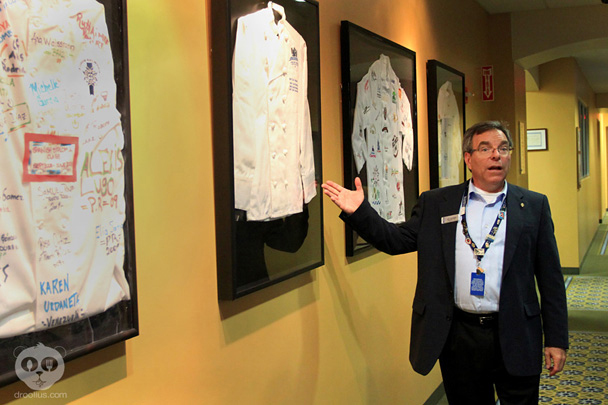 (click image to enlarge)
Le Cordon Bleu Orlando School President explaining the framed Chef coats and recognition of Chefs.
Leading the tour was school President Joe Hardiman, who gave us food bloggers a lot of insight about the school and its instructors. One thing I learned was that the Orlando campus has a number of high caliber chefs that come into this school, teaching and cooking with students. Chefs visit this campus because they can experiment and have fun in the kitchen. As the tour progressed, the theme of students having fun in the kitchen and learning is what stuck with me. It makes me want to attend culinary school here, to have fun learning in the kitchen and work with some Master Chefs. Any scholarships out there?
(click image to enlarge)
Teacher and Chef, William Mather, inside the school's Chaîne des Rôtisseurs Room explaining the culinary world for students and Chefs.
(click image to enlarge)
Food Bloggers taking photos, filming, and listening to the school President talk about the instructors & Chefs being recognized by their peers.
(click image to enlarge)
You can see the students working through the windows as we toured the school. We got to walk into a kitchen or two while students were busy working on their dishes. Classes are available in both English and Spanish languages. The students learn cooking and baking techniques, practicing them in the various sized kitchens. Specialized foods are focused inside student clubs, while competition teams are formed from highly talented students that will practice and then compete.
(click image to enlarge)
Wedding cakes decorated and styled by students.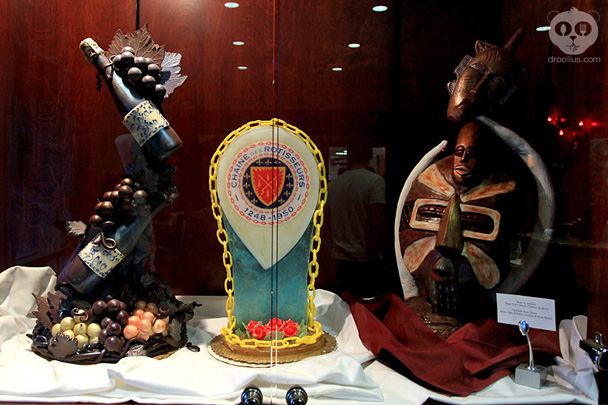 (click image to enlarge)
Students learn to work with chocolate and sugar, creating and learning how to manipulate ingredients to withstand different environments and room temperatures. Not so much how it looks, but how it is made and learning those techniques.
(click image to enlarge)
After completing the tour of the school, we were all hungry and ready to eat. First up, a selection of wines were poured, chosen to compliment the meal being served.
(click image to enlarge)
Decisions, decisions. I wanted to say one of each…
(click image to enlarge)
Butter plate and bread, the plate had a tapenade and an herb spread.
(click image to enlarge)
French Onion Soup
Traditionally made, this soup had a touch of sweetness, which we learned can vary depending on the types of onions used.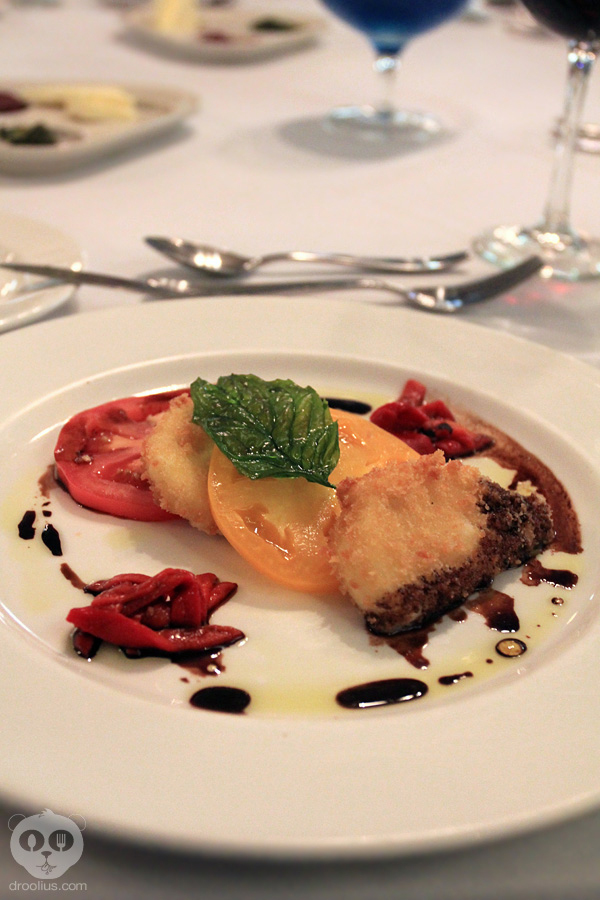 (click image to enlarge)
Caprese Salad – fried mozzarella, heirloom tomatoes, roasted red peppers, basil, olive oil, balsamic vinegar reduction
I really liked this twist on a Caprese Salad. The fried mozzarella was warm and had a nice texture and crispness on the outside.
(click image to enlarge)
Filet Mignon with Tomato Hollandaise – house made fries, roasted zucchini, and tomato salad
The steak was cooked to the correct temperature, medium rare of course, and I enjoyed the vegetables and sauce all together. The side of fries was not as crispy as I would like, but had a decent flavor, and was served with a mini bottle of Heinz ketchup.
(click image to enlarge)
For dessert, one of the Chef Instructors performed a cooking demo and prepared Bananas Foster tableside. As he prepared the bananas he gave a history about the Bananas Foster dessert, the origins from New Orleans, and how it was created by Brennan's Restaurant in New Orleans. The fun-to-watch tableside performance had some flambé action going on as the rum lit up in a large bright flame. As he sprinkled cinnamon, little sparks would light up in the blue flame. I took some video on my SLR camera as well, so maybe I will post it so you can see this preparation and hear the story of Bananas Foster.
(click image to enlarge)
Bananas Foster – prepared tableside with homemade vanilla ice cream
This was a really good tasting dessert with the warm bananas swimming in all of the clarified butter and brown sugar that went into the sauce. Not too sweet, but just right. It paired well with the homemade vanilla ice cream. Coffee was served after dinner and this was a great match.
The experience overall of the school tour was very insightful and the dinner was enjoyable. The tour showed me that there are a high caliber of chefs, both local and from around the nation, that frequently come into this school to experiment, as well as teach and cook with students. The students work with these professional chefs and have a great opportunity to learn from them. The instructors themselves range from a background of award-winning chefs to Certified Master Chefs (CMC) and ACF Chefs. Students have opportunities to work at local events such as Taste of the Nation, Epcot's Food & Wine Festival, Jetport Food & Wine Party, and more to practice their skills and gain experience. There are many impressive facts about this school, plenty to make me want to attend.
The dinner at the Technique Restaurant itself was enough to make me want to come back for more. A great meal made by students, I look forward to bringing friends here. Reservation can be made at OpenTable.com and it is open to the public. Sitting at the table with fellow food bloggers and Chef Mather, and discussing favorite food from around the country was a highlight. Its just fun to talk about food and enjoy eating it at the same time. Thanks to Le Cordon Bleu College of Culinary Arts in Orlando for a great evening!
Le Cordon Bleu College of Culinary Arts
8511 Commodity Circle
Suite 100
Orlando, FL 32819
1-877-563-4222
www.chefs.edu/Orlando
Technique Restaurant – Le Cordon Bleu College of Culinary Arts
8511 Commodity Circle
Orlando, FL 32819
407-313-8792
www.techniquerestaurant.com

Words and photos by Julius Mayo Jr.
All content and photos © Droolius.com 2011