The Fish Out of Water Sushi Truck is one of newest gourmet food trucks to hit the streets of Orlando. I have been looking forward to trying their food ever since I heard about the sushi truck's development. The concept of having sushi served from a food truck really peeked my interest. I thought this could work as long as you had the proper build of the truck to keep everything cold and fresh, with a sushi chef that could create a great menu and be able to execute it well. After visiting the sushi truck this past weekend, I'd say this new food truck has reached my expectations, and continues to push forward with focusing on a quality product.
(click image to enlarge)
I met the owner a few months back and he was telling me about his food truck concept and the sushi he was planning to serve. After chatting for a while, I could hear his experience in both the restaurant business and sushi itself. His plans were focusing on properly building the food truck and putting out a good product. After tasting the sushi roll I ordered and talking to the sushi chefs during my visit, I can say this is quality sushi being served. To any skeptics out there, it is possible to have quality sushi coming from a food truck.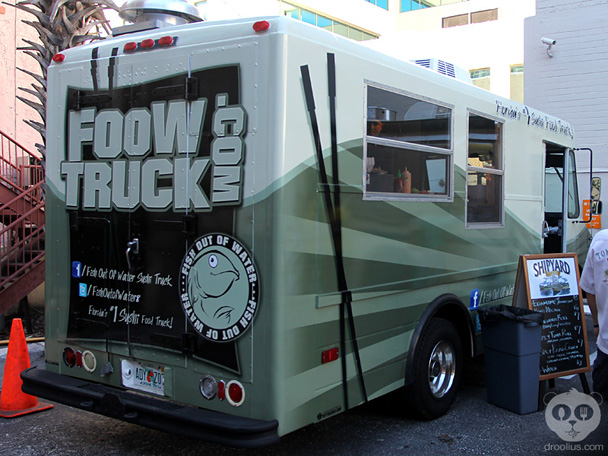 (click image to enlarge)
When I visited the Fish Out of Water Sushi Truck in downtown Orlando, it was parked in a lot with a few other food trucks for an event. The event was expected to attract a large attendance that afternoon and evening, so the Fish Out of Water offered a limited menu to cater to the crowd: Edamame splashed w/ kosher salt, Spicy krab nachos, California Roll, Spicy Tuna Roll, and Spicy Krab Crunch Roll.
(click image to enlarge)
Since spicy tuna is my favorite, I had to try their version. I ordered the Spicy Tuna Roll and also Spicy krab nachos to try some different. Photo above is how the order came out. Nice presentation and so colorful.
(click image to enlarge)
Spicy Tuna Roll and Spicy krab nachos – a view with the two plates together.
(click image to enlarge)
Spicy Tuna Roll – masago, minced spicy tuna, cucumber (8 pcs)
The Spicy Tuna Roll had a nice heat to it and was not overly seasoned. The natural clean flavors came out of tuna while being accented with a variation of spice and heat. I tried to guess the recipe, I only got 2 out of the few ingredients correct. I will be back to try again.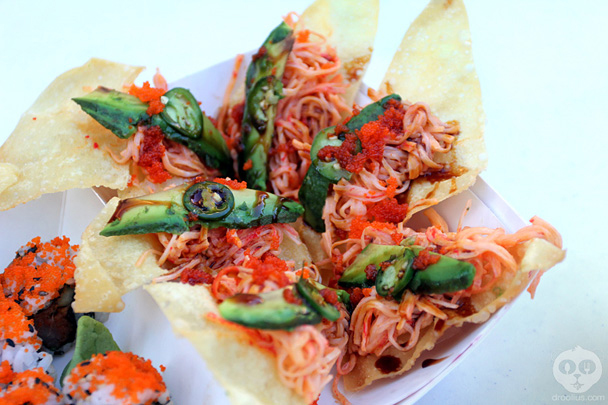 (click image to enlarge)
Spicy krab nachos – Spicy krab salad, avocado, jalapeno tobiko, serrano peppers, atop fried wonton skins dressed with eel sauce and scallions (description from Facebook Page)
An appetizer listed on their menu, the Spicy krab nachos were a tasty treat which I really enjoyed. It was a good blend of textures and flavors. Creamy and sweet, with a little heat, it had a contrasting crunch from the fried wonton which also gave it some added flavor. The flavors of each piece came together well, whether in a few bites or one whole bite. I shared a few pieces with some friends, but I could easily eat a full order or two by myself.
The menu always changes and the Fish Out of Water Sushi Truck rotates different sushi rolls and appetizers. You will just have to catch them on a few visits to get a good taste of their menu, which is what I'm planning to do. The one menu item I wanted to try but saving for next time is the Spicy Krab Crunch (spicy krab, goat cheese, cucumber, tempura crunch, spicy mayo). Something about goat cheese in sushi that sounds like a creative and interesting fusion of flavors.
I'm looking forward to trying this food truck again and cannot wait to see what the main sushi chef has in store for their next creations. The sushi truck is popping up in locations close to downtown Orlando and Mills 50 area. This new food truck made their first appearance recently at a Food Truck Bazaar and as a guest food truck at the Maitland Food Pod. To find the Fish Out of Water Sushi Truck, follow them on Twitter @FishOutOfWater8 and like their Facebook Page to view locations, current times, and more information.
Fish Out Of Water Sushi Truck
407-257-9946
Twitter: @FishOutOfWater8
Facebook: Facebook Page

Words and photos by Julius Mayo Jr.
All content and photos © Droolius.com 2011