Some of the Central Florida Food Trucks have a new place to call home. Recently opened, the Winter Park Food Truck Stop provides a location for food trucks to park and serve food, open 24 hours a day, 7 days a week. The food truck lot is located at 1127 N. Orlando Avenue, Winter Park, FL 32789.
(click image to enlarge)
This new 24 hour Food Truck Stop features 15+ food trucks (pending on each trucks' individual schedule) on any given day. Make sure to check the schedules of each individual food truck to find hours of operation before stopping by. Currently the food trucks are setting their own schedules and are planning lunch, dinner, and late night service. Visit the Droolius 'Find Orlando Food Trucks' page for a full listing of Central Florida food trucks with a Twitter feed of the food trucks announcing their locations.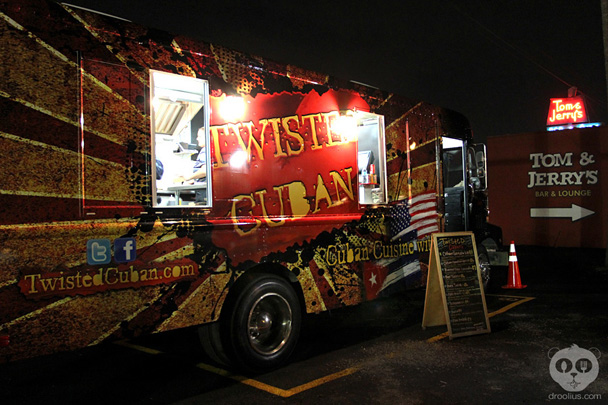 (click image to enlarge)
The food truck lot itself surrounds the long time Winter Park resident establishment, Tom and Jerry's Bar & Lounge, which has revamped their rear parking lot and extra space around its location to host the food trucks.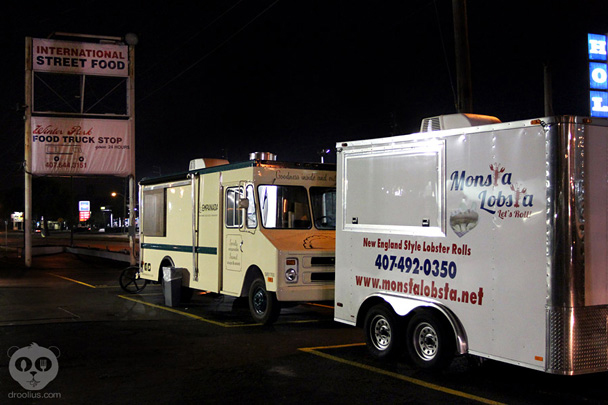 (click image to enlarge)
Every Thursday the Winter Park Food Truck Stop holds a special event, the International Food Truck Rally, from 5-10pm. The food trucks are required to attend this rally at least 3 weeks out of the month. Due to other event commitments on first Thursdays of each month, a few of food trucks will be there on the second, third, and fourth Thursdays instead. Regardless, a number of the trucks will be there every Thursday for this International Food Truck Rally.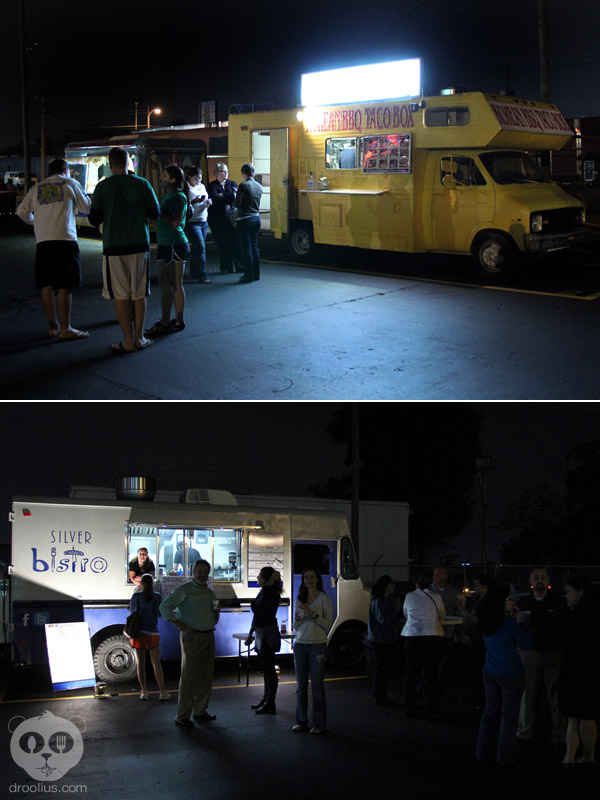 (click image to enlarge)
The Grand Opening of the International Food Truck Rally brought out a decent crowd according to food truck owners. They were happy with the opening event, but would like to see more promotions for the Thursday events in general. I arrived around 8 pm so I missed the early crowd that gathered around each truck. Some of the trucks did sell out food early like La Empanada and some stayed open until 10pm.
(click image to enlarge)
The food truck stop has a lot of space for patrons to roam around, with a sitting area and restrooms available. There is also a stage for live entertainment. Food truck owners agree that the space has lots of potential and the word just needs to get out so more people can come out on a daily basis and especially on Thursday evenings. Look for an upcoming lunch and dinner schedules starting in the next few weeks. I hope to see this place grow as a home for Central Florida's Food Trucks, with many events for the community.
Currently the list of food trucks at Winter Park Food Truck Stop:
• La Empanada
• Monsta Lobsta
• Korean BBQ Taco Box
• SwedeDISH Food Truck
• Tastebuds Catering
• The Crepe Company
• Travelling Gourmet
• Twisted Cuban
• Winter Park Fish Co
• Curbie's Sidewalk Café
• Silver Bistro
• Kona Dog
• Shred-a-Bowls
• Flattery Flatbread Truck
• Brick N Fire Pizza
• Fork in the Road
Winter Park Food Truck Stop
1127 N. Orlando Ave
Winter Park, FL 32789
Facebook Page

Words and photos by Julius Mayo Jr.
All content and photos © Droolius.com 2011