The Mall at Millenia gets their own frozen yogurt store just in time for the holidays. Pinkberry opens their doors, inside the mall, making this the third location in Orlando. Last Thursday was the Pre-Opening Party from 5-9 pm, where the public received free Pinkberry frozen yogurt with all of the toppings. The official Grand Opening was the following day and the store offered a free Pinkberry t-shirt to the first 50 people in line on Friday morning at 10 am.
(click image to enlarge)
What made this event a little more special was the preview of the new holiday flavor " Wondermint" which was available only at this store that day and people were the first in the nation to try it. With 2 other stores in Orlando, this was the one to be at to try the new seasonal flavor.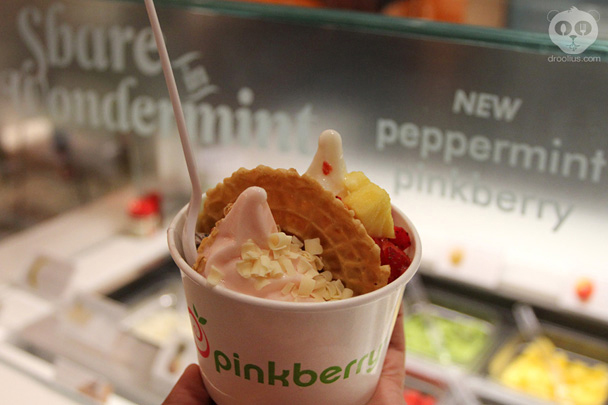 (click image to enlarge)
New "Wondermint" Frozen Yogurt
The Wondermint is a new seasonal flavor and is a peppermint flavored frozen yogurt, cool and refreshing to taste, that is not too sweet. I topped it with white chocolate shavings and some peppermint bark. The seasonal topping peppermint bark adds a punch of more peppermint and chocolate flavors.



(click image to enlarge)
I attended the media preview with @iEatsbyJewelES a few hours prior to the Pre-Opening party. I split my order in half with a waffle cookie in the middle. The other side was their Original frozen yogurt with various fruit toppings. I usually order my Pinkberry "side by side" (2 different flavors in a cup) but using the waffle cookie this time as a divider was good so I didn't have too much mixing of flavors. A good option in this order, I enjoyed the Wondermint side, the Original side with fruits, and finished the cookie in the middle.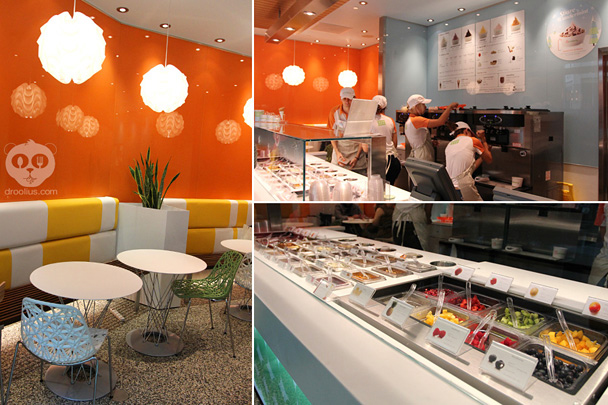 (click image to enlarge)
The new store has a seating area to enjoy frozen yogurt, decorated in colorful Pinkberry fashion. The staff is eager to help customers, so make sure to sample a few flavors if you cannot decide. Pinkberry is located inside The Mall at Millenia, lower court next to the Brio restaurant.
Pinkberry | The Mall at Millenia
4200 Conroy Road
Orlando, FL 32839
Twitter @pinkberryfla
Facebook


Words and photos by Julius Mayo Jr.
Content and photos © Droolius.com 2011