The Bacon Off in Orlando, FL is coming up this Sunday, June 17, 2012 from 12-4pm. The two food trucks, Big Wheel Truck and the C&S Brisket Bus, are busy perfecting their house cured and house smoked bacon, and will be going head to head for guests to choose the best bacon. The event requires a ticket to attend and costs $30 per ticket. The event will be taking place at the East End Market 3201 Corrine Drive, Orlando, FL 32803
What you get with a ticket:
• Tasting plate from each truck, with 4 types of bacon on each plate.
• The right to vote on your favorite bacon in each category, plus an overall "Bacon Grand Champion"
• All you can eat access to a buffet: The Big Wheel Truck is roasting a pig and providing a variety of salads, and the C&S Brisket Bus is providing a make-you-own sandwich station.
• A beer from Cigar City, Swamp Head, or Narragansett (There may be limited quantities of certain brands, so first come, first choice on beer), or a Boylan's Soda.
• Additional beer will be available for purchase after your one included in ticket price, and there will be live music by local, Orlando bands.
Tickets Available at: www.baconofforlando.com
Make sure to purchase the tickets from the link above. You can try to win a pair of tickets with the following information…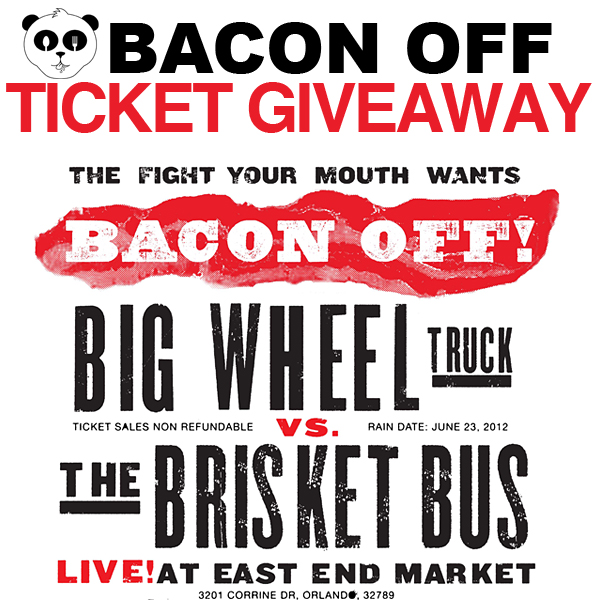 So with all of the details and excitement about the tickets to Bacon Off, what's the deal for the Ticket Giveaway? Droolius wants you there, so take a chance to win some tickets!
Giving away A pair of tickets to Bacon Off Orlando 2012 (One winner for both tickets).
Contest starts NOW (at time of blog post 1:30pm June 13, 2012) and Ends in a few hours at 12:01am June 14, 2012!
Hurry! Enter the contest with the following login and you Answer A Question by leaving a comment inside the Giveaway Widget below to be officially entered*. One entry per person only and the winner is selected at random. The winner will be announced on this blog post and will be contacted via email as well. Good Luck!
* Updated wording to make it easier to understand where to "Answer A Question".

Words and photos by Julius Mayo Jr.
Content and photos © Droolius.com 2012