The combination of chocolate and bacon just keeps getting better for Central Florida. On Saturday, September 1st, Peterbrooke Chocolatier of Winter Park is teaming up with the C&S Brisket Bus food truck to create a special "Chocolate-Covered Bacon". Using Peterbrooke's chocolate and C&S Brisket Bus' hand crafted bacon, the collaboration is to celebrate International Bacon Day at Peterbrooke's Winter Park store from 12-4 p.m. and to surpass the mark of 10,000 pieces of chocolate covered bacon sold.
C&S Brisket Bus makes some great tasting bacon and it will pair well with Peterbrooke chocolate. Who's ready to finally try this sweet and savory combination? Check out the details below…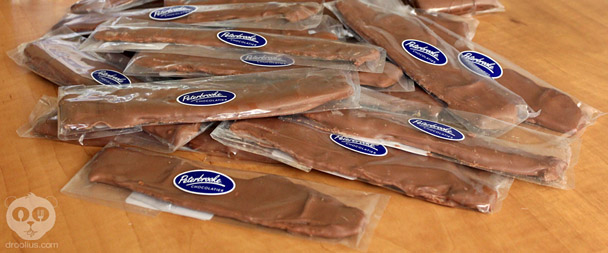 (click image to enlarge)
Photo by Droolius of Peterbrooke Chocolatier of Winter Park's Chocolate covered bacon (not of actual bacon by C&S Brisket Bus).


PETERBROOKE CHOCOLATIER OF WINTER PARK CELEBRATES INTERNATIONAL BACON DAY: 9/1
Help Local Chocolatier Tip the 10,000 Mark for Chocolate-Covered Bacon Pieces Sold
WHAT: With a goal to tip the 10,000 mark, for Chocolate-Covered Bacon slices sold, Peterbrooke Chocolatier of Winter Park ("Peterbrooke") hopes to hit its goal by teaming up with C&S Brisket Bus, a mobile gourmet delicatessen known for braised brisket and specialty bacon. All in favor of pork-goodness can celebrate Peterbrooke's Bacon Bash on International Bacon Day, Saturday, September 1 from 12-4 p.m.
"Collaborations with bacon experts like C&S Brisket Bus make partnerships all the more sweet," states Kevin Wray, owner of Peterbrooke Chocolatier of Winter Park. Partnering with local businesses is essential to our business model. "In addition to this partnership we currently collaborate with Luma on Park and Prato, The Spice & Tea Exchange of Winter Park, Jane's Short & Sweet as well as The Yum Yum Truck."
For one-day-only bacon lovers can experience unique and new-to-store bacon flavors provided by C&S Brisket Bus to be baked to a crisp and dipped in chocolate including:
o Brown Sugar Brined
o Sweet Tea Brined
o Hickory Smoked
· Bacon Chocolate Chip Cookies
· Pistachio Bacon Brittle
· Bacon Bites—chopped chocolate-covered bacon sold by the ounce
· Gelato with bacon toppings
While the food bus will be on the road during the event, merchandise such as T-shirts will be onsite for guests to purchase. Social media followers can also participate, as one Facebook fan will receive bacon for a year (one slice per week).
MORE ABOUT PETERBROOKE CHOCOLATIER OF WINTER PARK
Peterbrooke of Winter Park is locally owned and operated by Jami and Kevin Wray. The Winter Park
location boasts 1400-square-feet of chocolate bliss with unique-to-store delectables like chocolate-covered bacon, sea salt caramels, spicy chili chocolate and for the those looking for traditional favorites, the gourmet chocolate-covered popcorn is available in dark and milk chocolate. The chocolate boutique is open daily from Monday – Thursday from 10 a.m. to 10 p.m., Friday and Saturday 10 a.m. to 11:00 p.m. and Sunday from 12 p.m. to 9 p.m.
DATE: Saturday, September 1, 2012 from 12-4 p.m.
WHERE: Peterbrooke Chocolatier of Winter Park
300 South Park Avenue
Winter Park, FL
407.644.3200