It's that time of year again and Orlando Magical Dining Month is upon us. During the past 10 days or so, I've seen more friends post photos of their great looking food from their Orlando Magical Dining experience, more than ever before. I think Orlando is embracing the love for food and is proudly showing it. You can join in the dining action too and experience some of Central Florida's top restaurants for a $30 pre fixe menu. A great deal for a 3 course meal and available all month of September.
(click image to enlarge)
For my first trip out for Orlando Magical Dining this year, I got to try La Luce by Donna Scala inside the Bonnet Creek Hilton resort for the first time. I joined a few local media friends at this modern Italian restaurant, which serves in-house made pastas and tries to use as much local and seasonal ingredients as possible. They also feature wines from Italy, olives from spain, breads and pastries created by an in-house bakery located inside of the hotel. The pastas are made in-house everyday, for that day only. Very labor intensive, but you can taste it in the quality of the pasta. I sampled fellow diners' pasta dishes and they were great.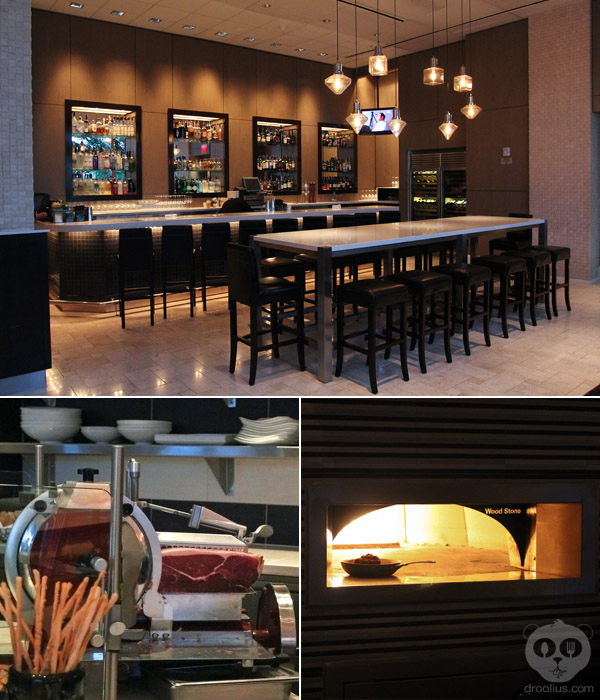 (click image to enlarge)
The space itself is very contemporary and stylish. As I was entering, I felt like I was going into a nice Vegas resort restaurant. Walking in you see a sophisticated looking bar and a open kitchen of sorts, with a machine to slice up quality ham, and a flame oven firing up pizzas and various dishes.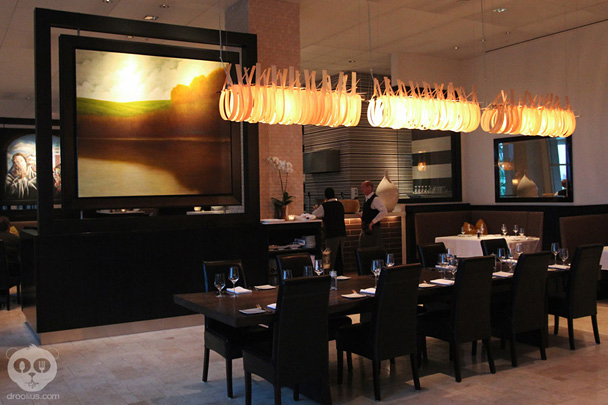 (click image to enlarge)
The dining room feels very modern with it's furniture and artsy light fixtures. While looking fine dining inside, the restaurant keeps a casual and comfortable tone. You can dress up for a nice dinner for two if you would like or you can keep it casual with the family. The restaurant has a nice view of the sunset if you time your meal accordingly.
The pre fixe menu includes 3 courses and La Luce gives a few options to choose from. One of the chefs came out and explained that they really try to use local ingredients. Greens for some of the salads came from Apopka and the chicken in one of the entrees is from a local farm. Scanning through the menu, I actually wouldn't mind trying one of each. Our group agreed to share a few bites with each other, so here's what I ordered:


Appetizer
(click image to enlarge)
Ligurian Halibut Crostini w/ tuna sauce, green peppercorn, radishes
The appetizer was light and refreshing, with a good crunch from the crostini. It was a light appetizer and the fish was gentle on the palate. It was a good start to the meal.


Entrée
(click image to enlarge)
Pollo Arrosto – Roasted half chicken, polenta, grilled corn, red pepper butter
I normally do not order chicken, but when I asked if the chicken was good and if it would impress me, our server said it would. So I ordered it and out came the roasted half chicken. It was tender and juicy, with a slightly crispy skin which I liked. The chicken was better than I expected. The corn polenta underneath was a good accompaniment with its soft texture and crisp edges. The grilled corn on the cob highlighted it's natural sweetness with a touch of smoke from the grill. The corn used in this dish was sourced locally too.
As mentioned, I had a few samples from fellow diners' entrees. I tried the Trottoloni Amatriciana that had a rich sauce with bacon and a house-made pasta. It was hearty and had a touch of spice, a dish I'd like to order. Another dish I tried was a Ravioli filled with lemon cream that was really great. The lemon gave it a nice brightness and made an often rich dish very refreshing. The raviolis were made from scratch and you could tell by their bouncy texture. I would definitely order this dish next time.
It's important to note, that each course was paired with a good wine. I don't have all of the names, but I'm sure they can recommend a glass to go with each course that you choose.


Dessert
(click image to enlarge)
Butterscotch pudding with toffee
This dessert was a smooth and sweet Butterscotch pudding. The piece of chocolate covered toffee was a nice touch in both sweetness and crunch. I could have eaten another piece of toffee too!
It's hard to decide if this was my favorite dessert over the taste of the Tiramisu I sampled. The Tiramisu (not pictured) had a great balance of coffee and sweetness, with a light texture. Both desserts are worth trying if you can order them.
(click image to enlarge)
La Luce has artwork that appears to be paintings that are the centerpieces of the dining area, but they are actually pieces created with chalk by artists and are redone once a month (from what the staff told me). Yet another fun fact in this stylishly decorated restaurant.
The dining experience overall was a great one with quality food. Modern Italian highlighting local ingredients and making fresh pastas from scratch sounds like a good choice to me. The menu at La Luce would be good for those looking to try something new during Orlando Magical Dining month. Dining here feels like you are not in Orlando and it would be a good try for any local who wants to get away for a stay-cation. The restaurant validates valet parking, which is a major plus with dining at any resort restaurant.
Go out there and explore some of the restaurants located in some of the nicest resorts in the area. Resorts are not only for tourists, but for locals too. You may just find your next favorite restaurant. All of the restaurants participating in Orlando Magical Dining Month can be viewed with their menus at www.visitorlando.com/magicaldining/restaurants
La Luce
14100 Bonnet Creek Resort Ln
Orlando, FL 32821
407-597-3600
www.laluceorlando.com


Words and photos by Julius Mayo Jr.
All content and photos © Droolius.com 2012
Disclaimer: I was given the opportunity to attend a media preview dinner for Orlando Magical Dining month. I was not compensated to write this post and all opinions are always my own.