One of my favorite restaurants in Orlando has closed. After 27 years of serving the Orlando market and many tourists from around the world, Trey Yuen has quietly closed it's doors. The owners decided it was time for their retirement, leaving behind many good memories with customers, family, and friends.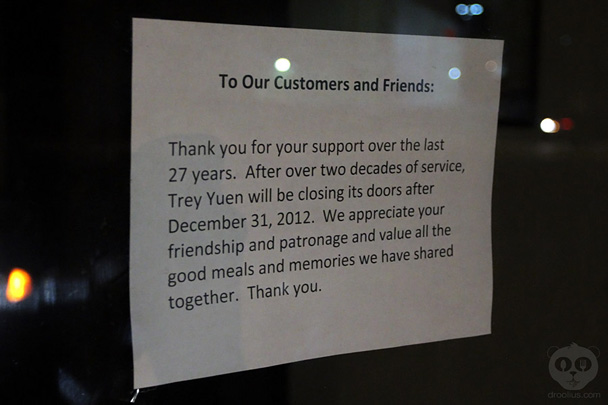 (click image to enlarge)
When I found out this past Sunday that Trey Yuen had closed, I was in shock. I felt like a part of me was lost. Trey Yuen was my "go to" restaurant for Chinese cuisine and dim sum, and it was the place I always recommended out-of-towners to eat at. I've had many meals here and probably started dining here around the late 1990's. It was the place to bring everyone together, especially when we had large groups of friends from out of town or event weekends. Sunday dim sum with the family, lunch meetings, groups of friends for dinner, birthday parties, and even a wedding reception. The Chinese wedding reception for my friends featured probably 10 courses, a meal I will never forget. I have many great food memories here and looking back I can say that this restaurant helped me develope my culinary palate, tasting many different flavors and textures in so many dishes.
I never got a chance to feature Trey Yuen in a blog post, but I always added photos on Foodspotting, and even hosted a Foodspotting Dim Sum Eatup in August of 2011. So in honor of their closing, I'm sharing a few photos of some of my favorite dishes…
(click image to enlarge)
The plethora of dim sum and a couple of Chinese dishes, this was a normal lunch/brunch for our group.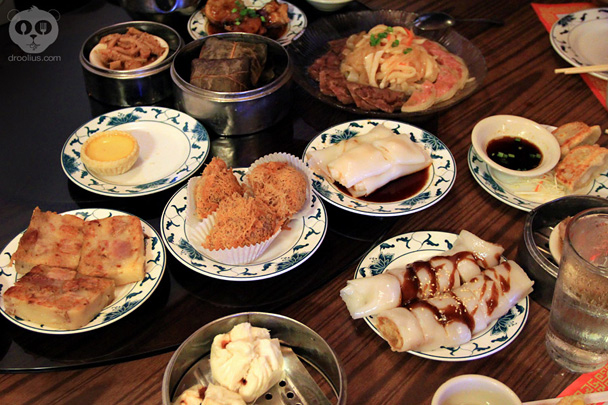 (click image to enlarge)
More dim sum. One of my favorites, Fried Taro Puff, is in the center of the photo.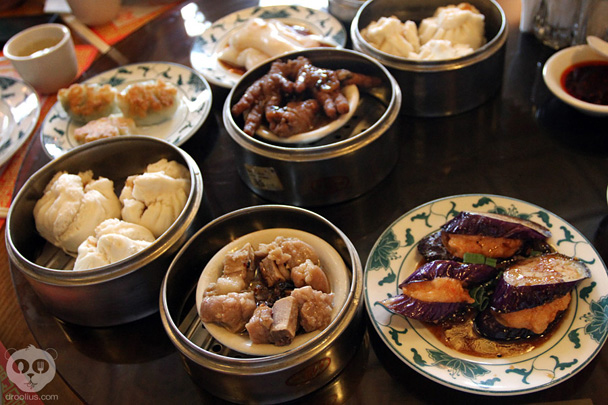 (click image to enlarge)
Steamed pork buns, Steamed ribs in black bean sauce, and Stuffed Egg Plant were common on every visit, with the occasional order of Chicken Feet for those who wanted to share.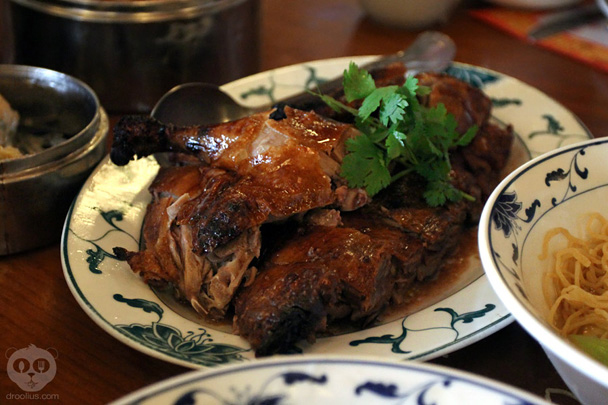 (click image to enlarge)
The Roast Duck, made in-house everyday, was one of the best dishes. Crispy skin, tender meat, and the savory sauce was a treat every time we ordered this dish.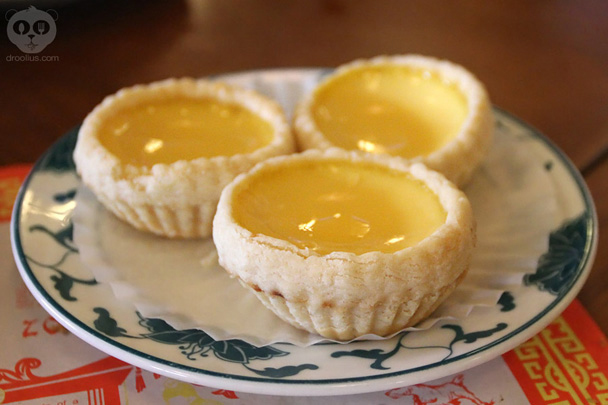 (click image to enlarge)
Egg custard was the one thing I had to order each time I went to Trey Yuen for dim sum. The challenge was they were offered only on the weekends and usually sold out early. I have to admit, I would call ahead sometimes to save a plate or two.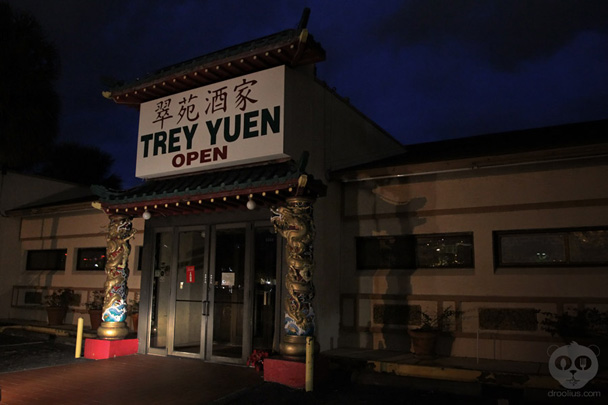 (click image to enlarge)
Trey Yuen will be truly missed and I'm glad I got to enjoy the food and share the experience with so many friends and family over the years. The only thing I can do now is reminisce of the great dishes I've eaten and be happy that the Trey Yuen family and staff was able to give Orlando a taste of their culture and Chinese cuisine. Where will I go now for quality Chinese food and dim sum?
Trey Yuen
6800 Visitors Circle
Orlando, FL 32819

Words and photos by Julius Mayo Jr.
Content and photos © Droolius.com 2013