The South Beach Wine and Food Festival kicked off the 2013 event weekend with Moët Hennessy's "The Q" hosted by Paula Deen. The evening event featured live entertainment with wine and spirits from the Moët Hennessy portfolio, along with small plates from several Food Network chefs, celebrity chefs, and local Florida chefs. Attendees had a chance to sample barbecue themed dishes by an esteemed group of chefs and dishes were judged for awards. Taking top honors were Chef Todd English with The Omaha Steaks Award for Culinary Excellence, while Chef Jonathan Waxman was crowned the Kingsford Charcoal King of Q. I tried both dishes and they were excellent.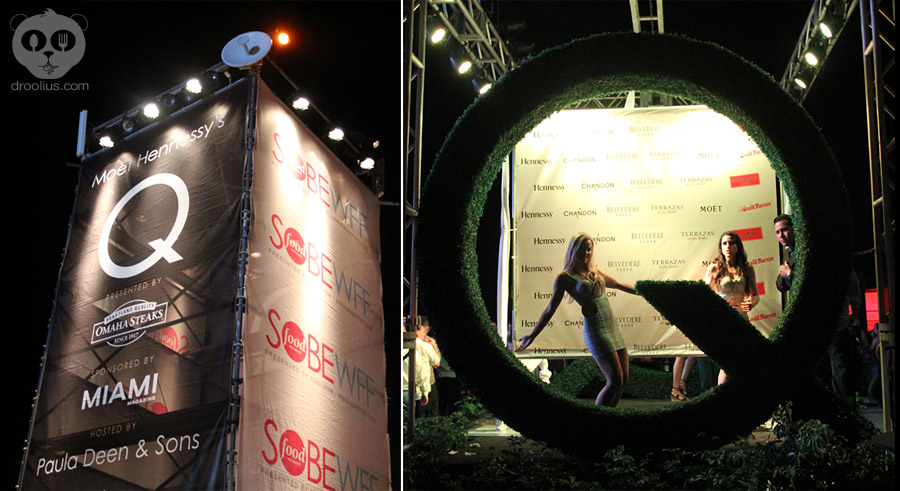 (click image to enlarge)
The Q was presented by Omaha Steaks and there was a lot of meat being served; meat that was properly cooked (medium rare!) and I was enjoying every bite. There were a range of dishes offered and many chefs were present to serve them at each serving station. Chefs Richard Irvine, April Bloomfield, and Tim Love were a few that I spotted plating up dishes and serving the crowd. Being an avid watcher of food television, it was a fun experience to see the chefs that I watch cooking on shows and tasting their dishes. Some dishes had bold flavors, while others were more balanced and highlighted the ingredient.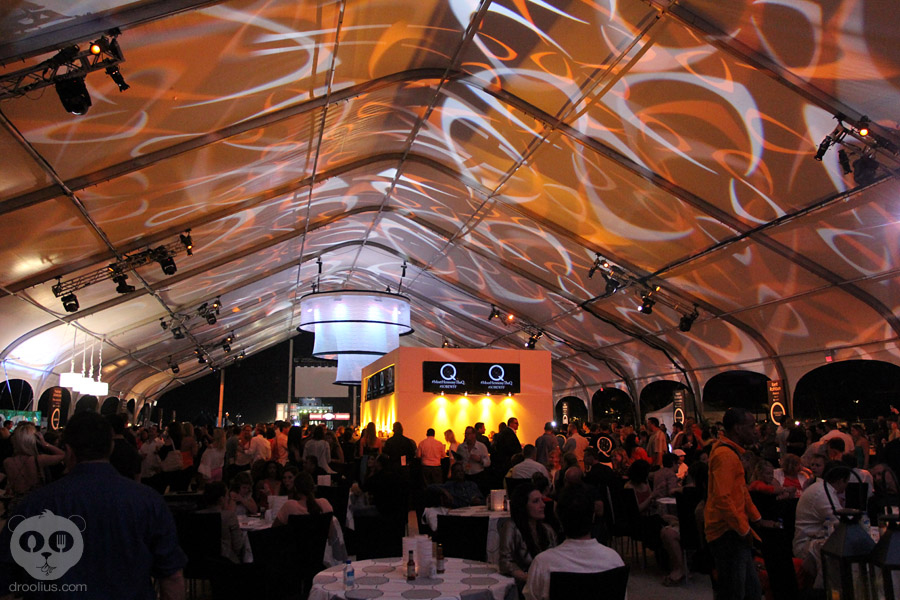 (click image to enlarge)
A stylish Miami lounge vibe set the ambiance with sand at your feet. The event was on the beach under a huge event tent, with lines of people waiting for drinks and food. I met up with my friends from ChatChow.tv and we made a few rounds sampling dishes, tasting champagne and cocktails. I took as many food photos as I could, and just know that the drinks were around us.
(click image to enlarge)
My first stop was at 4 Rivers Smokehouse of Winter Park, FL for a duo of meat. Chef John Rivers was carving up the meat and his staff was busy plating.
(click image to enlarge)
Paula DaSilva of 1500° Miami Beach, FL – Grilled Homemade Sausage Dogs with Kimchee and Spicy Aioli
This was a hearty portion of food with good bold flavors. Homemade Sausages with special blends of good quality meats are one of the best things to hit the grills these days.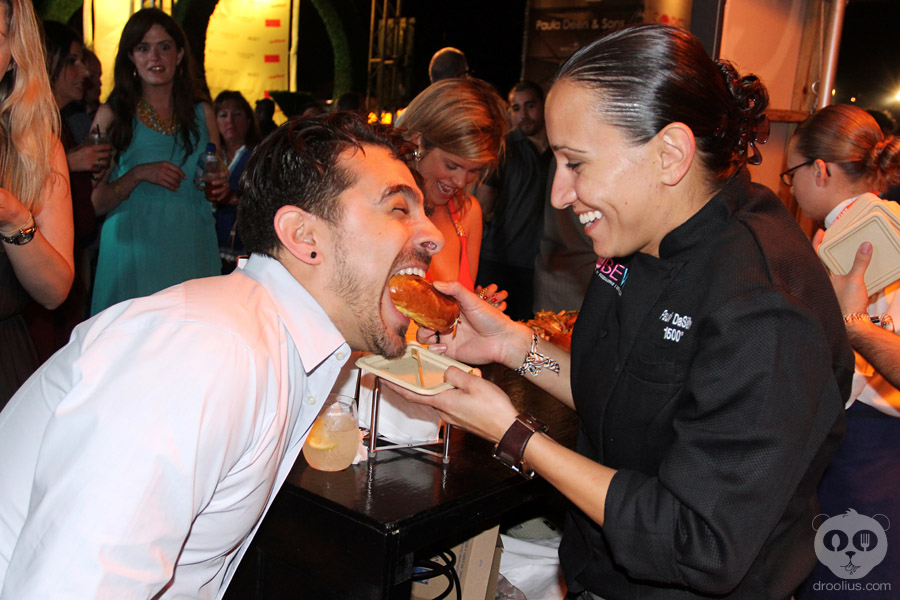 (click image to enlarge)
Gio of Chat Chow TV goes in for a big bite of the Homemade Sausage Dog w/ Kimchee from Chef Paula DaSilva of 1500°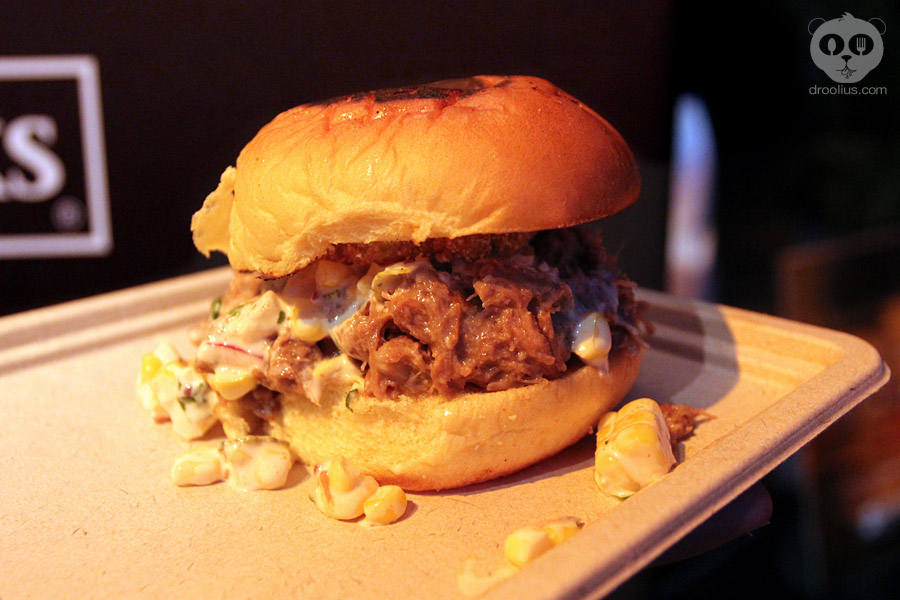 (click image to enlarge)
Robert Irvine – Braised Pork Cheeks on Brioche with Fried Pickles
Chef Irvine was hanging out with his wife, greeting guests, handing out these sandwiches. This was a nice upscale version of a BBQ pulled pork sandwich.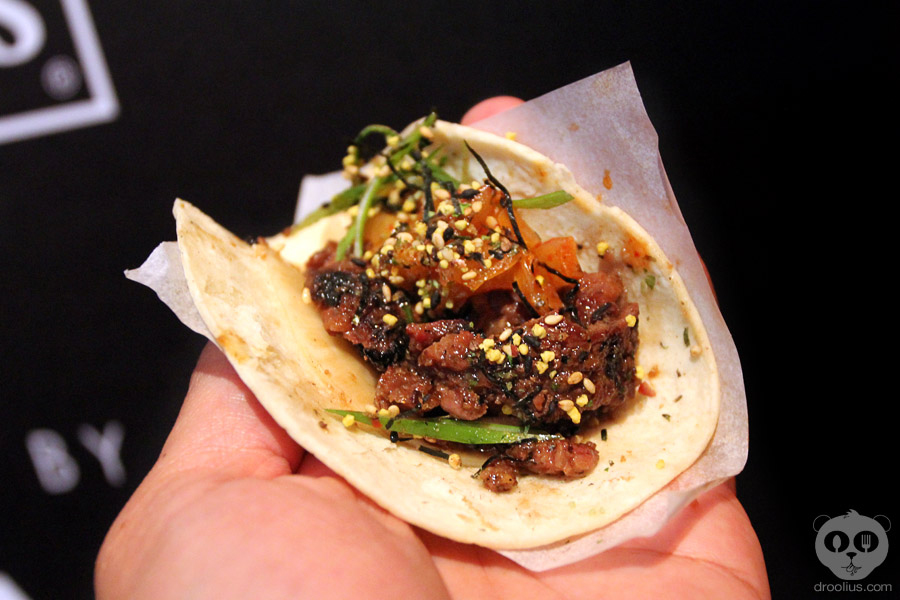 (click image to enlarge)
April Bloomfield's "Salvation Taco" – Chargrilled Kalbi Tacos
I didn't find out all of the ingredients, but the flavors blended well together. One of a few dishes that used the Asian flavor profile and it worked well.
(click image to enlarge)
Chef April Bloomfield & Gio of Chat Chow TV
I chatted with Chef April for a little bit and told her I watched her break down an entire pig at a demo at The Great Googa Mooga event last Spring in Brooklyn's Prospect Park. She displays some crazy skills.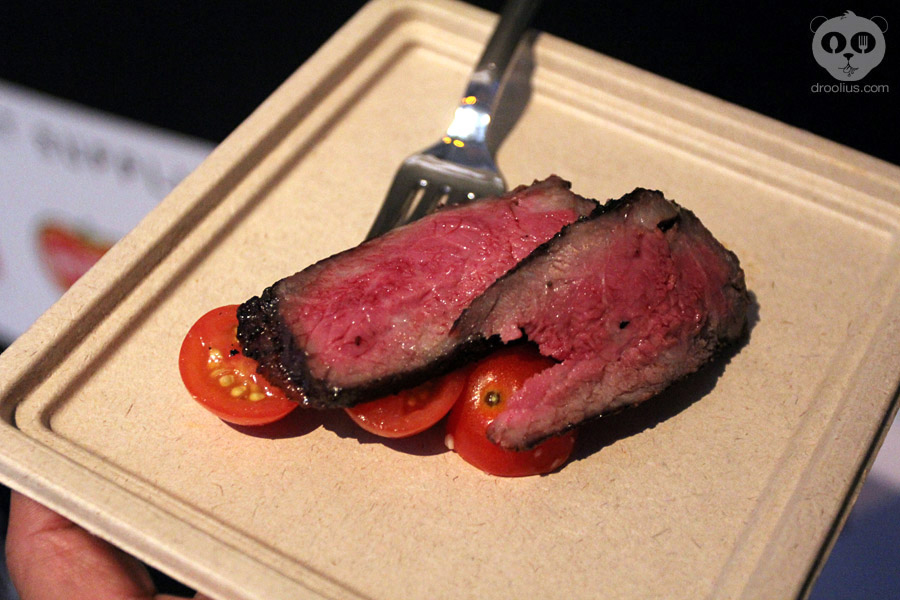 (click image to enlarge)
Jonathan Waxman – Whole Roasted NNY Strip Steak, tomato, arugula, and Salsa Piccante
This was the dish that awarded Chef Waxman the Kingsford Charcoal King of Q. It was one of my favorites, the steak was seasoned well and didn't need accompaniments (which they may have ran out of by the time I got there).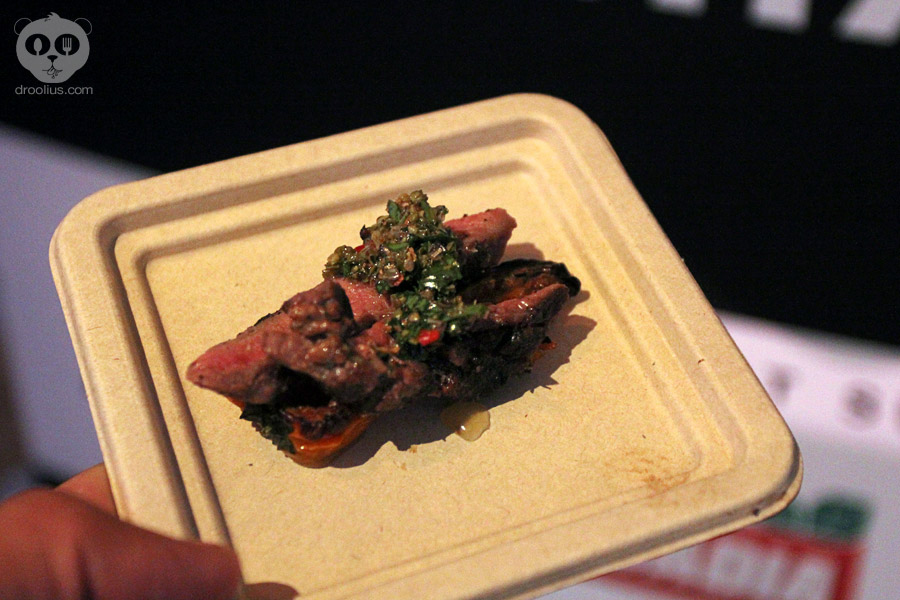 (click image to enlarge)
Chakall Noir – Argentinean Ribeye w/ Stuffed Peppers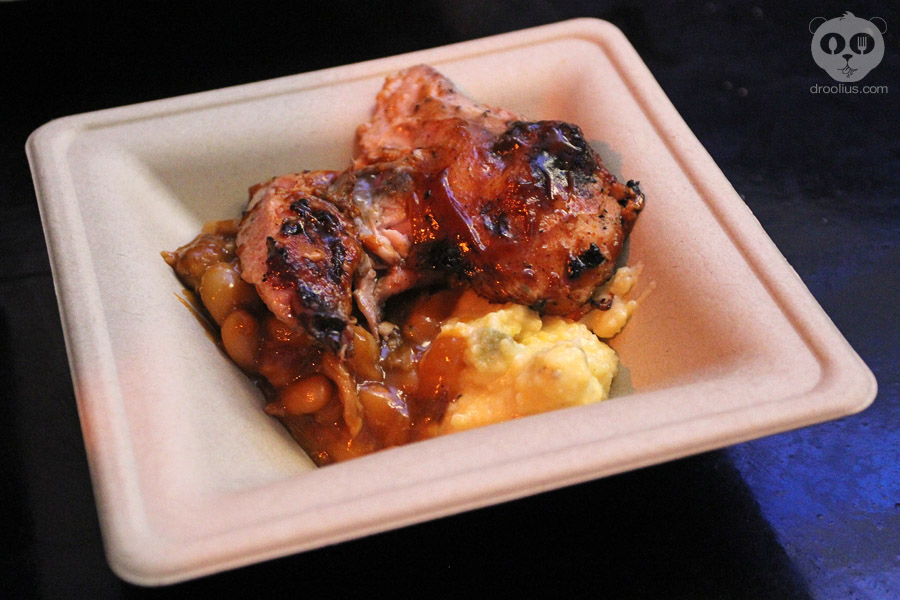 (click image to enlarge)
Paula Deen & Bobby Deen – BBQ Chicken w/ Jalapeño Grits, and Pork & Beans
This BBQ Chicken had a spicy kick to it and paired well with the jalapeño grits and Pork & Beans. I heard Paula Deen announcing awards but I was too far away to snap photos.
(click image to enlarge)
Todd English – Steamed Bun of Hoisin Glazed Short Rib, Roasted 5 Spice Tenderloin, Sweet and Sour Cucumber Slaw
This dish was awarded The Omaha Steaks Award for Culinary Excellence and it was one of the more flavorful and balanced dishes of the night.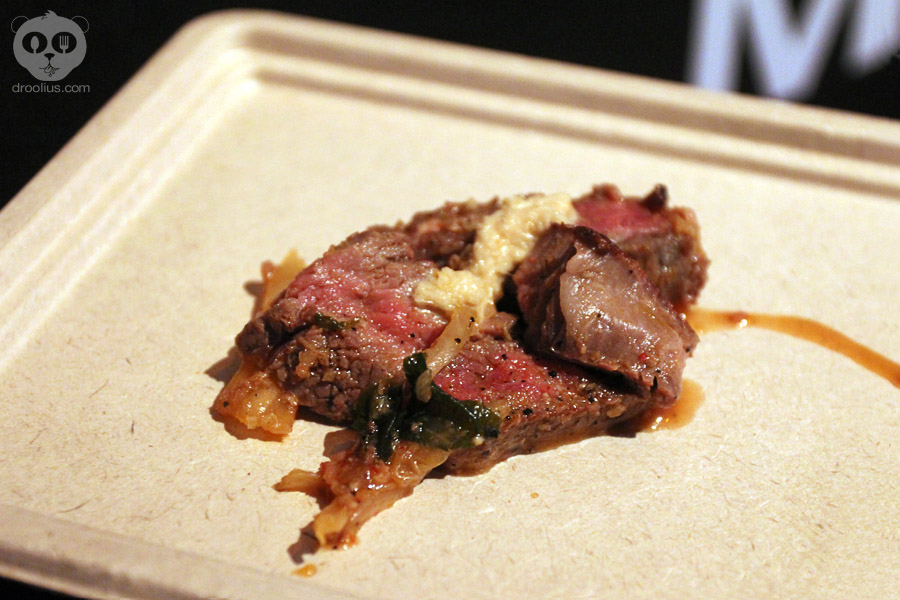 (click image to enlarge)
Edward Lee – Grilled T-bone Steak in Lemongrass Habanero Marinade with Collards and Kimchee
I really enjoyed this Grilled T-bone Steak with kimchee and collards, it was one of my favorites of the evening, using Asian and Korean flavors.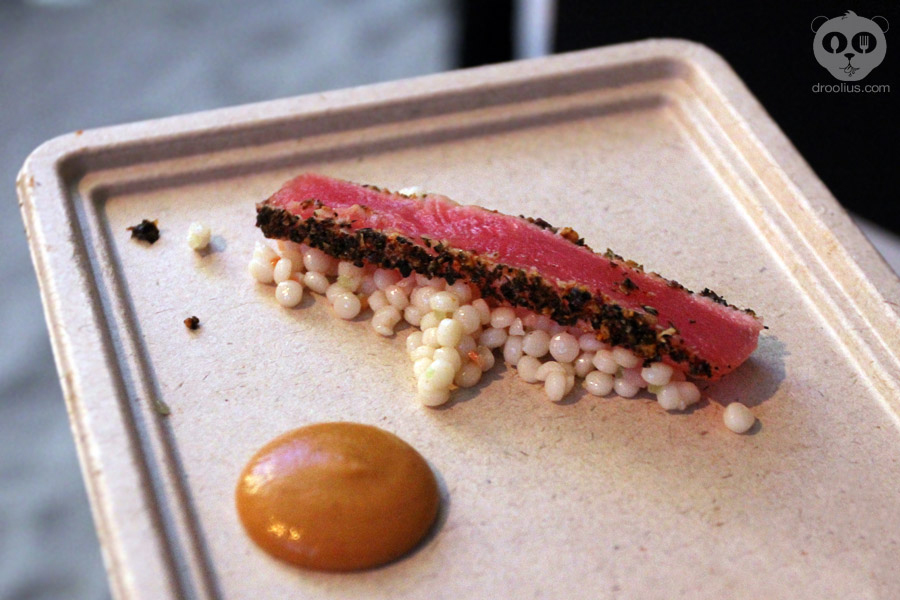 (click image to enlarge)
Geoffrey Zakarian – Smoked Togarashi Crusted Tuna served with Cous Cous and Medjool Date Salad and Spicy Sea Urchin Emulsion
(click image to enlarge)
My photo with Iron Chef Geoffrey Zakarian – Not the best photo, it's actually blurry (haha thanks Gio), but I'll take it for my first photo with an Iron Chef!
(click image to enlarge)
The live band was playing tunes and kept the crowd dancing.
The Q probably had the most unique entertainment that I saw during the entire SOBEWFF weekend. The following photos felt more Miami or Vegas nightclub…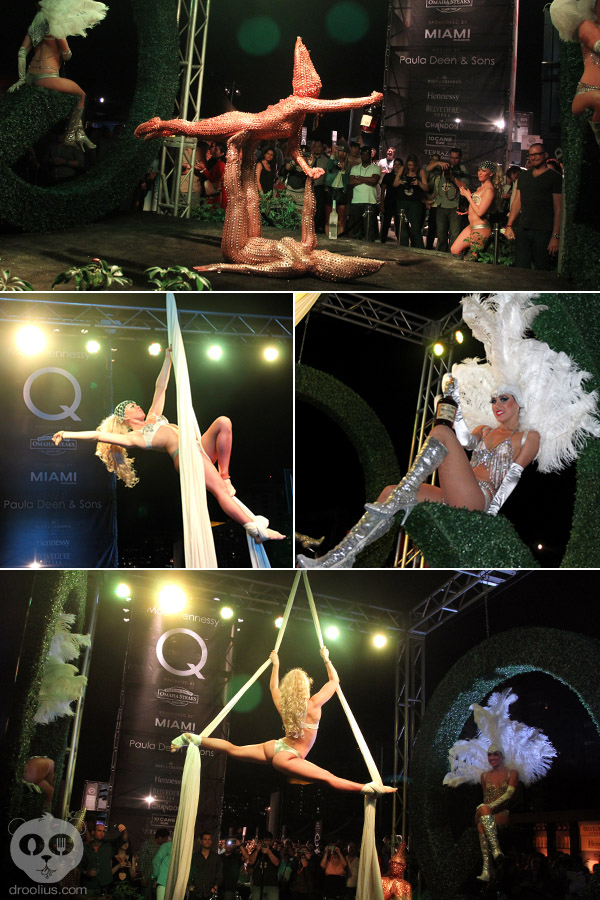 (click image to enlarge)
Uniquely dressed performers were doing expressionist dance moves and Vegas style show girls were gripping bottles of Hennessy (one of my favorite spirits). The aerial performers from Mansion Nightclub in South Beach captured the audience as they defied gravity with aerial silks.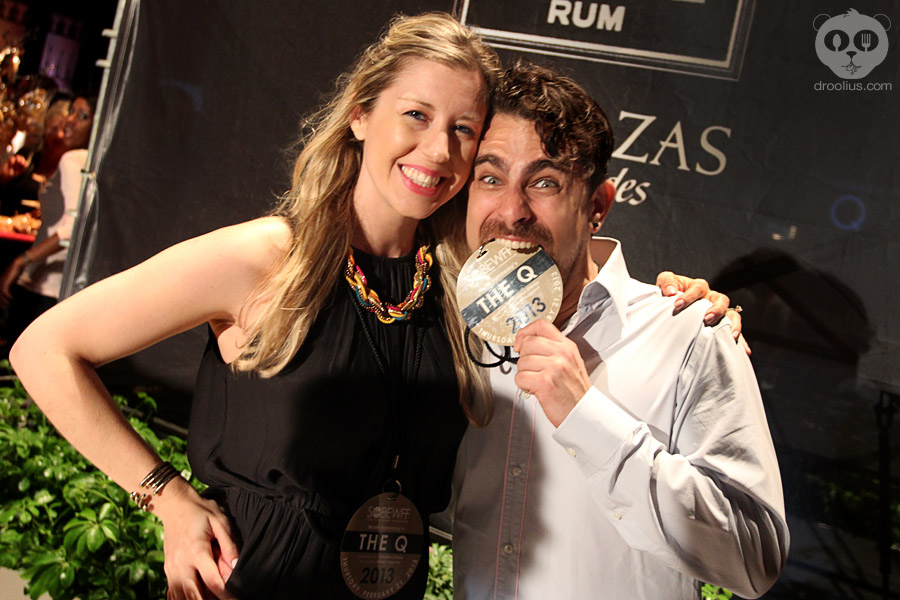 (click image to enlarge)
My partners in crime at The Q – Lauren and Gio of @ChatChowTV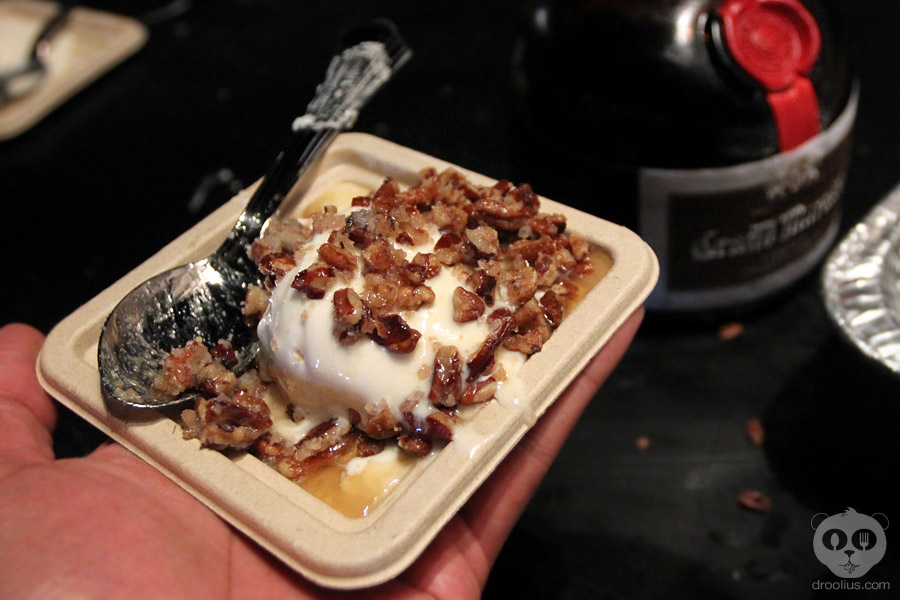 (click image to enlarge)
Ralph Rendsland – Three2oh! Liquid Nitrogen Systems – Ice Cream Social Club
My last plate was dessert, a Nitrogen Ice Cream with Grand Marnier Liqueur mixed in cream, topped with chopped nuts and more Grand Marnier. What adult doesn't like alcohol in their ice cream, topped with more Liqueur?
The Q turned out to be a really fun filled evening with plenty of food and drinks to enjoy. There were opportunities to take photos and mingle with your favorite chefs in a casual atmosphere. If you like to eat chef inspired dishes focused around meat and partake in unlimited cocktails, then this is the event for you.

Words and photos by Julius Mayo Jr.
Content and photos © Droolius.com 2013


Disclaimer: I was invited to attend this special event. I was not compensated to write this post and all opinions are always my own.