The Annual Celebration Exotic Car Festival is back for it's 10th year and will be having its culinary celebration once again with the Food & Wine at Portofino. This will be the second year for the festival's food and wine event at the Loews Portofino Bay Hotel at Universal Orlando on April 13, 2013. More than 50 restaurants, local and celebrity chefs, and wineries will be serving their best at this year's event. Celebrity chefs Kevin Sbraga and Kenny Gilbert, from the Bravo TV's show Top Chef, will be presenting dishes, as well as Hell's Kitchen finalist, Dana Cohen. The festival is not only a weekend for exotic cars and gourmet food, but an opportunity to support local children's charities with silent and live charity auctions. See all of the details for the event weekend below.
To help celebrate, I'm hosting a ticket giveaway. A pair of Regular registration tickets will go to one lucky reader, selected at random. This includes unlimited food and wine during the event, with exotic cars on display and live entertainment. Check out the giveaway contest at the bottom of this post and good luck.
(click image to enlarge)
CELEBRATION EXOTIC CAR FESTIVAL MARKS 10 YEARS
APRIL 11-14
The 10th Annual Celebration Exotic Car Festival, benefitting children's charities, will be held April 11-14, 2013. This four-day world-class event was named "One of the 5 Best Exotic Car Shows in the World" by Made Man magazine, ranking with other events in Paris, Geneva and Monte Carlo. 2013 marks the tenth anniversary of the event, which started in downtown Celebration in 2004.
The Festival is organized by a small team of dedicated volunteers of Celebration and other local residents. Through the efforts of the event, over $800,000 has been donated to children's charities, including Make-a-Wish, Special Olympics and Arnold Palmer Children's Hospital. Organizers hope that number will top $1 million this year.
The weekend will start on Thursday, April 11th with two track days and Ferrari races at the world famous Daytona International Speedway. More than 100 of the exotic cars and race cars will be running at full speed on the 3.6 mile Daytona Rolex 24 circuit. The event also hosts the CCR Ferrari Race Series, with owner-drivers of Ferrari Challenge race cars competing for individual and team trophies.
The Festival moves to Celebration on Friday evening, with the Concours of Exotic Cars taking place on Saturday, April 13. More than 250 exotic cars, race cars and Hollywood movie cars will be lined up along Celebration's picturesque lakefront downtown center. The world-class show was attended by nearly 40,000 spectators in 2012. Cars from Ferrari, Maserati, Lamborghini, Bugatti, McLaren, Lotus, DeLorean, Pantera, Aston Martin, Bentley, Rolls Royce, Spyker and many others will be displayed. Admission is free for spectators.
Special cars scheduled to be shown at this year's event will include the Back to the Future DeLorean and the original Batmobile, as well as Ralph Malph's hot rod from the television show Happy Days. Fans of the movie Dumb and Dumber will get the chance to see the original "Mutt Cutts" van alongside the Lamborghini Diablo from the film. Other movie cars, including the Cannonball Run Lamborghini Countach, the Star Wars Land Speeder, the Plymouth Fury from the Stephen King film Christine, and Herbie will be on display along with a few other surprises.
(click image to enlarge)
Saturday evening, April 13 will be the Festival's annual Food & Wine at Portofino. This high-energy event has been described as the "party of the year," and is held harborside at the stunning Loew's Portofino Bay Hotel at Universal Orlando. A virtual duplication of the beautiful seaside town of Portofino, Italy, this idyllic waterfront setting is the perfect location for guests to enjoy fine wines and incredible cuisine. More than 50 restaurants, renowned celebrity chefs and wineries join to create what Scott Joseph of the Orlando Restaurant Guide called a "Star-Studded Culinary Event." The evening also features a display of exotic cars, live music and performance artists, as well as silent and live charity auctions.
Celebrity chefs from the Bravo television show Top Chef, including Kevin Sbraga and Kenny Gilbert, will be on hand to prepare their most famous dishes. The chefs will also be joined by Hell's Kitchen finalist Dana Cohen.
The Food & Wine party attracts guests from all over the country and has been attended by numerous Hollywood and sports celebrities over the years. Tickets for this must-attend event are also available on the Festival's website.
The event continues on Sunday, April 14, with the annual Exotic Car Road Rally. Departing Celebration under police escort, more than 100 exotic cars will compete in this fun and competitive rally, which will conclude back in Celebration for an awards lunch at cafe D'Antonios on Sunday afternoon.
Visit www.celebrationexoticcars.com for registration and ticket information.


Regular Tickets
Food & Wine at Portofino Regular registration tickets are available for a discounted rate of $125 per ticket thru Wednesday, April 10, 2013. After that, tickets will be sold at a Late registration rate of $150 until they are sold out.
See full details on website http://celebrationexoticcars.com/2013/event/portofino-dinner
(click image to enlarge)
From Food & Wine at Portofino 2012, 3 Top Chef Cheftestants presented dishes. Kenny Gilbert and Kevin Sbraga will be back for Food & Wine at Portofino 2013!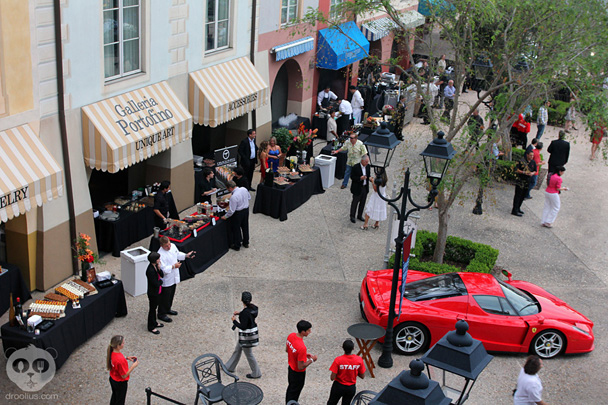 (click image to enlarge)
See more photos and event recap from last year: 2012 Food & Wine Portofino
Ticket Giveaway Contest
A pair of Regular registration tickets is the prize and will go to one lucky reader, chosen at random. To enter please follow the directions on Rafflecopter. Contest ends Tuesday, April 9, 2013 at 12:00am EST.
* Winner will be announced during the day on Tuesday, April 9, 2013 and will need to be contacted via email and mailed the winning prize.

Words and photos by Julius Mayo Jr.
Content and photos © Droolius.com 2012


Disclaimer: I was given tickets to attend this event and provided 2 tickets to give away to a reader. All opinions are my own.