In this final episode of Droolius Chicago, we start off with a dinner at Siena Tavern, a restaurant that has received lots of recognition lately for its Italian cuisine and made from scratch menu. Our friend, Chef Fabio Viviani, has teamed up with the DineAmic Group to create this restaurant concept in Chicago's River North district. At dinner I filmed a few drinks and appetizers, and took some drool-worthy photos of the entrees we ordered. We finished with a Tiramisu for dessert and after dinner, we all agreed that this was the most memorable meal we all had during this trip. I will be writing a separate post about our experience at Siena Tavern. Check out all of the food in the video, we are still craving some of the dishes.
Video:

(The video is filmed in HD, so bump up the YouTube quality to 1080P if you have the bandwidth.)
Our tourist stop in this video segment was to the Navy Pier and we walked around visiting various shops, grabbed a snack, and took photos of Chicago's beautiful skyline. To get an even better view of the city's lakefront, we took a Shoreline Sightseeing boat cruise that gave us a tour with the history of Chicago and it's architecture. It was actually a good boat tour and worth the excursion if you are visiting the Navy Pier. There are a few boat cruises available to tour the skyline and dining cruises are also offered for brunch, lunch, dinner, or after dark with drinks for those wanting more. If you are traveling to Chicago and plan on site seeing, check out the lakeshore cruises or architectural boat tours for something a little different than walking or bus tours in the city.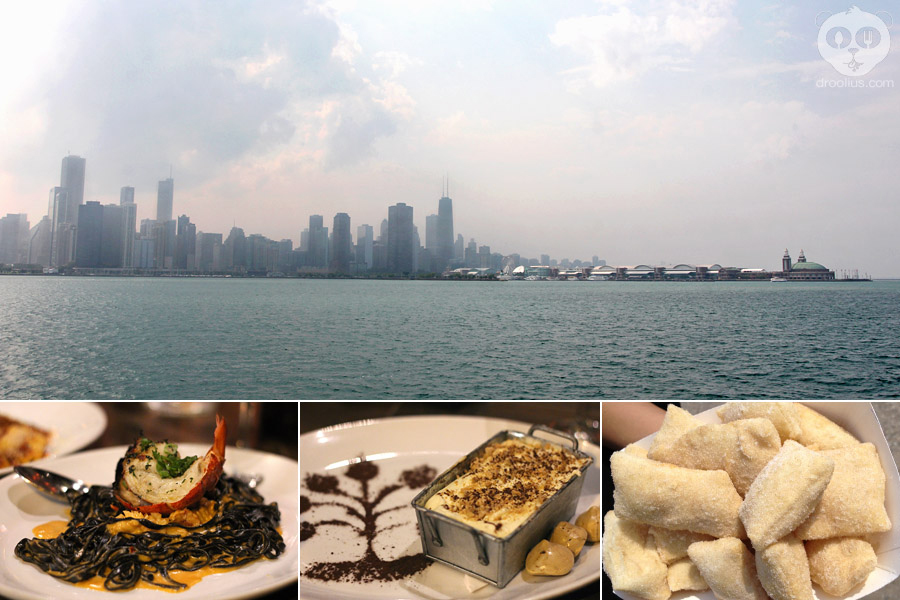 (click image to enlarge)
Food photos above are Squid Ink Linguini with grilled lobster tail and Tiramisu dessert, both from Siena Tavern. Far right is the fried dough from Massa Cafe, a stand that is located on the Navy Pier. The fried dough was mentioned, but did not make it into the video. It was a good snack to share, so make sure to stop by for some of these if you are visiting the pier.
This is the third and last video we put together from Chicago. Our daily itinerary was planned around food and Chicago is just a great food city to explore, with lots of history and culture to experience. Hope you all enjoyed this video series and all of the bloopers and out takes my food partner O.D. put together for your entertainment.
Thanks for watching! Stay tuned for more posts about Chicago restaurants and food.
HUGE thank you to O.D. for editing the #DrooliusChicago series!

Words and photos by Julius Mayo Jr.
Video edit by Odessa "O.D."
Content and photos © Droolius.com 2013