I've been on the road traveling a lot this summer and exploring food in different cities. Now that I'm back in my home state, the past few weeks have been great for eating and discovering food around Florida. I made stops in Sarasota, Arcadia, Brandon, Davenport, Clermont, Winter Garden, Groveland, and of course, Orlando. Most were in smaller cities, places you may not expect to find good food, but the good eats are out there. When I first started this food blog 3 years ago, my mission was to help people find great food to eat with drool-worthy photos. So let me introduce you to a few places that I love to eat at, along with a few new discoveries as well. The photos and brief descriptions should inspire you to take a trip to one of these restaurants, I've included the address to each place too.
Yoder's Restaurant in Sarasota, FL
Any time I'm in the Sarasota area, I always try to stop at least once to eat at Yoder's Restaurant. From breakfast to lunch to dinner, this Sarasota tradition has been around since 1975 serving Amish classics and comfort food. Yoder's is well known for their pies, especially their Peanut Butter Cream Pie. I'm a fan of the Yoder's Famous Fried Chicken, but breakfast was calling my name on this trip.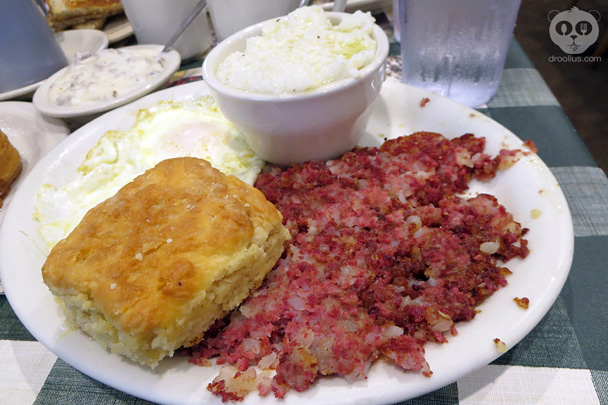 (click image to enlarge)
Homemade Corned Beef Hash, biscuit & gravy, fried eggs
A great plate of breakfast made from scratch.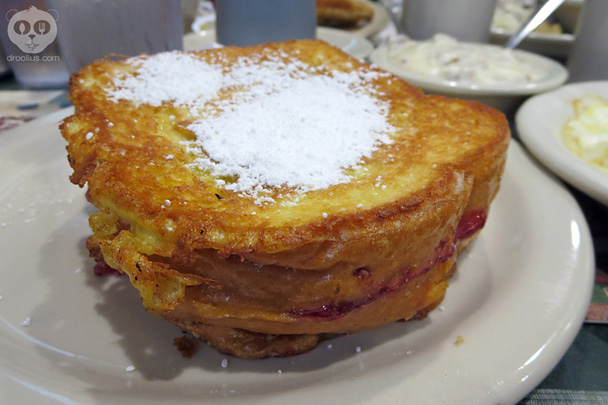 (click image to enlarge)
Raspberry Stuffed French Toast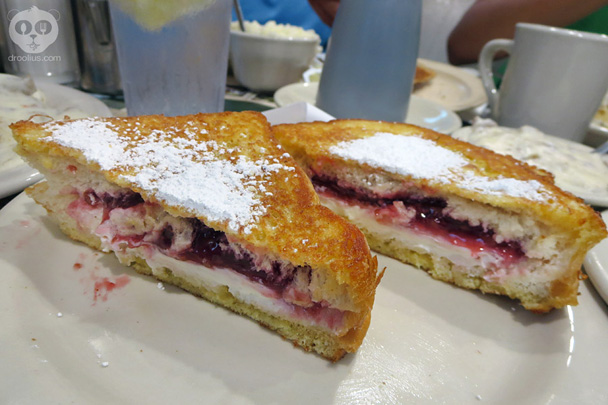 (click image to enlarge)
Raspberry Stuffed French Toast
This Raspberry Stuffed French Toast was not too sweet and had a perfect richness with all of the cream cheese and raspberry filling.
Yoder's Restaurant
3434 Bahia Vista St  
Sarasota, FL 34239
www.yodersrestaurant.com
El Charro Restaurant in Arcadia, FL
El Charro is actually in my hometown where I grew up, Arcadia. Not much going on in that small town but I wish this place was open when I was growing up. Authentic Mexican food in this restaurant/grocery store and it's a must stop in the area.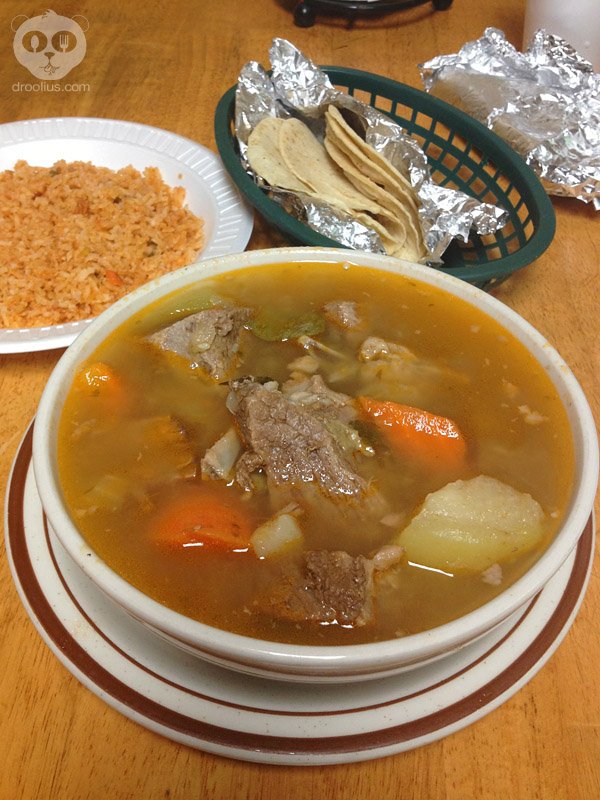 (click image to enlarge)
Caldo De Res (beef soup)
This was the first time ordering this dish and it was great. The savory soup had lots of meat and vegetables swimming in the bowl. It's served with warm tortillas and rice. Add a squeeze of lime and you are ready to enjoy.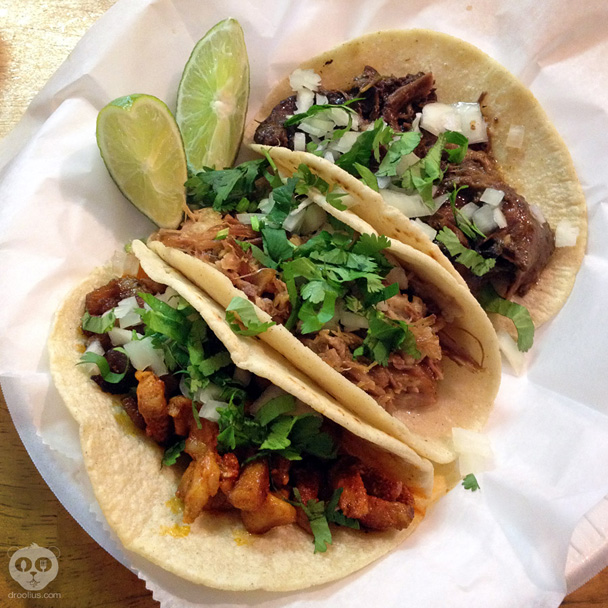 (click image to enlarge)
Tacos Al Pastor, Carnitas, Barbacoa
I LOVE the tacos here at El Charro. So much flavor in the meat and this is my usual order, same three tacos and maybe a fourth if I'm that hungry.
El Charro Restaurant
420 N Brevard Ave
Arcadia, FL 34266
Whiteberry in Sarasota, FL area
This is the second location for Whiteberry in the Sarasota area. One of my first frozen yogurt places that I enjoyed when froyo finally hit Florida a few years back. I'm sad they don't serve my favorite anymore, a green tea frozen yogurt. Apparently they do not deliver to Florida anymore. What's up with that? Bring back the green tea froyo, please!
(click image to enlarge)
Original froyo w/ strawberry, pineapple, and mochi
Whiteberry
Cooper Creek Blvd
University Park, FL 34201
www.whiteberryusa.com
Revolution Ice Cream Co. in Brandon, FL
I can't express how great this ice cream shop is. My friend and culinary Jedi Master, @JeffHouck introduced me to this place and I'm seriously hooked! Revolution Ice Cream Co. is giving the Tampa Bay area a reason to go to Brandon, FL for their creative ice cream flavors. Not even a year old, they are making a huge name for themselves with their amazing ice cream.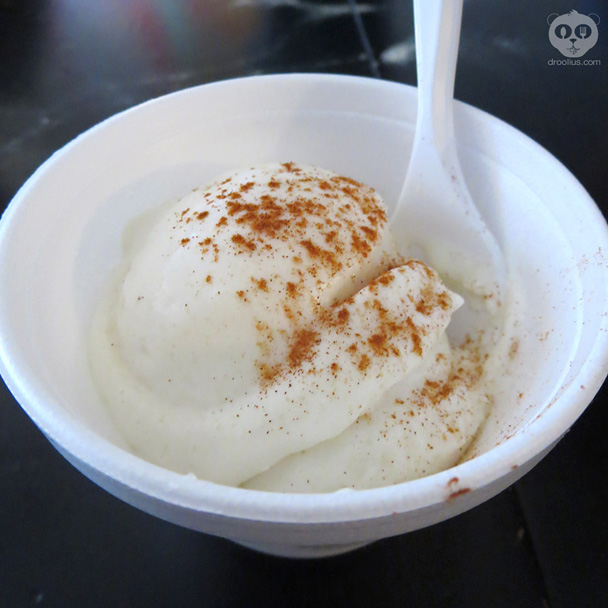 (click image to enlarge)
Rumchata Ice Cream (Rum & Horchata) (21+ only, about a shot of rum per scoop)
I got a buzz off of one shot of ice cream. Maybe it was the rum or maybe I did not eat enough prior to getting ice cream. Jeff joined me this day and we both agreed this Rumchata was amazing. Also, just to give myself some credit, I asked for Horchata ice cream months ago and they went above and beyond to deliver this awesome creation.
(click image to enlarge)
Chicken & Waffle ice cream (top) and Porky's Delight (vanilla bean ice cream w/ bacon & bacon brittle, bottom)
Yes, Chicken and Waffles is what you taste when you eat the Chicken & Waffle ice cream. They told me how they made it but I can't tell you the secret ingredient! It's so good that you will want another scoop when you're done. The Porky's Delight has bacon in the ice cream, with more bacon in the bacon brittle topping. This is a dynamic duo of ice cream, like dinner on a plate or ice cream for dinner.
So many flavors to explore, you can sample all of the hand crafted ice cream before you make your choice.
Revolution Ice Cream Co.
220 W Brandon Blvd #104
Brandon, FL 33511
www.facebook.com/TheRevolutionIceCreamCo
Taco Bus Brandon
This is the fifth location for the Taco Bus in the Tampa area. It has really become a popular food destination and for good reason. The food is made fresh and to order, with authentic flavors and quality ingredients. They make more than just tacos so check out the entire menu.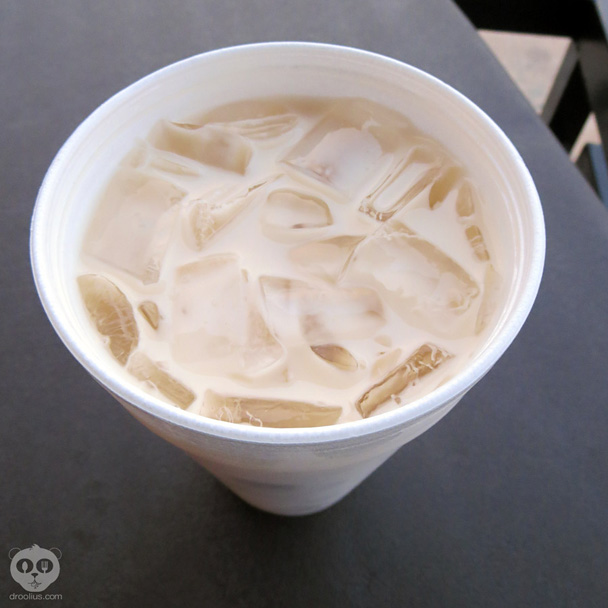 (click image to enlarge)
Horchata
The Horchata has a bit more spices and flavors than the typical ones I drink. Pretty good, especially on a warm summer afternoon.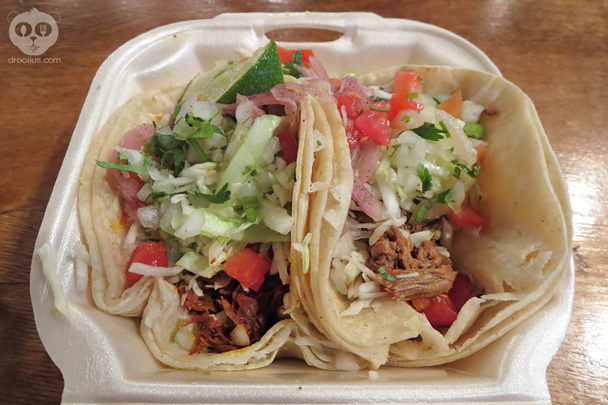 (click image to enlarge)
Tacos: Cochinita Pibil (pork) and Carne de res Desebrada (shredded beef "Northern Mexico style")
These tacos are the real deal, with flavors that are authentic and good.
Taco Bus – Brandon
301 South Falkenburg Road
Tampa, FL 33619
www.taco-bus.com
Kumo Sushi in Davenport, FL
I spotted this sushi place driving by on Highway 27. They have more than just sushi and serve a few entrees and a list of appetizers. The sushi list has a lot on the menu, so I will be back to try.
(click image to enlarge)
Beef Negimaki appetizer
One of my favorite appetizers in Japanese cuisine and not offered that often. They had a pretty good version here for Beef Negimaki.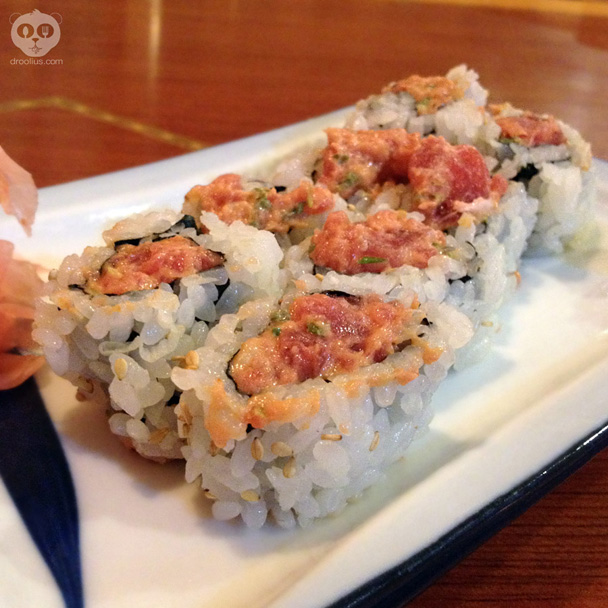 (click image to enlarge)
Spicy Tuna roll
I usually get the spicy tuna roll whenever I go to a sushi restaurant. The version here I liked and would come back for. After posting a photo on Facebook, I received some recommendations on a few sushi rolls that I plan to try on my next trip.
Kumo Sushi
207 Ambersweet Way
Davenport, FL 33897
www.kumojapaneserestaurant.tk
Hanamizuki Japanese Restaurant in Orlando, FL
I've been coming to lunch here for years. Why lunch? Because they serve Japanese Ramen for lunch only. This is where I finally got a taste for authentic Ramen (in Orlando) outside of going to larger cities like Los Angeles or New York City.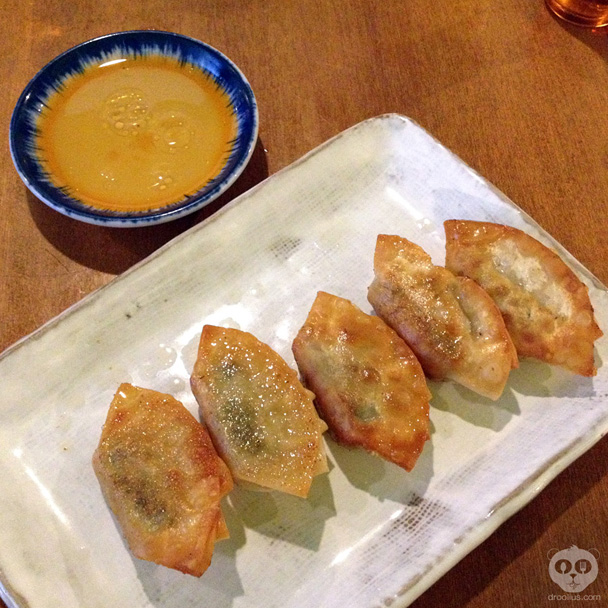 (click image to enlarge)
Gyozas (side order with Ramen)
Another favorite of mine.
(click image to enlarge)
Shoyu Tonkotsu Ramen – Ramen noodles in hot pork and soy sauce base soup with roast pork, fish cake, boiled egg, bamboo shoots, bean sprouts, seaweed, scallions and ginger
This is the real deal and while it's not like Ippudo, this is it's own style of Tonkotsu Ramen combined with soy base. This is my go to Ramen when I come here and they have a few to try on the menu.
Hanamizuki Japanese Restaurant
8255 International Dr
Orlando, Florida 32819
www.hanamizuki.us
Troy's Cuban Deli in Clermont, FL
I found out about Troy's Cuban Deli through some friends who come here weekly, so I decided to give it a try. The owner Troy is originally from Miami and grew up in the Cuban neighborhood of Westchester. He knows Cuban food and does his best to satisfy the local palate with Cuban classics and a few twists of his own.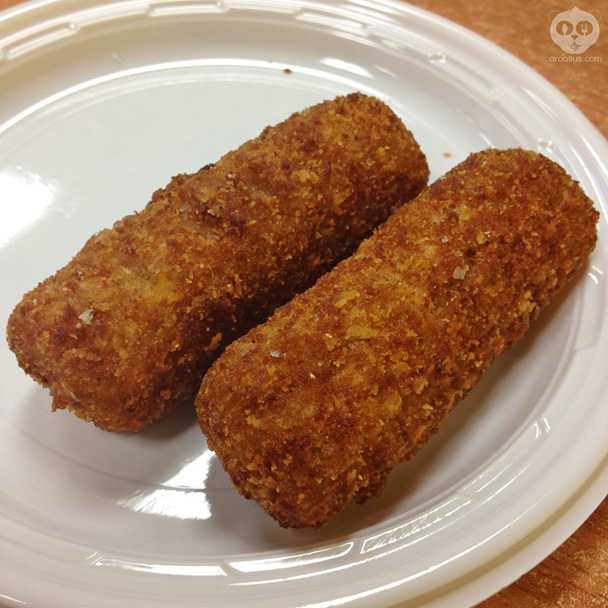 (click image to enlarge)
Croquetas de jamon – these are straight from Miami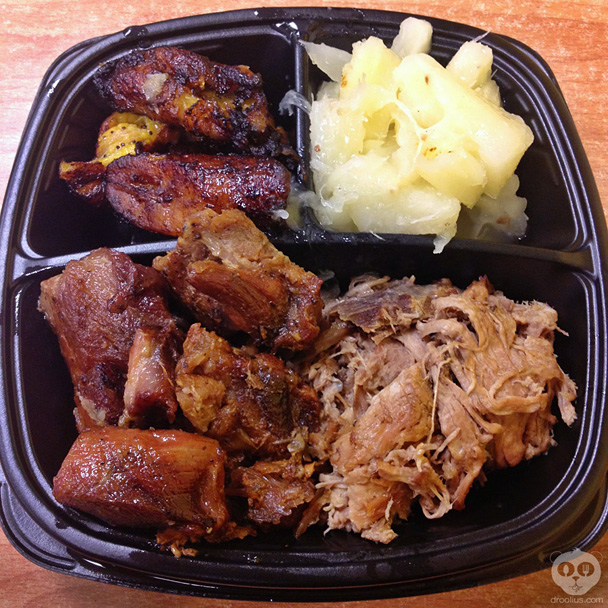 (click image to enlarge)
Masitas de puerco (roasted pork chunks), Cuban pulled pork, sweet plantains, yucca – I call this my low carb Cuban plate.
I need to go back for more food and definitely try the Cuban Sandwich!
Troy's Cuban Deli
1200 Oakley Seaver Dr #113
Clermont, FL 34711
www.troyscubandeli.com
Chinese Cuisine (Mr Wangs Family Taste) in Orlando, FL
I found this restaurant shopping next door at 1st Oriental Super Market. Since they have a Dim Sum menu displayed on the window, I went in to try it. Dim Sum is pretty good and the Five Spiced Beef Noodle Soup was a bowl of good flavors.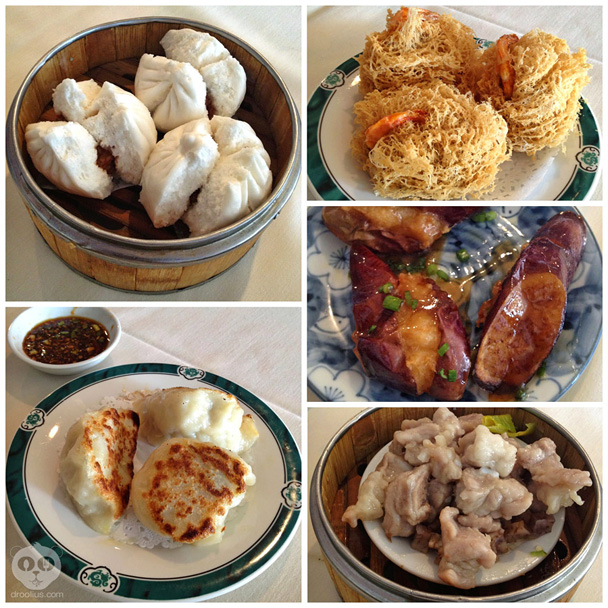 (click image to enlarge)
Dim Sum: Steamed pork buns, Pork pot stickers, Deep Fried Taro Dumpling, Stuffed Eggplant, Steamed ribs w/ black bean sauce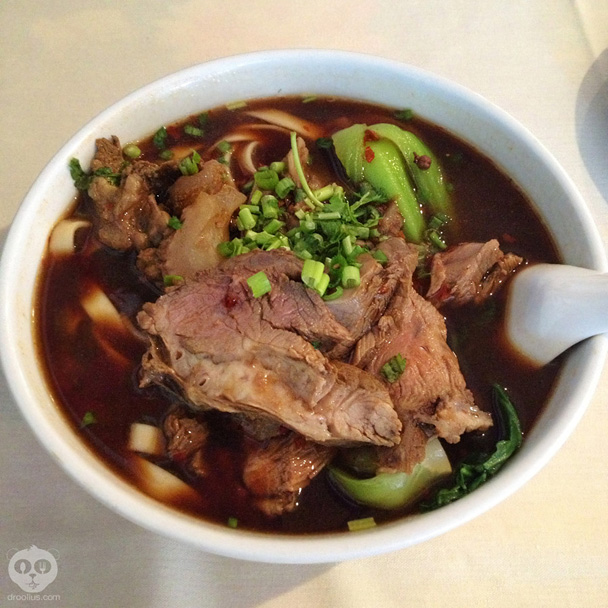 (click image to enlarge)
Five Spiced Beef Noodle Soup
Chinese Cuisine (Mr Wangs Family Taste)
5080 W Colonial Dr
Orlando FL 32808
*Note: To find this restaurant, look for the sign that says "Chinese Cuisine" on the building. The name (Mr Wangs Family Taste) is not anywhere to be seen but is found on the dining receipt.
The Big Easy in Winter Garden, FL
Another restaurant I found driving by, but it's taken me two years to get in here. Not sure why because I do love Cajun food and New Orleans. I'm glad I finally made the stop and what you will find here is true flavors from New Orleans.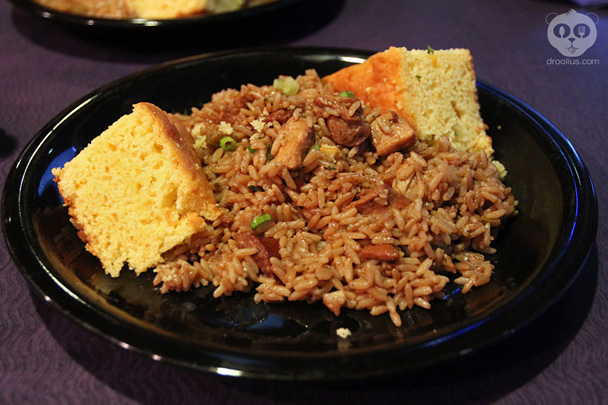 (click image to enlarge)
Jambalaya – Andouille sausage, chicken, caramelized vegetables with special seasoning and rice
Great flavors and authentic taste from what I know (I've been to New Orleans only a few times, so I'm not an expert).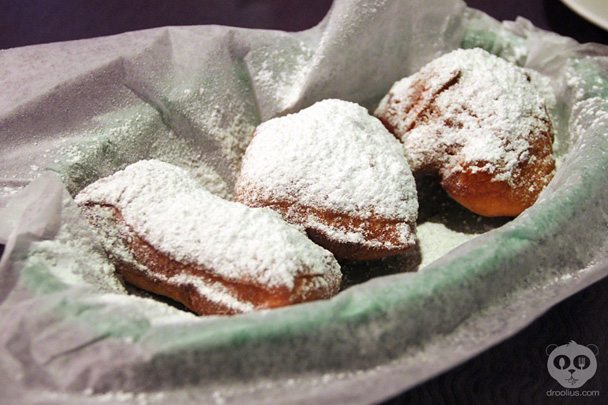 (click image to enlarge)
Beignets! Enjoyed these enough to order seconds, but they sold out! The most authentic Beignets I've had outside of New Orleans.
The Big Easy
15502 Stoneybrook W Pkwy
Winter Garden, FL 34787
www.facebook.com/whodatbigeasy
Japan Food Aki Restaurant in Orlando, FL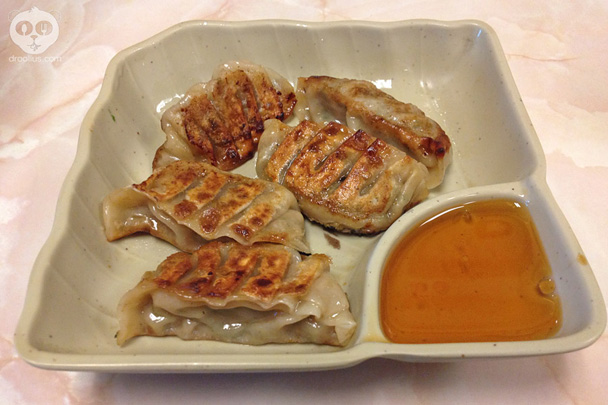 (click image to enlarge)
Gyozas
Always a must at Aki.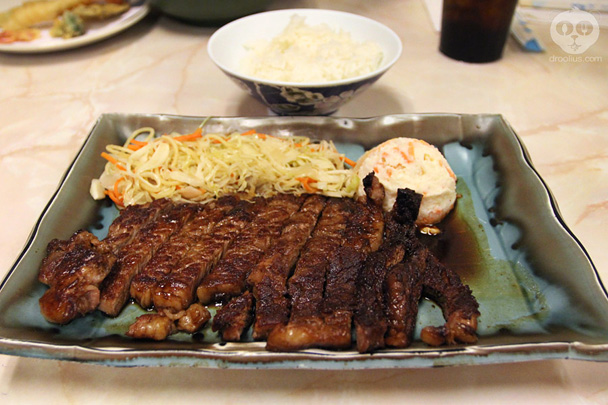 (click image to enlarge)
Beef Teriyaki – Rib eye steak and teriyaki sauce, served with potato salad and noodles.
Words cannot explain how great this meal is. Wonderful flavors of fatty rib eye and a light teriyaki sauce.
They have sushi, ramen, udon, and many authentic Japanese dishes here. Very similar to what you would find in a small cafe or restaurant in Japan.
Japan Food Aki Restaurant
7460 Universal Blvd
Orlando, FL 32819
www.aki-japanfood.com
Taqueria Jalisco inside Super Mercado Jalisco in Groveland, FL
I discovered this place last week on my birthday and it was on point. Inside a grocery store, they're making great tacos, tortas, and more. Definitely will be a repeat stop for me while in the area.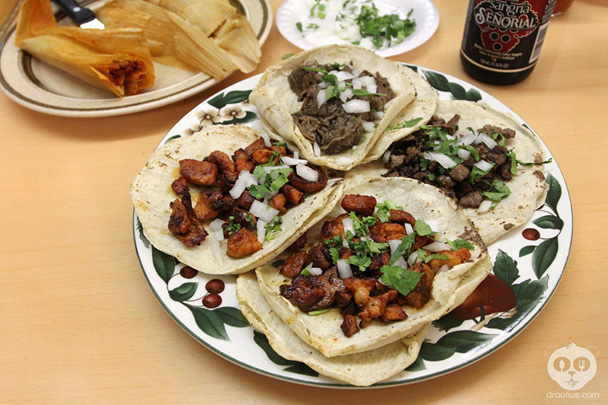 (click image to enlarge)
Pastor, Barbacoa, Carne Asada Tacos
Authentic marinated meats in a small seating area inside of this Supermercado Jalisco grocery store. Go and enjoy!
Taqueria Jalisco (inside Supermercado Jalisco)
110 E Broad St
Groveland, FL 34736


Hope this post will help you find great food! Enjoy discovering food everyday in any city you drive into.

Words and photos by Julius Mayo Jr.
Content and photos © Droolius.com 2013