This past weekend, the 18th Annual Epcot International Food and Wine Festival started its culinary celebration and will continue until November 11, 2013. That's about seven and a half weeks of experiencing food from different countries from around the world, with wine and craft beers to consume as well. It's certainly one of my favorite times to visit Epcot and there are always new dishes and beverages added every year to keep things fresh.
(click image to enlarge)
Epcot admission is required to attend the festival and marketplace dishes/drinks have individual pricing. The general admission does include the Eat to the Beat Concert series and the events at the Festival Center may include culinary demonstrations, wine & beverage seminars, and more. There are specialty events that are offered and require additional purchase. You can find details at the official website: Epcot® International Food & Wine Festival website
New Dishes
For 2013, the festival introduces a few new dishes, with 25 international marketplaces in total and adding Scotland to the lineup. A few of the new dishes I got a chance to preview before the festival and some during the opening weekend. The festival planning team has definitely added a few dishes with some spice and heat like the Kimchi Dog from South Korea marketplace and Berbere Style Beef from Africa marketplace. Food and beverage pairings have been a focus, with each marketplace having a suggested pairing presented on their menu. Here are some of the new dishes…
*The following dishes are from a media preview and will be plated differently at the festival.
(click image to enlarge)
Brazil – Crispy Pork Belly with Black Beans, Avocado, Onions and Cilantro paired with Cerveharias Kaiser Brewery's Xingu Black Beer
The dish itself is an enjoyable melody of flavors with rich pork belly. Pair the dish with the Xingu Black Beer and the black beans are complimented, along with the flavor of pork. The beer itself is very smooth for being a dark beer.
(click image to enlarge)
South Korea – Kimchi Dog with Spicy Mustard Sauce paired with Jinro Chamisul Soju
This Kimchi Hot Dog packs some heat and is one of my top picks for the festival this year. Made locally in Sarasota, FL the hot dog has been customized with just the right blend of seasoning and spice by Epcot's Executive Chef Jens Dahlmann and festival planning team.
(click image to enlarge)
Hops & Barley – Griddled Lobster Tail with Garlic Herb Butter paired with La Crema Sonoma Coast Chardonnay
The griddled lobster tail comes out warm with the garlic herb butter melted all around it. During the festival it comes out minus the stick.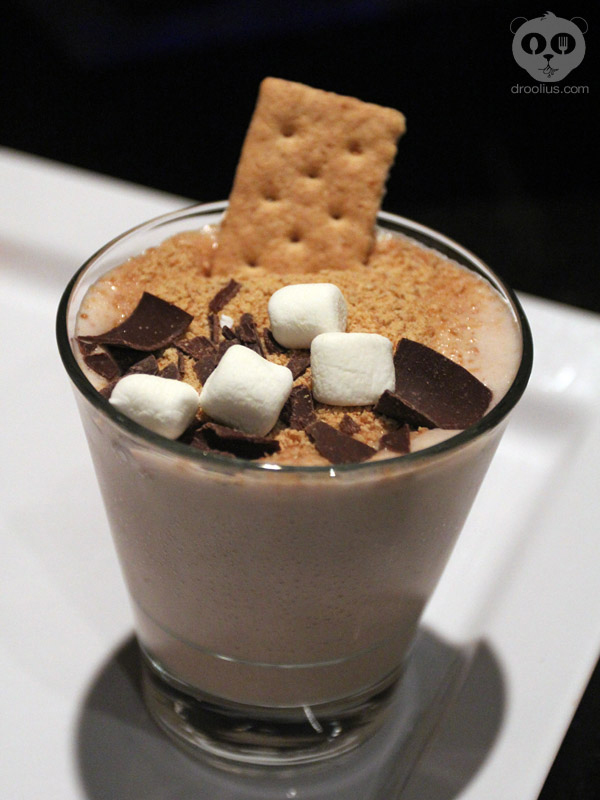 (click image to enlarge)
Desserts and Champagne Marketplace – Frozen S'Mores
This frozen treat is great for kids as well as adults. (I got to make my own Frozen S'Mores during the preview, so the festival version will look different)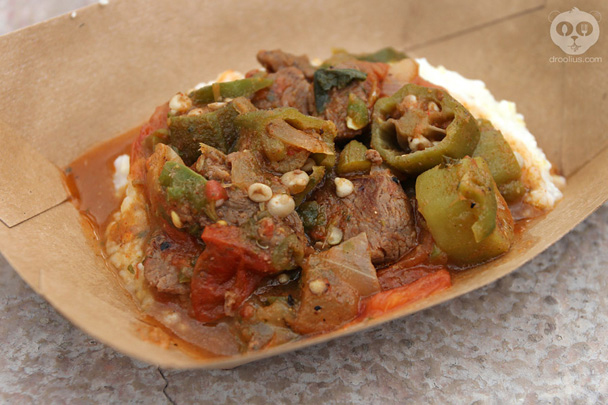 (click image to enlarge)
Africa – Berbere Style Beef with Onions, Jalapenos, Tomato, Okra and Pap (grits) paired with The Wolftrap Red wine
This is a new dish at the Africa marketplace and wow does it have some spicy heat. I'd say a medium to hot type of heat, but a manageable spice and enjoyable. The flavors are great together and pairing it with the The Wolftrap Red wine makes it even better. The Africa marketplace was formerly "South Africa" and the change was made to represent the country overall.
New Scotland Marketplace
(click image to enlarge)
Scotland is a brand new marketplace for the Epcot Food and Wine festival.
Dishes:
• Seared Scottish salmon with cauliflower puree, watercress and malt vinaigrette
• Vegetarian haggis with neeps & tatties (griddled vegetable cake with rutabaga and mashed potatoes)
• Scottish banoffee tart with bananas, Scottish whisky toffee, Walkers Shortbread Cookies and sweet cream
Drinks:
• Innis & Gunn® Original
• Loch Lomond featuring Glenfiddich® 12 year
• Glenfiddich Scotch Flight (12, 15 and 18)
(click image to enlarge)
Vegetarian haggis with neeps & tatties (griddled vegetable cake with rutabaga and mashed potatoes)
A dish made with lots of vegetables and vegetables are good for you. I'm not sure how to compare to traditional haggis because I've never had it, but it's good to get a taste for yourself.
(click image to enlarge)
Glenfiddich Scotch Flight (12, 15 and 18)
I sampled the 18 year aged Glenfiddich Scotch and I must say I really enjoyed it. To be able to sample all three in a flight for $12, I'd say that's a great deal that you should taste. Next trip, I will partake and take a photo of the flight to share.
Ocean Spray Cranberry Bog
(click image to enlarge)
The Ocean Spray Cranberry Bog is back and there are opportunities to speak with cranberry growers when present at the festival. Look for an upcoming post on the special Ocean Spray reception I attended… HERE
Eat to the Beat Concert Series
(click image to enlarge)
The Eat to the Beat Concert Series features live musical performances from the 70s, 80s, and 90s. Last weekend we watched STARSHIP starring Mickey Thomas perform "We Built This City" and their other 80s hits. I always look forward to watching Boyz II Men perform and they will be taking the stage on Oct 21-23.
More musical performers include Air Supply, Sister Hazel, Sugar Ray, Wilson Phillips, The Pointer Sisters, Survivor, Smash Mouth, Spin Doctors, Hanson, Big Bad Voodoo Daddy, and a few more bands. See the full list of performers and dates on Disney's Eat to the Beat Concert website.
Droolius' Top 5 Picks
These are my top 5 picks for dishes that return every year. These never disappoint and continue to be some of my favorites during Epcot Food & Wine Festival. If you are looking for something to try, these are my go-to dishes.
(click image to enlarge)
5. France – Escargots Persillade en Brioche (Garlic and Parsley Snails in Brioche)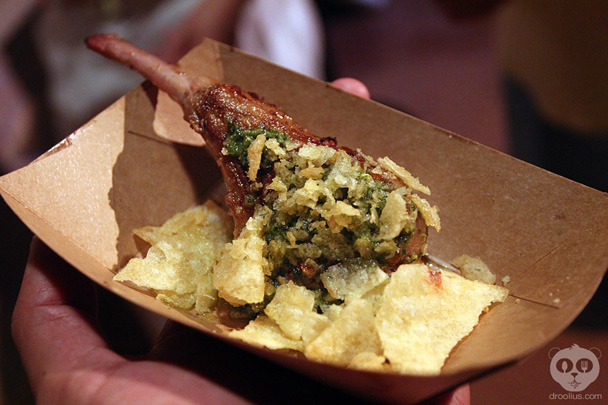 (click image to enlarge)
4. Australia – Grilled Lamb Chop with Mint Pesto and Potato Crunchies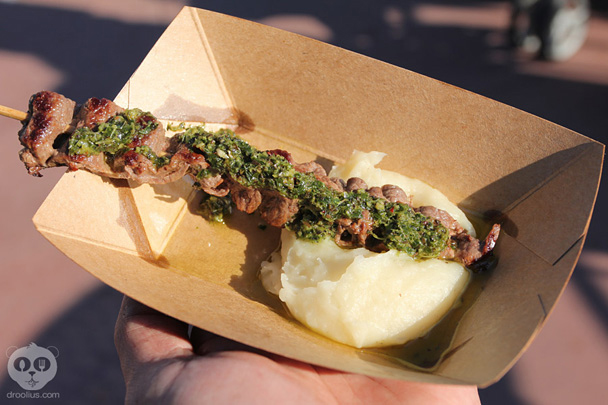 (click image to enlarge)
3. Argentina – Grilled beef skewer with Chimichurri sauce and boniato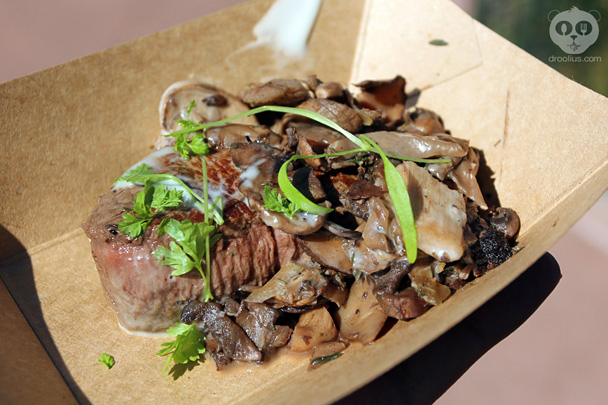 (click image to enlarge)
2. Canada – "Le Cellier" Wild Mushroom Beef Filet Mignon with Truffle Butter Sauce
This dish was introduced in 2012 and I'm glad it made it back for 2013. It almost took the top spot this year!
(click image to enlarge)
1. Canada – Canadian Cheddar Cheese Soup
What can I say, I love eating this cheesy soup with bacon every year. Check out my recipe for a heavier version of the Canadian Cheddar Cheese Soup


I look forward to going back to the Epcot Food & Wine Festival and getting a taste for more of the dishes, wines, and craft beers. Let me know what your favorites are or what you are looking forward to the most in the comments below…


More Epcot Food & Wine Festival posts:
2012 Epcot Food & Wine Festival – New Dishes & Twists on Favorites
2012 Epcot Food & Wine Festival Intro & Droolius' Top 10 Food of 2011
Epcot Food & Wine Festival – 2011 Intro & Droolius' Top 10 Food of 2010
Epcot Food & Wine Festival 2010 – Droolius Highlights
Epcot Food & Wine Festival – 2010 Intro & Droolius' Top 10 Food of 2009
Food & Wine festival – A continuation of 2009 Food, Wine & Beer

Words and photos by Julius Mayo Jr.
Content and photos © Droolius.com 2013