During the opening weekend of the Epcot International Food & Wine Festival, Chef Carla Hall (from ABC's The Chew and Bravo's Top Chef) joined the festival for some cooking demos and cooking an appetizer and a few desserts for the Sweet Sundays event. Her energetic personality and dancing was a special treat during a media brunch, where she shared her latest news and answered a few questions from the crowd.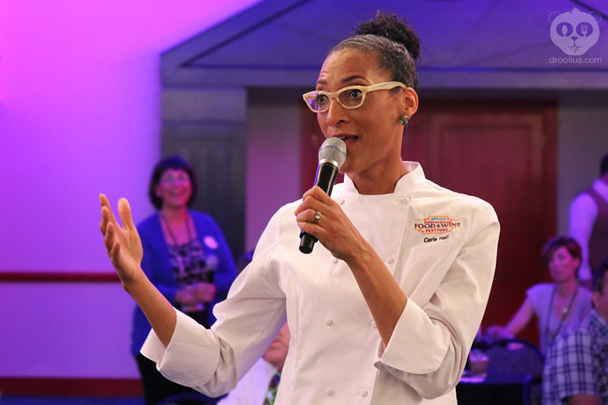 (click image to enlarge)
Carla told us about being a big Mickey fan and having an interview with Chef Mickey. She also announced that she will be doing something in January with Newsies, a Disney musical on Broadway. A question from the audience asking about some of Carla's favorite dishes from Epcot Food & Wine festival reveals that she really enjoyed the Pork Belly Dish (Brazil marketplace) and also Kimchi Dog (South Korea marketplace). Another favorite was the Escargot en Brioche (France marketplace) and she calls it "a popper" — you pop the entire thing into your mouth to get all of the flavors in one bite. After hearing this, I did eat the Escargot en Brioche as a popper and admit taking small bites (like before) is not as good as eating all in one bite. Thank you for the eating tip, Carla!
Video:
I got a chance to interview Chef Carla and asked her a few questions about her involvements at Epcot Food & Wine Festival, how competing on Top Chef transitioned her cooking, and what her favorite food city is to visit. Watch the video (above) for Carla's answers and to learn more about her.
*Big thanks to my food partner, OD for filming the interview!
(click image to enlarge)
Chef Carla excitedly spoke about her "Carla Hall Petite Cookies". These petite cookies are the size of sugar cubes and are both sweet and savory. The "Carla Hall Petite Cookies" were on sale at the Festival Center, along with her cook book, Cooking with Love: Comfort Food that Hugs You.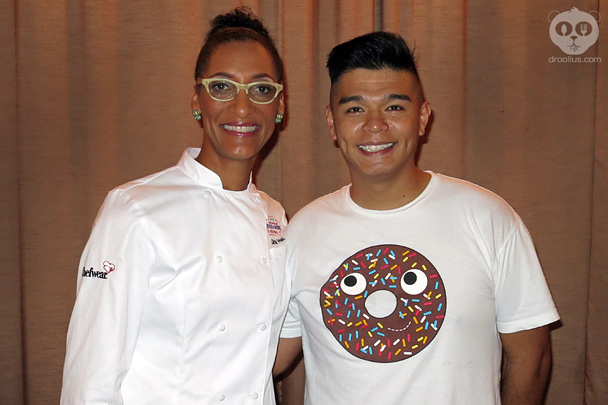 (click image to enlarge)
If there's one thing that I learned about Carla Hall at this event, it's that she is as energetic in person as she is on t.v. When asked about how she has all of that energy, she says she keeps up her energy by dancing, on set and in between commercial breaks while filming The Chew. Our friend @JeffHouck asked Carla if she would consider being on the "So You Think You Can Dance" t.v. show and she excitedly said, "Yes!" Good luck on your dancing campaign, Carla. We look forward to seeing you on "SYTYCD" or "Dancing With The Stars". Also, thanks for joining us for the interview and talking about food. We can't wait to see what you have cooking up next.

Words and photos by Julius Mayo Jr.
Content and photos © Droolius.com 2013


To learn more about the 18th Annual Epcot Food & Wine Festival, check out: 2013 Epcot Food & Wine Festival Intro + Droolius' Top 5 Picks