Earlier this month a special dinner was held in Orlando, FL to raise funds for the victims of Typhoon Haiyan in the Philippines. Three chefs, all friends who recently relocated back to Central Florida, combined their talents to create a special dinner highlighting Filipino cuisine with a more refined approach. The charity dinner was held at Sushi Katana, where one of the chef's friends is a co-owner and offered to host the event. The menu featured a 7 course pre-fixe meal for a minimum donation of $40.
(click image to enlarge)
As you can see in the photo above, there were a few options offered to guests on selecting their courses. Each guest was offered a Kalamansi Mimosa to start. I attended this dinner with a friend, both of us being Filipino and raised on Filipino food. The dishes we chose had the heart and soul of traditional Filipino food, but they were elevated and more refined than what our moms (or dads) cooked growing up. The plating was beautiful and flavors were on point. After each course, the flavors brought back nostalgic childhood memories of eating, and left us wanting more of each dish. The multiple courses gave us just a taste, but enough to make us full and a give us a memorable experience in the end.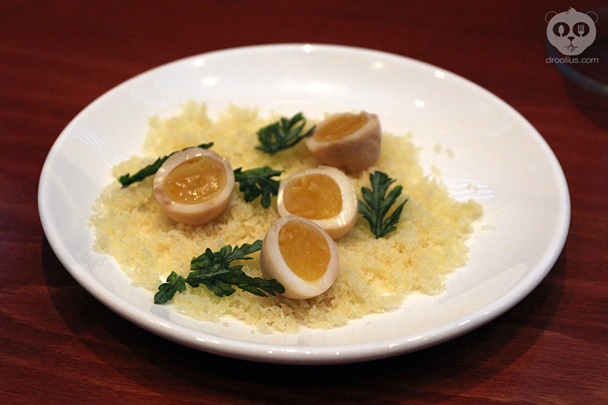 (click image to enlarge)
Amuse Bouche
Smoked Quail Eggs
First Course
(click image to enlarge)
Lobster Kinilaw – Seared lobster, tomato, wild mushrooms, watercress, kalamansi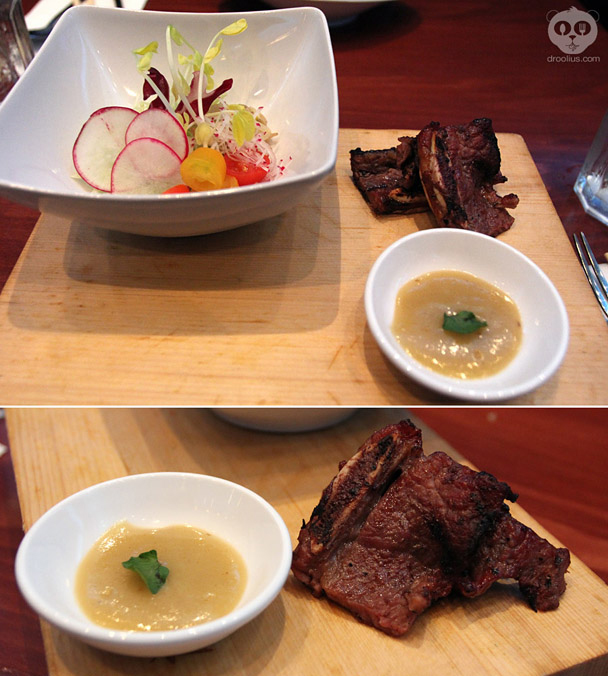 (click image to enlarge)
(my selection)
Bistek Salad – Short rib, lettuce, bean sprouts, red radish
Second and Third Course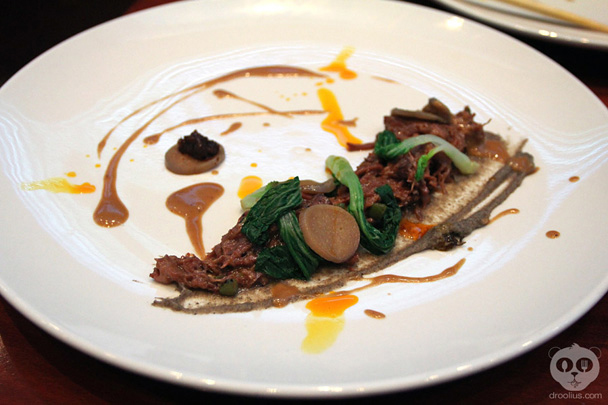 (click image to enlarge)
Tail of an Ox – Eggplant, long beans, bok choy, kare kare sauce
This was my favorite dish of the evening. An elevated version of Kare Kare (oxtail stew flavored with roasted peanuts or peanut butter with vegetables), this dish had all of the traditional elements in a more condensed form and artistically plated. The taste of Kare Kare was all there, with a dab of bagoong (fermented shrimp paste) to bump up the salt and authentic flavors.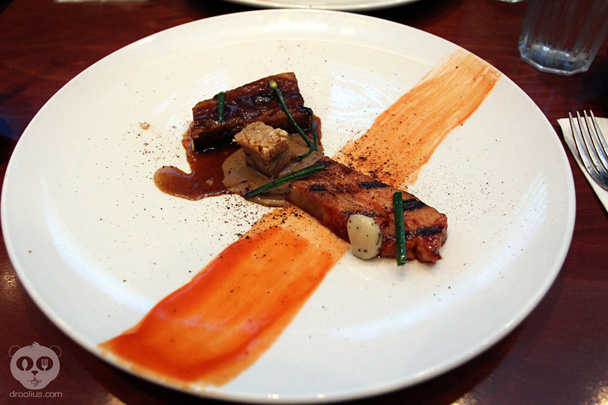 (click image to enlarge)
The Belly – Cooked three ways: Kawali, Inasal, and Humba
This plate was all about the pork belly in three different forms.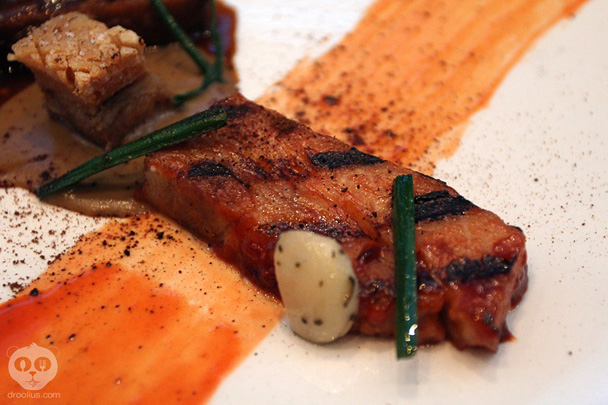 (click image to enlarge)
Inasal is a barbecue style Filipino dish.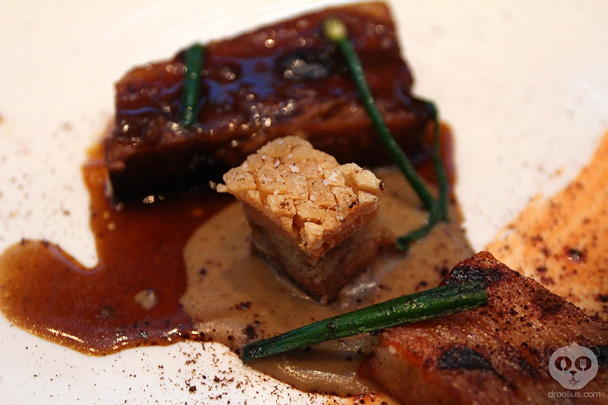 (click image to enlarge)
Kawali is pork belly, deep fried and served crispy.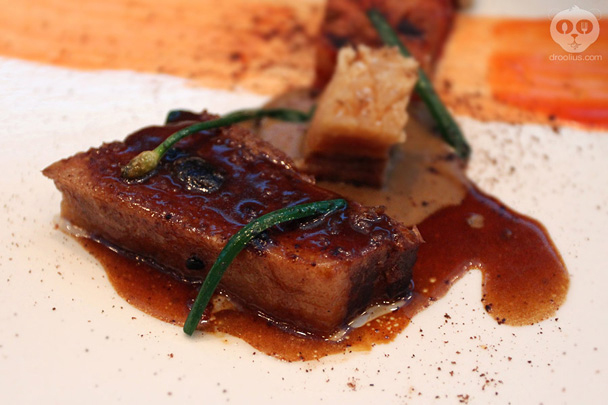 (click image to enlarge)
Humba is braised pork style dish, from the Visayas Islands in the Philippines.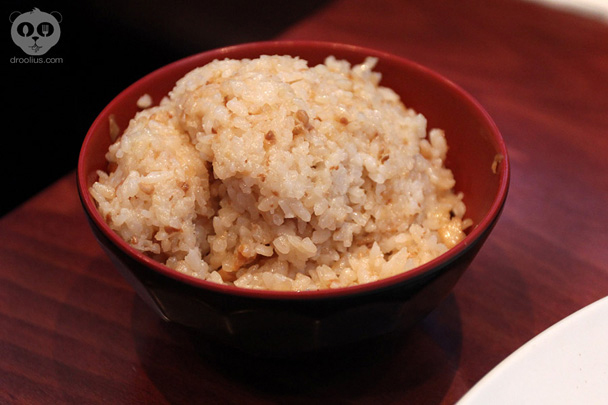 (click image to enlarge)
Garlic Fried Rice
Every dish is eaten with rice in the Philippines. To pair each course with garlic fried rice is a special treat.
Intermezzo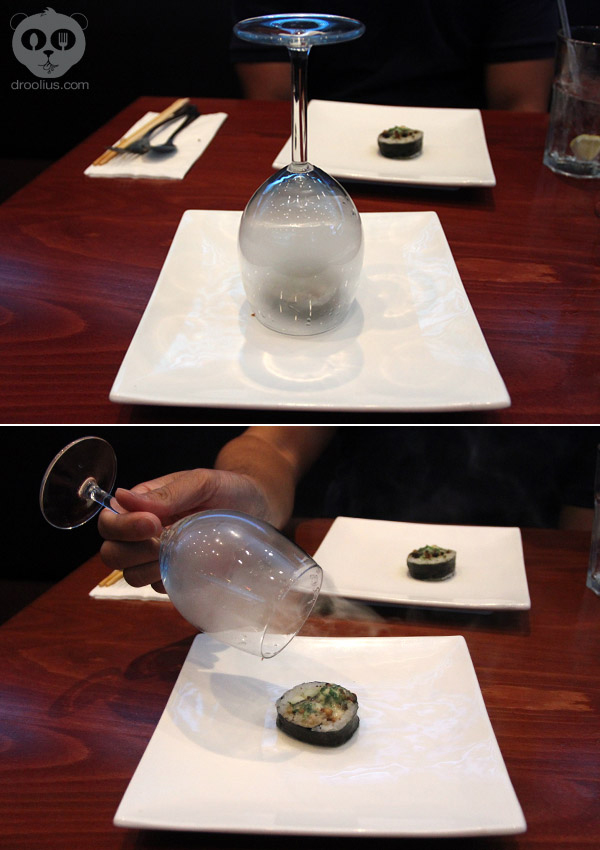 (click image to enlarge)
Smoked Eel roll – I'm not sure of the exact name, but it was served with a smoked filled glass.
While this course was not traditional Filipino cuisine, this dish showed the range and experience of one of the chefs, who has worked in 1 Michelin Star restaurants in New York City and in London. Technique, plating, and style can be seen and tasted in this dish.
(click image to enlarge)
Smoked Eel roll (description above)
Pre-Dessert
(click image to enlarge)
A spoonful of Halo Halo (traditional Filipino dessert with a mix of shaved ice, evaporated milk, sweet beans and fruits) starts the sweet courses.
Dessert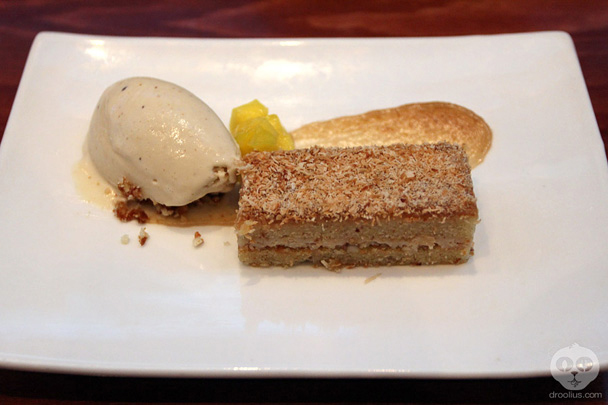 (click image to enlarge)
Coconut – Almond cake, dolce de coconut, mango, latik ice cream
The pastry chef did a great job creating this dessert. Lots of happy guests with this dessert and it was a favorite among many of my friends who attended the dinner. The other option for dessert was an assortment of fruits from the Philippines.
(click image to enlarge)
To end the meal, we were given homemade Filipino "White Rabbit" candy as a token of their appreciation. This was a more delicate form of the "White Rabbit" candy we all grew up eating, softer and pleasantly sweet.
Overall the event raised $3,440 from the dinner and has been donated to ABS CBN Foundation International in the Philippines. The goal was to build awareness and do a cause that was really close to heart. The chefs hope to do a few more charity dinners benefiting other causes, while trying to provide a new experience for the orlando dinning scene.
Chef Mark, Chef Lo, and Pastry Chef Jennifer all did a great job on this dinner and I commend them on their efforts to raise funds for those typhoon victims in the Philippines. You can find out more about this charity dinner on the Facebook event page or email kadence.hospitality@gmail.com for more information.
Sponsored by
Sushi Katana
Kadence Hospitality
www.donationto.com/Disaster-Relief-for-Bohol-and-Cebu

Words and photos by Julius Mayo Jr.
Content and photos © Droolius.com 2013