The James Beard Foundation announced the 2014 semifinalists at a first time live event in Orlando, FL. The live event was broadcasted online and took place at the East End Market with an audience of media, chefs, and James Beard Foundation representatives. The category of Best Chef South revealed a number of chefs from around Florida, with four local Central Florida semifinalist nominations. Congratulations to James & Julie Petrakis of The Ravenous Pig and Cask & Larder, Henry Salgado of Spanish River Grill and Txokos Basque Kitchen, and Hari Pulapaka of Cress Restaurant. The full list of semifinalists is at the end of this post.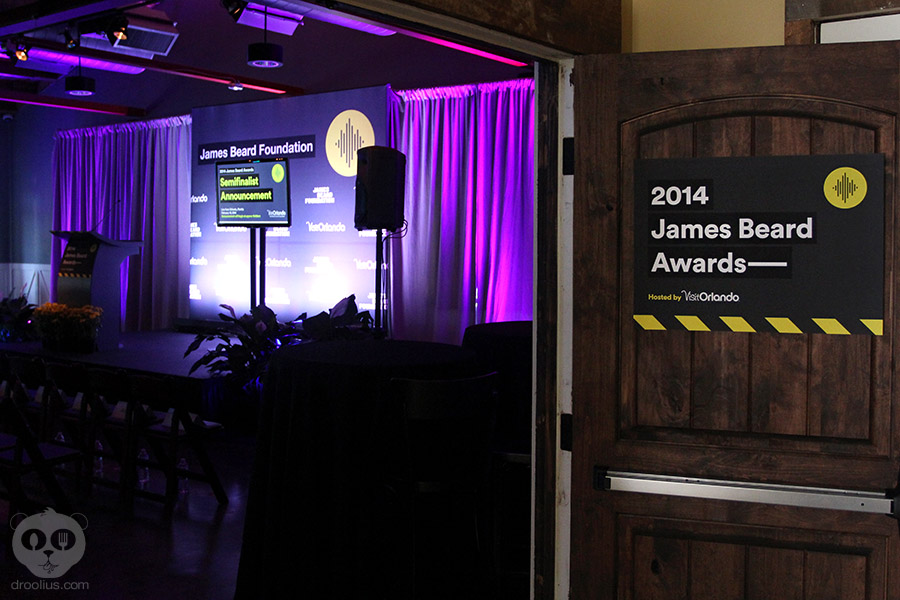 (click image to enlarge)

This was the first time the James Beard Foundation announced the semifinalists outside of their New York headquarters. The live press event came to Central Florida through Visit Orlando, the official tourism association who presented the opportunity to host the event. It came at a great time as Orlando is currently experiencing a food renaissance, with local chefs focusing on local ingredients and really celebrating what Florida has to offer.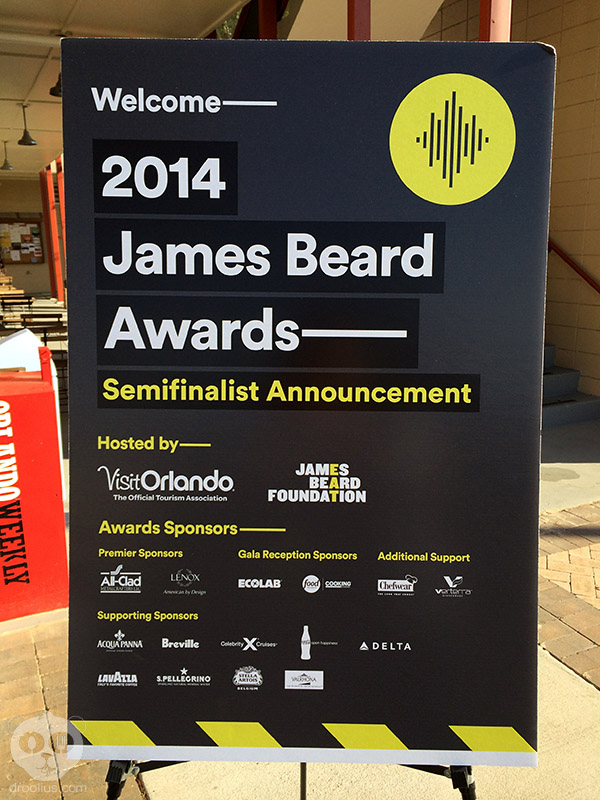 Before the semifinalists were announced, media and representatives of James Beard Foundation were able to experience the food and products from the vendors at the East End Market.
(click image to enlarge)
Olde Hearth Bread Co. welcomed everyone with their bread and pastries.
(click image to enlarge)
Local Roots Farm Store was serving mimosas with fresh local fruit. They also had on display the Field to Feast cookbook, a collection of recipes celebrating Florida farmers, chefs, and artisans.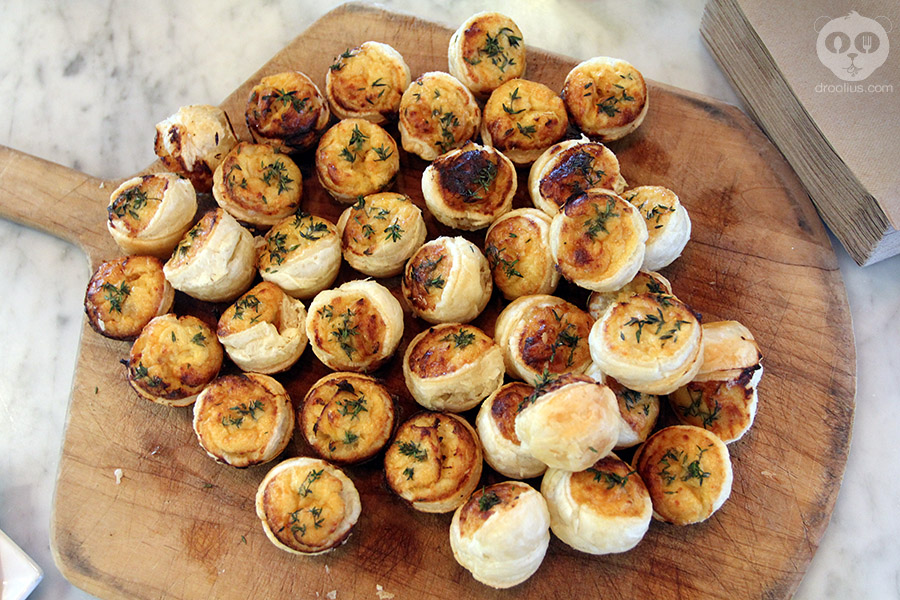 (click image to enlarge)
Mini Quiches at Fatto in Casa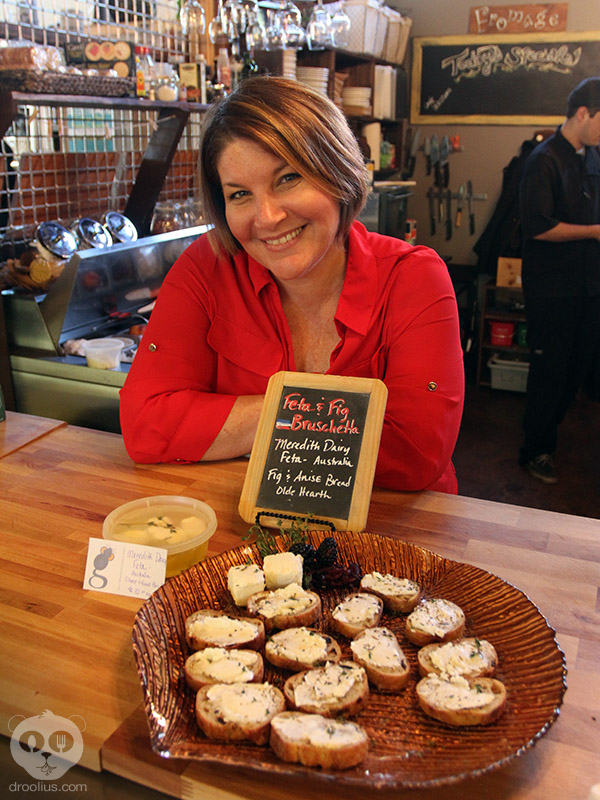 Tonda of La Femme du Fromage served a Fetta & Fig Bruschetta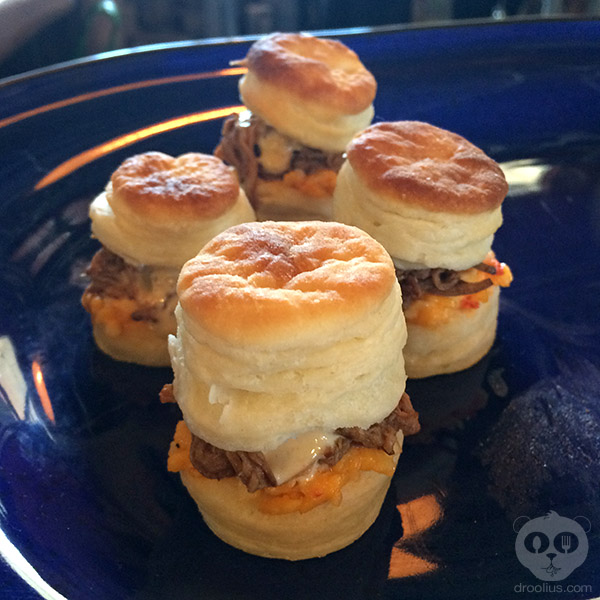 Houndstooth brisket biscuit with pimento cheese and white BBQ sauce at Houndstooth Sauce Company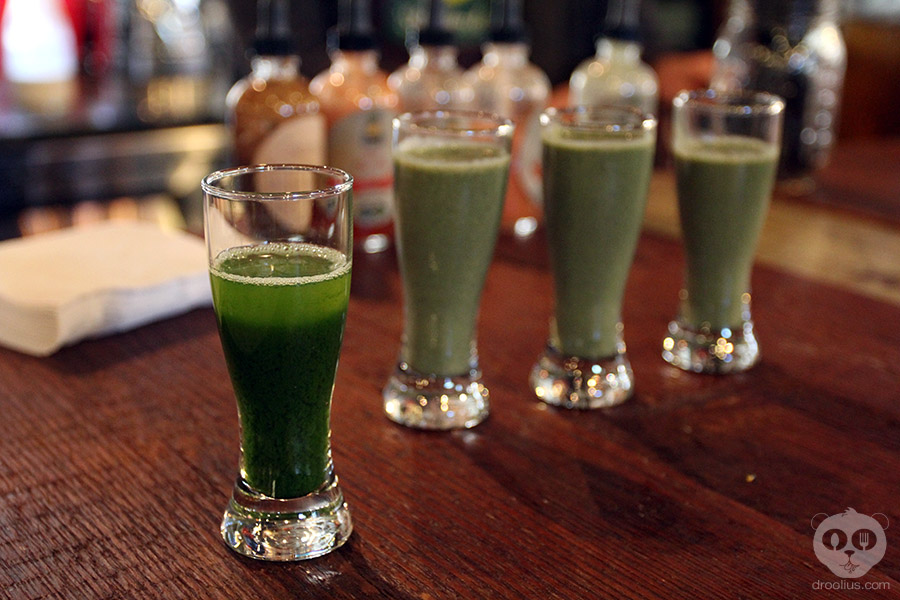 (click image to enlarge)
Skyebird Juice Bar and Experimental Kitchen were served samples of some of their green juices and smoothies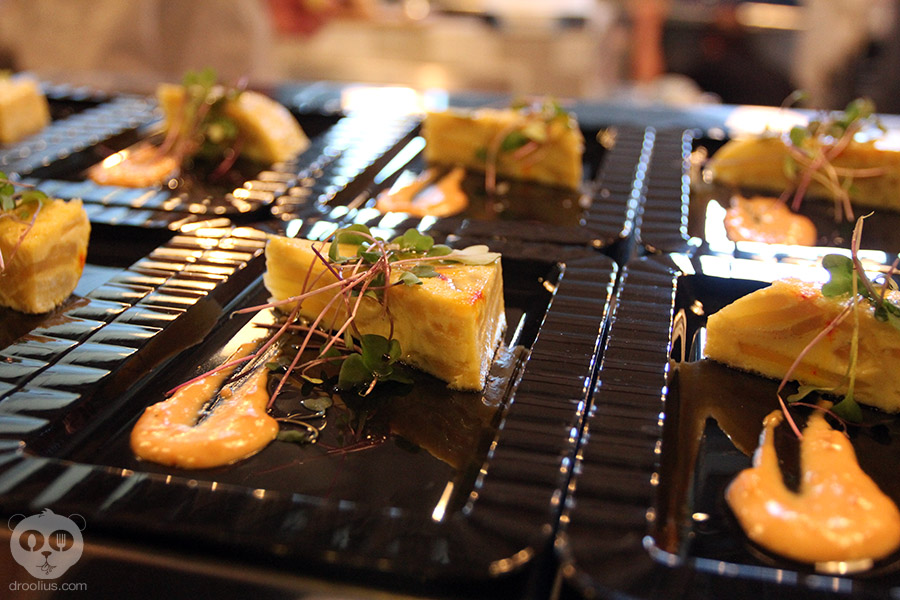 (click image to enlarge)
The upcoming restaurant, Txokos Basque Kitchen, served Tortilla Española with yukon gold potatoes, lake meadow eggs, roasted tomato aioli, Mr McGregor's purple kohlrabi, saffron.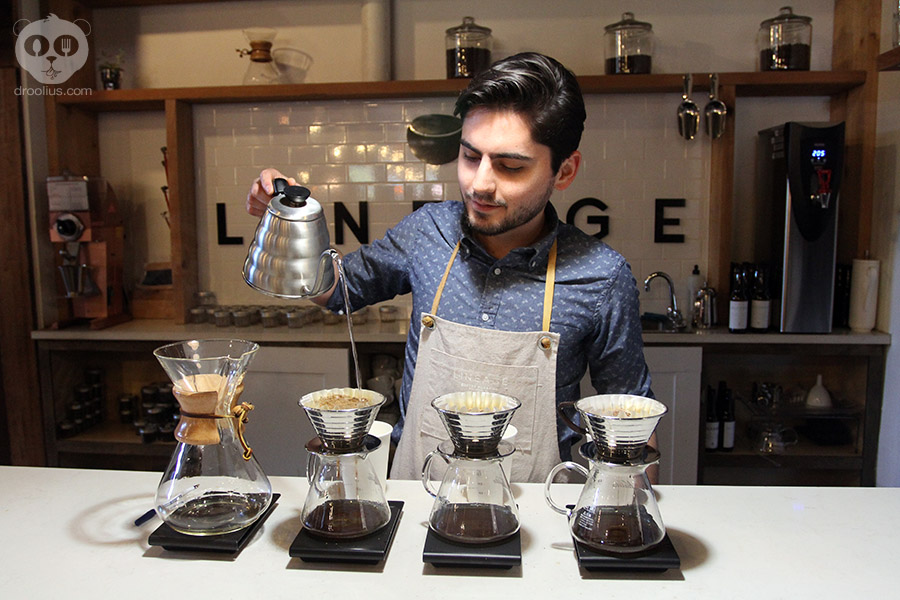 (click image to enlarge)
Lineage brewing their roasted coffee
(click image to enlarge)
Conversations & eating filled the East End Market.
(click image to enlarge)
A welcome speech by George Aguel, Visit Orlando President & CEO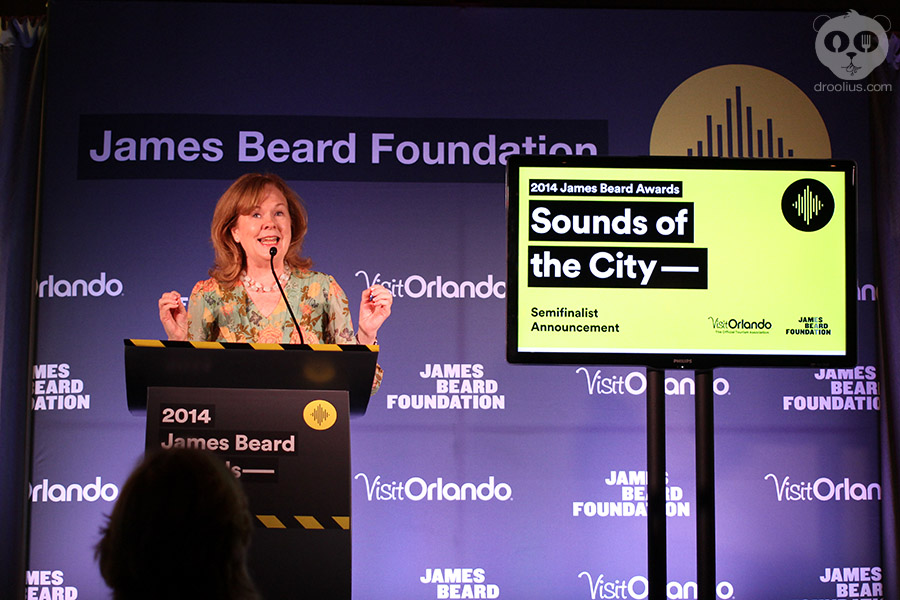 (click image to enlarge)
Susan Ungaro, James Beard Foundation President, welcoming the live streaming event and announcing nominees.
(click image to enlarge)
James Beard Award-winning chef Norman Van Aken announcing nominees.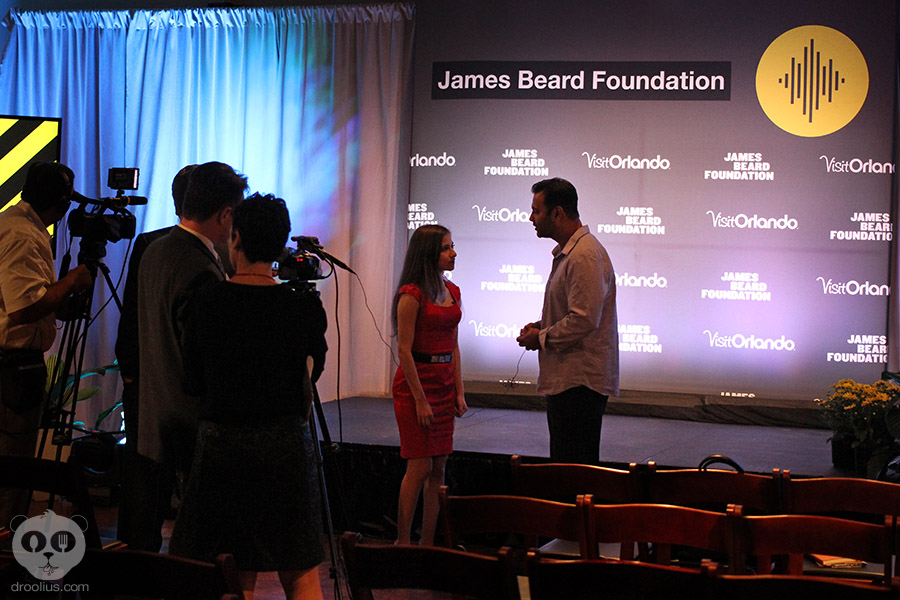 (click image to enlarge)
Chef Hari Pulapaka of Cress Restaurant being interviewed.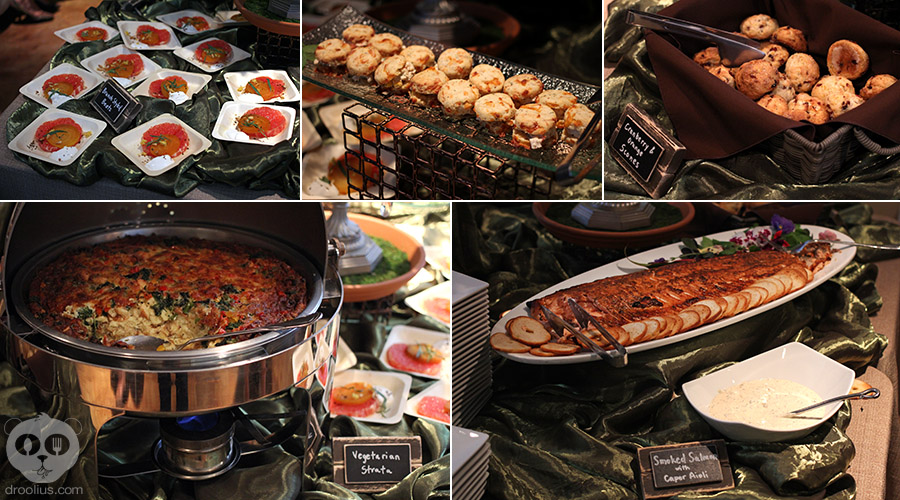 (click image to enlarge)
Brunch reception by Cuisiniers Catered Cuisine & Events

Orlando's Best Chef South Semifinalist Nominees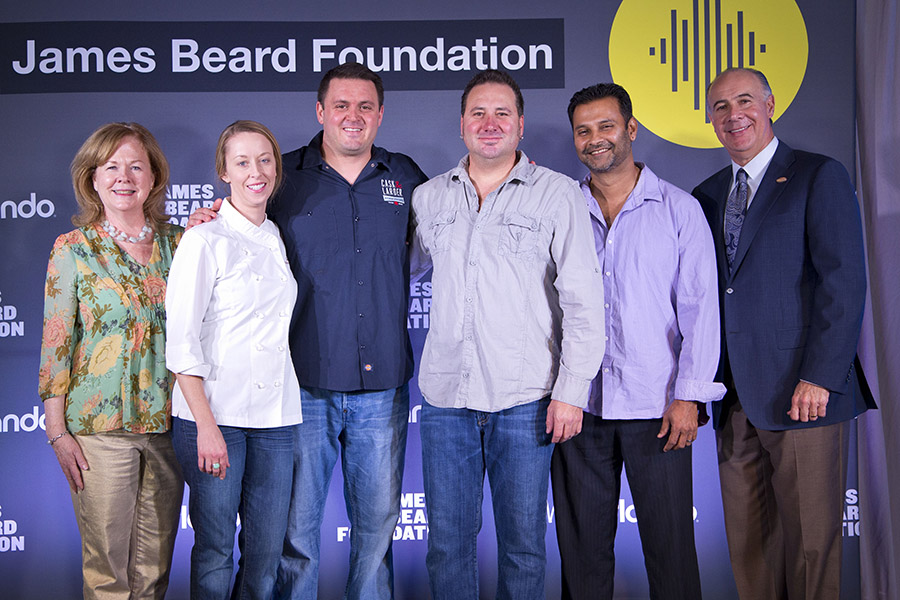 (Photo courtesy of Visit Orlando)
Pictured from left to right: Susan Ungaro, James Beard Foundation President; James & Julie Petrakis, The Ravenous Pig and Cask & Larder; Henry Salgado, Spanish River Grill and Txokos Basque Kitchen; Hari Pulapaka, Cress Restaurant and George Aguel, Visit Orlando President & CEO.
About the Orlando food scene: "I'm so impressed with the growth of Orlando's dining scene," said president of the James Beard Foundation Susan Ungaro during today's press conference. "I expect Orlando, which has been a prime tourist destination for so many years, can now add culinary destination to its long list of reasons to visit." — via Visit Orlando
The live event gave a good opportunity to celebrate the James Beard semifinalist from all over the country. Within minutes of the semifinalist announcements, chefs were congratulating each other over social media and some chefs even finding out their nominations from fans. Truly a great way to celebrate outstanding talent in the culinary industry.
The finalists will be announced on Tuesday, March 18, 2014 and the winners will be announced at the James Beard Foundation Awards on Monday, May 5, 2014 in New York City.
Here is the full list of 2014 James Beard Foundation Awards – Restaurant and Chef Award Semifinalists.
Best Chef: South
Greg Baker, The Refinery, Tampa, FL
Vishwesh Bhatt, Snackbar, Oxford, MS
Justin Devillier, La Petite Grocery, New Orleans
Derek Emerson, Walker's Drive-In, Jackson, MS
José Enrique, José Enrique, San Juan, PR
Justin Girouard, The French Press, Lafayette, LA
Chad Johnson, SideBern's, Tampa, FL
Matthew McClure, The Hive, Bentonville, AR
Rob McDaniel, SpringHouse, Alexander City, AL
Jose Mendin, Pubbelly, Miami Beach, FL
James and Julie Petrakis, The Ravenous Pig, Winter Park, FL
Steve Phelps, Indigenous, Sarasota, FL
Ryan Prewitt, Pêche Seafood Grill, New Orleans
Hari Pulapaka, Cress, DeLand, FL
Horacio Rivadero, The District Miami
Henry Salgado, Spanish River Grill, New Smyrna Beach, FL
Alon Shaya, Domenica, New Orleans
Michael Stoltzfus, Coquette, New Orleans
Isaac Toups, Toups' Meatery, New Orleans
Sue Zemanick, Gautreau's, New Orleans
Best New Restaurant
The 404 Kitchen, Nashville
Aragona, Seattle
Ardent, Milwaukee
Asta, Boston
Bar Sajor, Seattle
Betony, NYC
Brindille, Chicago
Carbone, NYC
Casa Rubia, Dallas
The Cavalier, San Francisco
Chi Spacca, Los Angeles
Connie and Ted's, West Hollywood, CA
Coqueta, San Francisco
The Elm, Brooklyn, NY
Estela, NYC
Fish & Game, Hudson, NY
Izanami at Ten Thousand Waves, Santa Fe
Laurel, Philadelphia
MilkWood, Louisville, KY
MW, Honolulu
Nico Osteria, Chicago
Pêche, New Orleans
Pinewood Social, Nashville
Ribelle, Brookline, MA
Rose's Luxury, Washington, D.C.
Serpico, Philadelphia
Tosca Cafe, San Francisco
Trois Mec, Los Angeles
Uncle Boons, NYC
Virtù, Scottsdale, AZ
Outstanding Bar Program
Anvil Bar & Refuge, Houston
Arnaud's French 75 Bar, New Orleans
Bar Agricole, San Francisco
The Bar at the NoMad Hotel, NYC
The Broken Shaker, Miami Beach, FL
Butcher and the Rye, Pittsburgh
Canon, Seattle
Clyde Common, Portland, OR
Columbia Room inside the Passenger, Washington, D.C.
Cure, New Orleans
The Dead Rabbit, NYC
The Franklin Mortgage & Investment Co., Philadelphia
Hard Water, San Francisco
The Hawthorne, Boston
Kimball House, Decatur, GA
Maison Premiere, Brooklyn, NY
Marvel Bar, Minneapolis
The Porter Beer Bar, Atlanta
Rivera, Los Angeles
Rogue 24, Washington, D.C.
Taste, St. Louis
Trick Dog, San Francisco
The Varnish, Los Angeles
The Violet Hour, Chicago
Williams & Graham, Denver
Outstanding Chef
Michael Anthony, Gramercy Tavern, NYC
Isaac Becker, 112 Eatery, Minneapolis
Sean Brock, McCrady's, Charleston, SC
Andrew Carmellini, Locanda Verde, NYC
Gary Danko, Restaurant Gary Danko, San Francisco
Suzanne Goin, Lucques, West Hollywood, CA
Gabrielle Hamilton, Prune, NYC
David Kinch, Manresa, Los Gatos, CA
Donald Link, Herbsaint, New Orleans
Carrie Nahabedian, Naha, Chicago
Nancy Oakes, Boulevard, San Francisco
Maricel Presilla, Cucharamama, Hoboken, NJ
Anne Quatrano, Bacchanalia, Atlanta
Michael Schwartz, Michael's Genuine Food & Drink, Miami
Julian Serrano, Picasso at Bellagio, Las Vegas
Nancy Silverton, Pizzeria Mozza, Los Angeles
Ana Sortun, Oleana, Cambridge, MA
John Sundstrom, Lark, Seattle
Michael Tusk, Quince, San Francisco
Marc Vetri, Vetri, Philadelphia
Outstanding Pastry Chef
Dominique Ansel, Dominique Ansel Bakery, NYC
Melissa Chou, Aziza, San Francisco
Dana Cree, Blackbird, Chicago
Steve Horton, Rustica Bakery, Minneapolis
Kate Jacoby, Vedge, Philadelphia
Michelle Karr-Ueoka, MW, Honolulu
Maura Kilpatrick, Oleana, Cambridge, MA
Phoebe Lawless, Scratch, Durham, NC
Belinda Leong, b. patisserie, San Francisco
Matt Lewis and Renato Poliafito, Baked, Brooklyn, NY
Yasmin Lozada-Hissom, Spuntino, Denver
Tiffany MacIsaac, Birch & Barley, Washington, D.C.
Dolester Miles, Highlands Bar and Grill, Birmingham, AL
Dahlia Narvaez, Osteria Mozza, Los Angeles
Neil Robertson, Crumble & Flake, Seattle
Philip Speer, Uchi, Austin and Houston
Jonathan Stevens and Cheryl Maffei, Hungry Ghost, Northampton, MA
Christina Tosi, Momofuku, NYC
Nick Wesemann, The American Restaurant, Kansas City, MO
Jennifer Yee, Lafayette, NYC
Outstanding Restaurant
Bern's Steak House, Tampa, FL
Canlis, Seattle
The Fearrington House Restaurant, Pittsboro, NC
Fore Street, Portland, ME
Foreign Cinema, San Francisco
Fork, Philadelphia
Greens, San Francisco
Hamersley's Bistro, Boston
Hearth, NYC
Highlands Bar and Grill, Birmingham, AL
Jaleo, Washington, D.C.
Mélisse, Santa Monica, CA
Pearl Oyster Bar, NYC
Pizzeria Bianco, Phoenix
Primo, Rockland, ME
The Slanted Door, San Francisco
Spiaggia, Chicago
Terra, St. Helena, CA
Vidalia, Washington, D.C.
wd~50, NYC
Outstanding Restaurateur
Ashok Bajaj, Knightsbridge Restaurant Group, Washington, D.C. (The Bombay Club, The Oval Room, Rasika, and others)
Giorgios Bakatsias, Giorgios Hospitality Group, Durham, NC (Kipos, Parizäde, Village Burgers, and others)
Frank Bonanno, Bonanno Concepts, Denver (Mizuna, Osteria Marco, Bones, and others)
JoAnn Clevenger, Upperline, New Orleans
George Formaro, Des Moines, IA (Centro, Django, South Union Bread Café, and others)
Sam Fox, Fox Restaurant Concepts, Phoenix (Olive & Ivy, True Food, Little Cleo's Seafood Legend, and others)
Ford Fry, Ford Fry Restaurant Company, Atlanta (The Optimist, JCT Kitchen, No. 246, and others)
Garrett Harker, Boston (Eastern Standard, Island Creek Oyster Bar, The Hawthorne, and others)
Mike Klank and Eddie Hernandez, Taqueria del Sol, Atlanta
Barbara Lynch, Barbara Lynch Gruppo, Boston (No. 9 Park, Menton, B&G Oysters, and others)
Donnie Madia, One Off Hospitality Group, Chicago (Blackbird, Avec, The Publican, and others)
Larry Mindel, Poggio and Copita, Sausalito, CA
Cindy Pawlcyn, Napa Valley, CA (Mustards Grill, Cindy's Back Street Kitchen, and Cindy Pawlcyn's Wood Grill & Wine Bar)
Nick Pihakis, Jim 'N Nick's Bar-B-Q, Birmingham, AL
Stephen Starr, Starr Restaurants, Philadelphia (The Dandelion, Talula's Garden, Serpico, and others)
Caroline Styne, West Hollywood, CA (Lucques, A.O.C., Tavern, and others)
Phil Suarez, Suarez Restaurant Group, NYC (ABC Kitchen, Jean-Georges, wd~50, and others)
Andrew Tarlow, NYC (Diner, Marlow & Sons, Reynard, and others)
Marcie Turney and Valerie Safran, Philadelphia (Little Nonna's, Jamonera, Barbuzzo, and others)
Rick and Ann Yoder, Wild Ginger, Seattle
Outstanding Service
Abacus, Dallas
Bacchanalia, Atlanta
Blue Hill, NYC
Brigtsen's, New Orleans
Cafe Juanita, Kirkland, WA
L'Espalier, Boston
Komi, Washington, D.C.
L2O, Chicago
Lucques, West Hollywood, CA
Mansion Restaurant at Rosewood Mansion on Turtle Creek, Dallas
Marcel's, Washington, D.C.
McCrady's, Charleston, SC
One Flew South, Atlanta
Persimmon, Bristol, RI
Providence, Los Angeles
Quince, San Francisco
Restaurant Alma, Minneapolis
The Restaurant at Meadowood, St. Helena, CA
Topolobampo, Chicago
Vetri, Philadelphia
Outstanding Wine Program
5 & 10, Athens, GA
A16, San Francisco
Addison at the Grand Del Mar, San Diego
Archie's Waeside, Le Mars, IA
Bar Boulud, NYC
The Barn at Blackberry Farm, Walland, TN
Café on the Green at Four Seasons Resort and Club Dallas at Las Colinas, Irving, TX
CityZen at Mandarin Oriental, Washington, D.C.
FIG, Charleston, SC
The Grill Room at Windsor Court Hotel, New Orleans
The Little Nell, Aspen, CO
Marcel's, Washington, D.C.
Momofuku Ssäm Bar, NYC
Picasso at Bellagio, Las Vegas
Press, St. Helena, CA
Rouge Tomate, NYC
Sepia, Chicago
Spago, Beverly Hills, CA
Troquet, Boston
Yono's Restaurant, Albany, NY
Outstanding Wine, Spirits, or Beer Professional
Sam Calagione, Dogfish Head Craft Brewery, Milton, DE
Ron Cooper, Del Maguey Single Village Mezcal, Ranchos de Taos, NM
Don Feinberg and Wendy Littlefield, Vanberg & DeWulf, Cooperstown, NY
Mike Floyd, Nick Floyd, and Simon Floyd, Three Floyds Brewing, Munster, IN
Ted Lemon, Littorai Wines, Sebastopol, CA
Steve Matthiasson, Matthiasson Wine, Napa, CA
Stephen McCarthy, Clear Creek Distillery, Portland, OR
Garrett Oliver, Brooklyn Brewery, Brooklyn, NY
Luca Paschina, Barboursville Vineyards, Barboursville, VA
David Perkins, High West Distillery & Saloon, Park City, UT
Tom Peters, Monk's Cafe, Philadelphia
Joey Redner, Cigar City Brewing, Tampa, FL
Jörg Rupf, St. George Spirits, Alameda, CA
Eric Seed, Haus Alpenz, Edina, MN
Rob Tod, Allagash Brewing Company, Portland, ME
Ann Tuennerman, Tales of the Cocktail, New Orleans
Harlen Wheatley, Buffalo Trace Distillery, Frankfort, KY
Burt Williams, founder of Williams Selyem Winery, Healdsburg, CA
David Wondrich, spirits educator, Brooklyn, NY
Stephen M. Wood, Farnum Hill Cider, Lebanon, NH
Rising Star Chef of the Year
Jimmy Bannos Jr., The Purple Pig, Chicago
Katie Button, Cúrate, Asheville, NC
Daniel Delaney, Delaney Barbecue, Brooklyn, NY
Chris Kajioka, Vintage Cave, Honolulu
Christopher Kearse, Will, Philadelphia
Matthew Kirkley, L2O, Chicago
Casey Lane, Tasting Kitchen, Venice, CA
Jessica Largey, Manresa, Los Gatos
Andrew Le, The Pig and the Lady, Honolulu
Rick Lewis, Quincy Street Bistro, St. Louis
Malcolm Livingston II, wd~50, NYC
Tim Maslow, Ribelle, Brookline, MA
Matt McNamara and Teague Moriarty, Sons & Daughters, San Francisco
Marjorie Meek-Bradley, Ripple, Washington, D.C.
Ben Nerenhausen, Mistral, Princeton, NJ
Jorel Pierce, Euclid Hall, Denver
David Posey, Blackbird, Chicago
Ben Puchowitz, CHeU Noodle Bar, Philadelphia
Eduardo Ruiz, Corazón y Miel, Bell, CA
Cara Stadler, Tao Yuan, Brunswick, ME
Eli Sussman, Mile End, Brooklyn, NY
Ari Taymor, Alma, Los Angeles
Michael Toscano, Perla, NYC
Chris Weber, The Herbfarm, Woodinville, WA
Blaine Wetzel, The Willows Inn on Lummi Island, Lummi Island, WA
Best Chef: Great Lakes
Myles Anton, Trattoria Stella, Traverse City, MI
Dave Beran, Next, Chicago
Neal Brown, The Libertine Liquor Bar, Indianapolis
Abraham Conlon and Adrienne Lo, Fat Rice, Chicago
Curtis Duffy, Grace, Chicago
Paul Fehribach, Big Jones, Chicago
Phillip Foss, EL Ideas, Chicago
Greg Hardesty, Recess, Indianapolis
Douglas Katz, Fire Food & Drink, Cleveland
Anne Kearney, Rue Dumaine, Dayton, OH
Ryan McCaskey, Acadia, Chicago
Regina Mehallick, R Bistro, Indianapolis
Brian Polcyn, Forest Grill, Birmingham, MI
Iliana Regan, Elizabeth, Chicago
Jonathon Sawyer, The Greenhouse Tavern, Cleveland
David Tallent, Restaurant Tallent, Bloomington, IN
Jason Vincent, Nightwood, Chicago
Paul Virant, Vie Restaurant, Western Springs, IL
Erling Wu-Bower, Nico Osteria, Chicago
Andrew Zimmerman, Sepia, Chicago
Best Chef: Mid-Atlantic
Scott Anderson, Elements, Princeton, NJ
Cathal Armh4, Restaurant Eve, Alexandria, VA
Joey Baldino, Zeppoli, Collingswood, NJ
Pierre Calmels, Bibou, Philadelphia
Anthony Chittum, Iron Gate, Washington, D.C.
Joe Cicala, Le Virtù, Philadelphia
Spike Gjerde, Woodberry Kitchen, Baltimore
Lee Gregory, The Roosevelt, Richmond, VA
Haidar Karoum, Proof, Washington, D.C.
Tarver King, The Restaurant at Patowmack Farm, Lovettsville, VA
Rich Landau, Vedge, Philadelphia
Lucas Manteca, The Red Store, Cape May Point, NJ
Cedric Maupillier, Mintwood Place, Washington, D.C.
Justin Severino, Cure, Pittsburgh
Bryan Sikora, La Fia, Wilmington, DE
Brad Spence, Amis, Philadelphia
Lee Styer, Fond, Philadelphia
Vikram Sunderam, Rasika, Washington, D.C.
Angelo Vangelopoulos, The Ivy Inn Restaurant, Charlottesville, VA
Cindy Wolf, Charleston, Baltimore
Best Chef: Midwest
Justin Aprahamian, Sanford, Milwaukee
Paul Berglund, The Bachelor Farmer, Minneapolis
Steven Brown, Tilia, Minneapolis
Clayton Chapman, The Grey Plume, Omaha, NE
Gerard Craft, Niche, Clayton, MO
Doug Flicker, Piccolo, Minneapolis
Josh Galliano, The Libertine, Clayton, MO
Michelle Gayer, Salty Tart, Minneapolis
Ted Habiger, Room 39, Kansas City, MO
Howard Hanna, The Rieger Hotel Grill & Exchange, Kansas City, MO
Jamie Malone, Sea Change, Minneapolis
Kevin Nashan, Sidney Street Cafe, St. Louis
Ryan Nitschke and Nick Weinhandl, HoDo Restaurant at the Hotel Donaldson, Fargo, ND
Ben Poremba, Elaia, St. Louis
Lenny Russo, Heartland Restaurant & Farm Direct Market, St. Paul, MN
Phil Shires, Cafe di Scala, Des Moines, IA
David Swanson, Braise, Milwaukee
Jim Webster, Wild Rice, Bayfield, WI
Kevin Willmann, Farmhaus, St. Louis
Sean Wilson, Proof, Des Moines, IA
Best Chef Northeast
Tyler Anderson, Millwright's, Simsbury, CT
Jamie Bissonnette, Coppa, Boston
Joanne Chang, Flour Bakery + Cafe, Boston
Eric Gabrynowicz, Restaurant North, Armonk, NY
Wesley Genovart, SoLo Farm & Table, South Londonderry, VT
Gerry Hayden, The North Fork Table & Inn, Southold, NY
Evan Hennessey, Stages at One Washington, Dover, NH
Brian Hill, Francine Bistro, Camden, ME
Dano Hutnik, Dano's Heuriger on Seneca, Lodi, NY
Matt Jennings, Farmstead Inc., Providence, RI
Michael Leviton, Lumière, Newton, MA
Barry Maiden, Hungry Mother, Cambridge, MA
Evan Mallett, Black Trumpet Bistro, Portsmouth, NH
Masa Miyake, Miyake, Portland, ME
Ravin Nakjaroen, Long Grain, Camden, ME
Guy Reuge, Mirabelle, Stony Brook, NY
Champe Speidel, Persimmon, Bristol, RI
Benjamin Sukle, Birch, Providence, RI
Joel Viehland, Community Table, Washington, CT
Eric Warnstedt, Hen of the Wood, Burlington and Waterbury, VT
Best Chef: Northwest
Chris Ainsworth, Saffron Mediterranean Kitchen, Walla Walla, WA
Andy Blanton, Cafe Kandahar, Whitefish, MT
Greg Denton & Gabrielle Quiñónez Denton, Ox, Portland, OR
Eric Donnelly, RockCreek, Seattle
Renee Erickson, The Whale Wins, Seattle
Jason Franey, Canlis, Seattle
James Honaker, Bistro Enzo, Billings, MT
Joe Kim, 5 Fusion and Sushi Bar, Bend, OR
Richard Langston, Café Vicino, Boise, ID
Nathan Lockwood, Altura, Seattle
Brendan McGill, Hitchcock, Bainbridge Island, WA
Trent Pierce, Roe, Portland, OR
Naomi Pomeroy, Beast, Portland, OR
Dustin Ronspies, Art of the Table, Seattle
Adam Sappington, The Country Cat, Portland, OR
Ethan Stowell, Staple & Fancy, Seattle
Jason Stratton, Spinasse, Seattle
Cathy Whims, Nostrana, Portland, OR
Justin Woodward, Castagna, Portland, OR
Rachel Yang and Seif Chirchi, Joule, Seattle
Best Chef: NYC
Jonathan Benno, Lincoln Ristorante
Fredrik Berselius, Aska
April Bloomfield, The Spotted Pig
Paul Carmichael, Má Pêche
Amanda Cohen, Dirt Candy
Dan Kluger, ABC Kitchen
Mark Ladner, Del Posto
Paul Liebrandt, The Elm
Anita Lo, Annisa
Carlo Mirarchi, Roberta's
Seamus Mullen, Tertulia
Joe Ng, RedFarm
Alex Raij and Eder Montero, Txikito
César Ramirez, Chef's Table at Brooklyn Fare
Masato Shimizu, 15 East
Justin Smillie, Il Buco Alimentari & Vineria
Alex Stupak, Empellón Cocina
Rich Torrisi and Mario Carbone, Carbone
Jonathan Waxman, Barbuto
Michael White, Marea
Best Chef: Southeast
Billy Allin, Cakes & Ale, Decatur, GA
Jeremiah Bacon, The Macintosh, Charleston, SC
Colin Bedford, The Fearrington House Restaurant, Pittsboro, NC
Kathy Cary, Lilly's, Louisville, KY
Ashley Christensen, Poole's Downtown Diner, Raleigh, NC
Scott Crawford, Herons at the Umstead Hotel and Spa, Cary, NC
Todd Ginsberg, The General Muir, Atlanta
Damian Heath, Lot 12 Public House, Berkeley Springs, WV
Vivian Howard, Chef & the Farmer, Kinston, NC
Scott Howell, Nana's, Durham, NC
Meherwan Irani, Chai Pani, Asheville, NC
Kevin Johnson, The Grocery, Charleston, SC
Josh Keeler, Two Boroughs Larder, Charleston, SC
Matt Kelly, Mateo, Durham, NC
Edward Lee, 610 Magnolia, Louisville, KY
Daniel Lindley, St John's Restaurant, Chattanooga, TN
Steven Satterfield, Miller Union, Atlanta
Andrew Ticer and Michael Hudman, Andrew Michael Italian Kitchen, Memphis
Aaron Vandemark, Panciuto, Hillsborough, NC
Tandy Wilson, City House, Nashville
Best Chef: Southwest
Charleen Badman, FnB, Scottsdale, AZ
Kevin Binkley, Binkley's, Cave Creek, AZ
Bowman Brown, Forage, Salt Lake City
David Bull, Congress, Austin
James Campbell Caruso, La Boca, Santa Fe
Rob Connoley, The Curious Kumquat, Silver City, NM
Bryce Gilmore, Barley Swine, Austin
Jennifer James, Jennifer James 101, Albuquerque, NM
Matt McCallister, FT33, Dallas
Frederick Muller, El Meze, Taos, NM
Hugo Ortega, Hugo's, Houston
Jeff Osaka, Twelve, Denver
Jonathan Perno, La Merienda at Los Poblanos Inn, Los Ranchos de Albuquerque, NM
Martín Rios, Restaurant Martín, Santa Fe
Silvana Salcido, Barrio Café, Phoenix
Alex Seidel, Fruition, Denver
Chris Shepherd, Underbelly, Houston
John Tesar, Spoon Bar & Kitchen, Dallas
David Uygur, Lucia, Dallas
Justin Yu, Oxheart, Houston
Best Chef: West
Matthew Accarrino, SPQR, San Francisco
Stuart Brioza and Nicole Krasinski, State Bird Provisions, San Francisco
Josef Centeno, Bäco Mercat, Los Angeles
Michael Chiarello, Bottega, Yountville, CA
Michael Cimarusti, Providence, Los Angeles
Justin Cogley, Aubergine at L'Auberge Carmel, Carmel, CA
Mitsuo Endo, Aburiya Raku, Las Vegas
Tyler Florence, Wayfare Tavern, San Francisco
Ed Kenney, Town, Honolulu
Mourad Lahlou, Aziza, San Francisco
Corey Lee, Benu, San Francisco
Ludo Lefebvre, Trois Mec, Los Angeles
David LeFevre, MB Post, Manhattan Beach, CA
Niki Nakayama, n/naka, Los Angeles
Daniel Patterson, Coi, San Francisco
John Rivera Sedlar, Rivera, Los Angeles
Jon Shook and Vinny Dotolo, Animal, Los Angeles
Joshua Skenes, Saison, San Francisco
James Syhabout, Commis, Oakland, CA
Ricardo Zarate, Picca, Los Angeles


James Beard Foundation
www.jamesbeard.org
Congratulations to ALL semifinalists!
Words and photos by Julius Mayo Jr.
Content and photos © Droolius.com 2010-2014