Happy National Doughnut Day 2014! This is probably my favorite food holiday in the United States of America and I've spent some times traveling over the last year to add to the Droolius Donut Guide. Check out the doughnut shops below for the greater Orlando area, South Florida, Tampa, Atlanta, Las Vegas, Los Angeles, Chicago, and NYC. Share the doughnut love with your friends and send them this food guide.
Central Florida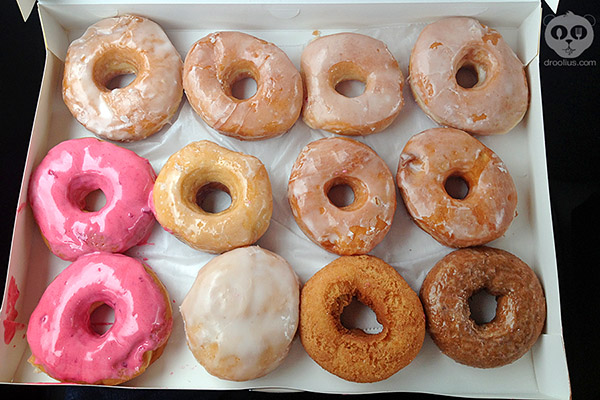 (click image to enlarge)
My favorite glazed and Hot Glazed doughnuts are at Donut King. These are some of the best glazed doughnuts I've had compared to others around the U.S. They are just a great classic doughnut. Other good ones to try are strawberry glazed (pink frosting above) and red velvet cake donut (not pictured). The Maple Bacon Donut Bar (not pictured) is a great pick too and if you don't see it, just ask them to add bacon on top of the maple donut or maple bar.
Donut King
(near Orlando)
208 U.S. 27
Minneola, FL 34715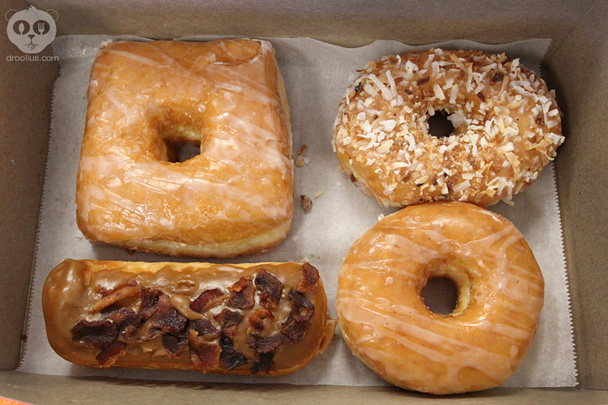 (click image to enlarge)
Donuts To Go II is in Sanford, a city just North of downtown Orlando. They make a great large square donut which the owners says is a "Texas style" donut. The round glazed donut was really good and a close second to Donut King's glazed donuts. Maple Bacon Donut and coconut are good to try as well.
Donuts To Go II
(near Orlando)
1400 West 1st Street
Sanford, FL 32771
South Florida
(click image to enlarge)
I learned about Mojo Donuts from my friend, BurgerBeast. Mojo has a great assortment to choose from, the glazed doughnut and Log Cabin Bacon Bar are solid choices. Another one to order is the raspberry glazed donut.
Mojo Donuts
(near Ft.Lauderdale/Miami)
7906 Pines Blvd
Pembroke Pines, FL
Tampa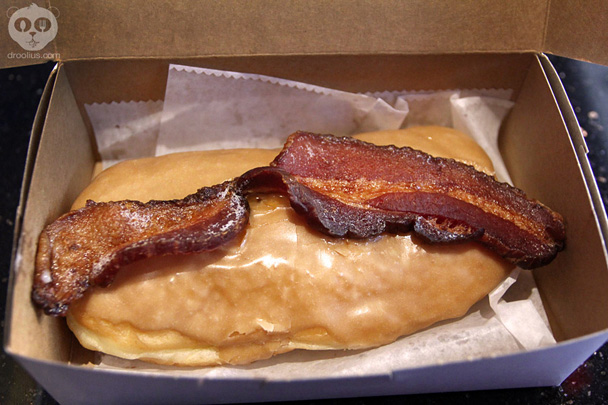 (click image to enlarge)
Datz Dough is in Tampa and has a menu of doughnuts and baked goods. The Maple Bacon Donut (eclair) is filled with pastry cream and pairs well with their Bacon Latte.
Datz Dough
2602 S MacDill Ave
Tampa, FL 33629
Atlanta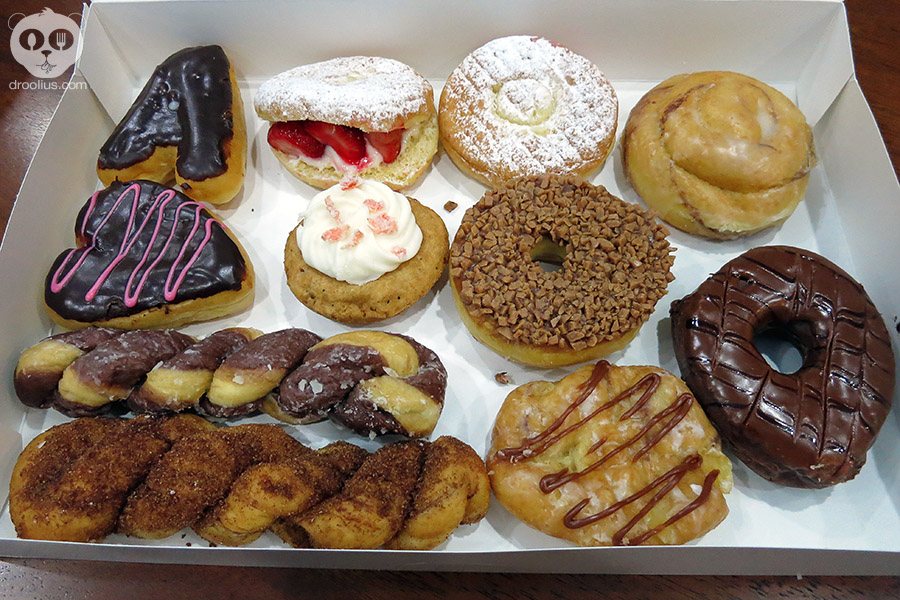 (click image to enlarge)
Sublime Doughnuts in Atlanta, GA is one of the more recent doughnut shops I visited for the first time. They are open until the evening, which is when we went, but missed out on some of their more popular flavors. We did try an assortment of doughnuts and the Fresh Strawberries & Cream was my favorite. It seems like they're always coming up with a few new flavors, so check out their Facebook page for updates (link below).
Sublime Doughnuts
535 Tenth St NW
Atlanta, GA 30318
www.facebook.com/SublimeDonuts
Las Vegas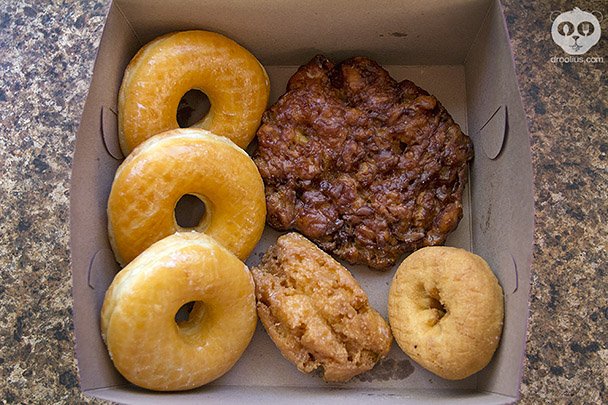 (click image to enlarge)
If you're looking for a great classic doughnut in Las Vegas, you must venture off the Vegas Strip into the Chinatown district and hit up Ronald's Doughnuts. It's a small and simple doughnut shop, but has great quality classics like their Glazed doughnuts and Apple Fritters. This is a must stop for me when visiting Sin City and it should be for you too. Go for the Glazed and Apple Fritters, you will be glad you did.
Ronald's Doughnuts
4600 Spring Mountain Rd
Las Vegas, NV 89102
Los Angeles area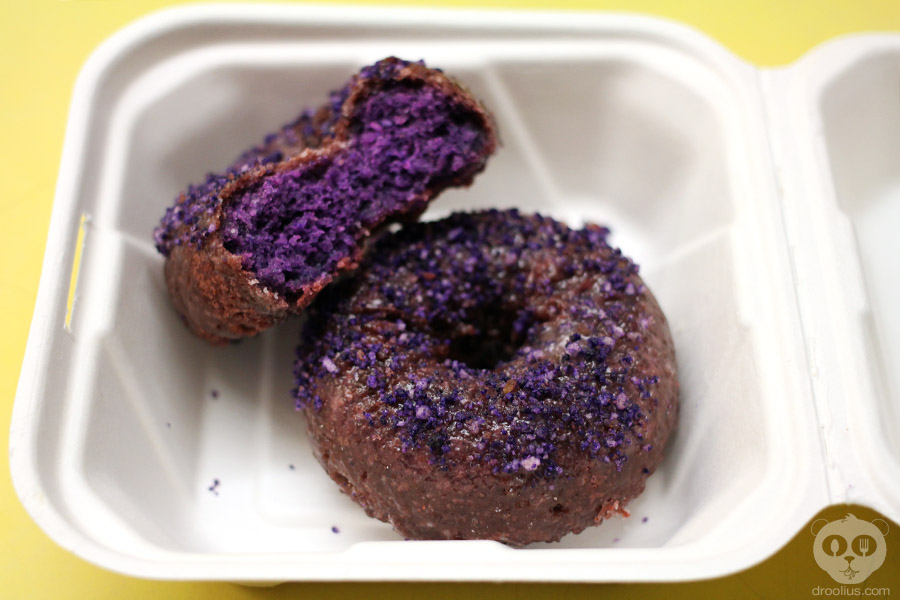 (click image to enlarge)
DK's Donuts & Bakery is located in Santa Monica, CA. They have lots of doughnuts to choose from, but this beautiful purple Ube donut is one of my favorites. Ube is similar to Taro in flavor. If you don't know what either tastes like, trust me, it's good. This donut is worth the trip from anywhere in the greater Los Angeles area and Southern California. DK's open 24 Hours a day, so you have no excuses to try this unless they are sold out. They make a pretty good Cronut too.
DK's Donuts & Bakery
1614 Santa Monica Blvd
Santa Monica, CA 90404
www.dksdonuts.com
(click image to enlarge)
Red velvet donut @ Nickel Diner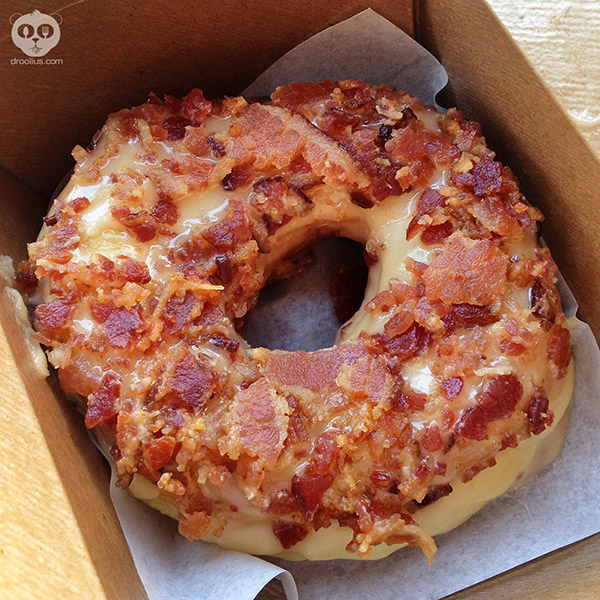 (click image to enlarge)
Maple Bacon Brioche donut @ Nickel Diner
Located in downtown Los Angeles, the Nickel Diner serves breakfast, lunch, and dinner, but also has an array of sweets available. The doughnuts are a good reason to stop here, with the Red velvet donut and Maple bacon brioche donut being good ones to try.
Nickel Diner
524 S Main St.
Los Angeles, CA 90013
www.nickeldiner.com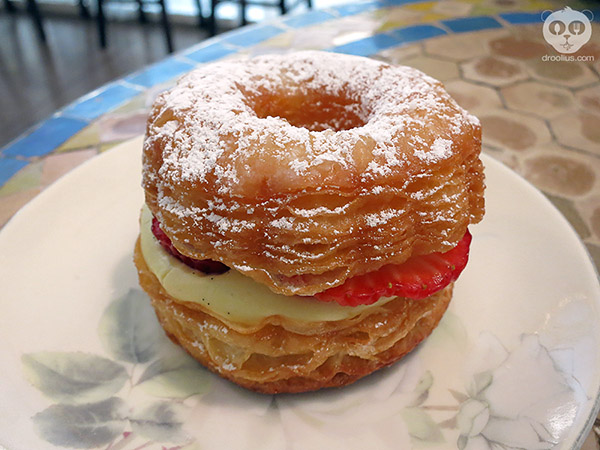 (click image to enlarge)
Strawberries & Cream Crullant @ Semi Sweet Bakery
Semi Sweet Bakery is located in downtown Los Angeles, making pastries, biscuits, and cake donuts (which are baked not fried). You'll find many sweets to try here besides just doughnuts. Good ones to order are the Strawberries & Cream Crullant (photo above) and the Maple Bacon Sticky Bun.
Semi Sweet Bakery
105 E 6th St
Los Angeles, CA 90013

Chicago
(click image to enlarge)
Vanilla Bean Glazed, Blueberry Lemon, Crème Brulée, Coffee Glazed, Maple Bacon Long John @ Glazed & Infused
Glazed & Infused in Chicago has several locations around the city. There were so many great looking doughnuts on the menu that I ordered all of the above to try. The Vanilla Bean Glazed is their version of a standard glazed doughnut and it was pretty good. Blueberry Lemon was a nice surprise and unique. I think my favorite here was the Crème Brulée doughnut. All are worth trying and of course you have to have the Maple Bacon Long John.
Glazed & Infused
Chicago, IL
5 locations, see website: www.goglazed.com/locations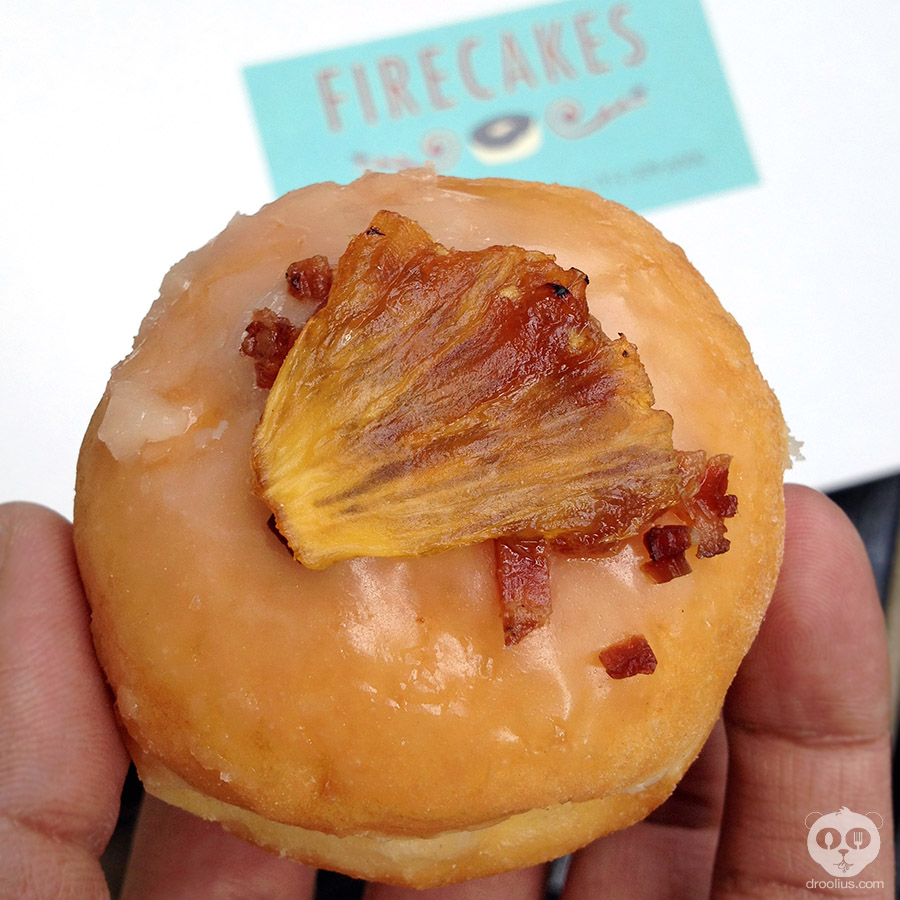 (click image to enlarge)
Firecakes is a doughnut shop in downtown Chicago and the one doughnut I really enjoyed was the Maple Glazed Pineapple & Bacon Donut. The tanginess of the pineapple gave balance to the sweet and savory flavors of bacon and maple glaze. The glazed donut was good and others to try are Coconut Cream and Lemon Meringue.
Firecakes
68 W Hubbard St
Chicago, IL 60654
NYC area
(click image to enlarge)
The Doughnut Plant is a popular doughnut shop in NYC. Lots of unique flavors, fillings, and glazes. I enjoyed the Coconut Cream and Peanut Butter & Blackberry Jam doughnuts. So many more flavors to try, I hope I can go again this year.
Doughnut Plant
(Chelsea location)
220 W 23rd St
(between 7th Ave & 8th Ave)
New York, NY 10011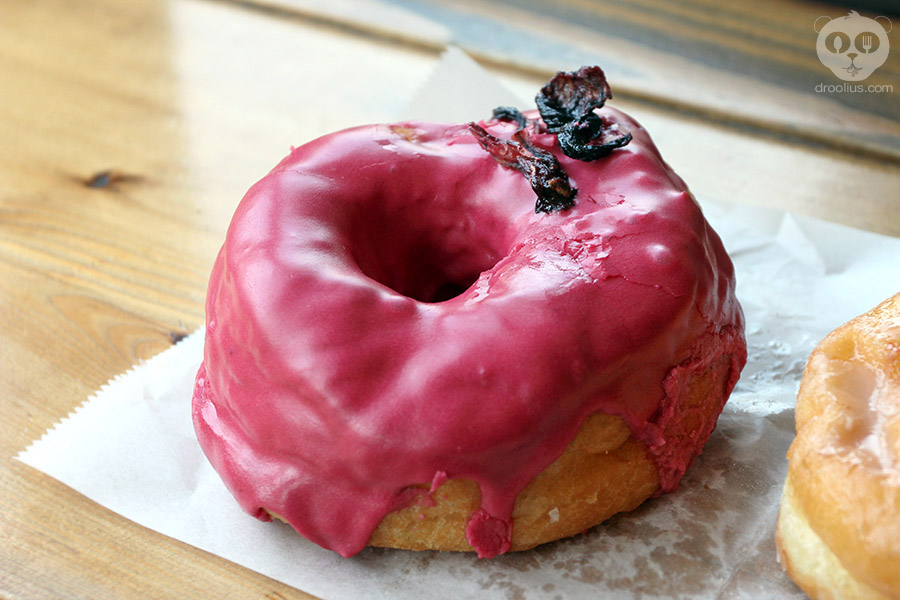 (click image to enlarge)
Hibiscus Doughnut topped with hibiscus glaze and hibiscus flowers @ Dough in Brooklyn
Dough is located in Brooklyn, an easy train ride over from NYC. They had several flavors available but the Hibiscus doughnut attracted me with its bright color and interesting sounding flavor. Its covered with a hibiscus glaze, made from scratch and that's the natural pink, no coloring added. Topped with hibiscus flowers for added texture, this doughnut is definitely one to order.
Dough
305 Franklin Ave
Brooklyn, NY 11205
(347) 533-7544
Facebook Page

An important tip about visiting local doughnut shops, they tend to close early because they open so early. Very few are open 24 hours a day, so make sure to go before 3pm or call for their hours. Nothing is worse than making the long trip to the doughnut shop and it's closed (I've done this a few times, save yourself some trouble and call ahead). Also, donut shops run out of donuts, so call ahead to see what's in stock.

If you have a favorite doughnut and doughnut shop I should try, leave the name and city in comments below. I'm always looking to discover more doughnuts!
Words and photos by Julius Mayo Jr.
Content and photos © Droolius.com 2014