The 'Flavors of Summer' menu at Hemingway's is a celebration of island flavors in a pre fixe three-course menu. The menu has influences from author, Ernest Hemingway, with his adventures from Key West to Cuba. The menu showcases a variety of ingredients from the islands and is offered during all of August at Hemingway's, located in the Hyatt Regency Grand Cypress resort in Orlando.
I attended a media dinner a few weeks ago to get a taste of the 'Flavors of Summer' menu on Ernest Hemingway's actual birthday. Our group raised our glasses of the signature cocktail, the "Papa Doble", and gave a cheers in honor of Hemingway's birthday. We then selected our choices of the pre fixe menu and I was able to take a photo of each dish. Check out our experience below and see why the 'Flavors of Summer' is worth experiencing for yourself…
(click image to enlarge)
Savor the flavor of the islands with Hemingway's summer pre fixe menu at Hyatt Regency Grand Cypress. Designed by Executive Chef Kenneth Juran, the three-course menu is available in July and August and features many of "Papa's" seasonal favorites. "Our summer menu serves as a showcase for the high quality, fresh ingredients the season delivers," Juran says. "Each course was designed to capture the essence of the islands and provide guests with a truly delectable experience."
Starting at $64 per couple, the three-course #FlavorsOfSummer menu may also be paired with Canvas wines for $89 per couple.
(click image to enlarge)
We started our dinner with a signature cocktail, the "Papa Doble", one of Hemingway's own libations. The chef treated us to an an amuse bouche, Seafood Empanada.
Seafood Empanada with chimichurri froth and dot of raspberry
Papa Doble – Bacardi, Captain Morgan, Orange Juice, Pineapple Juice, Grapefruit Juice, Grenadine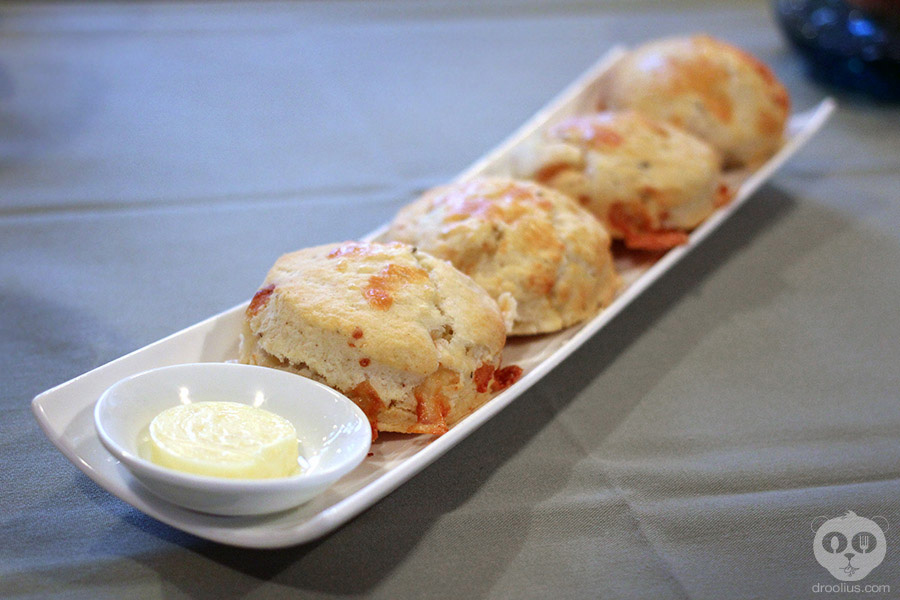 (click image to enlarge)
Aged Cheddar Biscuit
Outside of the prefixe menu, this was probably the favorite of our group. Aged Cheddar Biscuit are part of the bread service at Hemingway's and should not be missed.

Choice of Appetizers: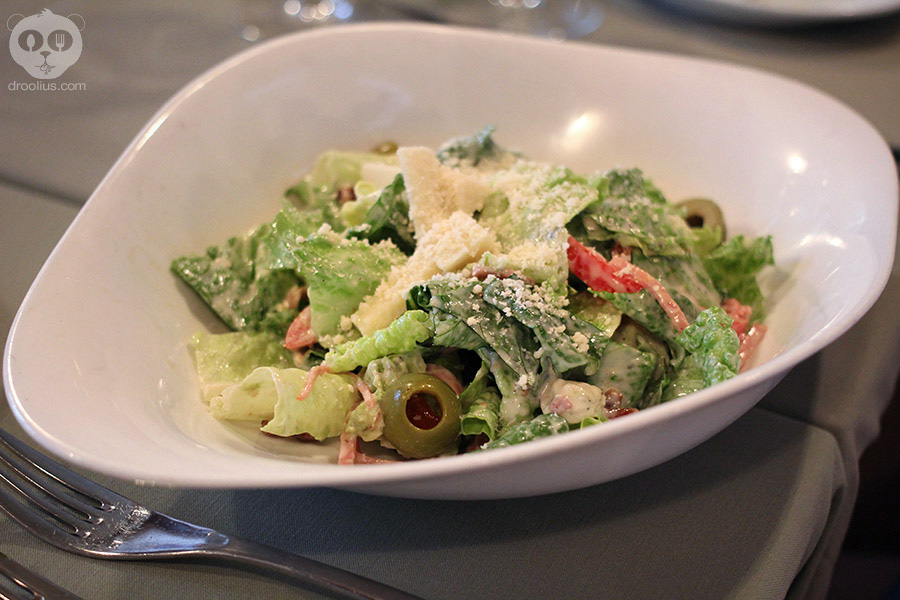 (click image to enlarge)
Key Wester Salad – Crispy Applewood smoked bacon, capicola, avocado, Maytag bleu cheese dressing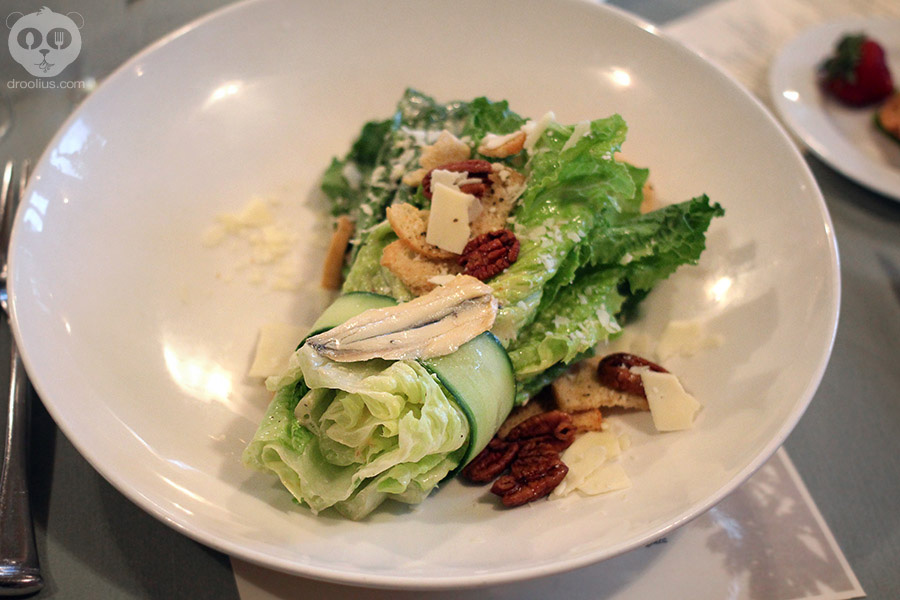 (click image to enlarge)
Key Lime Caesar – Romaine lettuce, fresh Florida key lime juice, shaved asiago, caramelized pecans, white anchovies

(click image to enlarge)
Florida Rock Shrimp Chowder – Zellwood sweet corn, diced potato, cracked black pepper, crispy potato

I ordered this as my appetizer just because it had Zellwood sweet corn, one of my favorite local vegetables. The chowder was full of flavor, with the sweet corn and Florida rock shrimp giving a lighter texture to the dish.

Choice of Entrees: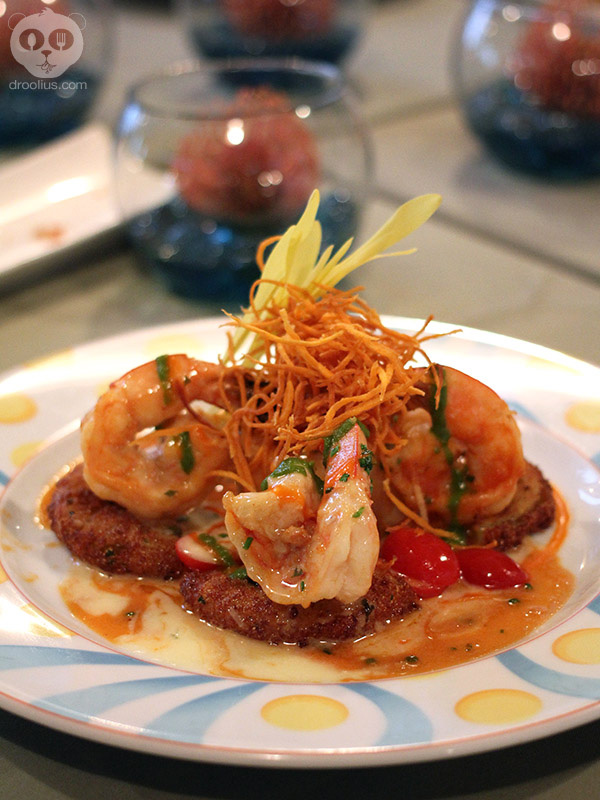 (click image to enlarge)
Duvall Street Shrimp Scampi – Jumbo tiger shrimp, salt cod brandade and slivered garlic white wine butter sauce

We all shared this dish and was probably the one I enjoyed the most. The shrimp was cooked beautifully with the right texture and flavor. They were served on top of fried green tomatoes, which were a really good pairing with the shrimp.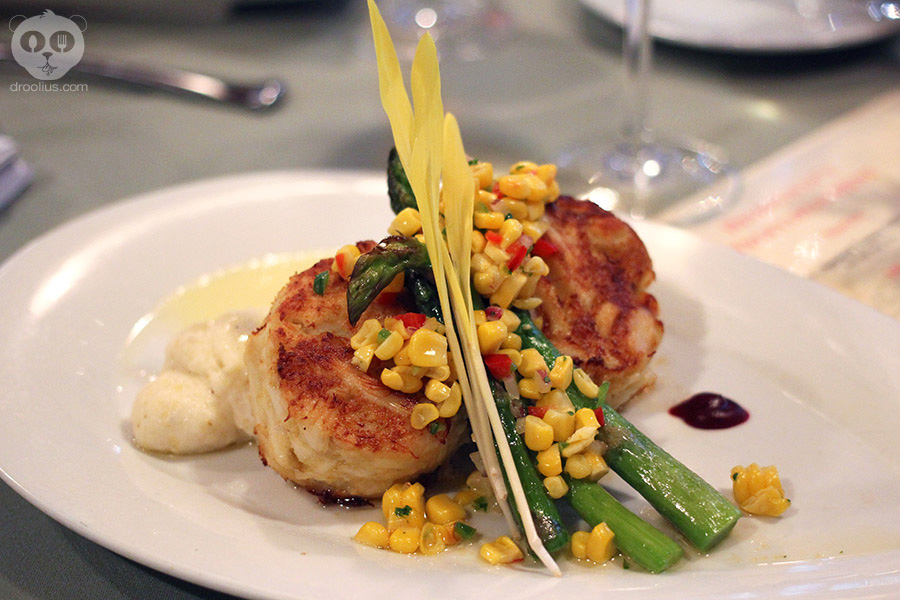 (click image to enlarge)
Hemingway's "Cayo Hueso" Crab Cakes – Two of Hemingway's famous recipe crab cakes, served with black bean sauce, smoky coleslaw, asparagus and toasted cumin crème fraiche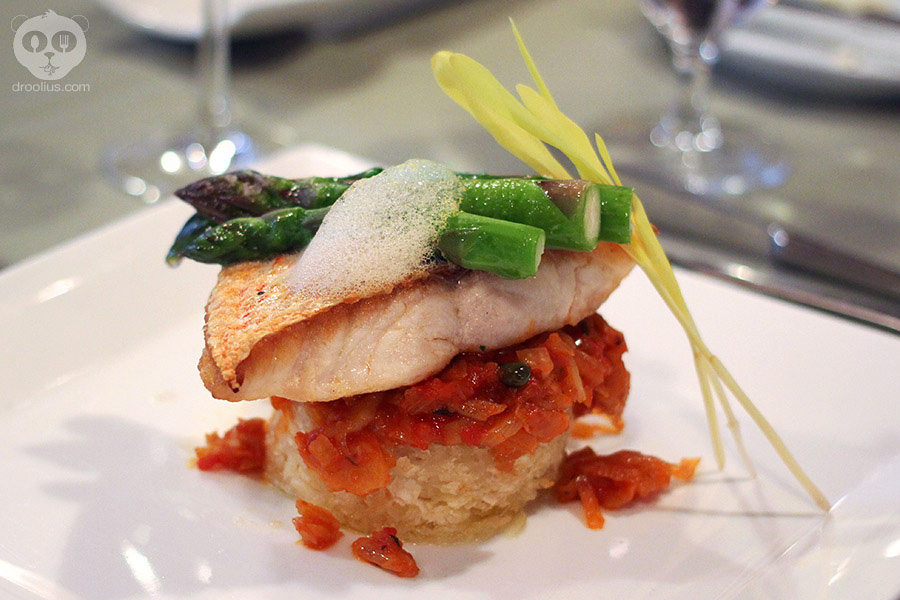 (click image to enlarge)
Crispy Black Fin Snapper – Crispy skin local snapper, coconut yucca cake, asparagus, finished with fire roasted tomato-fennel jam and yellow pepper espuma

(click image to enlarge)
Cuban Criollo Chicken – Blend of herbs and spices, grilled with a roasted mushroom served with sautéed spinach, fingerling potatoes and chorizo sauce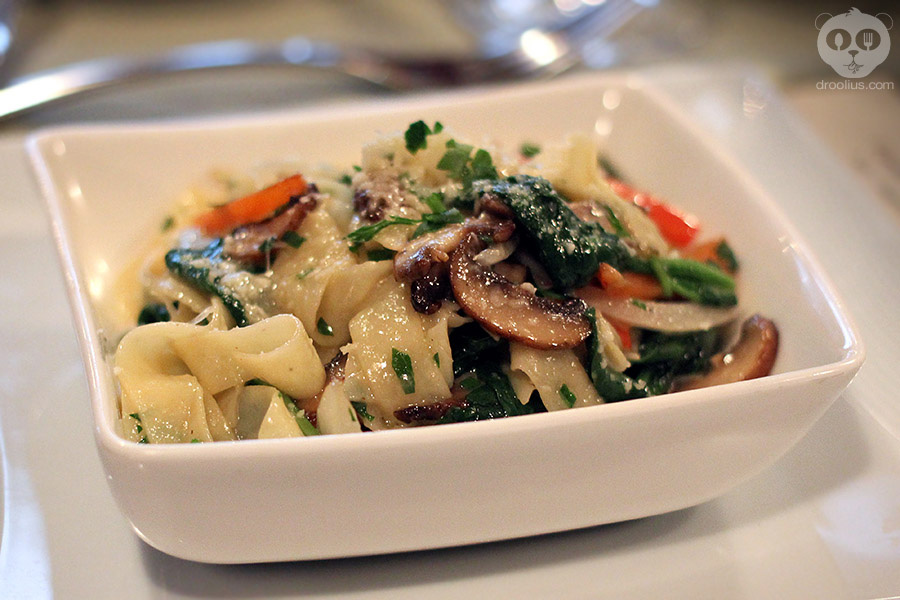 (click image to enlarge)
Hemingway's Vegetarian Menu – if you have a vegetarian or vegan guest, Hemingway's has a special menu offered for the three-course pre fixe dinner. There are some gluten-free options also available.
"A TripAdvisor® Certificate of Excellence recipient, Hemingway's also offers menu selections for young diners, as well seasonal vegetarian and gluten-free options including the Long Boat Key salad, vegetable truffle, pasta roulade, and vegan, gluten-free chocolate cake."

Choice of Desserts: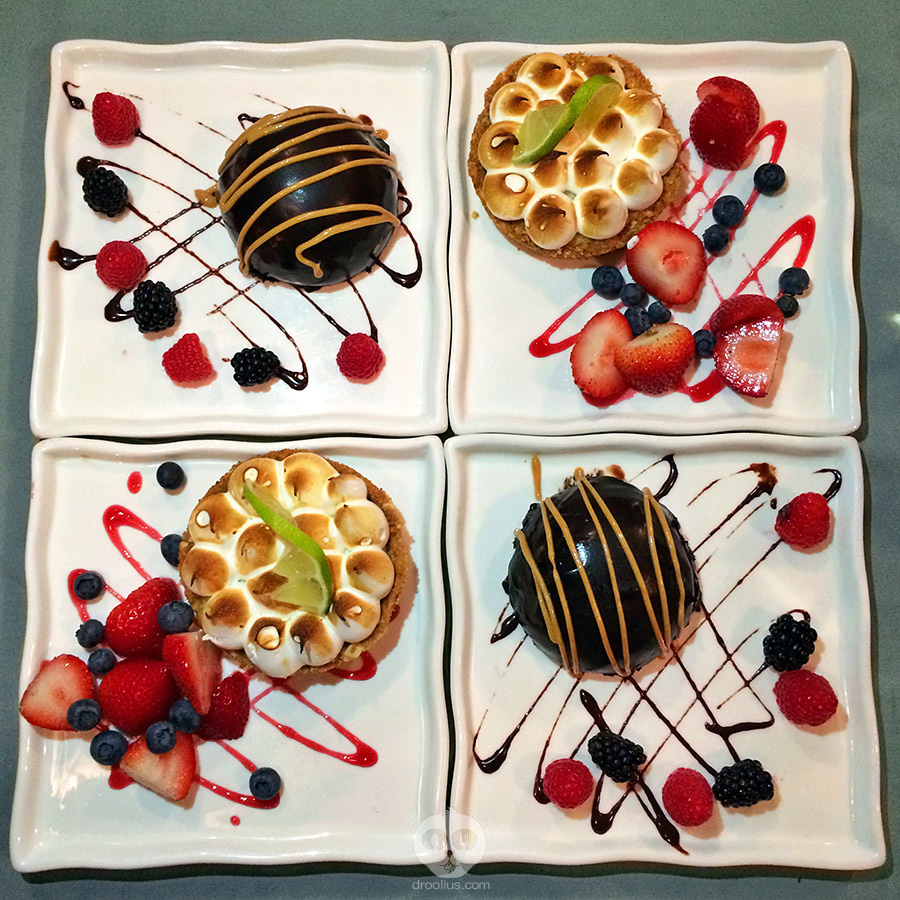 (click image to enlarge)
Key Lime Tart and Peanut Butter Bombe
I couldn't resist trying both desserts and neither could my dining pal, Scott aka @1educatedpalate. We ordered both options and combined our desserts together to make this great shot of the beautiful dessert plating.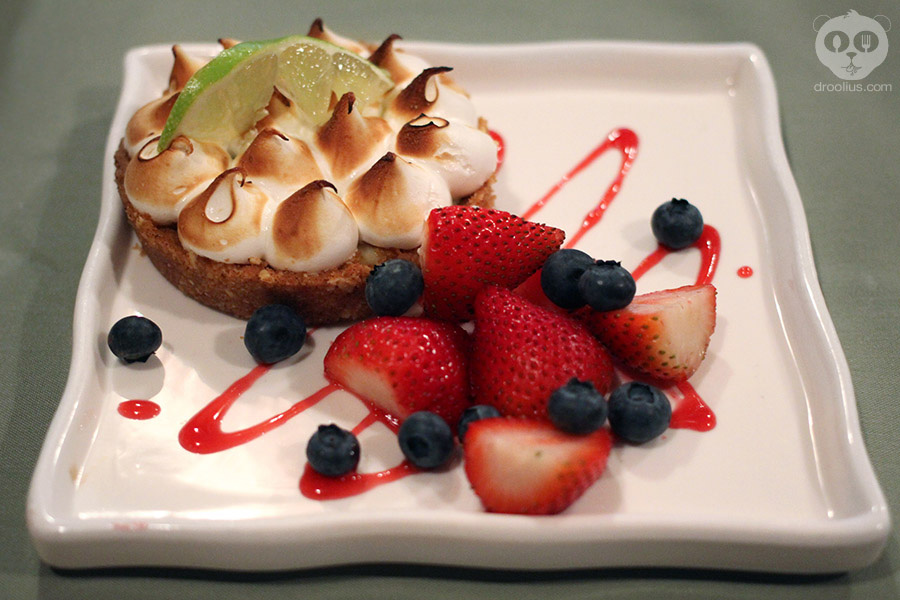 (click image to enlarge)
Key Lime Tart – Baked meringue, graham cracker crust

(click image to enlarge)
Peanut Butter Bombe – House made peanut butter mousse, cookie crust, chocolate ganache, peanut butter coulis

The 'Flavors of Summer' menu started back in July and continues until the end of August. Priced at $64 per couple, the three-course pre fixe menu is actually a really good deal considering the food and ambiance. Wine parings with Canvas wines are available for $89 per couple.
You can learn more about Hemingway's and make a reservation at: grandcypress.hyatt.com/en/hotel/dining/Hemingways.html
Hemingway's
at Hyatt Regency Grand Cypress
One Grand Cypress Blvd.
Orlando, Florida 32836
407.239.1234
www.GrandCypress.Hyatt.com
Facebook Page
Twitter @HRGrandCypress

Words and photos by Julius Mayo Jr.
Content and photos © Droolius.com 2014


Disclaimer: I was invited to a media dinner at Hemingway's. I was not compensated to write this post and all opinions are always my own.