I wanted to start a new blog series this year and thought that a monthly Top 7 Favorites of what I ate was a good start. Why Top 7? Mainly because it's hard to just choose my favorite 5 dishes for the month and 10 dishes might be too much. So, Top 7 it is! This month I spent the entire time in Atlanta, the city where I'm working now. I've been going back and forth between Orlando and Atlanta in the past few months, so I'm getting to explore food in both cities. Here's my favorite dishes from January, in the order of when the food was eaten, not by rank.
click to enlarge
Cheeseburger and fries at Holeman and Finch Public House, Atlanta, GA
This was my first time having the infamous Holeman and Finch cheeseburger at the actual restaurant and it was very impressive. I ate it first at Burger Bash during South Beach Wine & Food Festival in 2014, then at H&F Burger at Ponce City Market last year. Both times were good, but there is something about the flavors that were amped up that night at the actual Holeman and Finch restaurant. It was one meaty and flavorful burger!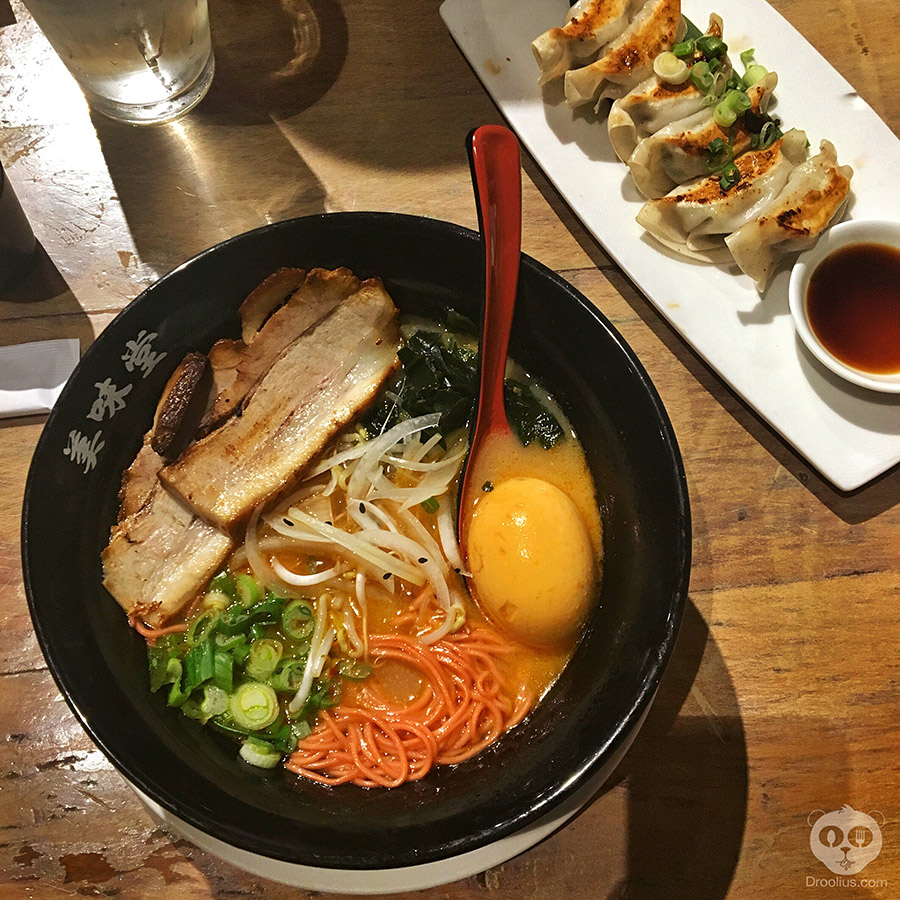 click to enlarge
Ultra Spicy Ramen Level 1 "Umaido original tonkotsu broth" with Umaido original hot sauce, chili oil, slices of roasted pork, housemade spicy noodles,hard boiled egg, + rich soup at Umaido, Suwanee, GA
I've been a fan of Umaido's ramen for a few years now and this was the first time trying the Ultra Spicy Ramen which comes with spicy noodles that are made on location. I had the level 1 spicy ramen and the heat was tolerable, so I'll work my way up the spice levels in the future.
click to enlarge
Chick'n Shack – crispy chicken breast w/ lettuce, pickles, buttermilk herb mayo, on a potato roll at Shake Shack, nationwide locations.
As mentioned on my post about the nationwide release of the Chick'n Shack, I was excited to hear that Shake Shack was adding this chicken sandwich to their menu, after seeing it on social media last year. The Chick'n Shack did not disappoint and the flavor and crispiness of the chicken is very enjoyable.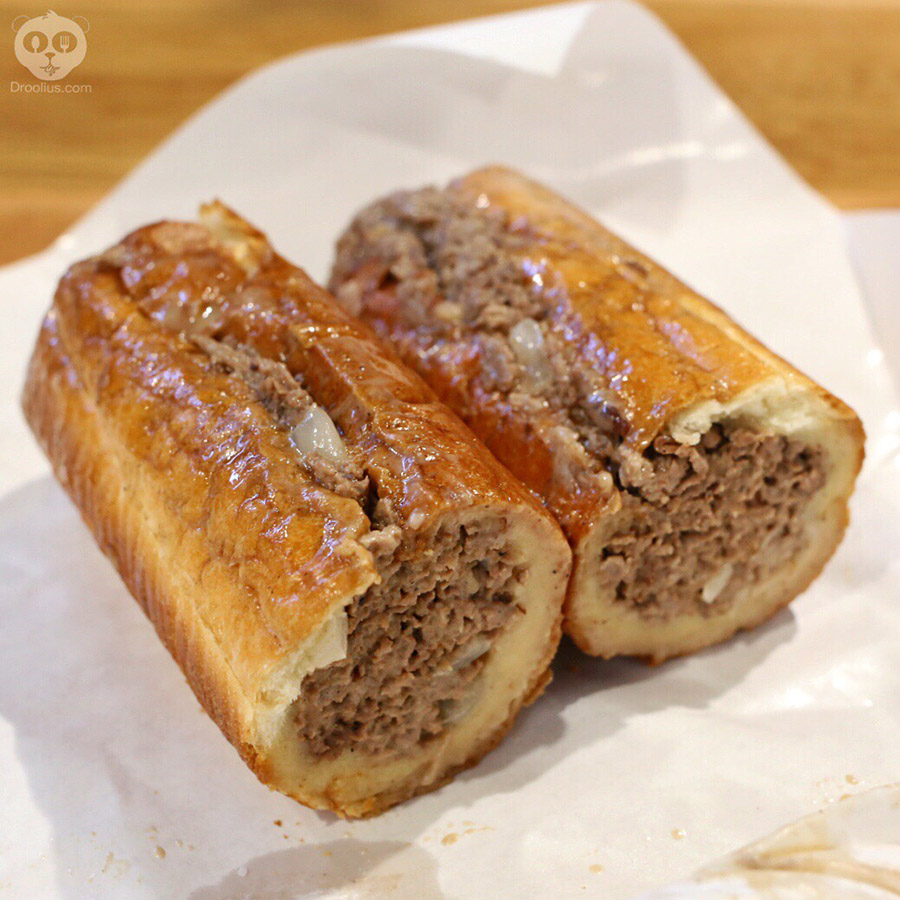 click to enlarge
10 oz. Ribeye Cheesesteak with onions and American cheese at Fred's Meat & Bread, Krog Street Market, Atlanta, GA
The Cheesesteak at Fred's Meat & Bread has been recommended to me a few times and I was already a big fan of their Bacon Cheeseburger. It was only a matter of time and I finally got the chance to taste this amazing Cheesesteak sandwich. Much more meatier flavor than anything I've had in Philly and this Cheesesteak is the best I've eaten to date! Quality ribeye steak and great bread is the winning combo here.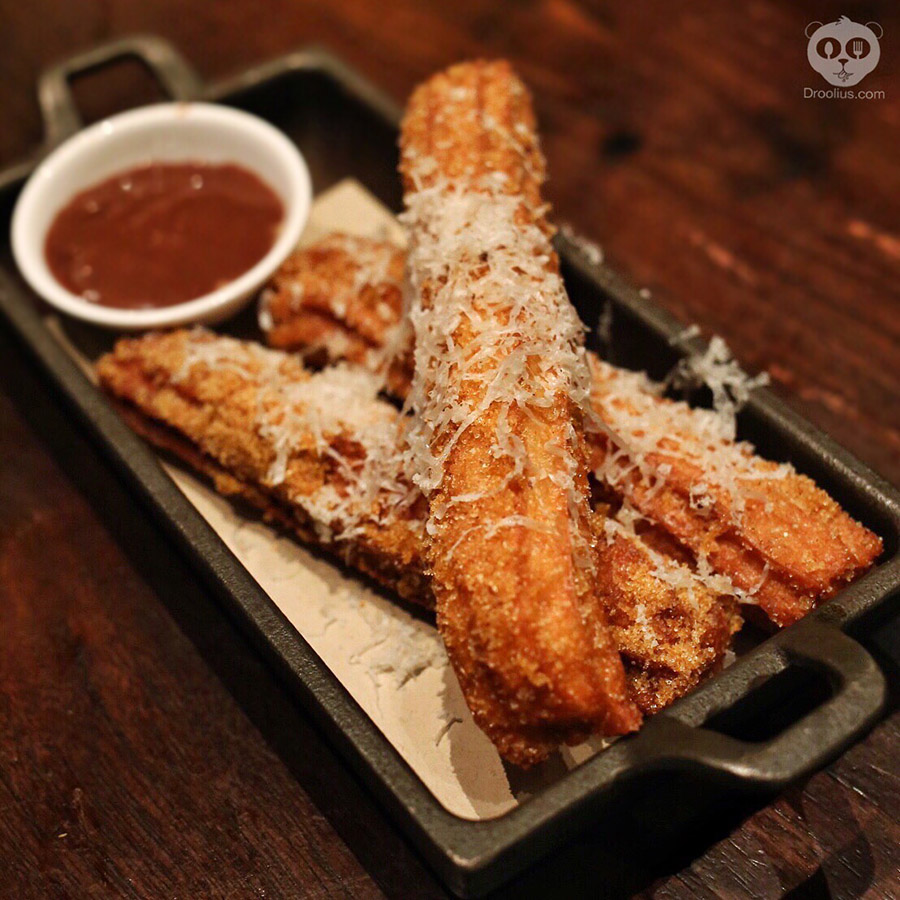 click to enlarge
Churros with Chocolate sauce at Gypsy Kitchen, Atlanta, GA
Churros topped with manchego cheese, topped with a chocolate sauce for dipping. These Churros were epic! Crisp on the outside and warm soft center. The cheese added some savory flavor as well. This was one of my favorites from that evening, my first time dining at Gypsy Kitchen.
click to enlarge
Half Bird Fried Chicken, Tennessee HOT style at Hop's Chicken, Ponce City Market, Atlanta, GA.
There's a lot of good fried chicken in Atlanta and Hop's Chicken has quickly become one of my favorites. Their specialty Fried Chicken has enough flavor and spices to satisfy me, but adding the Tennessee HOT style sauce brings flavors and heat to another level. I suggest ordering both styles to enjoy.
click to enlarge
Japanese Uni sushi, Gyoza, Premium White Tonkotsu Ramen and Red Spicy Tonkotsu at Wagaya Japanese Restaurant, Atlanta, GA
Cooler temperature makes us crave ramen, but we could probably eat ramen noodles everyday. LadyDroolius and I made it to Wagaya Japanese Restaurant twice this past month and both times we ordered the Tonkotsu Ramen and it was good. Good savory flavors in Tonkotsu broth and pork belly. We also ordered the Uni and on our first trip they served Uni from Peru and the second visit they had Uni from Japan. Both were good, with distinct flavors and a touch of brine. We were not expecting much from Wagaya, but both meals surprised us (in a good way) and will be on our ramen rotation for Atlanta, inside the perimeter.

So that's my Top 7 favorite dishes for this month. Hopefully this helps people find food as they travel and plan for future trips. I will be traveling back to Florida in February, so we'll see what favorites come from Orlando, Atlanta, and beyond.
You can always keep up with my latest food and travel adventures on the @Droolius Instagram, Twitter, and Facebook with daily posts.

Words and photos by Julius Mayo Jr.
Content and photos © Droolius.com 2016