In October 2017, I was invited to attend the Jamaican Food & Drink Festival in Kingston, Jamaica. For over a week, the vibrant culinary scene was celebrated at the Jamaican Food & Drink Festival which took place from October 21 to 29 with seven world class food events at seven iconic venues around Kingston. More than 45 talented chefs participated and cooked at this multi-location festival, highlighting local ingredients and Jamaican cuisine.
I traveled to Kingston, Jamaica for my first time. Lucky for me, Delta Air Lines had a direct flight from Atlanta to Kingston, so it was an easy trip to make. The first two festival events were Porkpalooza and Chopstix, which took place before I was able to travel. I did attend the last 3 days of the festival to experience Crisp, Picante and Meet Street & The Market events. These were all delicious culinary experiences, showcasing the fusion of diverse cultures and the deep roots of food in Jamaica. From the flavorful food to the fun vibe of each event, the drinks were flowing and people were dancing to the good selection of reggae and hip hop music. The events were well produced with stylish decor and colorful lighting to set the nightclub mood at these evening outdoor events.
There were so many flavorful dishes that highlighted local ingredients and flavors. Here's some highlights of dishes and drinks from each event.
Crisp
The first event I attended was Crisp at The Jamaica Pegasus Hotel, which was an event sponsor and the hotel I stayed at.
Crisp showcased food with crispy and crunchy textures that paired well with local and international beers, plus a few cocktails. The dishes were well put together with the balance of flavors and textures. With a variety of seafood and meat used in the dishes, the spices used in Jamaican cuisine were nicely highlighted.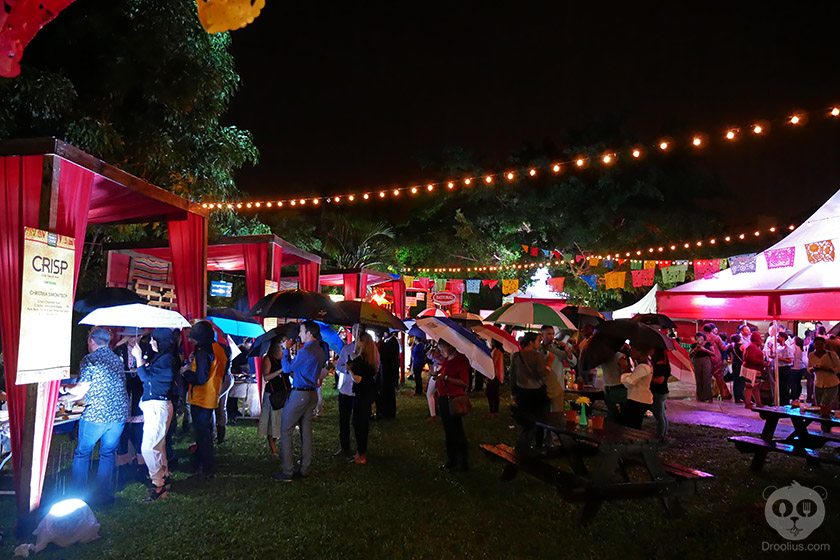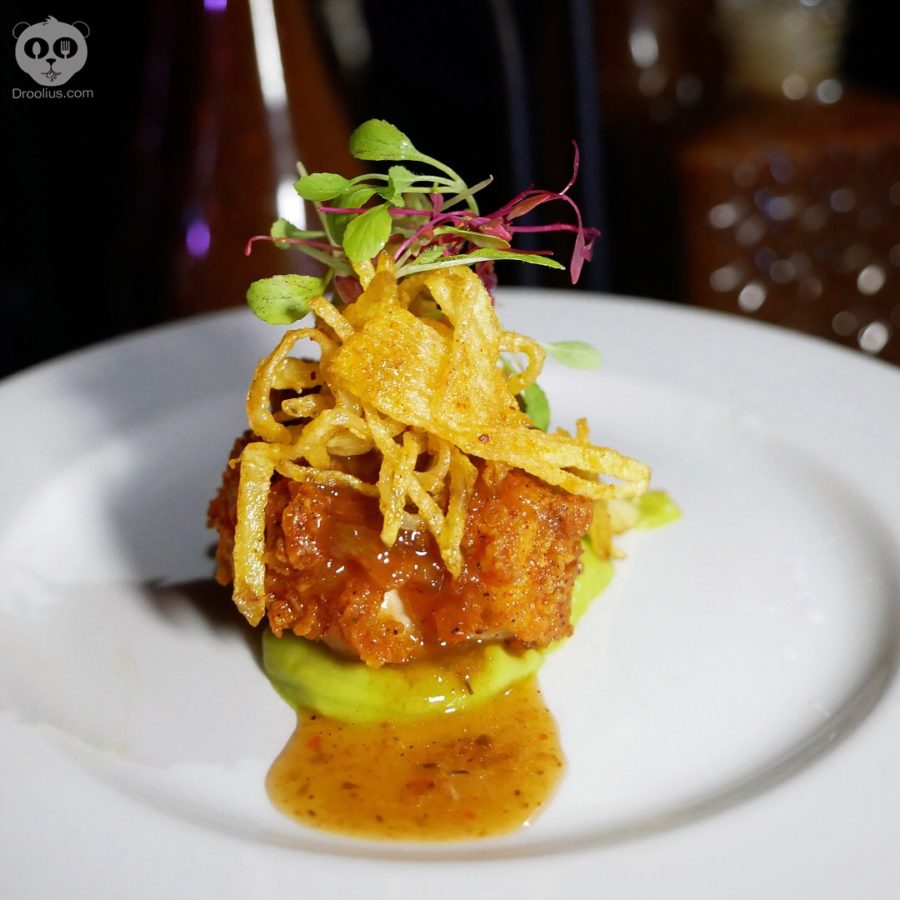 Jerk fried chicken crispers with scotch bonnet Sriracha, avocado puree, matchstick potatoes
Smoked Marlin tostaditas and Sweet Corn Beignets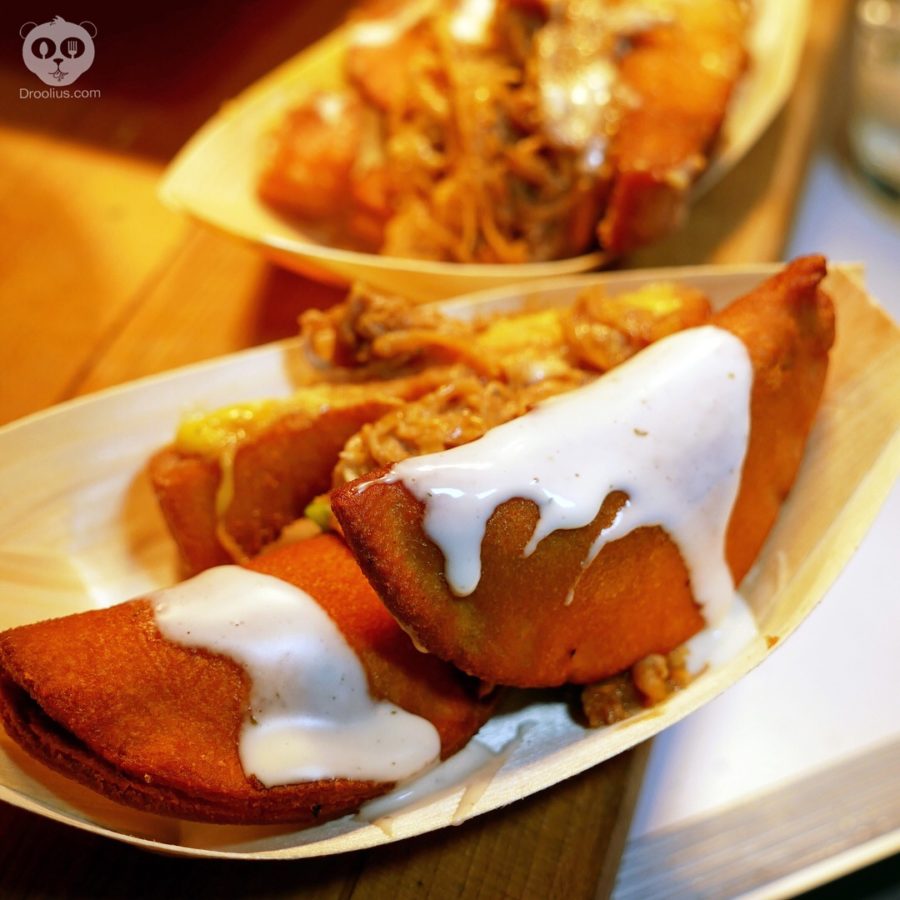 Savory pulled pork sausage and cheese, Callaloo & sharp cheddar stuffed raviolis with Sriracha lime dipping sauce, Cheesy Hardough fries with pulled pork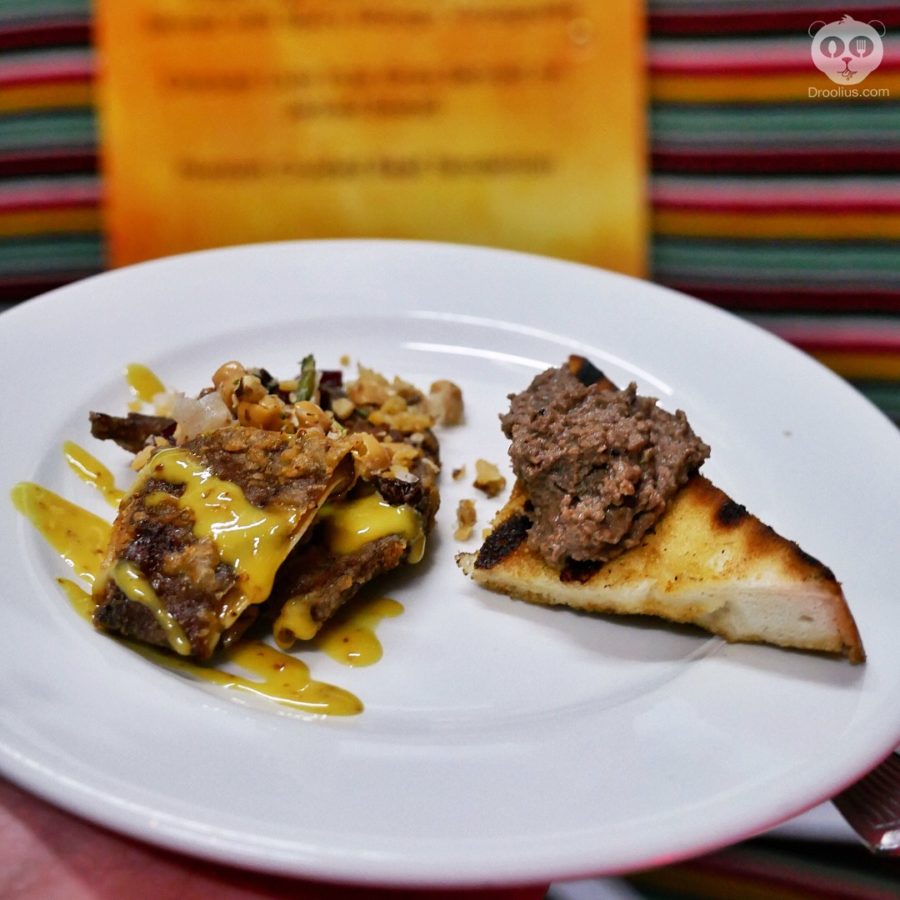 Crispy Pig's Ear Energy Salad and Chicken Liver Foie Gras on Jerked Bread
A Flan-like dessert was a refreshing sweet treat after a night of eating rich food
Picante
Picante featured the spicier side of local cuisine. While I enjoyed some of the meat-centric dishes, a few veggie dishes definitely stood out. Our favorite cocktail of the evening was a spicy watermelon and tequila slushy. While I thought that many dishes were going to have intense heat, they were actually all very balanced with enjoyable textures like crunchy pork skin in some dishes.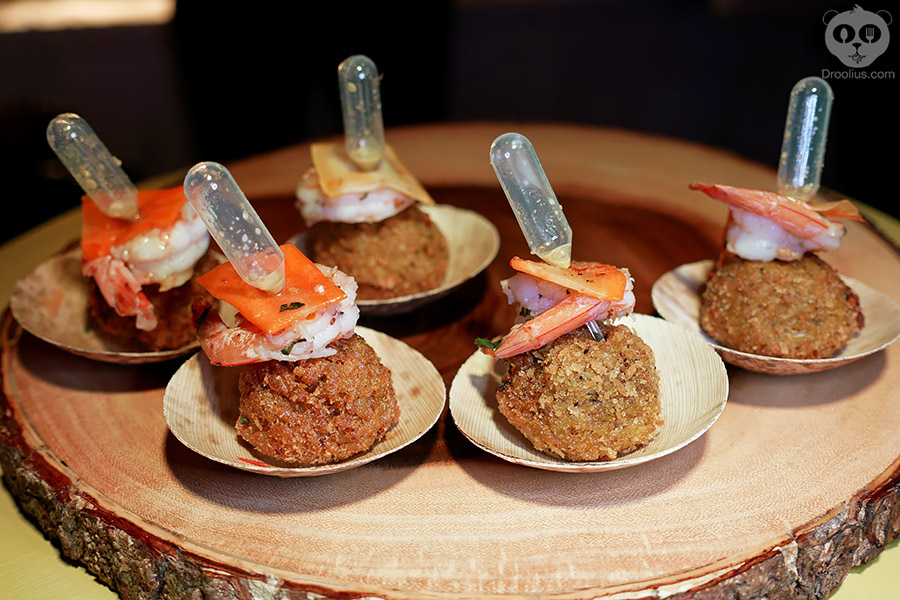 Coca Cola Float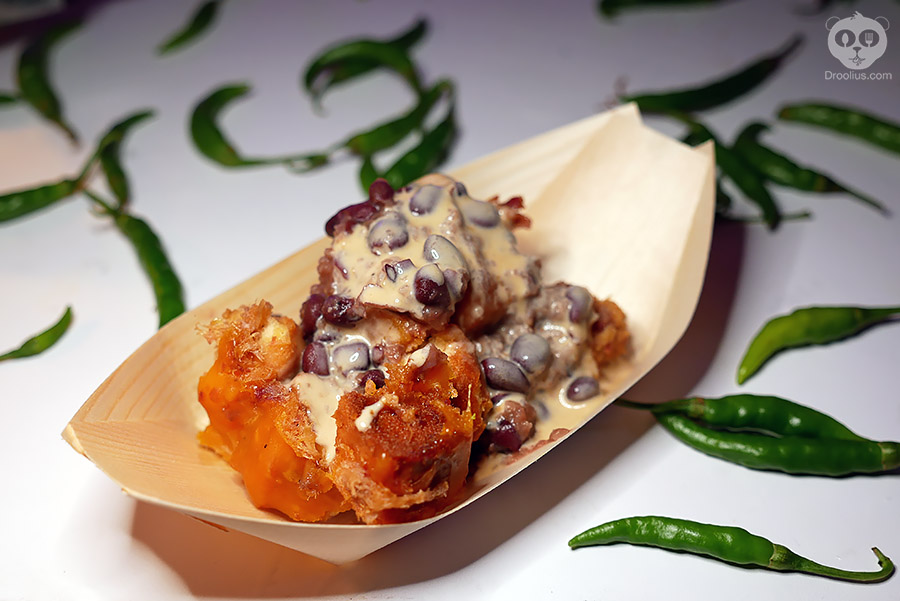 Spicy Pork Belly with Chinese Pancake, Tagarashi, Scallion Slaw, Peanuts from Chef Alexa Von Strolley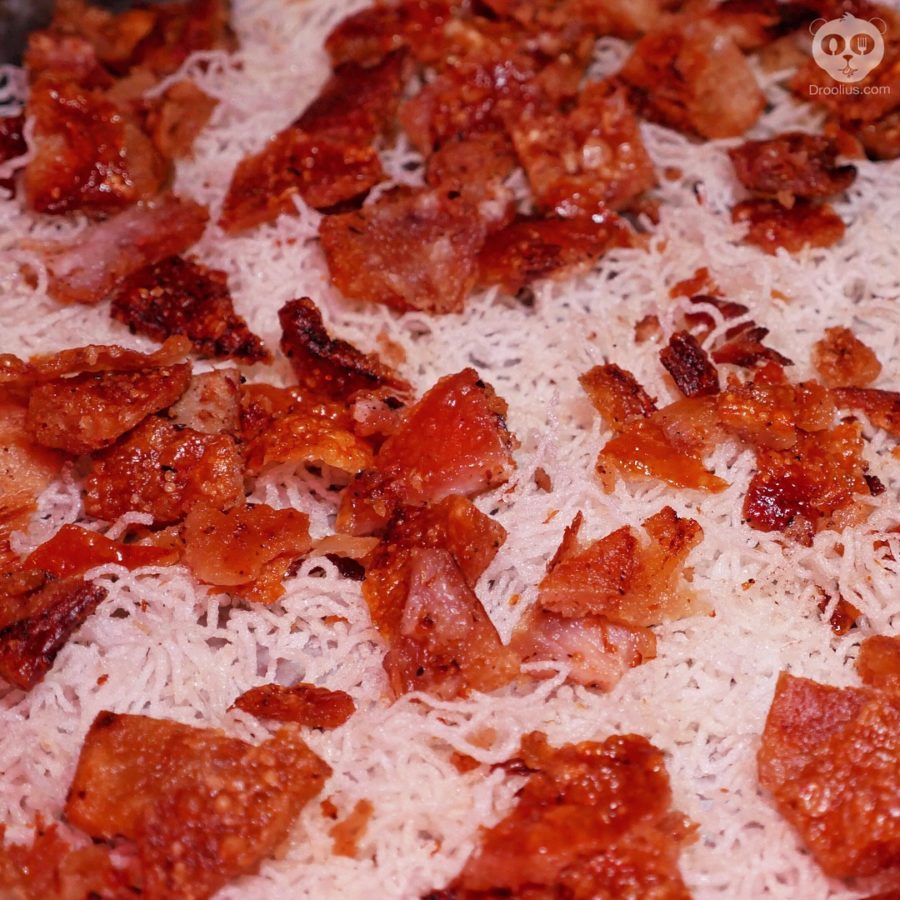 Crispy chicharron
Spicy Cauliflower "chicken wings" & mustard greens (left side) had an awesome flavor and good amount of heat. The right side was Grilled Corn with scotch bonnet cashew cream, cilantro and lime was full of good flavors.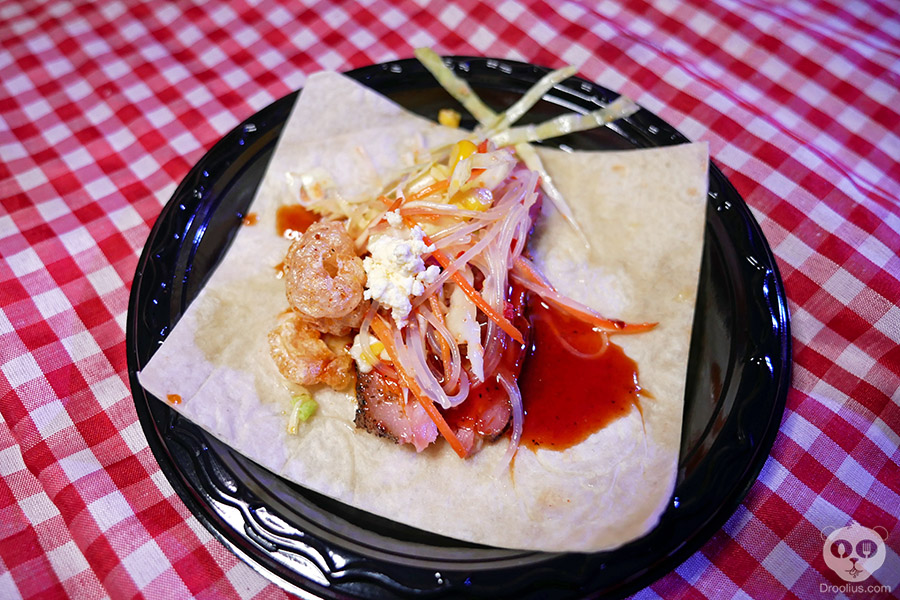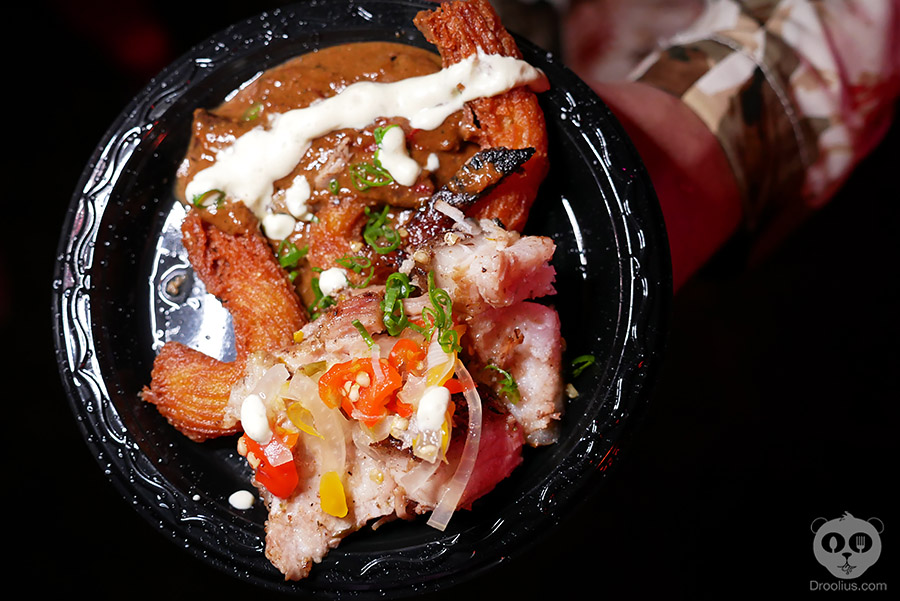 Oxtail mole with cornmeal churro by Food Network's 2x Chopped Champion, Chef Andre Fowles.

Group photo with a few of the JFDF festival organizers and hosts. Such great people and can't thank them enough for a wonderful food and cultural experience. Also, not sure how I was the only one with wet hair from the rain!
Meet Street & The Market
Meet Street and The Market was an event that took place in downtown Kingston that overlooked the beautiful ocean and highlighted food trucks, catering companies and local market purveyors. On the market side, sampling different types of hot sauces and jellies left me wanting to bring back a lot more than my luggage would allow. I have a soft spot for food trucks and some of these were cranking out very unique dishes like an oxtail grilled cheese that I did not get to try because they sold out. The line was at least 30 people deep the entire night. Other favorite bites were the local street food vendors making pan chicken, sausage, and doubles.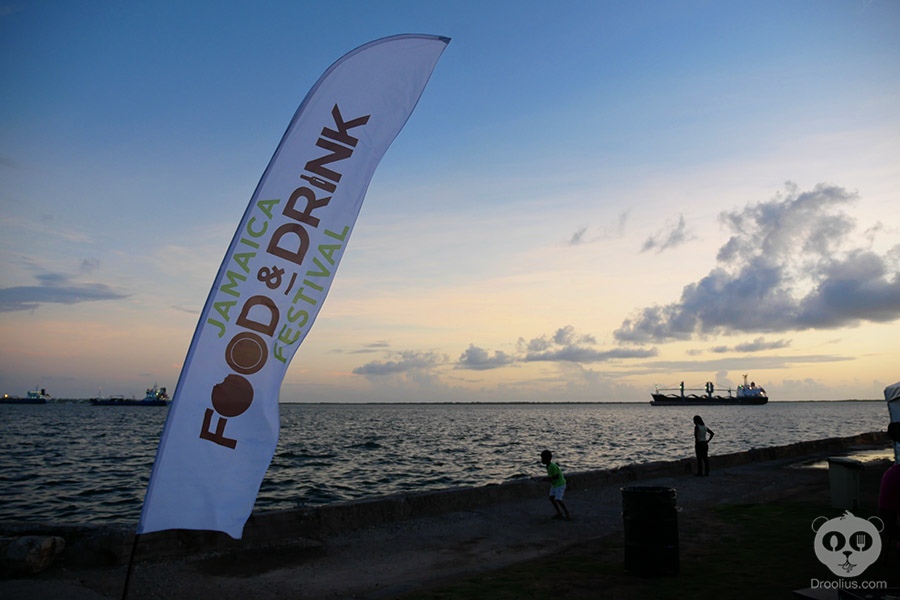 Gorgeous seaside at the festival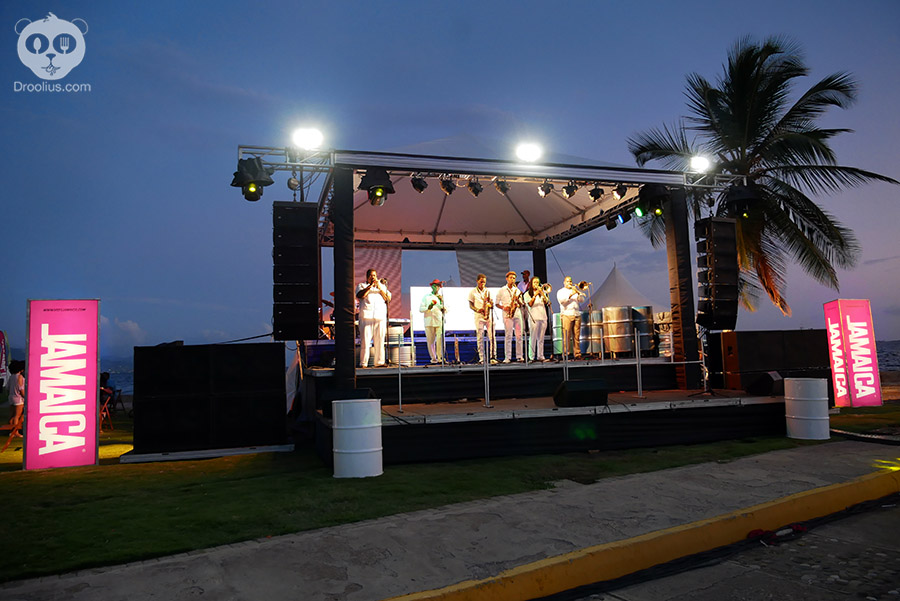 Live bands performing music kept the crowd dancing all night long.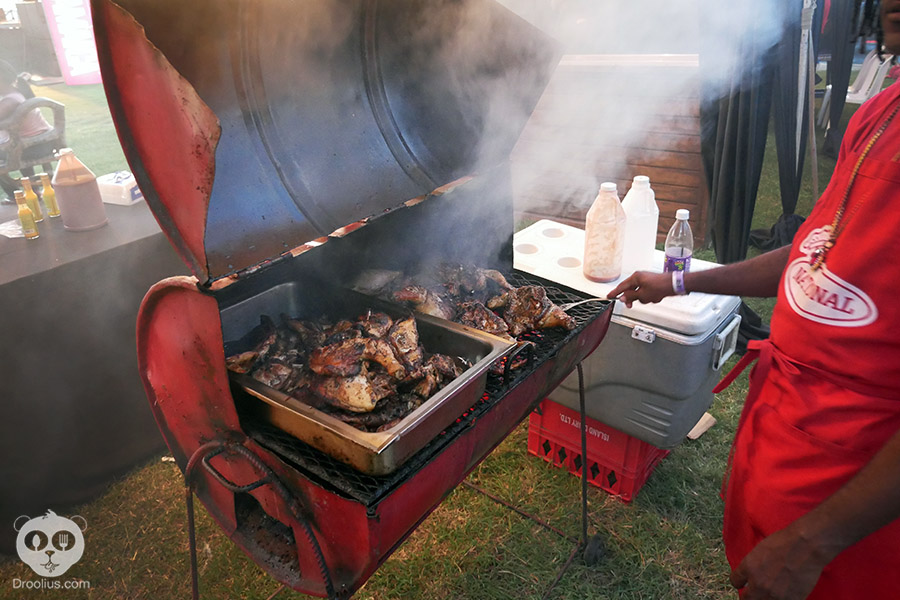 Pan Chicken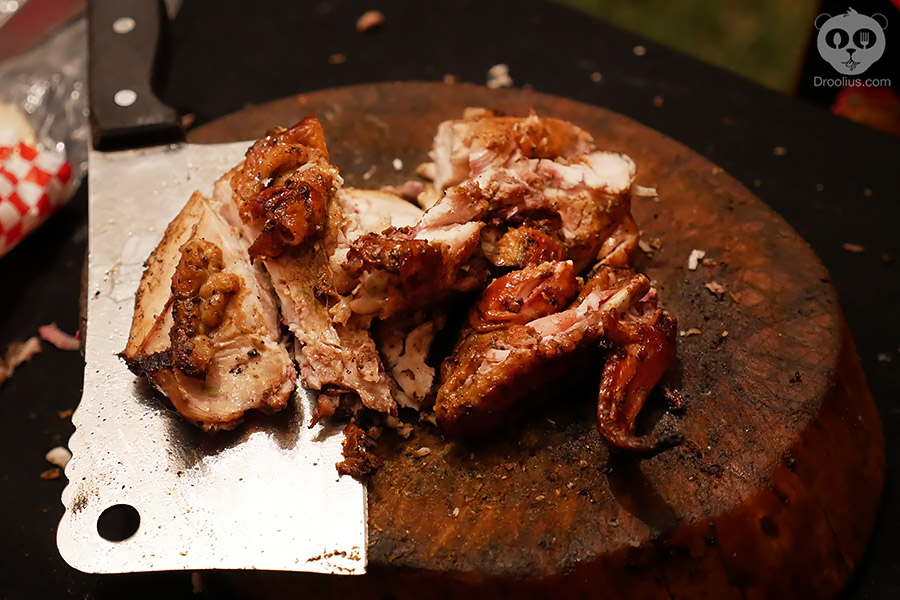 Busy crowd at Meet Street & The Market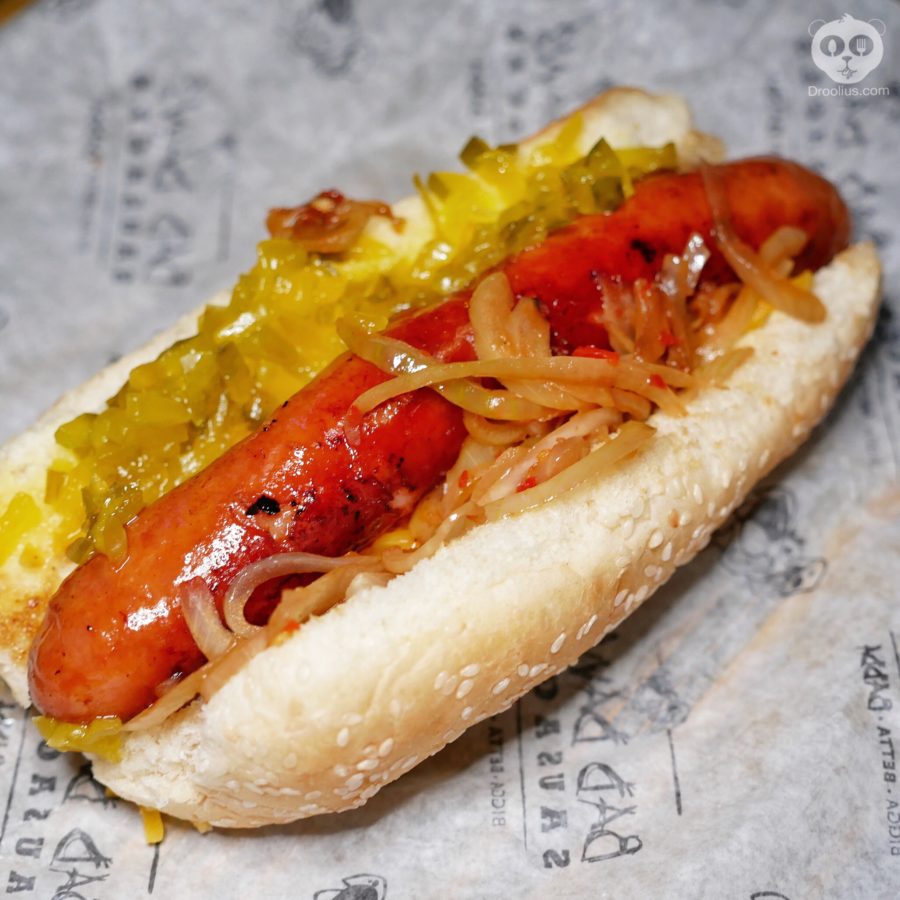 Bad Dawg Sausages
Doubles
Guava Glazed Turkey Neck, Salt Fish Mac & Cheese Balls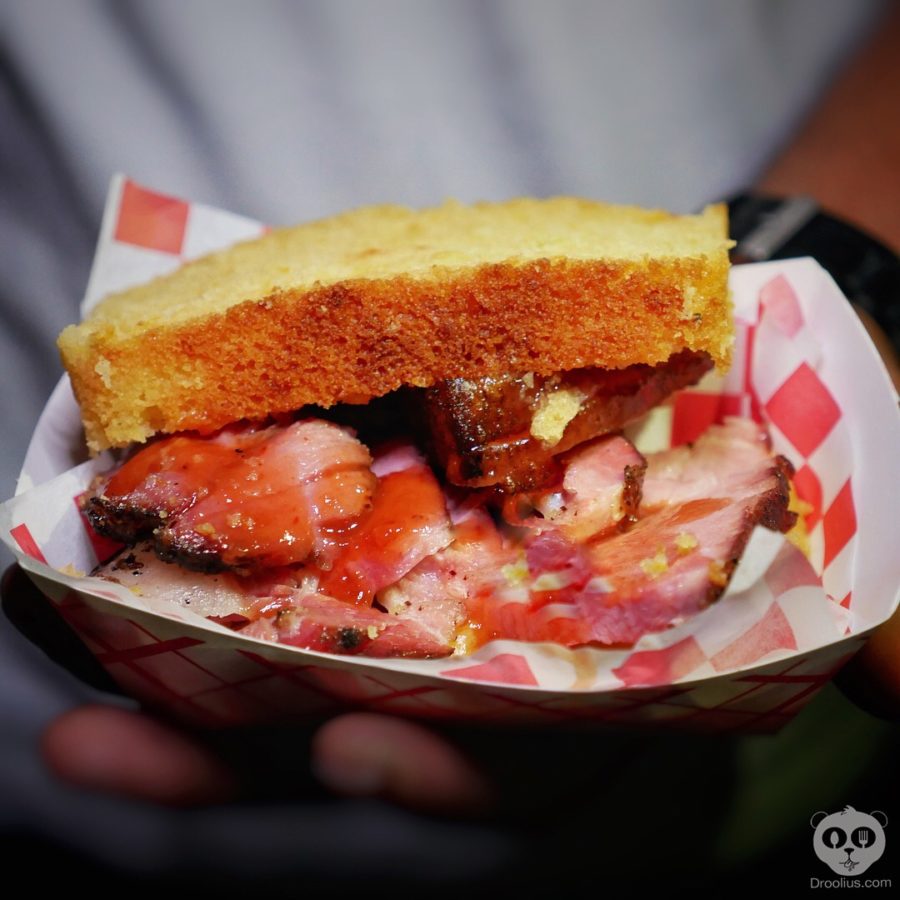 Smoked Corned Pork Sliders (next photo) from Street Food Picnic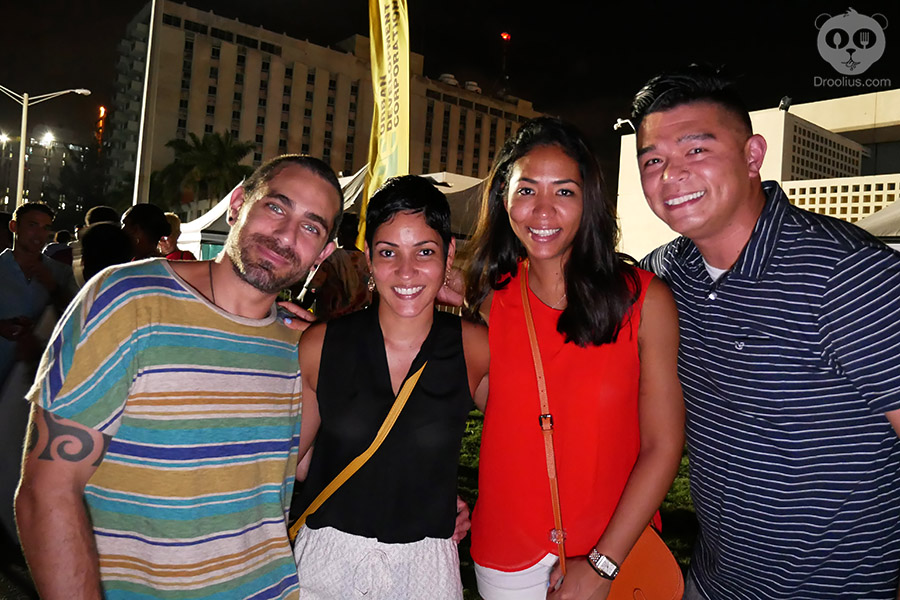 The Jamaica Food & Drink Festival was such a good time! I learned so much about Jamaican cuisine and discovered flavors you will only find here. My Miami friend, Gio of ChatChow.com (far left) and I were able to reconnect and we definitely enjoyed the festival, local restaurants and nightlife of Kingston. Huge thanks to our new friends in Kingston for all of their hospitality!
I thoroughly enjoyed my trip and I'm very thankful for all the sponsors that made it happen. Delta for flights, The Jamaica Pegasus Hotel for accommodations, and the event organizers who did an awesome job in curating a fun schedule and creating such a great event.
Make sure to check out all the details for the 2018 Jamaica Food & Drink Festival on their website.
Stay tuned for a Jamaica follow-up blog post on eating around Kingston like a local and learning about the culture and food.
Words and photos by Julius Mayo Jr.
All content and photos © Droolius.com 2018
Disclaimer: I was invited as media to attend The Jamaica Food & Drink Festival. I was not compensated to write this post and all opinions are always my own.
Check out some event coverage that fellow food bloggers that took the trip with us:
• ChatChow
• The World Up Closer