Chef Norman Van Aken Hosts Author Signing for Newly Released Memoir, NO EXPERIENCE NECESSARY: The Culinary Odyssey of Chef Norman Van Aken, at Books & Books in Miami on December 6.
This event is free and open to the public; please RSVP to events@rockawaypr.com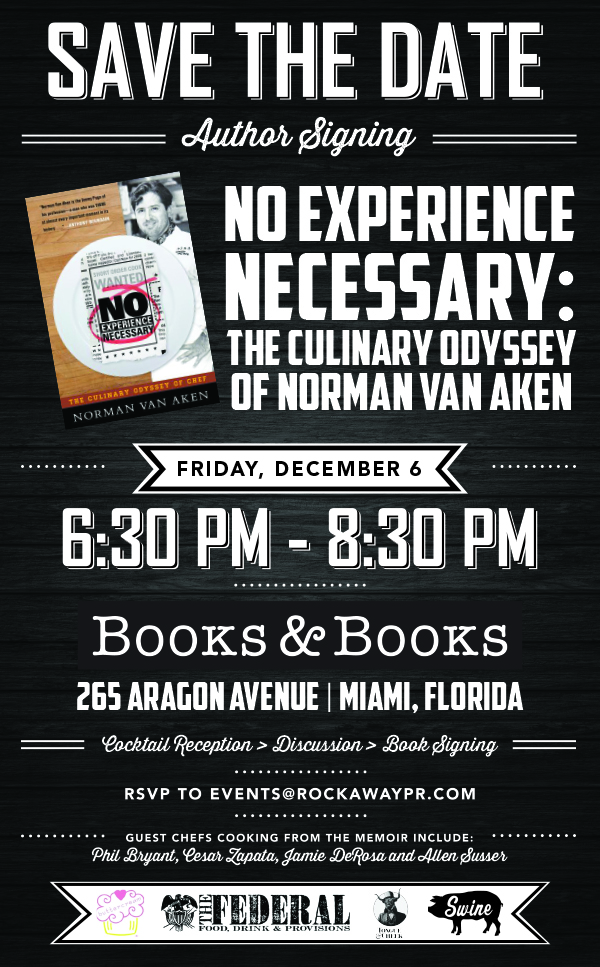 WHAT: The upcoming release of No Experience Necessary: The Culinary Odyssey of Chef Norman Van Aken (Taylor Trade) chronicles Chef Norman's epic circuitous journey from a carnival worker to the founder of New World Cuisine. The memoir is a delicious joyride spanning twenty-plus years and nearly as many jobs for Van Aken—including the fateful job advertised in the local paper for a short-order cook: "no experience necessary."
Throughout the evening Van Aken will share personal anecdotes with friends and guests, a firsthand chronicle about the wild world of food service, cooking and what it really means to be a "chef." In good company, Van Aken has enlisted the help of chef friends Phil Bryant, Cesar Zapata, Jamie DeRosa, and Allen Susser who will help satisfy the palate with dishes inspired by the cookbook.
Following the cocktail reception and discussion, guests will have the opportunity for Van Aken to sign books – which will be available for purchase that night for $24.95 – and enjoy sweets by Buttercream Cupcakes & Coffee.
WHEN: Friday, December 6 from 6:30 to 8:30 p.m.
WHERE: Books &Books 265 Aragon Ave, Coral Gables, FL 33134
This event is free and open to the public; please RSVP to events@rockawaypr.com