After Carmel Café & Wine Bar opened for dinner nightly, the restaurant is now serving lunch on Friday, Saturday and Sunday in Winter Park, FL. Starting on Friday, June 28 guests can enjoy the Mediterranean lunch menu featuring salads, appetizers, small/large plates, and more. I suggest ordering the Chickpea Fries served with tomato jam and curry aioli with any order. They are highly addicting and are easy to share, but you may not want to share them because I can eat a whole plate by myself, that's how good they are. See more details below about the restaurant, lunch menu, and their ordering system using an iPad.


THE DISH: Carmel Café's modern Mediterranean lunch menu, created by Executive Chef Steve Cook, features a variety of hand-crafted sandwiches, seasonal flatbreads and flatbread combos, fresh salads, appetizers and small or large plates. With the restaurant's innovative MenuPad at each table, guests can use iPad technology to customize their dining experience.
WHEN: Lunch is served from 11 a.m. until 4 p.m. each Friday, Saturday and Sunday. Dinner is
served daily from 4 p.m. until closing.
WHERE: 140 N. Orlando Ave., Winter Park, Fla., 32789. Phone: 407.513.4912. www.carmelcafe.com.
DETAILS: Carmel Café & Wine Bar incorporates and updates classic flavors and foods of countries such as Italy, Spain, France, Greece and Morocco while celebrating the healthful benefits of the Mediterranean style of dining. Seasonal produce, quality meats and seafood prepared simply define the menu at Carmel Cafe.
The restaurant's vibrant colors, full-service bar and communal seating areas enhance the ambiance and urban vibe. Outdoor seating also is available.
Both lunch and dinner menus offer a delicious array of soups, salads, sandwiches, flatbreads, pastas, seafood, poultry, pork and beef dishes, with many available as small or large plate options that can be easily shared and easily paired with wines.
The global selection of wines offered at Carmel Cafe are available in three-, six- or nine-ounce pours or by the bottle, and have been specifically chosen to pair well with the cuisine. The bar also features select specialty cocktails including seasonally inspired twists on classic cocktails.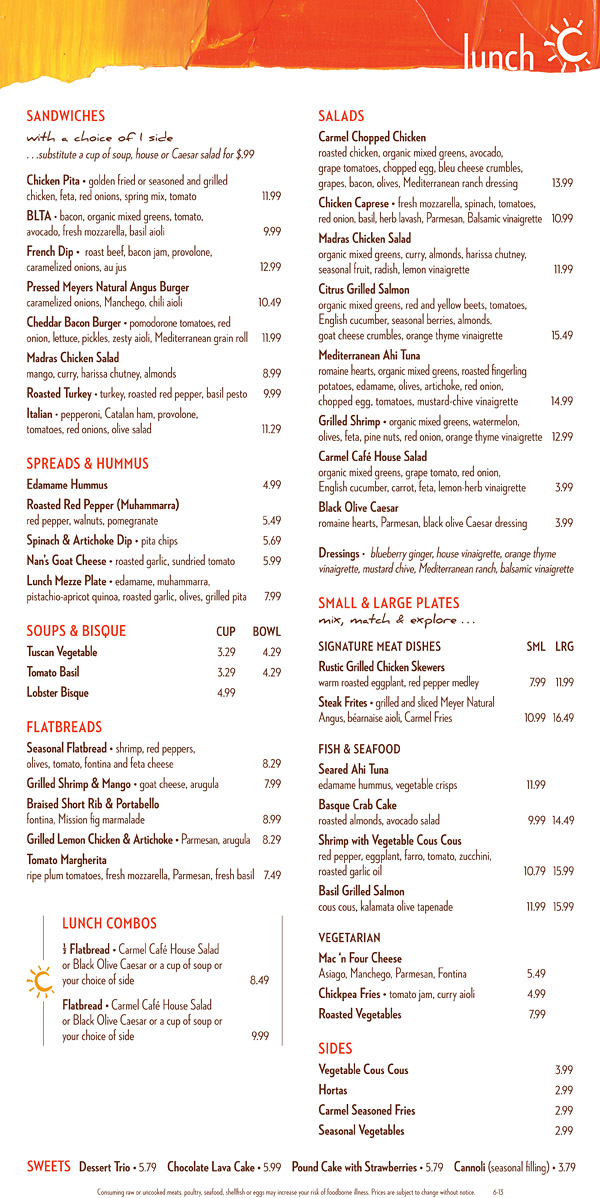 Designed by Alfonso Architects of Tampa, this 4,000-square-foot stylish Winter Park restaurant showcases original artwork created exclusively for its interior by the award-winning firm's founding principal and president, and noted painter, Albert Alfonso.