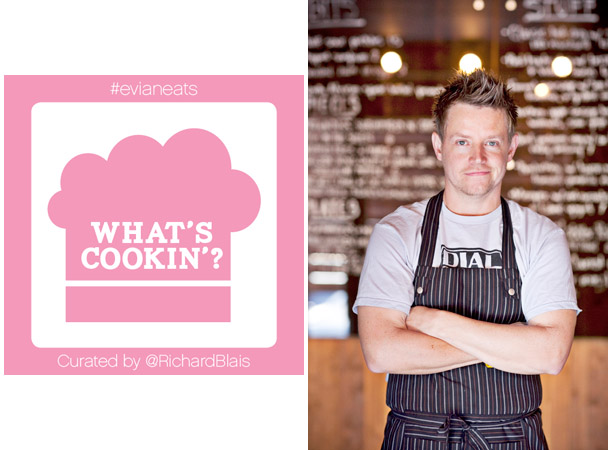 Photos courtesy of Syndicate Media Group
(White Plains, NY) – evian Natural Spring Water returns to The Food Network South Beach Wine & Food Festival presented by FOOD & WINE as an official water sponsor for the 12th consecutive year. This year, evian has partnered with TV personality and Atlanta based restaurateur, Chef Richard Blais, for an interactive takeover of the @evianwater Instagram account to provide the social community with a behind-the-scenes view of the epicurean festival with a Live young® twist.
Beginning February 15, 2013, the week leading up to the South Beach Wine & Food Festival, Chef Blais will kick off evian's #evianeats Foodie Photo Series on Instagram, where a fun, foodie theme will be posted once a day on the @evianwater Instagram account. Instagram users are invited to upload photos of their own culinary creations and dishes via Instagram and Twitter (@evianwater) using #evianeats, and evian will re-post a selection of their favorite photos to their social media platforms.
The #evianeats Foodie Photo Series will culminate on February 21st, when Chef Richard Blais takes over the @evianwater Instagram account live from Miami's South Beach Wine & Food Festival. Followers of evian (@evianwater) can experience an unexpected approach to the world-class festival through the eyes of Chef Blais as he captures his moments at the festival with photos uploaded to @evianwater using #evianeats. Be sure to follow evian's Instagram page on Saturday, February 23rd & Sunday, February 24th at 12pm EST to see how Chef Richard Blais experiences this once a year epicurean festival.
"I'm looking forward to returning to the South Beach Wine & Food Festival and thrilled that evian is allowing me to take over their Instagram account. I'm excited to share my time at the festival through @evianwater and #evianeats so that fans can get a behind-the-scenes look at all the action in Miami," says Chef Richard Blais. Richard's debut cookbook, "Try This At Home: Recipes From My Head To Your Plate" (Clarkson Potter), will be released following the South Beach Wine & Food Festival on February 26th, 2013.
"We are very excited to work with Chef Blais at this year's SOBE Wine & Food festival. Not only does Chef Blais have a tremendous background in the culinary arts, but he is extremely interactive with all his fans on social media and shares the evian Live young spirit. We look forward to partnering with him to give our fans an exclusive look at the festival in an unexpected way as Chef Blais captures his experiences at SOBE," said Jerome Goure, Vice President of Marketing for Danone.
To support the #evianeats online series, evian will be at the Grand Tasting Tents, providing attendees with an interactive photo booth experience as a fun way to engage attendees to create their own Live young moment. Photos uploaded to Instagram using #evianeats will print live from the evian booth.
Guests will also be able to enjoy evian at some of South Beach Wine & Food Festival's marquee events including the Best of the Best, the Official VIP Chef after party, and the Target Presents: A Red Hot Night cocktail party.


About evian®
evian water starts as snow and rain on the peaks of the pristine French Alps. Protected deep in the heart of the mountains, each drop filters through layers of mineral-rich glacial sands for over 15 years. Pure as nature intended, the water springs from the source in Evian-Les-Bains where it's been bottled since 1826.
More information can be found at:
www.evian.us
Facebook: Facebook.com/evian
Twitter: twitter.com/evianwater
Instagram: evianwater #evianeats