to benefit the Rosen College of Hospitality Management at UCF
Saturday October 1, 2011
Gaylord Palms Resort & Convention Center
www.grandtourgala.com – tickets & more information
Please see Press Release below poster for more information about this event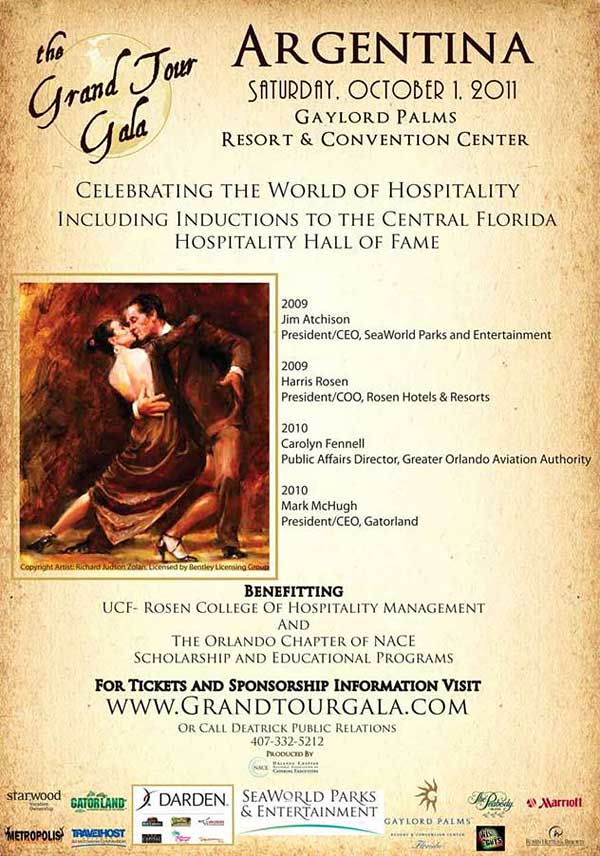 FOR IMMEDIATE RELEASE
"Grand Tour Gala" Returns After Two-Year Hiatus to Honor 
Four Central Florida Hospitality Hall of Fame Inductees
Argentina-Themed Benefit Hosted by National Association of Catering Executives (NACE) to benefit Rosen College of Hospitality Management
For more information, contact:
Mary Deatrick, DPR
407-332-5212, mary@deatrickpr.com
ORLANDO (Sept. 8, 2011) — The Orlando chapter of the National Association of Catering Executives (NACE) is proud to announce the return of the "Grand Tour Gala: Celebrating the World of Hospitality" on Saturday, Oct. 1, 2011 at the Gaylord Palms Resort & Convention Center to honor four inductees into the Central Florida Hospitality Hall of Fame. This year's gala will celebrate the sights, sounds and tastes of Argentina with world-class cuisine, high-quality entertainment and concierge-level service. Proceeds will benefit the University of Central Florida, Rosen College of Hospitality Management Foundation and will support academic scholarships.
The gala was put on hiatus for two years due to the economy but was revived this year in order to induct four new members into the Central Florida Hospitality Hall of Fame: Jim D. Atchison, SeaWorld Parks & Entertainment and Harris Rosen, Rosen Hotels & Resorts, who were to be inducted in 2009; and Carolyn Fennell, Greater Orlando Aviation Authority and Mark McHugh, Gatorland, who were 2010 honorees. The inductees will each receive the coveted Crystal Pineapple Award created by Steuben Glass, symbolizing their commitment to the hospitality industry. The last members of the Hall of Fame were inducted in 2007: University of Central Florida Board of Trustees Chairman, Richard J. Walsh, and former Orlando/Orange County Convention and Visitors Bureau President, William C. Peeper; and 2008 members Hyatt Orlando General Manager Pat Engfer and former Chairman Walt Disney Attractions, Dick Nunis.
"Since its inception, Rosen College has experienced phenomenal growth in enrollment and an increased global presence as a premier hospitality education program," said Dr. Abe Pizam, Dean of the Rosen College of Hospitality Management. "We are exceptionally thankful to the Orlando chapter of NACE for helping us to ensure the continued growth of Rosen College and the future of the Orlando hospitality industry by hosting this incredible event for our benefit."
"Nationally, NACE members are the trendsetters that imagine and create innovations in the catering and events industry. It is NACE members that implement the fine details from décor to entertainment and work closely with their talented chefs to seamlessly create an unforgettable catered event," said Brandon Moss, President, NACE, Orlando Chapter. "The Orlando chapter of NACE is comprised of award-winning catering and event professionals who are excited to bring their talents and some of the finest resources our industry has to offer to produce a ground-breaking Gala. Guests will not only be supporting the Rosen College, but they will also be witness to the future trends in catering."
Cash and in-kind sponsorship opportunities are currently available for the Grand Tour Gala. Tickets to the event are $175 per person or $300 per couple. For more information, visit www.grandtourgala.com, e-mail info@grandtourgala.com or call 407-332-5212.
Located in the heart of the tourism and hospitality industry, Orlando, the UCF Rosen College of Hospitality Management is dedicated to the values of professionalism, leadership and service. The mission of the Rosen College of Hospitality Management is to develop future generations of global hospitality and tourism leaders representing all industry segments in the hospitality capital of the world, through innovative academic programs, cutting edge research and strong industry and community partnerships. For more information, visit www.hospitality.ucf.edu.
The National Association of Catering Executives (NACE), www.nace.net is the oldest and largest professional association dedicated to all aspects of the catering industry. Dedicated to promoting career success for its members and the professionalism of the industry, NACE offers educational programs, professional certification (CPCE), chapter initiatives, networking opportunities, recognition and awards programs, a job bank, community service projects and the industry's most prestigious annual conference. In helping its members enhance their business and careers, NACE helps the industry reach its highest potential.