If there is a festival for all food lovers worth traveling to, it's the Great GoogaMooga. I attended GoogaMooga's first festival last year and it was seriously a blast. From tasting great food to awesome music from The Roots and watching chef demos to Anthony Bourdain on stage, this festival had it all. For 2013, GoogaMooga returns to Brooklyn's Prospect Park for 3 days with an amusement park of food, drink and music on May 17, 18, & 19. So many good restaurants from around New York City and it's boroughs, along with a few from out-of-town, this festival will be a concentrated food paradise for attendees. Check out the flyer and information below for food, drink, and music details.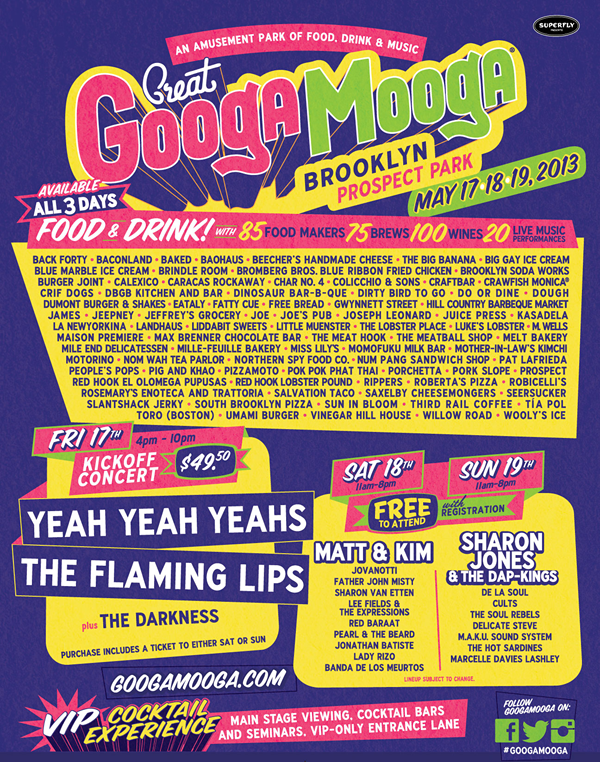 GREAT GOOGAMOOGA,
AN AMUSEMENT PARK OF FOOD, DRINK AND MUSIC
RETURNS TO BROOKLYN'S PROSPECT PARK
MAY 17-19, 2013
With
85 Restaurants, 75 Brews, 100 Wines
& 20 Live Performances
Yeah Yeah Yeahs and The Flaming Lips to Headline
a Kick-Off Concert on Friday, May 17, 2013
Matt & Kim and Sharon Jones & the Dap-Kings to Headline Saturday and Sunday May 18 and 19, 2013
March 26, 2013 – Brooklyn, New York – Great GoogaMooga, Superfly Presents' amusement park of food, drink and music, will return to Brooklyn's Prospect Park May 17-19, 2013. In its second year, GoogaMooga will feature a three-day format, up from two days in 2012. Adding to its stellar culinary personality, whereby 85 of New York's top restaurants are paired with 75 brews and 100 wines, this year's GoogaMooga will see 20 live performances from the likes of Yeah Yeah Yeahs, The Flaming Lips, Matt & Kim, Sharon Jones & the Dap-Kings, The Darkness, Jovanotti, Father John Misty and De La Soul.
Tickets to Friday night's kick-off concert with Yeah Yeah Yeahs, The Flaming Lips and The Darkness, along with tickets to the VIP Cocktail Experience for Saturday, May 18 and Sunday, May 19 will go on sale Thursday, March 28 at 12pmEST. Complimentary, General Admission tickets for Saturday, May 18 and Sunday, May 19 will be available in an online giveaway running Monday, April 1 at 12pmEST through Wednesday, April 3. Complimentary tickets will be awarded at random and recipients will be notified by email on or before Wednesday, April 10. All tickets will be available at www.googamooga.com
"We're excited to be returning to Prospect Park for year two of GoogaMooga," said Jonathan Mayers, Co-Founder, Superfly Presents. "The community in Brooklyn is a cultural cornerstone to New York City and the Park is a perfect place for everyone to come together to celebrate and get a taste of what makes this city one of the best in the world."
"Brooklyn is thrilled to welcome back Great GoogaMooga for a second year of 'eats' and 'beats' – not to mention some of the city's best mixologists, winemakers and brewers to go along with all that great food and music – Brooklyn style! Brooklyn is the Creative and Cultural Capital of New York City and an international culinary destination, so Great GoogaMooga is right at home here, and there is no better place than our magnificent Prospect Park to host the festival. Bravo to Superfly Presents, the Prospect Park Alliance, the New York City Parks Department and all of their partners for the return of Great GoogaMooga – not just two days this year, but three – which means even more economic activity, more visitors and, of course, more fun!" said Brooklyn Borough President, Marty Markowitz.
"Great GoogaMooga is a celebration of food, music and Prospect Park – three things that make Brooklyn such a wonderful place to live, work and play. Frederick Law Olmsted, Prospect Park's brilliant co-designer, intended for the Park to be a great gathering place, as well as a place of quiet respite. We are looking forward to the Great GoogaMooga returning to Prospect Park in 2013," said President of the Prospect Park Alliance and Park Administrator, Emily Lloyd.


On the Menu at GoogaMooga
Offering everything from duck sausage to grilled Maine lobster to Guinness stout brownies to foi gras doughnuts, GoogaMooga's 2013 food lineup currently encompasses 85 restaurants (listed below). A few particularly exciting new additions this year, each epitomizing Brooklyn's dynamic role in the culinary landscape, include Gywnnett St., Pork Slope, and Motorino. These join returning Brooklyn favorites such as Roberta's Pizza, Calexico, Seersucker, South Brooklyn Pizza, Do or Dine, and Char No. 4. Manhattan restaurants new to the festival's General Admission include Salvation Taco, Umami Burger, The Meatball Shop, Pig and Khao, Pok Pok Phat Thai, Jeepney, Eataly, Craftbar, Jeffrey's Grocery, and Joe's Pub. Fans can also look for Baohaus, Big Gay Ice Cream, Dinosaur BBQ, Momofuku Milk Bar, M.Wells, Colicchio & Sons and Crif Dogs, all returning. Pat LaFrieda Meat Purveyors will be on site with their famous dry-aged, prime beefs and acclaimed chef Ken Oringer will come down from Boston to serve Spanish tapas from his restaurant Toro. For those with dietary concerns, GoogaMooga has added more vegetarian, vegan and gluten-free options to its menu.
Restaurants will once again serve food from charming hand-painted booths, reminiscent of old New York storefronts, and some will be found in areas like Pizza, Burgers, Sweet and Hamageddon. Inspired by the pig for all its porcine deliciousness, Hamageddon features Henri, a two-ton steel pig who is 22 feet, nose-to-tail. Guests will find Henri cooking food from a fiery rotisserie in his belly, vendors like Pig and Khao, Pork Slope, The Meatball Shop and Crif Dogs devoting themselves to mind-blowing combinations of bacon and pork, and BaconLand serving up bacon flights.
This year, GoogaMooga will partner with WORD and Housing Works Bookstore Cafe to add a new element that highlights the ripe intersection of food, drink, and literature at Café GoogaMooga, a tented area with a coffeehouse ambiance. Café GoogaMooga's Literary Stage will spotlight writers – from celebrity-chef authors to critics, novelists, comic artists and poets – who are using food and drink as the main ingredients of their craft.
The Beer Experience and the Wine Experience, led by Peter Eastlake, who was recently named a Food & Wine magazine Sommelier of the Year, will return to offer extensive tastings and the opportunity to meet leading winemakers, brewers, importers and sommeliers (listed below).
Speaking to some of the improvements coming to the festival, Superfly's Mayers said, "We always learn a lot from first year events and taking all the feedback into account, we will be expanding the festival's General Admission footprint; increasing points of sale and improving transaction speeds for food and beverage purchases; offering a revamped VIP experience; and working with national cell phone carriers to add temporary cell phone towers."


On Stage at GoogaMooga
This year's music performances will take place on two stages: The Nethermead Stage and The Joe's Pub Stage, presented by Lexus and curated through a partnership with Joe's Pub at The Public Theater, one of New York City's most celebrated venues for emerging and established performance artists. Lexus will also host their Culinary Masters program on the Joe's Pub Stage with three award-winning and brand ambassador chefs. The Michelin-starred Christopher Kostow of The Restaurant at Meadowood will prepare a three-course menu at a Chef's Counter on Saturday while on Sunday, Michelin-starred chef and international restaurateur Daniel Boulud along with James Beard Award Winning chef Michelle Bernstein of Michy's in Miami will conduct cooking demonstrations.
Each of GoogaMooga's three days will offer different lineups of live music:
Friday, May 17 (4pm-10pm)
Friday evening will feature GoogaMooga's kick-off concert headlined by New York City rockers Yeah Yeah Yeahs and The Flaming Lips, both of which have highly anticipated new albums being released this spring. British glam metal band The Darkness will also perform. While a majority of the festival will be open on Friday, some of its areas will not be open until Saturday. Friday ticket buyers will be guaranteed one complimentary ticket, per ticket purchased, to either Saturday or Sunday.
Saturday, May 18 (11am-8pm) & Sunday, May 19 (11am-8pm)
Performances on Saturday are headlined by alternative duo and Brooklyn residents Matt & Kim, Italian pop mega-star Jovanotti, eccentric folk rock artist Father John Misty, Brooklyn folk rock queen Sharon Van Etten, and legendary soul singer Lee Fields with his band The Expressions. The Sunday lineup features funk and soul with headliner Sharon Jones & the Dap-Kings, New York hip hop trio De La Soul, New York's rising indie pop band Cults, experimental, instrumental pop with Delicate Steve, and the eight-piece New Orleans' jazz, brass, funk and soul ensemble The Soul Rebels. Joe's Pub at The Public Theater curated its eight performances, hosted on The Joe's Pub Stage on both Saturday and Sunday, with an eye for local bands reflective of New York's diversity. A few highlights include Brooklyn Bhangra party band Red Baraat, melodic folk trio Pearl and The Beard; cabaret superstar and comedienne Lady Rizo; high-energy eight-piece Afro-Colombian outfit M.A.K.U SoundSystem; sizzling Parisian-style jazz band The Hot Sardines, iconic New Orleans artist Jonathan Batiste, gospel and roots vocalist Marcelle Davies Lashley, and Mexican brass band Banda de los Muertos.


The VIP Cocktail Experience
Saturday, May 18 (11am-8pm) & Sunday, May 19 (11am-8pm)
GoogaMooga's VIP Cocktail Experience gives ticketholders premiere viewing of the Nethermead Stage and exclusive access to the festival's only cocktail experience. Curated by acclaimed mixologist Julie Reiner, Partner and Beverage Director of Brooklyn's Clover Club and Owner of Manhattan's Flatiron Lounge, the VIP Cocktail Experience creates the ultimate "bar" with cocktails by some of New York's most loved and trendsetting destinations: Dead Rabbit Grocery and Grog, Pouring Ribbons, The Library at The Public, The Nomad, Booker & Dax, PDT, Clover Club, Pegu Club, Flatiron Lounge, and Death & Co. Cocktails will be served in both Prospect Park's Boathouse, a stunning historical building dating back to 1904 that overlooks the Lullwater and Lake, and in a tented venue in the Nethermead Meadow. Reiner will also be hosting cocktail demos throughout the weekend. VIP tickets include five drink tickets to the area's cocktail bars for ticketholders who are 21+.


The GoogaMooga Lineup
FOOD
All Found in General Admission: May 17-19, 2013
Back Forty*
Baked
BaconLand
Baohaus
Beecher's Handmade Cheese*
The Big Banana
Big Gay Ice Cream
Blue Marble Ice Cream*
Bromberg Bros. Blue Ribbon Fried Chicken
Brindle Room
Brooklyn Soda Works
Burger Joint
Calexico
Caracas Rockaway*
Char No. 4
Colicchio & Sons
Craftbar*
Crawfish Monica®
Crif Dogs
DBGB Kitchen and Bar
Dinosaur Bar-B-Que
Dirty Bird To Go
Do or Dine
Dough*
DuMont Burger & Shakes
Eataly*
Fatty Cue*
Free Bread
Gwynnett St.*
Hill Country Barbeque Market
James
Jeepney*
Jeffrey's Grocery*
Joe
Joe's Pub *
Joseph Leonard
Juice Press
Kasadela
La Newyorkina
Landhaus
Liddabit Sweets
Little Muenster
The Lobster Place
Luke's Lobster
M. Wells
Maison Premiere*
Max Brenner Chocolate Bar*
Melt Bakery
Mile End
Mille-Feuille Bakery Cafe
Miss Lily's*
Momofuku Milk Bar
Mother-in-Law Kimchi
Motorino*
Nom Wah Tea Parlor*
Northern Spy Food Co.*
Num Pang Sandwich Shop
Pat LaFrieda Meat Purveyors*
People's Pops
Pig & Khao*
PizzaMoto*
Pok Pok Phat Thai*
Porchetta
Pork Slope*
Prospect*
Red Hook El Olomega Pupusas
Red Hook Lobster Pound*
Rippers*
Roberta's Pizza
Robicelli's*
Rosemary's Enoteca and Trattoria*
Salvation Taco*
Saxelby Cheesemongers
Seersucker
SlantShack Jerky*
South Brooklyn Pizza
Sun In Bloom*
The Meat Hook
The Meatball Shop*
Third Rail Coffee
Tia Pol
Toro (Boston)*
Umami Burger*
Vinegar Hill House
Willow Road*
Wooly's Ice
* Signifies New to GoogaMooga's General Admission. Food is priced a la carte.
DRINK
All Found in General Admission: May 17-19, 2013
100 Wines with
Acid Inc.
Austrian Wines
Banshee
Banville & Jones
Bellus
Blue Danube
Ca' del Bosco
Champagne Campaign powered by Corkbuzz
Charles Smith Wines
Copain
Defend Australia
Fausse Piste
Forlorn Hope
Gotham Project
Hess Family Estates
In Pursuit of Balance (Sandhi, Lioco, Wind Gap)
Jerez O Muerta with Carla Rzeszewski
Jose Pastor Selections
Kermit Lynch Wine Merchant
La Paulèe de Brooklyn with Daniel Johnnes
Louis/Dressner Selections
Mouton Noir
Palmina
Red Hook Winery
Schneider Selections
Scribe
Summer of Riesling with Paul Grieco
Terry Theise Estate Selections
The Infinite Monkey Theorem
75 Brews with
21st Amendment
Allagash
Alphabet City
Avery
Blue Moon
Blue Point
Bronx Brewery
Brooklyn Brewery
Captain Lawrence Brewing Co.
Cisco
Crispin Cider
Dogfish Head
Empire Brewing Co.
Fire Island
Greenport Harbor Brewing Co.
Heavy Seas
Ithaca
KelSo Beer Co.
Magic Hat
McSorley's
Ommegang
Sam Adams
Saranac
Shiner
Schlafly Brewing
Shmaltz Brewing
Sixpoint
Sly Fox
Southampton Publick House
Smutty Nose
Victory
Woodchuck
COCKTAILS
Found in the VIP Cocktail Experience Only
Saturday, May 18, 2013
Booker & Dax
Dead Rabbit Grocery and Grog
Flatiron Lounge
The Nomad
PDT
Sunday, May 19, 2013
Clover Club
Death & Co
Pegu Club
Pouring Ribbons
The Library at The Public
MUSIC
Friday, May 17, 2013
Yeah Yeah Yeahs
The Flaming Lips
The Darkness
Saturday, May 18, 2013
Matt & Kim
Jovanotti
Father John Misty
Sharon Van Etten
Lee Fields & the Expressions
Red Baraat *
Pearl and The Beard *
Jonathan Batiste *
Lady Rizo *
Banda de los Muertos *
Sunday, May 19, 2013
Sharon Jones & the Dap-Kings
De La Soul
Cults
The Soul Rebels
Delicate Steve
M.A.K.U SoundSystem *
The Hot Sardines *
Marcelle Davies Lashley *
* Signifies Artists Curated through a Partnership with Joe's Pub at The Public Theater.
The Great GoogaMooga lineup is subject to change.
For tickets and more information, please visit www.googamooga.com; Twitter: @googamooga; and Facebook www.facebook.com/googamooga.
Great GoogaMooga is a partnership between Superfly Presents and entertainment entrepreneur Peter Shapiro (Brooklyn Bowl, Capitol Theatre, Relix Magazine). Superfly Presents would like to thank its partners for helping to make Great GoogaMooga possible: Lexus, Serve from American Express, Manhattan Beer Distributors, New York magazine, Seamless and Liquor.com.


About Great GoogaMooga: Great GoogaMooga is an amusement park of food, drink and music produced by Superfly Presents, the Co-Founders and Producers of Bonnaroo and Outside Lands, in partnership with entertainment entrepreneur Peter Shapiro (Brooklyn Bowl, Capitol Theatre, Relix Magazine). Returning to Brooklyn's Prospect Park for its second year, GoogaMooga will take place over the course of three days, May 17, 18 and 19, 2013. The festival will see 85 of New York's top restaurants paired with 75 brews, 100 wines and 20 live performances.