Join 65 food trucks for the ultimate food truck event at Magic City Casino in Miami on April 20th, attempting to set a new Guinness Book World's Record for the Largest Food Truck Caravan. The actual caravan will take place around 4:30pm and will be police escorted. Afterward, all of the food trucks will be serving their food at the event from 5PM – 10PM. Admission is free and the cost of food varies at each food truck. The event is produced by BurgerBeast.com and is sponsored by Food Cart USA and Food Truck Invasion. Be part of history and experience this event. Full details below…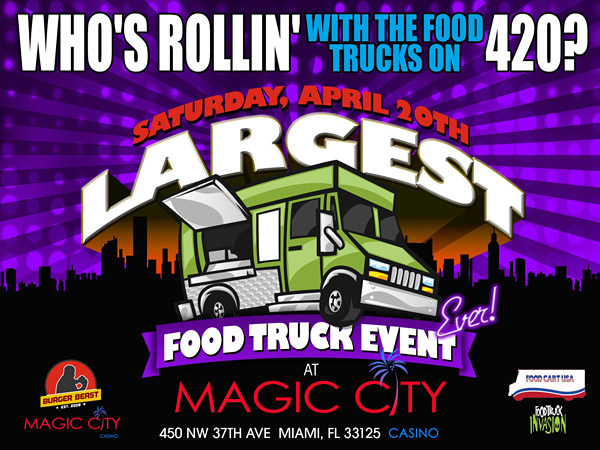 On Saturday April 20th Magic City Casino will host the Largest Food Truck Event Ever from 5-10PM. In addition to having the largest selection of Food Trucks to choose from there is one other cool thing going on earlier.
All of the over 65 Food Trucks will caravan for 2 miles with a Police Escort. Talk about a photo opportunity! This will happen at about 4:30PM just prior to the beginning of the event. We will be setting the Guinness Book World's Records for Largest Food Truck Caravan!
There will be a dunk tank courtesy of Food Truck Invasion. All proceeds from the Dunk Tank will go to the St. Baldrick's Foundation who Help Kids with Cancer. You'll have an opportunity to dunk Fat Girl Hedonist, Gio of Chat Chow TV, Nedal (owner of Pincho Factory), Michell (owner Latin House Burger & Taco Bar) and it's all for a great cause!
Food Cart USA will be raffling off an iPad and $5 good for use on any of the Food Trucks they've built. They'll also have a Demo Food Truck on display so you can step into a Food Truck and see what it's like from the other side of the window!
And could there possibly be a better day than 420 to set the record for the "Largest Food Truck Event….Ever"?
Admission is FREE, Prices for food vary per Food Truck.
April 20th Line-Up:

2 Jive Turkeys
Arepa Box
B.C. Taco
Best French Fries
Big Belly's Deli
The Big Ragu
Bite Gastrotruck
Boba Station
Los Chamos
Che Grill
Cheeseburger Baby
Churromania Truck
Cold Stone Creamery
Crave
Crazydilla
Cuban Cube
Daddy's Grill
The Daily Special
Dim Ssam a Gogo
Dolci Peccati Gelato
Don Mofongo
Dough Food Truck
The Empanada Truck
Fireman Derek's World Famous Pies
Food Junkies
Frankie's Pizza
Friar Tuck's
Frozen Drink Company
Gene's Joint
Grill Master Café
HipPOPs Handcrafted Gelato Bars
Il Fiorentino
Jefe's Original Fish Taco & Burgers
Joji Yogurt
Killer Pasta
La Nostra Pizza
Love at First Bite
Mangia Mia
Marlie's Delights
Miami Press
Mobile Culinary Kitchen
Mojo on the Go
Monster Burgers
Monte's Country Cajun Cookin
Mr. Good Stuff
Munch Cakes
Mushaboom
Nacho Bizness
Palate Party
Pescados Unidos
Porkalicious
Potoffee Chips
Purple People Eatery
El Rey De Las Fritas
The Rolling Stove
Royal Wings Truck
Slow Food Truck
Snow Caps
Sugar Yummy Mama
Sweet Sensations
Taco Fresh
Taco Heat
Taste of South Africa
Top Fries
Waffleosophy
Zombie Ice
Special Thanks to Food Cart USA and Food Truck Invasion for sponsoring this event.
Details:
Largest Food Truck Event, Ever!
at Magic City Casino
Date: Saturday April 20th
Time: 5PM – 10PM
Location: 450 NW 37th Ave Miami, Florida 33126
Cost: It is Free to attend but the Food Prices vary per Food Truck.
Parking: Plenty of Free Parking