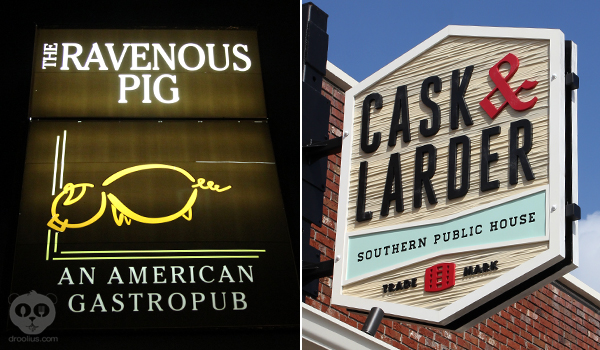 Local restaurants, The Ravenous Pig and Cask & Larder, will collectively host a food drive to "Feed the Need" benefitting the Second Harvest Food Bank of Central Florida. Spearheaded by Cask & Larder's AGM, Christine Steffens, this is a great event to give much needed food items to those in need right before Thanksgiving.
"This is something I've wanted to do for quite some time now, and the perfect opportunity finally presented itself between Cask & Larder and The Ravenous Pig" Christine said.
On Saturday, November 17th, The Ravenous Pig hosts their food drive during lunch service between 11:30am to 2pm.  Guests donating non-perishable food items will receive a complimentary pint of beer from the draught selection, a glass of The Ravenous Pig "Inox" Chardonnay or a glass of Boomtown Cabernet (ages 21 & up only).
On Sunday, November 18th, Cask & Larder hosts their food drive during brunch service from 10:30am to 3pm.  Guests making  a non-perishable food donation will receive a complimentary glass of C&L Public House White or C&L Public House Red wines or a pint of house-brewed beer (ages 21 & up only).
James Petrakis, Chef/Owner of The Ravenous Pig and Cask & Larder, will load his truck and haul everything to Second Harvest Food Bank that following Monday, just in time for Thanksgiving.  "Julie and I are happy we can do something to help those in need over the holidays.  We are very fortunate to have food in our lives every day; it feels good to be able to help those who don't. I really hope that I will need more than my truck with all the food that's donated."
Join The Ravenous Pig and Cask & Larder to help "Feed the Need" in Central Florida.
The Second Harvest Food Bank has a list of items that are in critical need:
Fruits – Canned fruit (in its own juice, no sugar added varieties), dried fruit, 100% fruit juice.

Vegetables – Canned vegetables (reduced salt/no salt varieties), 100% vegetable juice, spaghetti sauce.

Grains – Rice, pasta, crackers (whole-grain varieties), ready-to-eat cereal (low sugar/high-fiber), oatmeal.

Protein Foods – Canned meat/poultry, canned tuna/salmon (packed in water), canned/dry beans & peas (low/no salt varieties), peanut butter.
Dairy/Dairy Alternatives – Nonfat dry milk, evaporated milk, soymilk.
Meals – Beef stew, canned soup (reduced sodium varieties), chili, other canned meals

Other – Nutritional drinks (ex: Ensure, Boost).
Baby Food – Must be in complete, undamaged original packaging. No individual serving glass or plastic containers unless in an unopened case.
Non-food Items – Diapers, toiletries (soap, shampoo, shaving cream, etc.). Must be unopened and stored separate from food donations.