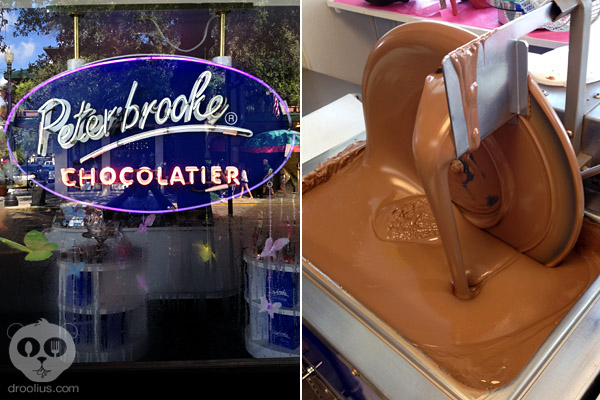 Photos by Julius Mayo Jr. © Droolius.com
One-Day-Only "Bring It & Dip It" Promotion
WHAT: Peterbrooke Chocolatier of Winter Park ("Peterbrooke") is making life sweeter, one chocolate dip at a time on Sunday, December 16 in celebration of National Chocolate-Dipped Anything Day. The local chocolatier will kick off its "Bring It & Dip It" promotion beginning at 12 p.m. to 5 p.m.
Sweet details on how it will work:
· Guests can bring items that they would like to "chocola-tize" e.g. Twinkies, Sour Patch Kids, beef jerky and etc. or purchase items in-store such as pretzels, nuts and fresh fruits
· Purchase milk, dark or white chocolate for a discounted price of $10 per pound
· Start dipping, eating and packaging to take home
A special bowl will be provided to ensure all guests are coating in fresh batches of chocolate. Left over, unused chocolate will be packaged to-go. Guests should note that chocolate has a shelf life of one year.
DATE: Sunday, December 16 from 12-5 p.m.
PRICE: $10 per pound of chocolate
WHERE: Peterbrooke Chocolatier of Winter Park
300 South Park Ave.
Winter Park, FL
407.644.3200


MORE ABOUT PETERBROOKE CHOCOLATIER OF WINTER PARK
Peterbrooke of Winter Park is locally owned and operated by Jami and Kevin Wray. The Winter Park location boasts 1400-square-feet of chocolate bliss with unique-to-store delectables like chocolate-covered bacon, sea salt caramels, spicy chili chocolate and for the those looking for traditional favorites, the gourmet chocolate-covered popcorn is available in dark and milk chocolate. The chocolate boutique is open daily during the holidays from Monday – Thursday from 8:00 a.m. to 10:00 p.m., Friday and Saturday 8:00 a.m. to 11:00 p.m. and Sunday from 9:00 a.m. to 9:00 p.m.