Parkesdale Market is putting together a special celebration for the end of Strawberry Season in Plant City. On Sunday, April 7, have lunch with Tampa's Food Trucks and get your Strawberry Shortcakes for dessert. Rollin Zoinks, Ronny's Oki Doki, and Maggie on the Move will be the three food trucks serving in the market's parking lot from 11 am until 4 pm. A variety of dishes will be offered from each food truck and will satisfy everyone's appetite:
Rollin Zoinks – "hand held goodies to the foodies" with a menu that includes braised beef, scallops, chicken, pork and vegetarian options.
Ronny's Oki Doki – a taste of Japan with authentic Okinawan noodles, pot stickers, spring rolls and much more.
Maggie on the Move – known for her Greek Mediterranean and Spanish creations.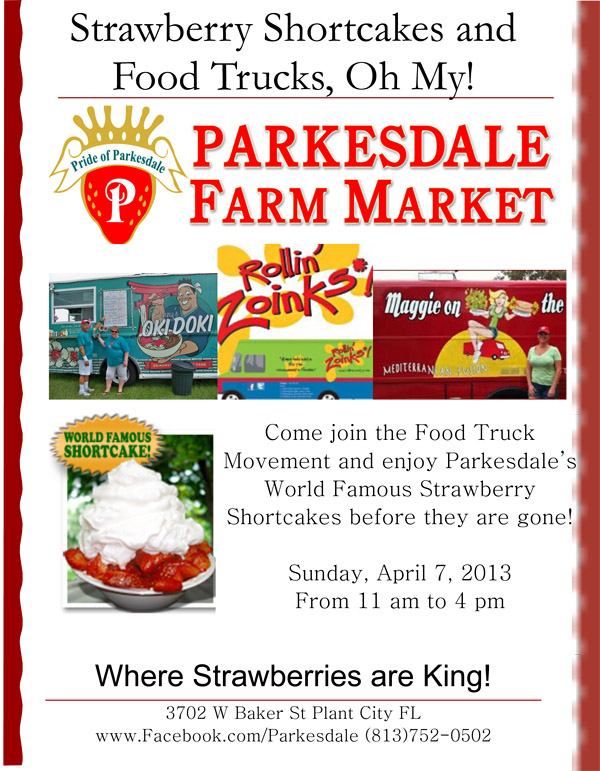 "Come join the Food Truck Movement and enjoy Parkesdale's World Famous Strawberry Shortcakes before they are gone!"
When: Sunday, April 7, 2013
Time: From 11 am to 4 pm
Location: 3702 W Baker Street, Plant City, FL
See Facebook Invite: www.facebook.com/events/418478274913694/
More information:
Parkesdale Market
3702 W Baker St.
Plant City, FL
(813)752-0502
www.parkesdale.com
www.Facebook.com/Parkesdale