Over 17,100 Swedish meatballs served! Congratulations to my friends at SwedeDISH food truck for their first successful year of business. They were featured here on the blog last year, September 2011: SwedeDISH Food Truck serves Swedish Cuisine
Now it's time to celebrate with them! Check out their locations for this weekend and eat more SwedeDISH meatballs!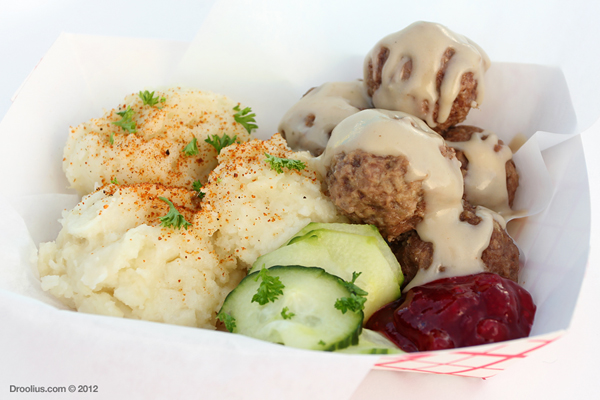 Photo by Julius Mayo Jr. of Droolius.com

SwedeDISH, Central Florida's only Swedish food truck marks its one-year business anniversary this week. The first year of operation included attending 148 local events where they collectively served over 17,100 SwedeDISH meatballs!
SwedeDISH will celebrate its one-year anniversary this Friday, September 21 from 10 a.m. – 2 p.m. at the RDV Sportsplex in Maitland, FL; from 6-9 p.m. at Ocoee Food Truck Friday/Bill Breeze Park in Ocoee, FL and Saturday, September 22 from 5-10 p.m. at Infusion Tea on 1600 Edgewater Street in Orlando, FL. The menu will feature several new menu specials in honor of their anniversary, in addition to their most popular "Thor" (all-beef hotdog, mashed potatoes, fried onions and fresh crab salad wrap) and of course, SwedeDISH meatballs!
This past year has been an exciting time for Swedish natives, Viveca and Håkan Averstedt, the husband-wife owners/operators. "It takes a lot of passion and hard work", says Viveca. "In fact, Håkan has hand peeled more than 5,000 pounds of potatoes this year!" She adds, "The positive customer feedback we receive at each event and the smiles upon customer's faces when finishing a meal from SwedeDISH makes it all worth it! We want to thank everyone for contributing to our first year success."
Mark Baratelli, from TheDailyCity.com and TheFoodTruckBazaar.com compliments, "SwedeDISH offers guests at "The Food Truck Bazaar" a high quality product in a beautiful truck with a team of always smiling people. They are an asset to the event, always leaving guests with a positive experience. I'm very grateful to Viveca and her team. They are a model of what a good food truck should be."
For more information, follow SwedeDISH on Facebook and Twitter or visit www.SwedeDISHfoodtruck.com.
SwedeDISH One-Year Anniversary Celebration Locations
Friday, September 21, 2012
RDV Sportsplex | 10 a.m. – 2 p.m.
At the corner of Maitland Summit Boulevard and Keller Road
Maitland, FL 32810
Ocoee Food Truck Friday | 6 – 9 p.m.
Bill Breeze Park
125 N. Lake Shore Drive
Ocoee, FL 34761
Saturday, September 22, 2012
Infusion Tea | 5 – 10 p.m.
1600 Edgewater Drive, Orlando, FL 32804
MEDIA CONTACT:
Viveca Averstedt
swededishfoodtruck@gmail.com
(407) 619-9713