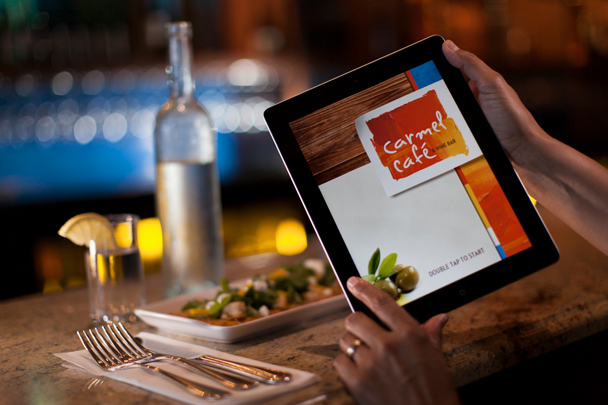 Carmel Café & Wine Bar introduces its modern interpretation of Mediterranean cuisine to Winter Park with its second free-standing Florida location opening May 28.
"It's a new dining experience defined by an innovative cuisine inspired by countries bordering the Mediterranean Sea," said Chris Sullivan, one of the founding partners. "This modern interpretation of the signature foods and flavors of those cultures creates a fresh and tasteful take on traditional dishes."
The "Mod Med" cuisine incorporates and updates classic flavors and foods of counties such as Italy, Spain, France, Greece and Morocco while celebrating the healthy benefits of the Mediterranean-style of eating. Seasonal produce, quality meats and seafood plus simple preparation define the Mod Med menu at Carmel Cafe.
The restaurant's vibrant colors, full-service bar and communal seating areas with al fresco dining enhance the ambiance and urban vibe.
Both lunch and dinner menus offer a delicious array of soups, salads, sandwiches, flatbreads, pastas, seafood, poultry, pork and beef dishes, with many available as small or large plate options that can be easily shared and easily paired with wines.
The global selection of wines offered at Carmel Cafe are available in three-, six- or nine-ounce pours or by the bottle, and have been specifically chosen to pair well with the Mod Med cuisine. The bar also features select specialty cocktails including seasonally inspired twists on classic cocktails.
Beginning June 22, a weekend brunch menu will feature favorites such as eggs Benedict and specialty dishes like the Mod Med Omelet and French Toast L'Orange.
The pioneering restaurant uses an innovative MenuPad at each table so that guests can customize their dining experience. Colorful photos and detailed descriptions of each dish are on the MenuPad, allowing diners to control the preparation, portions, presentation and pacing of their dining experience, and to identify the perfect wines to pair with the food.
"This is a dining experience that encourages our guests to leisurely share several small plates, casually meet for a glass of wine or cocktail or just relax and enjoy their favorite menu items," said Terry Ryan, a founding partner of Carmel Café. "Using the MenuPad app, our guests control the pacing of their food and wine orders so they are able to get exactly what they want, the way they want it, when they want it."
Located at 140 N. Orlando Ave., Winter Park, the 4,000-square-foot restaurant offers both indoor and outdoor seating. Designed by Alfonso Architects of Tampa, this stylish Winter Park restaurant will display original artwork created exclusively for its interior by the award-winning firm's founding principal and president, and noted painter, Albert Alfonso.
"We are excited to introduce the Carmel Café & Wine Bar experience to Winter Park," said Sullivan. "Winter Park has a thriving restaurant scene, and we're happy to be part of it." Other Carmel Café locations are in Tampa, Clearwater and Sarasota.
In addition to dinner nightly from 4 p.m., the Winter Park restaurant will offer a prix fixe dinner menu two nights a week, and an "After 5 @ Carmel" happy hour featuring wines, cocktails and small plates for $5.
Seasonal wine dinners will highlight exceptional wines that Carmel Café Executive Chef Steve Cook complements with a multi-course menu of Mod Med cuisine created to pair with the featured wines.
Winter Park Carmel Café is open 4-10 p.m. Monday through Thursday; 4-11 p.m. Friday and Saturday, and 4-9 p.m. Sunday.
Starting June 17, the café will be open for lunch at 11 a.m. Monday through Friday. Brunch service begins June 22, starting at 11 a.m. on Saturday and Sunday.
For reservations, call (407) 513-4912. For more information, www.carmelcafe.com.
Photos courtesy of Carmel Café