Owners Rocco Mangel & Big Time Restaurant Group will open the doors to the fifth and largest Rocco's Tacos & Tequila Bar on September 14th. Located in the heart of the tourist capital of the world on West Sand Lake in Orlando, Florida the new indoor/outdoor restaurant will offer the signature Rocco's Tacos full-sensory dining experience complete with live DJs, dancing and free tequila pourings by Rocco himself.
Since opening the first Rocco's Tacos & Tequila Bar in West Palm Beach, Florida in 2007, the brand has become a go-to destination for authentic Mexican dining in a vibrant atmosphere. Diners can sample from the largest tequila menu in the Southeast US including Rocco's own co-brand with Milagro Tequila, nibble on guacamole prepared tableside and enjoy a traditional Mexican dinner at a playful restaurant that embodies the true spirit of Mexico.
Executive Chef Ken Stevens will present all of the Rocco's Tacos favorites including soups and small plates, entrée salads and sandwiches, tacos, enchiladas and combo plates. Signature menu items include: Jalapeno Rellenos, stuffed fried jalapenos poppers, with cotija, lime crema, avocado ranch; Molcajete Seafood, wild Gulf of Mexico shrimp, scallops, mahi & poblano chiles baked in a molcajete with calabaza squash, charred tomatoes, onions, cilantro; Enchiladas Mole Poblando, pulled chicken breast, mole poblano sauce; and Bistec con Chiles Rajas, grilled adobo skirt steak, grilled green onions, three pepper rajas, red rice, black beans.
Guests can also take advantage of their infamous Taco & Tequila Tuesdays offering all-you-can-eat tacos including chicken, pork, steak, beef, mushroom, shrimp or mahi tacos, each outfitted with all the fixings, for only $14.95 per person along with $5 featured margaritas and $15 pitchers.
The 8,500 square-foot restaurant offers a variety of seating options to accommodate everyone from solo diners to large private parties with over 2,500 square-feet of banquet space, all in a welcoming lakeside setting. The focal point of the main dining room is a handcrafted bar from Mexico that straddles the interior and the exterior of the restaurant, uniting the two distinct spaces along with Rocco's first open-air performance kitchen. A perfect destination for watching spots, there are eighteen 50-inch flat screen HD televisions and state-of-the-art sound system and DJ booth.
Indoors, patrons can sit in the semi-private Milagro Room, a candle lit space that accommodates 10, enjoy dinner in the main dining room relaxing in one of the plush banquettes, or revel in the action at the Laine Bar, named after Rocco's mother. Outdoors, the expanded lakefront dining space includes: covered bar seating; intimate tables; a fire pit; and "El Cabana", a private cabana that provides the ultimate VIP experience. Similar to other Rocco's Tacos & Tequila Bars, the entire restaurant will be outfitted with authentic Mexican flair purchased by Rocco himself at small villages throughout Mexico and Rocco's signature star-shaped, punched-metal lantern chandeliers.
Offering lunch, dinner and late-night dining options seven days a week, Rocco's Tacos will bring additional energy and traffic to the much loved Restaurant Row. "We are excited to make Orlando our home and we welcome locals and tourists alike with open arms to the Rocco's Tacos family," says owner Rocco Mangel.
While the superior cuisine and cheerful décor have put the Rocco's Tacos brand on the map, it's Rocco's "welcome to my house" attitude, contagious energy and show-stopping sense for creating an unforgettable experience that draws people in again and again. When regulars hear the buzzword "Tequila!" echo through the restaurant, everyone prepares for Rocco to take his spot on the bar top, dancing feverishly in his legendary shiny-white shoes. The scene reads like one out of Pee-wee's Big Adventure, sans the angry bikers. Rocco steps on 'stage' with a bottle of Patron in hand, ready to pour into eager guest's mouths. This exhilarating display of merriment has made Rocco's Tacos & Tequila Bar a cherished destination and this location will be no exception. Rocco is also known to gift fans with an entire bottle of tequila on their birthdays!
The new Rocco's Tacos & Tequila Bar is located at 7468 West Sand Lake Road, Orlando, FL 32819. The restaurant will be open from 11:30 am – 2 am daily. Follow Rocco on Facebook for specials and Check In on FourSquare to receive a complimentary tequila shot or mix drink daily. www.RoccosTacos.com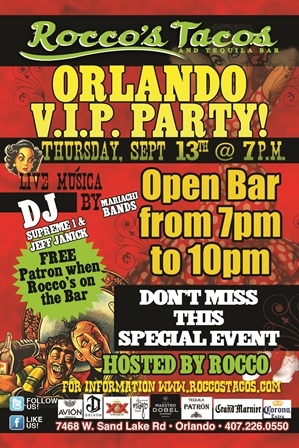 ABOUT: Rocco Mangel, Owner of Rocco's Tacos Tequila bar
Born and raised in New York, Rocco Mangel grew up in the restaurant business. As a young boy he watched his grandfather's focused work ethic and superb client service as general manager of New York City's famed Copacabana nightclub, and he spent time in the kitchen at his father's Long Island restaurants. It was this generational inspiration along with hard work, determination and vision that brought Rocco to South Florida to pursue ambitions of opening his own dining and social destination.
Arriving in West Palm Beach in 1997 with a mere $200 in his pocket, Rocco worked as a busboy at Big City Tavern, part of the Big Time Restaurant Group. Nine years later, the driven entrepreneur opened his first restaurant, Rocco's Tacos & Tequila Bar, as owner and partner with Big Time Restaurant Group. The West Palm Beach location transformed Clematis Street almost overnight breathing new life into the community.
It's Rocco's undeniable charisma and passion not just for the restaurant industry, but his show-stopping sense for creating an unforgettable experience that keeps clients coming back for more. Building off the popularity of his West Palm Beach restaurant, Rocco has since opened opened three successful Rocco's Tacos & Tequila Bars in Boca Raton, Fort Lauderdale and Palm Beach Gardens with an additional location plan for Orlando.
Rocco is a catalyst and an influential man in the community who uses his local fame for philanthropic efforts. He is an active fundraiser for the ALS Association to "stamp out" Lou Gehrig's Disease, the Leukemia/Lymphoma Society and the YMCA's Polo for Pedro fundraiser. Rocco was also Chairman for the 2009 March of Dimes Glitz Ball and in 2011 he raised $15,000 for the Susan G. Komen Foundation.
When Rocco's not pouring tequila at one of his restaurants or planning the next phase of his Rocco's Tacos expansion plan, he loves to travel and spend time in New York.
For media inquiries, please contact Carma Public Relations & Marketing
at Destiny@CarmaPR.com or 305.438.9200.