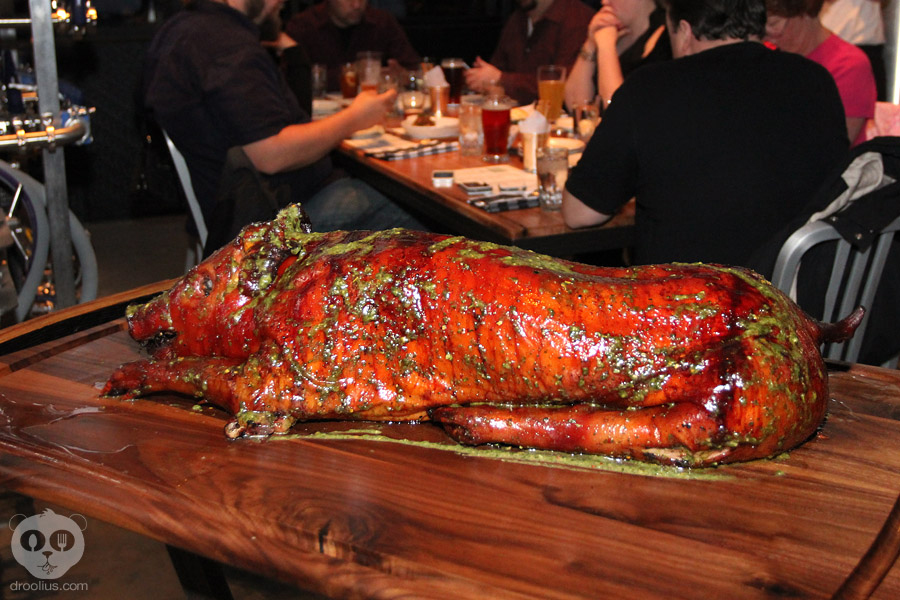 Dinner: Nov. 17, 2012 – A Whole Smoked Suckling Pig topped with salsa verde at Cask & Larder during a Whole Cookery Feast.
We had a group of 8 food friends who met up this past Saturday evening at Cask & Larder in Winter Park, FL. We made reservations a few weeks in advanced for their Whole Cookery Feast, selected the Smoked Suckling Pig, and requested to dine in the brewery room. Our pork enthusiastic group enjoyed many pieces of the Whole Smoked Suckling Pig topped with salsa verde and stuffed ourselves with side dishes, salads, and desserts. The dinner was blissful and we even had take-home boxes of more porky goodness to bring home. Our full experience will be documented in a future blog post. For now, enjoy the view above…
Good times and good eats my friends! @EatLocalOrlando, @Ann_archy, Mr. & Mrs. @1educatedpalate, @marvinrm, @wonderfultime, @bigskystarlet. Follow me on Twitter for more food twEats: @Droolius


Whole Cookery Feast: menu features family-style dining centered around a generous serving of a signature butchered cut. Each order includes the main dish along with shareable sides and dessert for the table.
Price: $50 per person (as of November 2012) **A minimum of 8 guests is required.**
Reservations are required at least 72 hours in advance.
See menu options at www.caskandlarder.com/menus

Cask & Larder
565 West Fairbanks Ave.
Winter Park, Florida 32789
(321) 280-4200
www.caskandlarder.com
Twitter @CaskLarder
www.facebook.com/cask.larder

Words and photos by Julius Mayo Jr.
Content and photos © Droolius.com 2012