When two great local Orlando businesses collaborate on beer and food, it can only turn into one awesome event! Kappo at East End Market will be doing a Izakaya Pop-Up at Redlight Redlight on Sunday, March 29th. This event is tomorrow! Kappo is serving a Japanese inspired menu that will include Yakitori, Kushiyaki, Karaage, and more. Redlight Redlight has two beers that they created just for this event and on tap will be a Sorachi Ace Kölsch and a Miso Gose. This collaboration has been brewing over the last few months, so I'm very excited to see it come to life and experience the food and beer! See detail below…
(click image to enlarge)
Who: Redlight Redlight with Kappo
What: Izakaya Pop-Up with Japanese-inpired food and hand crafted beer.
When: Sunday, March 29, 2015 – starts 6:30pm
Where: Redlight Redlight 2810 Corrine Dr, Orlando, FL 32803


Details:
The term Izakaya (居酒屋) describes a type of informal Japanese drinking establishment that serves food to accompany the drinks.
Join us on Sunday, March 29th as we host our friends from Kappo at East End Market fresh from their trip to Japan, cooking Izakaya style!
Menu will include:
Yakitori – grilled chicken skewers
Kushiyaki – grilled meat or vegetable skewers
Karaage – bite-sized fried chicken
and more!
Menu will be posted once it's available.
Items are priced individually around $2-3.
We brewed 2 special beers for the event that will be on tap Sorachi Ace Kölsch & Miso Gose
Hitachino Nest Anbai (gose with Japanese plums) will also be on tap!
Find all details on Facebook invite: HERE


Update – Menu for tonight's event: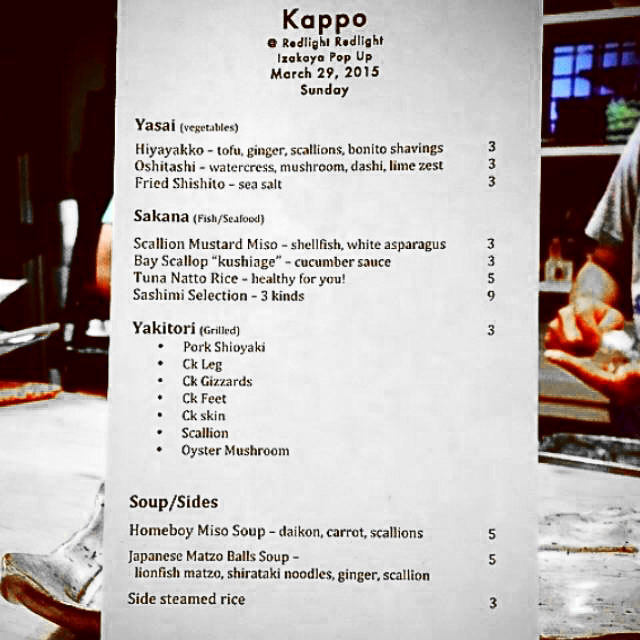 (click image to enlarge)
*updated on March 29, 2015 – Izakaya menu added

Words and photos by Julius Mayo Jr.
Content and photos © Droolius.com 2015