Filipino Adobo has been a long time favorite of mine and something I grew up eating. In recent years, I've enjoyed exploring more types of Adobo recipes from different regions around the Philippines. To enhance its flavor, I started cooking Adobo by adding coconut milk, giving it a deeper richness and touch of sweetness.
I've always added a spicy ingredient to my leftover Adobo so I wanted to try adding spicy chilis to the Adobo with coconut milk, as they do in the Bicol region of the Philippines.
As a result, I created this spicy Filipino pork Adobo with coconut milk for my food creator friend, Lisa Nguyen. Since we both love spicy food, I thought this would be a great opportunity to cook a spicy version of Adobo! Lisa invited me to collab on a video for Asian American Pacific Islander (AAPI) Heritage Month in her series featuring AAPI food creators across her channels. In fact, Lisa is featuring 31 AAPI creators for the month of May!
Needless to say, I was honored she invited me into the series and be part of such a great group of APPI food creators. It was a fun experience cooking for her and introducing her to another delicious Filipino dish.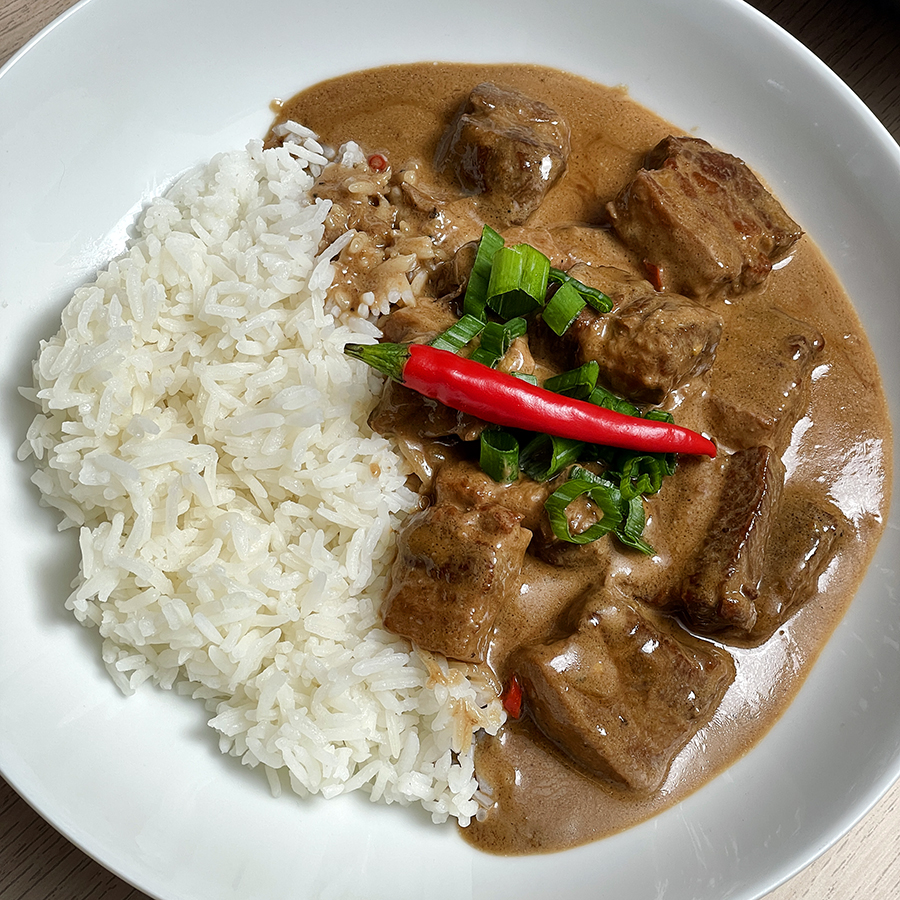 How to make Spicy Filipino Pork Adobo with Coconut Milk aka Adobong Baboy Sa Gata.
Ingredients:
1 pound pork belly, cut into 1-2" slices
1 pound pork loin, cut into 2″ bite-sized pieces
10 cloves of garlic, rough chop
Salt and pepper to lightly season pork
1/2 cup soy sauce
1/2 cup cane vinegar
1 cup water
2 bay leaves
1/2 teaspoon cracked black pepper
1 can (13.5 ounces) coconut milk
4 Thai chili peppers, chopped
Steamed white rice, for serving
Instructions:
Heat a large skillet or wok over medium-high heat. Place the pork belly slices in the pan, fat side down, to render out the fat. Stir fry until the pork belly turns light golden brown.
Add garlic to the pan and continue stir frying until the garlic becomes lightly browned and fragrant.
Add the pork loin to the pan. Stir fry the pork loin until all sides are nicely browned.
Season the pork with a sprinkle of salt and pepper.
Reduce the heat to medium and add the soy sauce (Datu Puti from the Philippines used here), cane vinegar (from the Philippines), and water to the pan. Stir everything together to combine.
Add bay leaves and cracked black pepper. Give it a gentle stir to distribute ingredients.
Let the mixture simmer for about 30-40 minutes, or until the pork becomes tender and infused with the savory sauce.
Open the can of coconut milk and pour it into the pan, stirring gently to incorporate it into the sauce.
Add the chopped Thai chilis to the pan. These will provide a nice spicy kick to the dish. Adjust the amount according to your heat preference.
Reduce the heat to low and continue cooking the dish for an additional 20 minutes. Stir occasionally to prevent the coconut milk from curdling.
Once the cooking time is done, the Filipino Pork Adobo with Coconut Milk will be spicy and full of flavor. Serve over a bed of steamed white rice and enjoy!
This spicy Filipino Pork Adobo with coconut milk is savory, spicy with a touch of sweetness. The richness and depth of flavor goes well with lots of steamed rice!
The collab video on Lisa Nguyen's YouTube channel
Check out the YouTube video for our video collaboration and see how Lisa liked it!
YouTuber Lisa Nguyen's collab video
Watch all of the AAPI creator recipe videos Lisa featured on this YouTube playlist.
For more of my recipes, please see them HERE.

Drop a comment and let me know if you try this recipe. Also, let me know what other recipes you would like to see on this website.