The second Food Truck Heaven took place this past Saturday at The Plaza Theatre Live. The event was in conjunction with the Blue Oyster Cult Winter Holiday show and had a total of 13 gourmet food trucks. The food truck portion of this event was coordinated by The Plaza Theatre's resident concessions vendor Kenny & Denny's BBQ.



(click image to enlarge)
In addition to each food trucks' menu, they all had a sample menu item for $3 or $4 that gave patrons an opportunity to get a taste of multiple food truck menus. This was a great idea by the coordinators to have at the event to encourage visiting multiple food trucks. The event started at 5pm, which meant less than an hour for photos with disappearing daylight. Here's some shots of the food trucks at the beginning of the event.



(click image to enlarge)
Fork in the Road and Feast Beast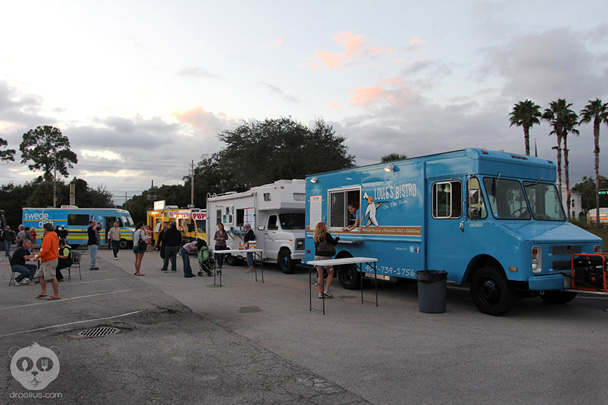 (click image to enlarge)
Louie Bistro and Chutz Pah (Jewish)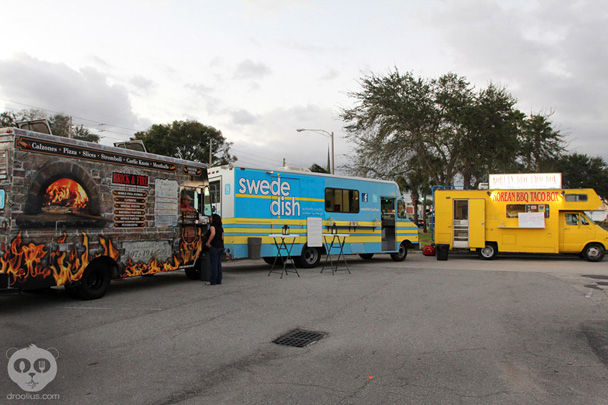 (click image to enlarge)
Brick & Fire Pizza, Swede Dish, Korean BBQ Taco Box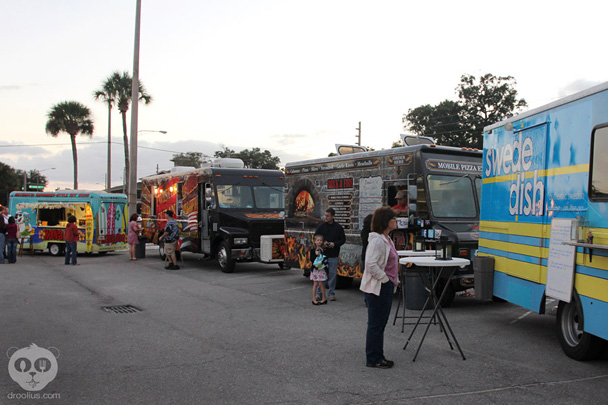 (click image to enlarge)
(click image to enlarge)
Melissa's Chicken & Waffles and Sunset Ice



(click image to enlarge)
Beard Papas and Baxter & Tilly's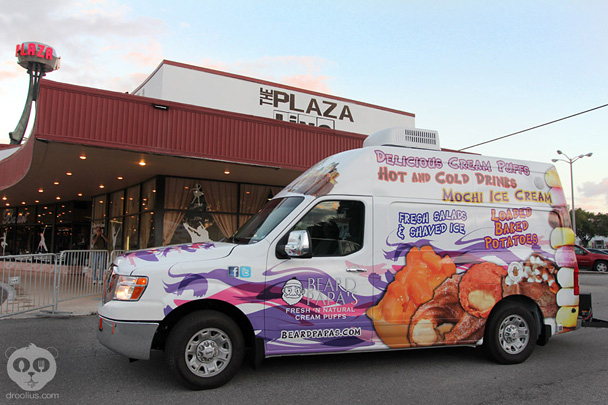 (click image to enlarge)
This is the Beard Papa's Food Truck (actually its Nissan NV van) that I featured recently [HERE]. This food truck that serves cream puffs, snacks, and more is especially cool because it features some of my photography on the actual vehicle wrap. My first time having photography printed on a vehicle wrap and while its not all of my photos, it is cool to have some part of the artwork on this dessert mobile.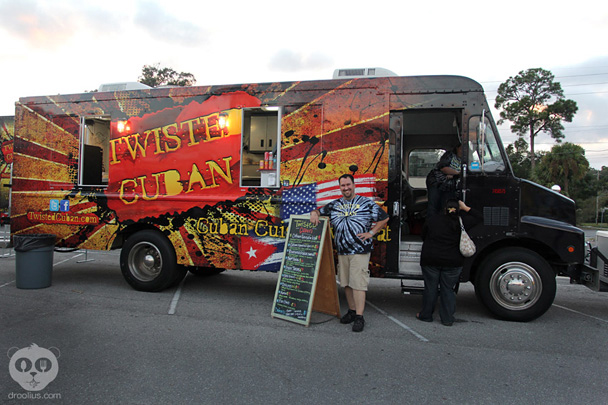 (click image to enlarge)
Proudly posing in front of the Twisted Cuban Mobile Food Truck is the owner Alex. He naturally posed with a big smile as I was walking by, so of course I had to post this.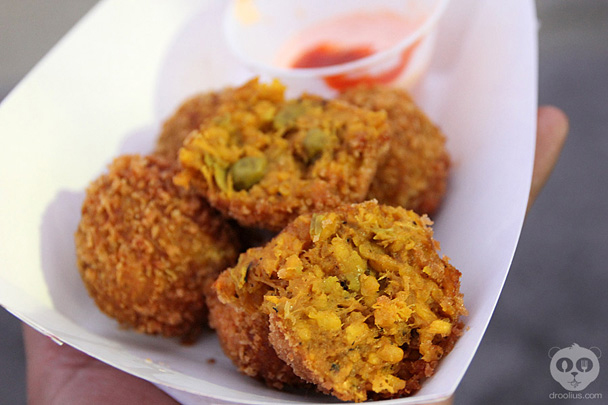 (click image to enlarge)
GBD Balls – roasted arroz con pollo (spanish chicken & rice) balled up & fried Golden Brown & Delicious
I featured these Twisted Cuban GBD Balls [HERE] recently and I did not get a chance to take a photo of the inside of this deep fried masterpiece. Cut in half, this is the inside featuring the moist and flavorful arroz con pollo and its ingredients. I really like how they are crispy on the outside and so moist inside. This time with the "pink sauce" they added a splash of Sriracha that gave each dip a little enjoyable kick of heat.
(click image to enlarge)
The previous blog post to this one, featured the Fork in the Road food truck [HERE]. At the end of the post I listed Chef Bryce's menu for Food Truck Heaven which features the Mac & Cheese Pops with Italian black truffle.
(click image to enlarge)
Mac & Cheese Pops three cheese belnd folded in Italian cous cous, breaded and fried – optional with lobster, with black truffle.
These were my favorite of the evening, mac & cheese with pieces of Italian black truffles, and deep fried. I liked them so much I had 3 of them. The three cheese blend was perfect with the mini style pasta and the black truffles gave it a rich, savory, and earthy tone. You can actually see the little bits of truffle and definitely tasted it. A more developed flavor than just a special mac & cheese with "truffle oil" dish found at restaurants. The flavors were really on point for my taste buds and I probably would have eaten another three pops if I did not share food with friends from other food trucks. I did taste the the mac & cheese pop with lobster and it had a smooth and developed lobster flavor.
(click image to enlarge)
ElvisCookie-wich: fresh baked peanut butter cookies sandwiched around banana-pudding ice cream
Another menu item from the Fork in the Road food truck I mentioned in the last post but did not get to try dessert was this Cookie-wich. The ElvisCookie-wich had a good peanut butter flavor in the cookie and the banana-pudding ice cream was a nice blend of banana flavor and sweetness.
(click image to enlarge)
The event had a good turn out of attendees which were here for the food trucks and not just the Blue Oyster Cult concert. Each truck had a steady line through out the evening and menu items did sell out, with some trucks selling out of food before the end.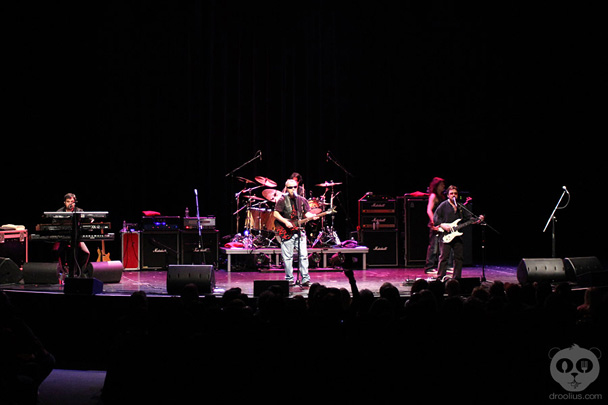 (click image to enlarge)
Here's a shot of inside the venue with Blue Oyster Cult performing (Don't Fear) The Reaper
For the number of food trucks there, it was very easy to have a group of friends order from each truck and taste all of the food. I didn't get to try all of the food trucks, but had a good variety. I sampled a few spoonfuls of the Matzo Ball Soup from the Chutz Pah Jewish food truck and I really liked it. Spicy Pork Taco from the Korean BBQ Taco Box is always good and Beard Papas cream puffs with coffee custard filling were great. This time it was too dark for photos, so I just enjoyed the food. It was a fun night of eating and grabbing a few beers served at the outdoor beer stations and the bar inside The Plaza. Look for another Food Truck Heaven event in the first quarter of 2012.
Food Truck Heaven
The Plaza Theatre Live
425 N Bumby Ave.
Orlando, FL 32803
Food Truck Heaven Facebook Page