Swine & Sons Provisions is the newest concept from the Swine Family Restaurant Group, from James and Julie Petrakis, chefs and owners of The Ravenous Pig and Cask & Larder. Chef James describes Swine & Sons as a "neighborhood deli meets grocery store" where almost everything is made in-house or locally produced. This space specializes in a number of food options including made-to-order butcher sandwiches, takeout charcuterie, signature spices and rubs, scratch-made biscuits, daily pastry offerings, seasonally inspired homemade ice cream and much more. It's a place where patrons can take food to-go or dine-in at a communal table or casual seating. A daily "Blue Pig Specials" menu offers to-go dinners (about 30 plates a night) that will feature signature dishes or classics, like their buttermilk fried chicken, and be accompanied by a variety of scratch-made sides. The specials menu may change weekly and is updated on Swine & Sons' website every Monday.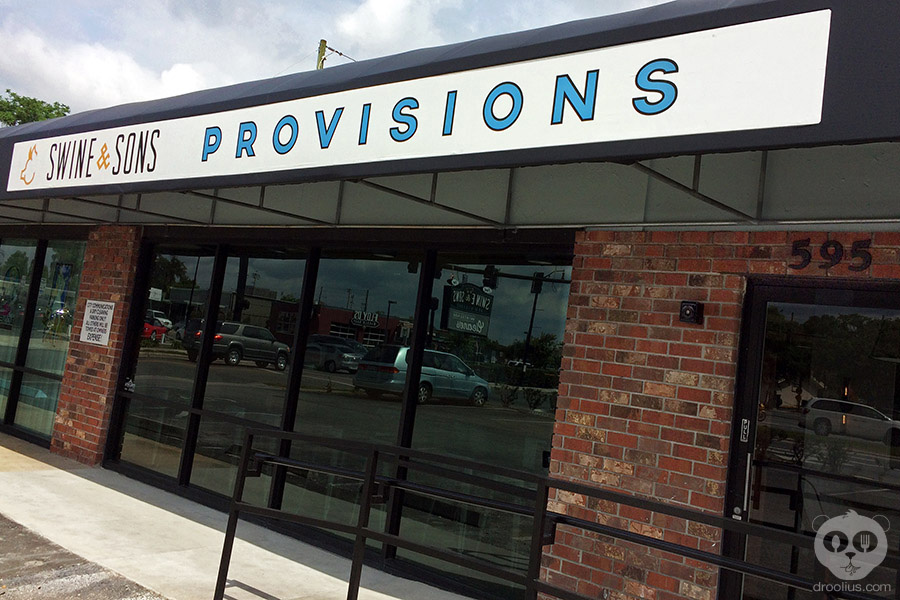 (click image to enlarge)
Located directly west of Cask & Larder, this is the third Winter Park location for the Petrakis'. Joining the Petrakis as partners for Swine & Sons are chef Rhys Gawlak and wife Alexia Gawlak, who have long time been part of the culinary team. The Gawlaks will incorporate seasonal and local ingredients into the daily menu. Rhys will lead the charcuterie program and curing room can be viewed through a window as you enter the space. This location basically serves as a space for local food, cured meats, locally made beverages, and selling Cask & Larder's 32 oz. beer crawlers. A root beer on tap, Sorghum Sweet Tea, plus locally made juices, craft sodas, and bottled cold coffees are available to round out the drink offerings. There is something for everyone here.
I had a chance to preview some of the Swine & Sons' menu and it's all about good balanced flavors here! Check out the photo tour below to see what you'll be ordering on your visit…
(click image to enlarge)
Meat rubs, pickled veggies, and hot sauce are a few of the Provisions sold at Swine & Sons.
(click image to enlarge)
I'm really digging the interior of this new space.
(click image to enlarge)
Showcasing baked goods, both sweet treats or savory items.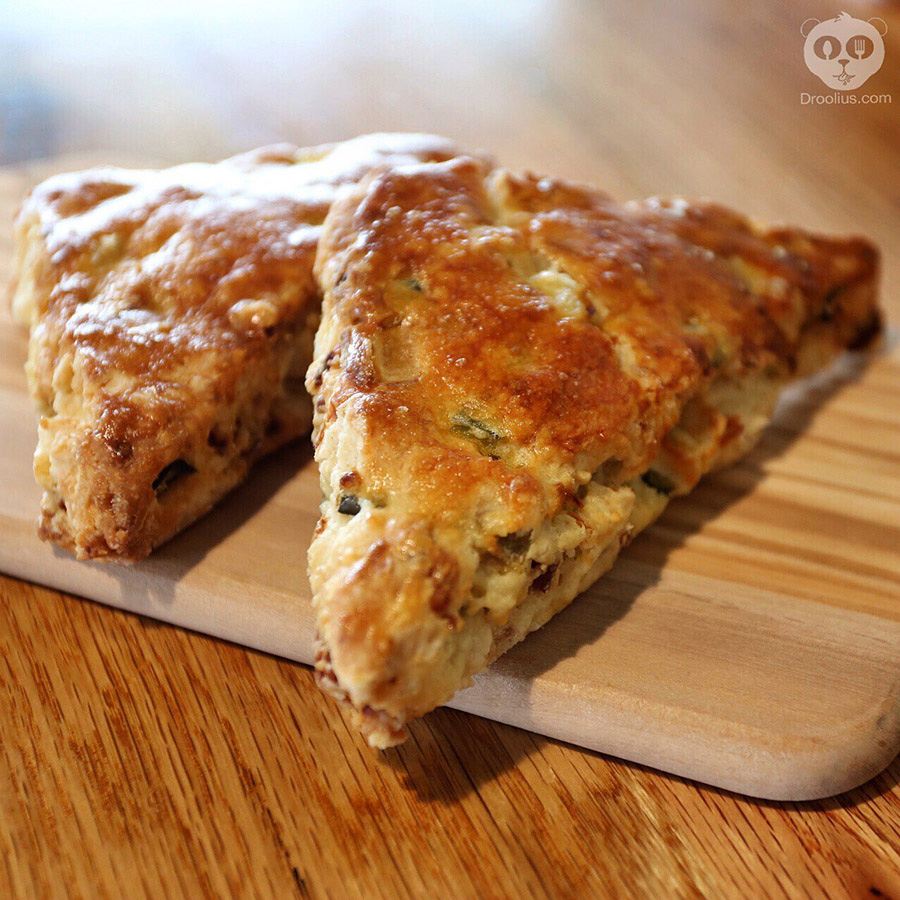 (click image to enlarge)
<!––nextpage––>
Cuban Scone
The most unique item I tried was the Cuban Scone. Basically all of the ingredients in a cuban sandwich, but in a scone. Definitely worth a try.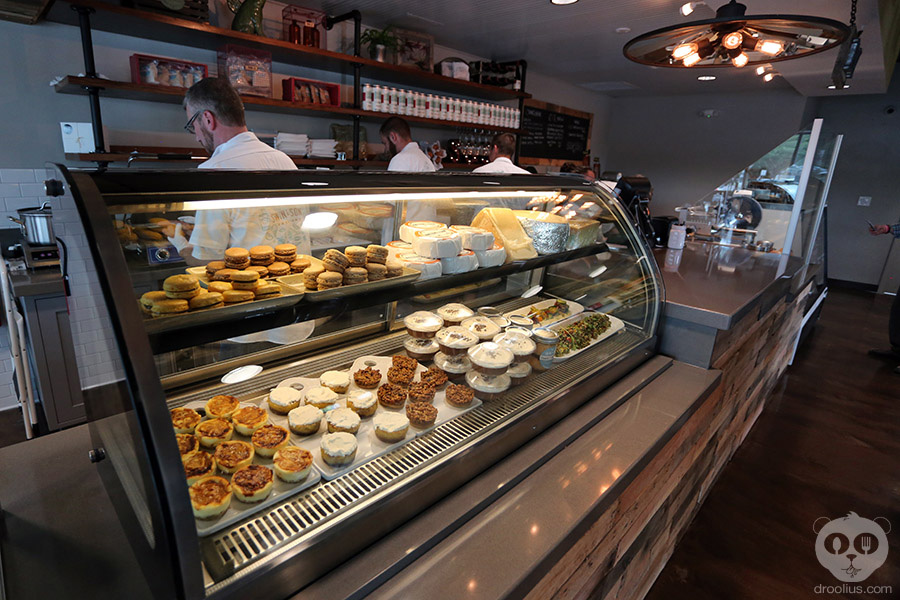 (click image to enlarge)
Cold case for sweet treats like macarons or cheese cake, cold side dishes, and cheeses.
(click image to enlarge)
A few of the Sides:
• Mac n' Cheese with fresno hot sauce bread crumbs (really good)
• Beets & Goat Cheese with candied walnuts, VBC goat cheese, pea tendrils
• Marinated Tomatoes – cucumber, onion, feta, verjus vinaigrette
• Kale Taboule – quinoa, spelt, bulgur, red rice, baby kale, lemon, tomato (one of my favorites!)
(click image to enlarge)
Sandwiches and Sides menu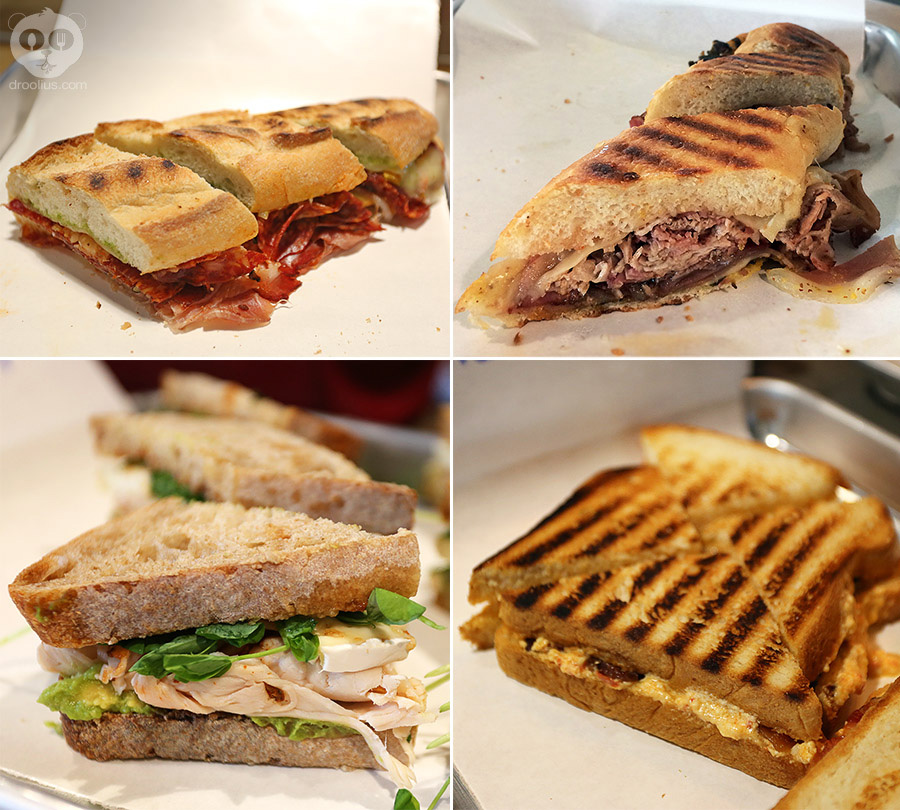 (click image to enlarge)
Butcher Sandwiches: Italian, Southern Cuban, Roasted Turkey, Pimento Grilled Cheese with bacon. I sampled all of these and I must say that they all had great flavors in meats and the accompanying ingredients gave a good balance to each sandwich. The Olive Oil Poached Tuna (not pictured) was another great tasting sandwich that surprised me how good it was.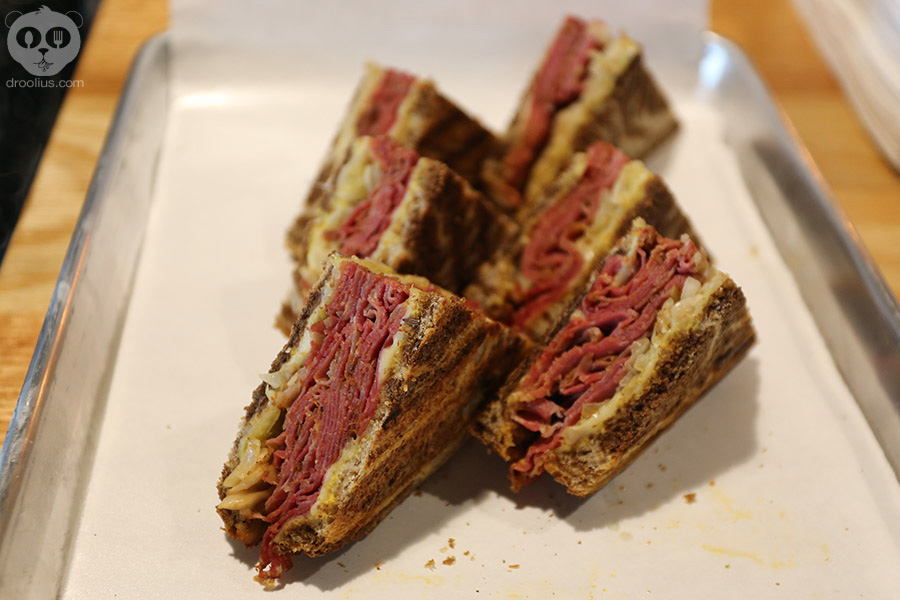 (click image to enlarge)
There was a toss up for my favorite sandwich, but I really enjoyed the House Pastrami for the flavor and how classic this sandwich is.
(click image to enlarge)
House Potato Chips are a great side to sandwiches, with flavors of Cheddar BBQ, Ranch or plain.
(click image to enlarge)
(top photo) Chef James Petrakis giving us the details of Swine & Sons and how this is Rhys and Alexia Gawlak's "brainchild" of a concept. He gives a tour of the menu and tells us how it will evolve with help from their restaurants' chefs.
(bottom photo) Chef Rhys Gawlak talks about the charcuterie program and building process of the space.
(click image to enlarge)
Butcher Case by the Pound
Featuring meats that are cured in-house and sold by the pound. Smoked Bacon, Country Terrine, Country Ham, Salumi, House Pastrami, Smoked Sausage, and Specialty Sausage are some that are offered with many more to come.
(click image to enlarge)
House cured meats are sliced to order for sandwiches or can be bought per pound to take home.
(click image to enlarge)
The curing room for meats is visible as you walk into the space. These meats are used in sandwiches, sold by the pound, and for Charcuterie plates.
(click image to enlarge)
Macarons: Maple Bacon, Strawberry Lemonade, Chocolate
The pastry department is creating their own spins on these classic desserts. These have the texture of a traditional Macarons and feature creative flavors that fit the theme of Swine & Sons. Maple Bacon is my favorite one here. I expect these flavors to change seasonally, so let them know your favorite so hopefully it stays around.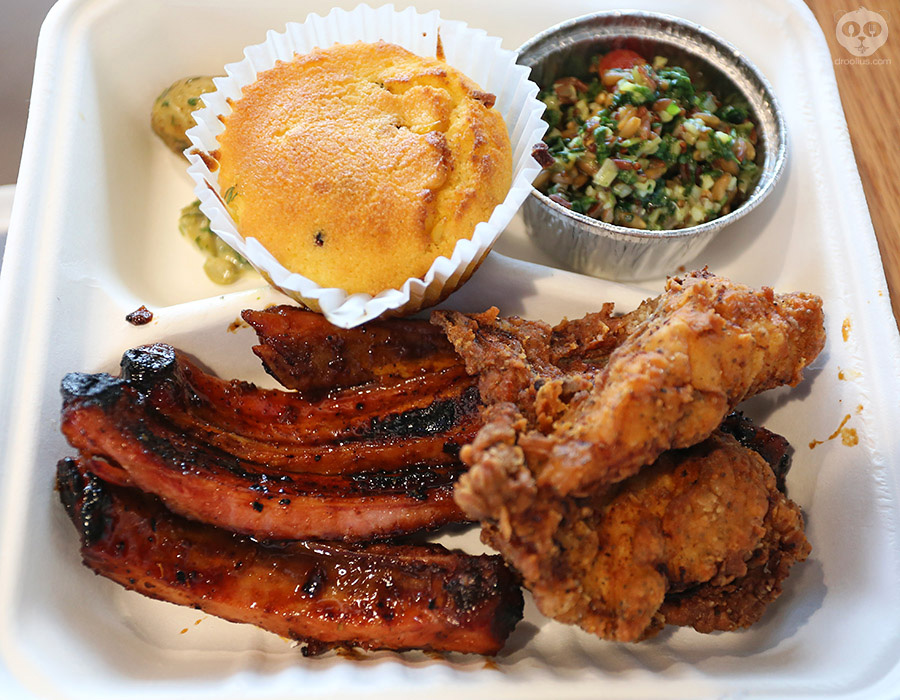 (click image to enlarge)
A sample of the "Blue Pig Specials" to-go dinner accompanied by a variety of scratch-made sides. Our sample plate featured a rib plate with buttermilk fried chicken, corn bread, Kale Taboule and a potato side dish. Good flavors in savory meats while sides lighten things up to round out the plate with refreshing and contrasting flavors. The corn bread had corn kernels cooked in which I really liked.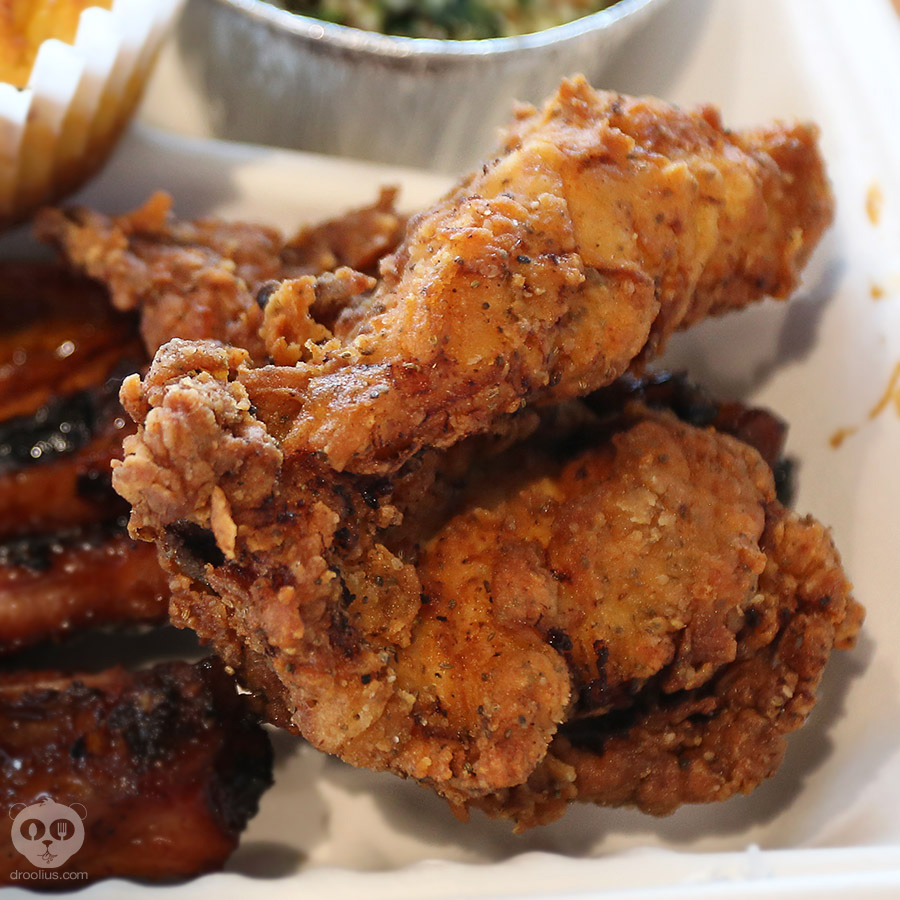 (click image to enlarge)
Let's talk about the Buttermilk fried chicken. Loved the seasoning and flavor. Currently available on the "Blue Pig Special" menu served on Tuesdays (the day or offering on menu may change).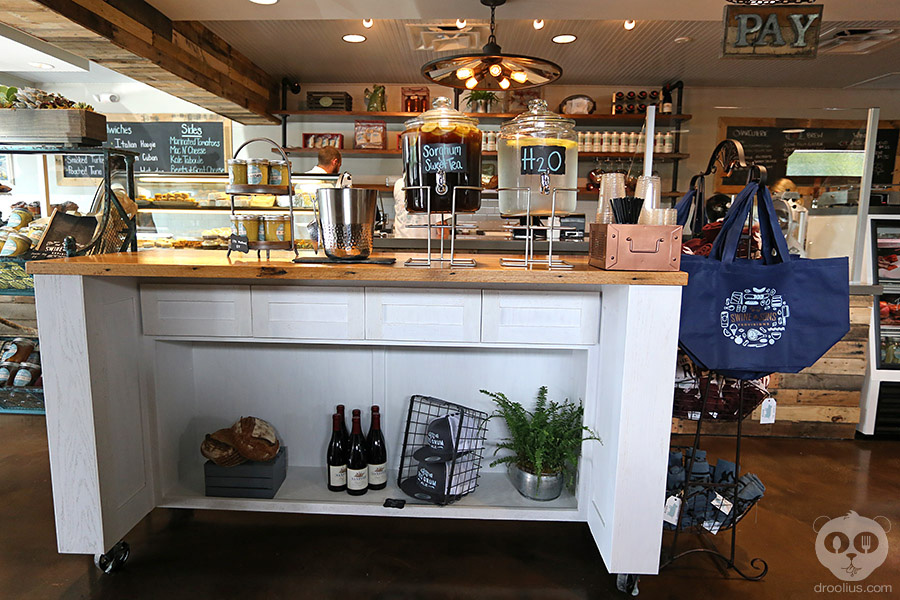 (click image to enlarge)
Sorghum Sweet Tea is offered and satisfies Southern sweet tea fix that locals crave.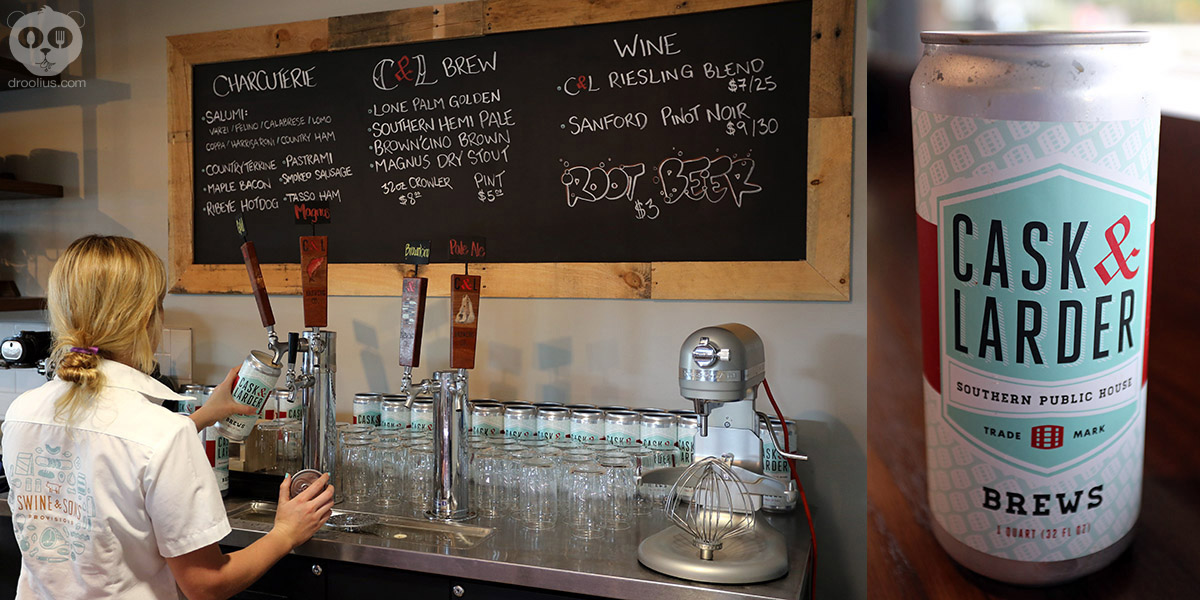 (click image to enlarge)
Cask & Larder brews are on tap for a pint in store or available in 32 oz Crowlers to take home.
(click image to enlarge)
Bourbon'yaki beef jerky is made in house and makes a good snack with it's sweet and salty meaty flavors.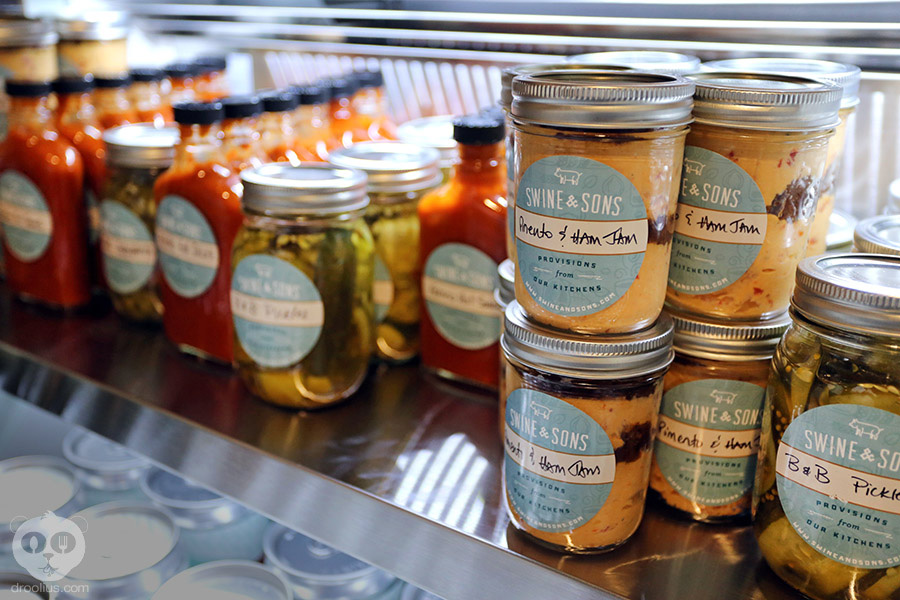 (click image to enlarge)
Provisions are a big part of Swine & Sons and they offer many types of pickles, hot sauces, and spreads like Pimento & Ham Jam.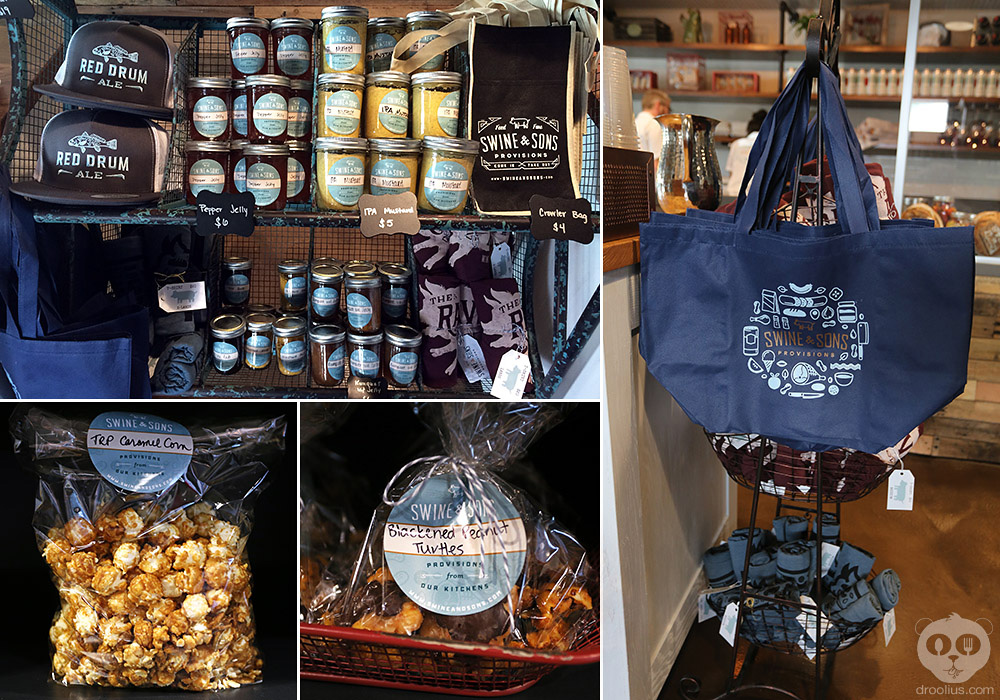 (click image to enlarge)
Retail items at Swine & Sons
From bags to shirts and hats, to desserts and provisions, Swine & Sons bridges the retail gap that many customers wanted from Cask & Larder and The Ravenous Pig.
(click image to enlarge)
Locally produced drinks including juices, kombucha, cold bottled coffees, and artisan sodas are also offered. Ice cream by the pint are made in-house and available for purchase. All of these items reinforce their concept of a grocery store, but Swine & Sons is obviously so much more.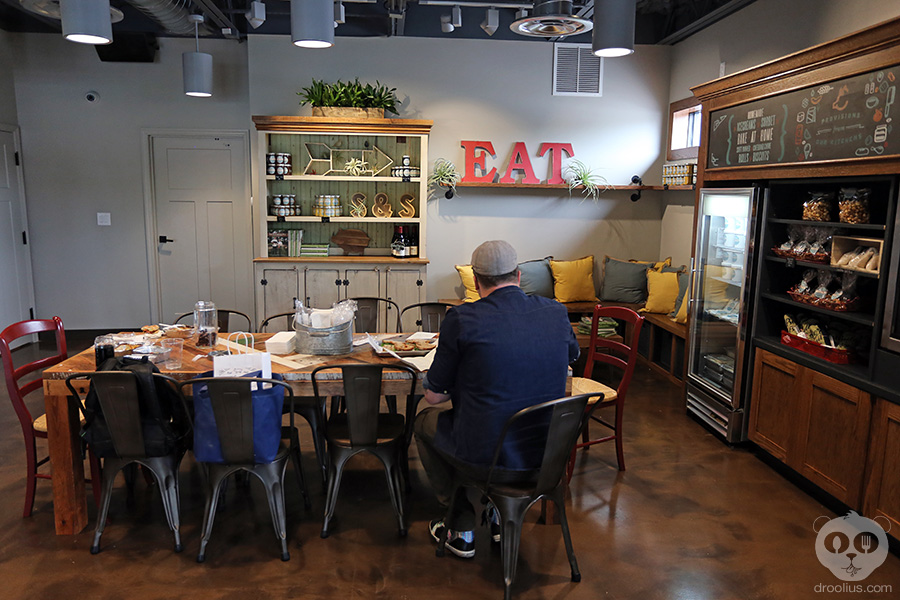 (click image to enlarge)
If you want to dine in, you can choose from seating near the front windows, to a communal table or casual bench seating. The space at Swine and Sons will also be used for private event dinners and nightly specialty dinners like a "taco night" or "ramen night" after their regular hours.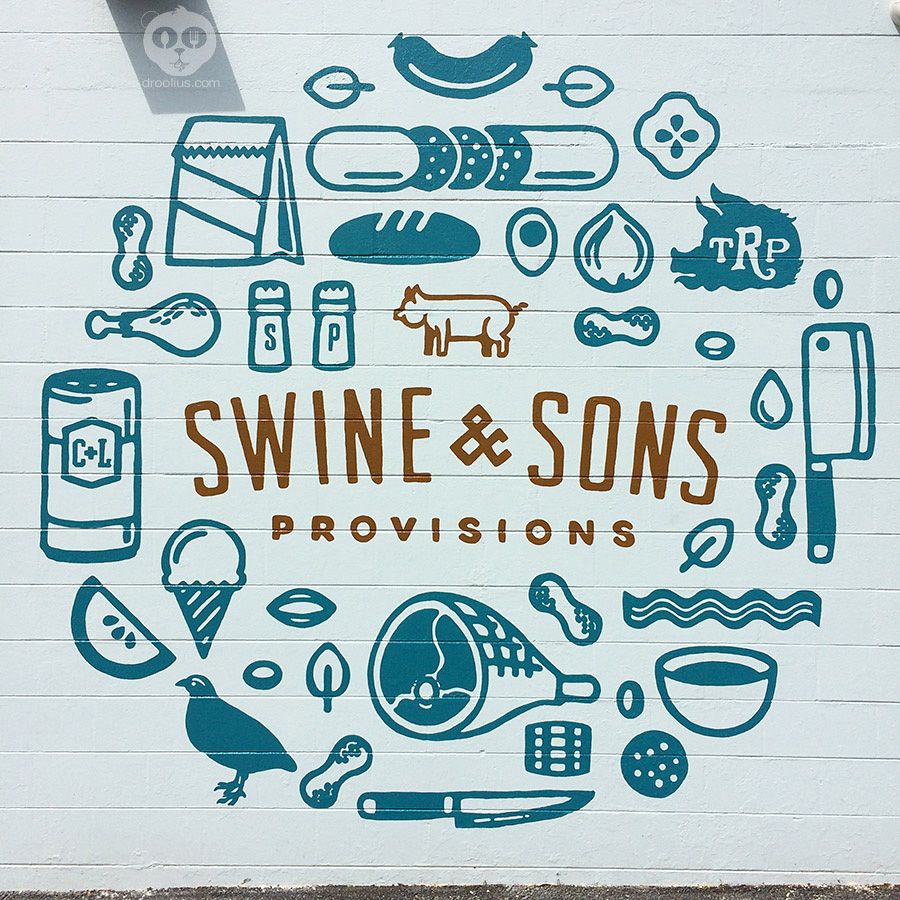 (click image to enlarge)
Check out this cool Swine & Sons mural on the side of their building.

Dine in, pick up to go, or pick up catering are all available at Swine & Sons Provisions. It's exciting to see these chefs really help change the Central Florida food culture and make it better. The menu here will only evolve and you will most likely be able to find something new to try on every visit. I've already gone back since this media preview and enjoyed a new side dish of Collard greens with candied bacon. This concept will definitely help to continue to shape the food scene in the greater Orlando area and I'm really looking forward to some of their future specialty dinners. Stay tuned for more coverage from Swine & Sons in the near future.

Swine & Sons Provisions
595 W Fairbanks Ave
Winter Park, FL 32789
407.636.7601
website: www.swineandsons.com
Twitter: @swineandsons
Facebook: facebook.com/swineandsons
HOURS
Tuesday thru Sunday 10AM – 7PM

Words and photos by Julius Mayo Jr.
Content and photos © Droolius.com 2015


Disclaimer: I was invited as media to preview Swine & Sons. I was not compensated to write this post and all opinions are always my own.