This past Sunday was a great day to be outside and eat at some Food Trucks. The army of Food Trucks in Central Florida came out to @theDailyCity Food Truck Bazaar at Fashion Square mall ready to serve the hungry crowds. The afternoon was hot, so to cool down you go to the Sunset Ice truck for some cold Italian Ice. Based out of Merritt Island, FL they make the trip to Orlando to serve their "8 fantastic flavors that are constantly changing" at the Food Truck Bazaar events. A perfect dessert, or in my case an appetizer, at this event.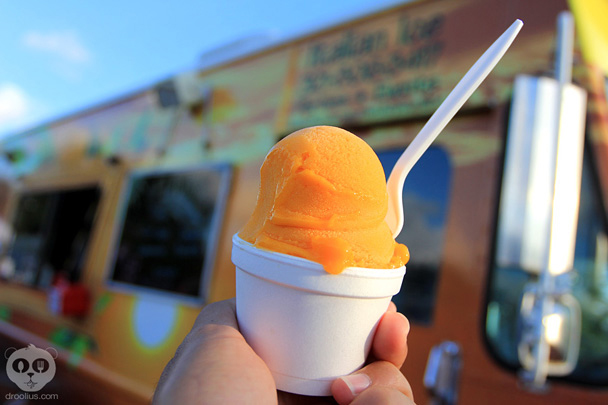 (click image to enlarge)
Sunset Ice – Mango Italian Ice
This mango ice is of my favorite things to eat at the Food Truck Bazaars. If you like fresh mango, this flavor is for you. I describe it as "Imagine pulverizing fresh mango and turning into ice, that's what this tastes like." Everyone seems to agree and enjoys it. It really does taste like fresh ripe mango, not like mango syrup. That's because Sunset Ice's Italian ices are homemade using real fruit and fruit puree according to their Facebook page. I can taste the real fruit and appreciate the flavor.
At this event I bumped into many UCF friends from my college days and spent most of my time chatting away. I walked by the Sunset Ice truck a few times and the kind staff told me they are almost out of Mango. They know I love the mango ice. They have let me sample all of their flavors, but I always order mango. I asked to save 2 cups for me and I'd be back later. Then a great idea popped into my head: why not do a contest for some mango ice?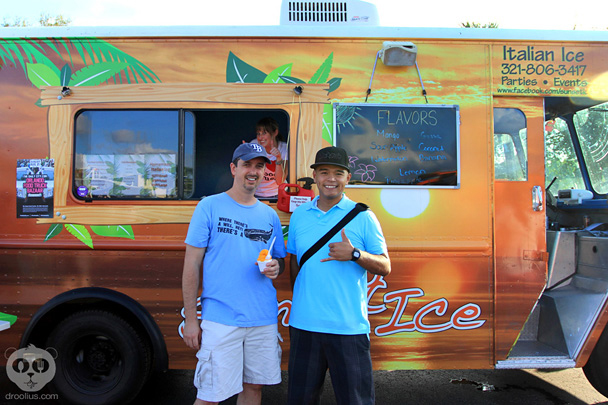 (click image to enlarge)
Contest winner @jodymask from twitter (left) and @Droolius (right)… i see you in the background Ashley, nice I <3 Food Trucks shirt! So that is what I did, I created an impromptu social media contest. I sent a message on Twitter and Facebook: "Ok doing a Give Away right NOW @ Food Truck Bazaar! 1st person to go to Sunset Italian Ice & say I Love Droolius gets free small mango ice!" I really thought it would take at least an hour before someone responded, if any one would respond. To my surprise, in less than 3 mins there was already a winner! The winner was from Twitter, @jodymask was first to go to truck and say "I Love Droolius". Thanks for supporting the blog and participating! The photo above is the winning shot and posing with the grand prize, a cup of Mango Ice. What made this contest win even cooler was that Jody gave his winning Mango Ice to a little girl standing by the truck. Nice gesture @jodymask! I chatted with him for a few minutes and met his wife. Cool people who love food, my type of people. Thanks to Sunset Ice for supporting the contest, you guys are awesome!
So I got my favorite cup of Mango Ice and continued to walk around the Food Truck Bazaar, reuniting with friends from years ago and introducing them to the food trucks. Many friends were new attendees to this food truck event and asked for recommendations. I gave a few and one I always make sure to mention is the Mango Ice from Sunset Ice. I do warn them it does sell out, so order your Mango Ice before its gone.
Make sure to check Sunset Ice out at the next theDailyCity.com Food Truck Bazaar and 'Like' their Facebook page.
Sunset Ice
Merritt Island, FL 32952
321-806-3417
www.sunsetice.com
www.facebook.com/sunsetice
Words and photos by Julius Mayo Jr.
All content and photos © Droolius.com 2011