Happy Valentine's Day! It's one of those special days that you show that special someone, a friend, a relative, or even yourself, a little extra love and kindness. The gift does not have to be expensive, but it should be good. So if you are scrambling for a last minute gift idea or just want to add a little bonus gift, say Happy Valentine's Day with the gift of donuts!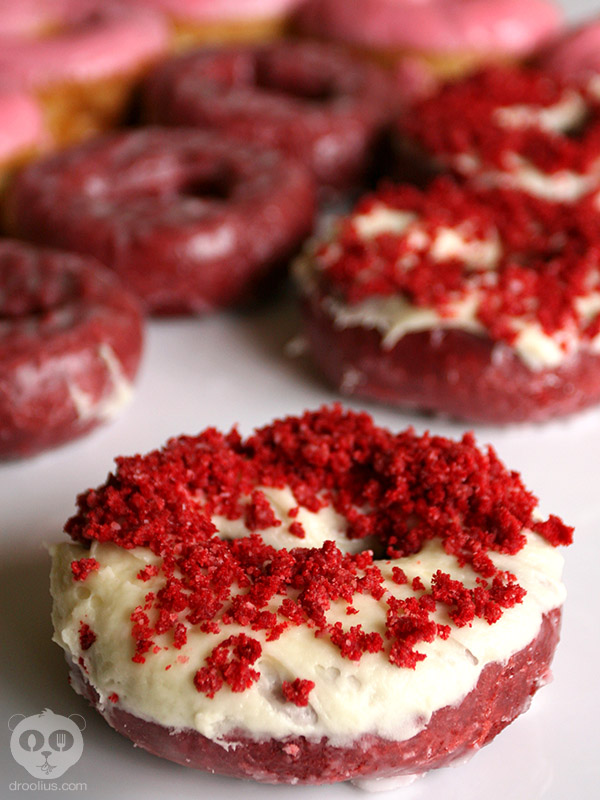 (click image to enlarge)
However, if you are experiencing a snowpocalypse this Valentine's Day 2014 and can't get to the donut shop across town, grab some quality ingredients from the market and follow my Droolius Baked Red Velvet Donuts with Candied Bacon Topping recipe. This cake style doughnut will surely please and the candied bacon on top only makes it better.
Recipe found HERE

When gifting with donuts, you can grab a few specialty donuts or splurge with a dozen or two to share from your local doughnut shop. Below I listed a few specialty donut shops that make donuts using some of the traditional Valentine's Day color schemes. Most donut shops will make special donuts just for Valentine's Day, so keep an eye out for those too.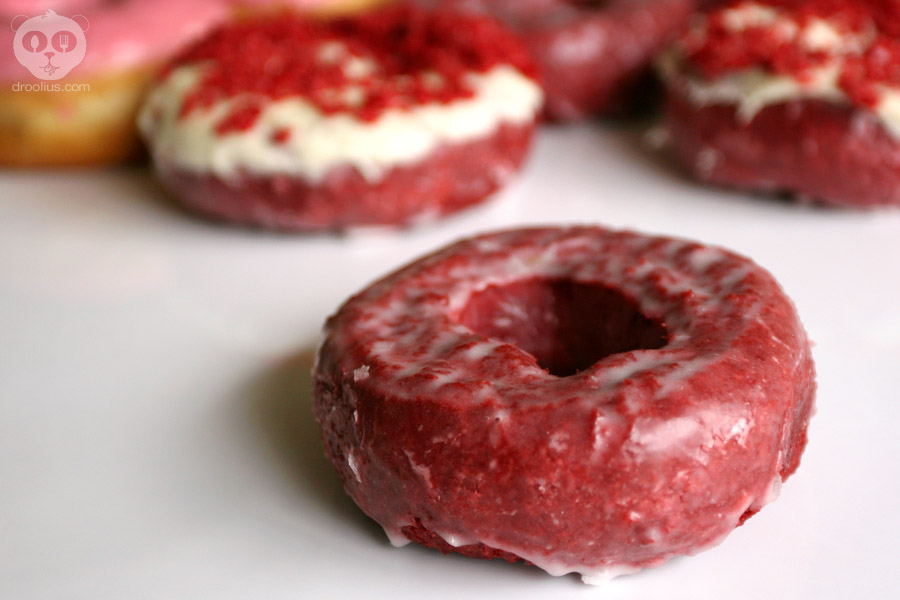 (click image to enlarge)
Red Velvet Donut @ Donut King Minneola
Red Velvet donuts are one of the more popular donuts at Donut King, located in Central Florida. Make sure to call ahead to see if they still have them or call ahead your order to reserve your dozen.
Donut King
(near Orlando)
208 U.S. 27
Minneola, FL 34715
(352) 243-4046
www.thedonutking.com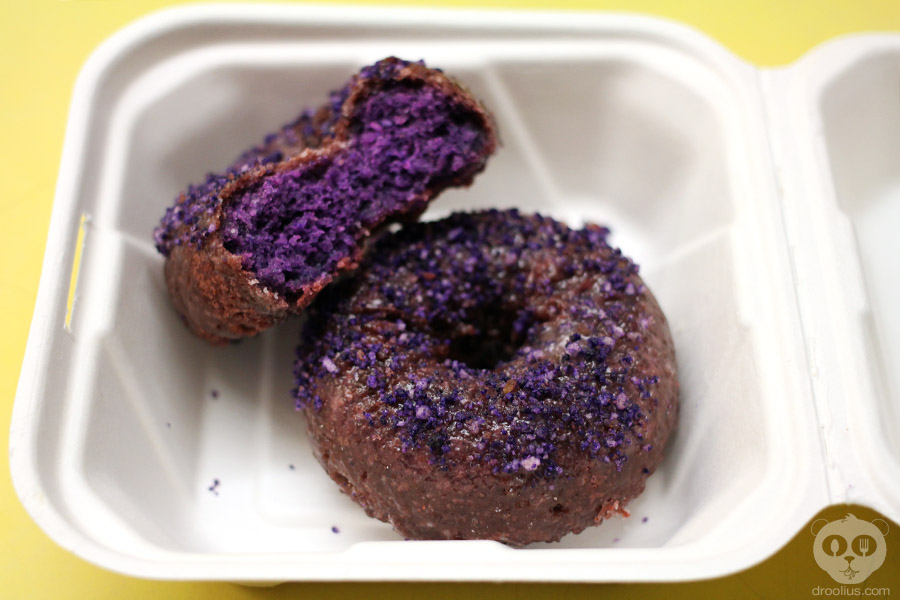 (click image to enlarge)
Ube Donut @ DK Donuts Santa Monica
This beautiful purple donut is the Ube donut from DK Donuts in Santa Monica, CA. Ube is similar to Taro in flavor. If you don't know what either tastes like, trust me, it's good. This donut is worth the trip from anywhere in the greater Los Angeles area and Southern California. It's open 24 Hours a day, so you have no excuses in the L.A. area!
DK Donuts & Bakery
1614 Santa Monica Blvd
Santa Monica, CA 90404
(310) 829-2512
www.dksdonuts.com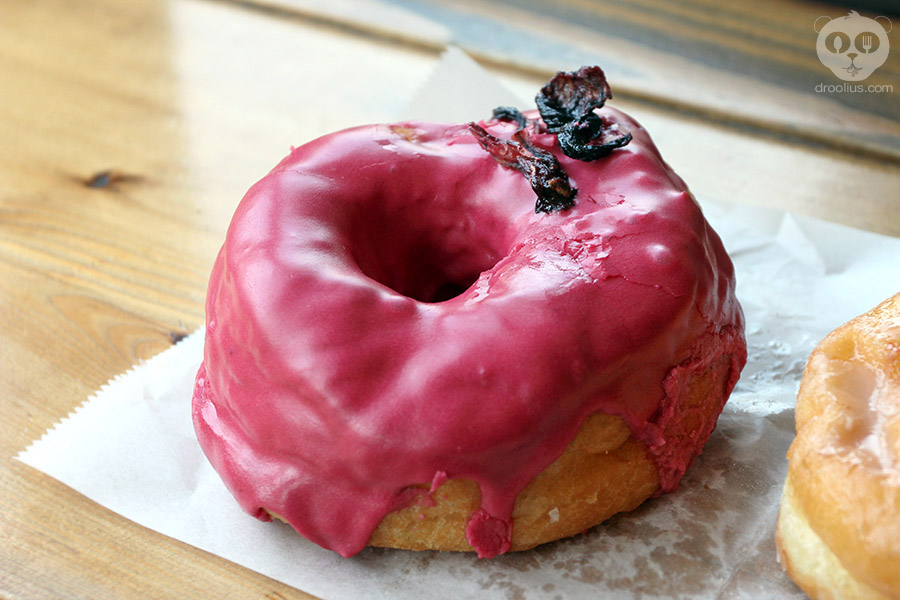 (click image to enlarge)
Hibiscus Doughnut topped with hibiscus glaze and hibiscus flowers @ Dough in Brooklyn
The Hibiscus doughnut is covered with hibiscus glaze that is made from scratch and that's the natural pink, no coloring added. The glaze is a little tart and sweet, with hibiscus flowers added a little texture. If you are in the Brooklyn area or can take the train over from NYC, Dough is a good stop for this doughnut or any of their specialty doughnuts.
Dough
305 Franklin Ave
Brooklyn, NY 11205
(347) 533-7544
Facebook Page

One tip about buying at local donut shops, they tend to close early because they open so early. Very few are open 24 hours a day, so make sure to go before 3pm or call for their hours. Nothing is worse than making the hike to the donut shop and it's closed (I've done this a few times, save yourself some trouble and call ahead). Also, donut shops run out of donuts, so call ahead to see what's in stock.

Enjoy your Valentine's Day with donuts!


Words and photos by Julius Mayo Jr.
Content and photos © Droolius.com 2010-2014