Hello blog! Where has Droolius been lately? Well I have been on the road, taking a few trips up North, and in turn the blog has been a little limited with blog posts recently. Not to worry, there is lots of content on the way. While traveling however, I am constantly updating via various social media outlets. You can always keep up with my latest food discoveries on Foodspotting, Facebook, and Twitter. In the past month I've traveled to New York City, Washington D.C. / Northern Virginia area, and I'm currently in Atlanta, GA. Here's some updates on what's been going on…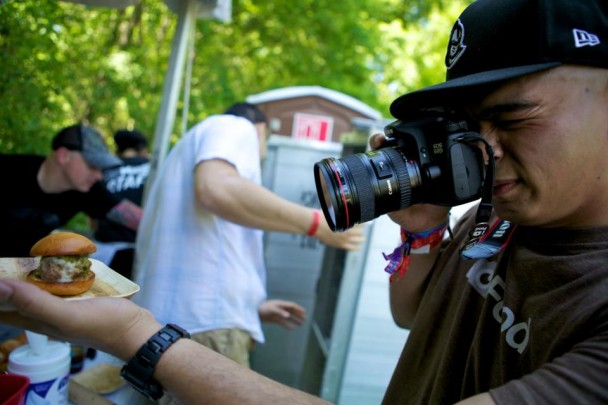 Photo By NYC Foodspotting Ambassador Meng He
New York City
I attended the TECHmunch NYC conference a few weeks ago. Lots of good information about food blogging and it was good to attend a conference in a larger market such as NYC. Check out some of the photos I contributed from the conference in this gallery on the TECHmunch Facebook page: TECHmunch NYC 2012
As mentioned in my previous post about Food Revolution Day, I attended The Great GoogaMooga festival. This was an epic event, with so much going on with food and music. Despite some online critism about the long lines for food, it was a top notch event in my experience. I have so many photos from GoogaMooga that I'm still going through, it's hard picking just a few to share on the blog. Look for an upcoming blog post here. For now, see a gallery of photos on the Foodspotting Facebook Page: Foodspotting at The Great GoogaMooga
Washington D.C.
This trip had a couple food discoveries within a few days. I hit up some local restaurants as well as the Dupont Farmers Market. I met up with Foodspotting D.C. Ambassador @LisaMathias for an awesome brunch at Birch and Barley. For dinner we met with fellow food blogger Julie of Table For Two for some Ramen at Toki Underground. Restaurant reviews are on the way, but you can see some photos on my Foodspotting profile Foodspotting.com/Droolius
Here's some of my recent food discoveries on Foodspotting:
As mentioned earlier, currently I'm in Atlanta for the weekend and will be hitting up some great tasting restaurants in the area. The plan calls for Southern/Soul food, trying out some burger joints, hopefully a Ramen spot, and more local restaurants.
Let's see where I end up. Leave a comment below or send me a tweet @Droolius for any food suggestions you may have in Hotlanta!

Words and photos by Julius Mayo Jr.
Content and photos © Droolius.com 2012