Thanksgiving is just around the corner and not only is it a day to give thanks over a meal, but it is also a great day to give back to the community. On Thursday November 24th, the 5th Annual Rock For Hunger Thanksgiving Breakfast will be serving breakfast to the homeless in downtown Orlando. A great way to give back, volunteers gather together with donated cooked breakfast items, hot coffee, juices, pastries and more to serve a warm meal those in need. For myself, this will be my third year volunteering at this breakfast and I encourage anyone who is interested in volunteering to serve, cook or donate supplies, to please sign up and participate.

Last year's 2010 Rock For Hunger Thanksgiving Breakfast.
I started volunteering with Rock For Hunger in July 2009, helping serve food to the homeless in downtown Orlando every Monday evening at a park in Lake Eola. It was always a good experience and something that many of my friends and colleagues enjoyed volunteering at. Since mid-2011 Monday night Food Share has been put on hold, but Rock For Hunger is still supporting the community through youth outreach programs, fundraising for scholarships and special events like the Annual Thanksgiving breakfast. The breakfast is not only to serve meals to the homeless, but to provide friendly conversations that mean so much around the holidays.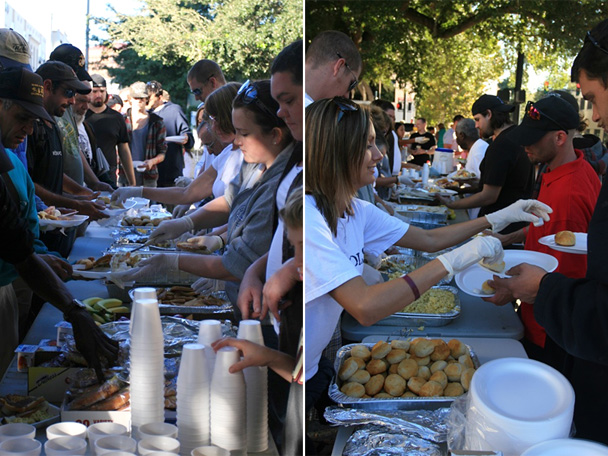 Volunteers serve food, hand out hygiene donations, and have conversations with homeless guests.
Rock for Hunger is a 501 c (3) nonprofit organization that started in 2006 by founder Chris Goyzueta and a group of aspiring college students decided it was time to make an impact in their community. Fast forward to the present, Rock For Hunger is currently reorganizing some of the outreach programs and fundraising events, but the Food Share events are where everything started. It's where I started volunteering with this non-profit organization and a good way to get yourself involved.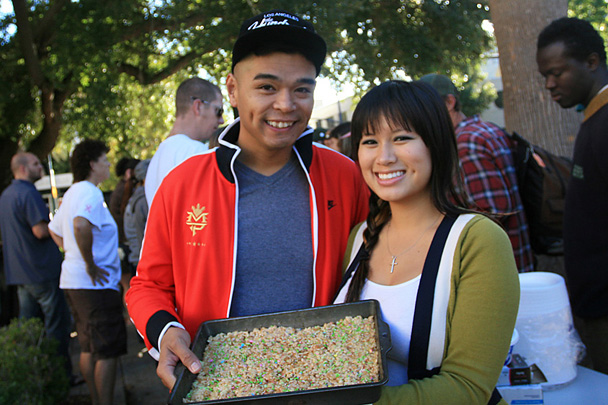 Myself and fellow volunteer Tiffany with the tray of maple syrup rice crispy treats she made.
So join me this Thanksgiving morning November 24th at 8am, we meet at 24 N. Rosalind Avenue in downtown Orlando at St. George Orthodox Church (rear parking lot). We need donations of supplies such as paper plates, cups, napkins, forks, as well as cooked breakfast items. All of the food and supplies needed can be found on the Sign-up Sheet [Here] and we ask you to RSVP [Here] on the Facebook Invite page so we know who is coming out to volunteer. Yes it is Thanksgiving morning and if you are not cooking your Thanksgiving feast, come out and join me to volunteer at this event. It is a humbling experience, one that will make your holiday weekend more memorable in volunteering and giving back to the community.

An invitation to volunteer, cook, and serve on Thanksgiving morning from Rock For Hunger:
Dear Rock for Hunger Friends and Supporters,
It's that time of year again and planning for our Annual Thanksgiving Breakfast is officially underway. For five years running, our amazing volunteers have come together on Thanksgiving morning to provide a home-cooked meal to 200+ people in need. This event has become a RFH tradition and we're excited to get back out there to share our good fortune with our homeless friends and give our thanks. We hope you will join us for what we expect to be a wonderful event.
Below are details to include location/time as well as a link to our sign-up sheet. Because this is a potluck-style food share, we do ask that everyone sign up to bring something. Please also be sure to include your contact information so that we may follow up with you to assign volunteer positions.
5th Annual Rock For Hunger Thanksgiving Breakfast
When: Thursday, November 24th
Time: 8:00am-9:30am
Questions: www.rockforhunger.org
** [edit Nov. 18, 2011]
Thank you for all of the RSVP's and signing up to bring food and supplies. The volunteer list is now full and we have a large enough group of volunteers for the day.
If you plan to come out and volunteer Thanksgiving morning, please RSVP on the Facebook Invite and plan on bringing something with you from the Sign-up Sheetto make this event possible. The Sign-up Sheet lists all things that are needed to make this potluck-style food share event a success. If you cannot make it and would like to donate supplies, please email the coordinator Angela angela.hottal@gmail.com to set up a drop off time and location. Any other questions, leave a comment below and I will do my best as a "Rock For Hunger team lead" to answer them.
Rock For Hunger
Blog: blog.rockforhunger.org
About RFH: www.rockforhunger.org
Facebookwww.facebook.com/rockforhunger
Twitter @RockForHunger

Photos from 2010 – 4th Annual Rock For Hunger Thanksgiving Breakfast
[AFG_gallery id='2′]
Photos: Julius Mayo Jr.