Droolius.com – This website is about photographing food, the droolius images of food and sharing food images with the world. What better place to explore and photograph food than New York City? NYC is a food lover's dream, packed with foodies taking pictures of delicious food, ready to upload on facebook , twitter, & blogs. I am guilty of this, but its only sharing the love of food with friends and everyone. That's the great thing about food images, everyone can some how relate when they see food in pictures, it sparks feelings, memories, cravings, and even plans to travel to new lands to discover food. This was not my intention on this trip to NYC, but it soon became my own food adventure where I spent lots of time discovering new places to eat, and taking pictures at 95% of the places where I ate. Its been a few years since I've visited NYC, fortunately this trip I stayed with a friend who lived close and within walking distance to the East Village (I later discovered its a great area to experience food). We walked over to a great Arepa place for lunch (which will be featured soon), then had a canoli and other Italian pastries, and later that evening we met some more friends for a light dinner and cocktails at Thalia Restaurant in the Theater district.
(click image to enlarge)
Thalia was a great spot to meet up with friends. We dined in the lounge area where we had a comfortable couch section reserved with knee high tables to stage our drinks and food. The restaurant on this particular evening wasn't overly crowded or too loud, which i'm told is the norm here for pre and post theater shows and events. The lighting was darker and more intimate, so not the optimal setting to take food photos, but I still tried anyway. We started off with a few cocktails that were a nice blend of alcohol and sweet, then moved onto more serious drinks on the whiskey side. We tried a few appetizers which were all pretty good, but the group's favorite is the one pictured here, the Crispy Herbed Calamari with guanakaina sauce & lemon tomato chutney, aka the Graham Cracker Crusted Calamari. Why the "aka"? Because that's how it was introduced to me and doing research online I later found out the menu name Crispy Herbed Calamari. If the graham cracker crust is a secret, its not anymore and its what makes this one a crowd pleaser. We had 4 plates of this deliciousness! Crispy and delicate with great flavor the fried calamari itself, then the dipping sauces just added more punch and complimented it very well.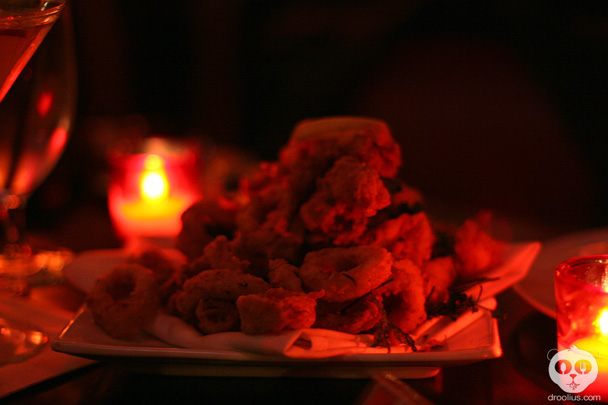 (click image to enlarge)
The evening was a great time hanging out at the Thalia Lounge part of the restaurant. We enjoyed good tasting food and drinks over several hours, just a nice ambiance and atmosphere to hang out with a group of friends in the city. Thanks to my friends who came out that evening, even though most of you had work the next morning early, you stayed out late and this post is dedicated to you all. This was great intro to my NYC trip of food images, with many more food photos and stories to be posted on this blog.
Thalia Restaurant
828 Eighth Ave
(at 50th St)
New York, NY 10019
Theater District Neighborhood
(212) 399-4444
www.restaurantthalia.com